You are here
Minnesota Governor's Newsletter March 2018
Minnesota Governor's Newsletter March 2018

---
---

John B. Bundrick, MD, FACP, Governor
---
Updates from the Governor
Colleagues,
It is my hope that this finds the first part of 2018 off to a good start for you all in both your personal and professional lives, as we approach the long-awaited "Spring thaw" season of the year.
We held our 2017 Minnesota Internal Medicine Meeting in late October. It was another truly rich educational (and social) experience, and I would like to thank our planning committee and faculty for all of their hard work, extend a warm congratulations to our award recipients (see section below) and our new Masters, and invite each of you to the Minneapolis Convention Center for our next annual Scientific Meeting on November 8-9, 2018.
Please read below for several other important updates from the College and our chapter.
Also, as we look to the year ahead, please contact me with any suggestions, questions, concerns, or simply good news to share about our chapter or profession. I look forward to hearing from you!
John Bundrick, MD, FACP
Governor, ACP Minnesota Chapter
---
MN-ACP Mission Statement and Vision
Minnesota ACP Mission
To foster excellence, education and professionalism among all internists in our community and to work together to shape the future of healthcare in Minnesota.
Minnesota ACP Vision
To be Minnesota's recognized leader for patient care, advocacy and education and to enhance career choice, satisfaction and collaboration for specialists and subspecialists in Internal Medicine.
---
ACP Reaffirms Call to Reduce Firearms Violence
For the past 20 years, the ACP has advocated for government action to reduce firearm-related injury and in 2014 published a comprehensive set of common-sense recommendations to guide policy makers in this effort. While no combination of measures is likely to produce a total "cure" for gun violence, there are many options that should be able to substantially reduce the harms, as a part of a multi-pronged strategy (the analogy should be quite familiar to those of us who manage patients with chronic disease on a daily basis) – all of which are entirely consistent with the 2nd Amendment. For more of the efforts of the College to address the epidemic of gun violence, please see the recent ACP Advocate news release on this crucial topic.
---
Laureate Award – 2018 Call for Nominations
The Laureate Award is designed to honor a Fellow or Master of ACP for at least 15 to 20 years, who has demonstrated by their example and conduct an abiding commitment to excellence in medical care, education, research, and service to their community, to their chapter, and the ACP. A Laureate Nominee is a senior physician with a long history of excellence and peer approval in the specialty of internal medicine and served the chapter and community with distinction in some clearly definable manner.
The Volunteerism and Community Service Award recognizes a Master, Fellow, Member, or Associate of ACP who has provided volunteer service post-training. Self-nominations are not permitted. Performs services on a voluntary basis and not required for the completion of teaching, training, or position requirements. Volunteer work must have been done as a physician and be medically related.
Nominations for the 2018 MN-ACP Awards will be open in March. Request nomination forms by e-mail . The recipients of these two awards are announced at our Fall meeting each year. Here are the profiles of our 2017 awardees.
---
2017 Chapter Award Winners
2017 Minnesota Laureate Award winner… David R. Hilden, MD, MPH, FACP
Dr. David Hilden graduated from the University of Minnesota Medical School. He completed his residency in Internal Medicine at Hennepin County Medical Center (HCMC) in 2003, and has remained at HCMC since completing his residency. Dr. Hilden is an active staff physician in Internal Medicine. He is the Assistant Chief of Clinical Affairs for the Department of Medicine and the Director of the Division of Hospital Medicine. Dr. Hilden is an Associate Professor of Medicine at the University of Minnesota Medical School. Dr. Hilden has been a member of the American College of Physicians (ACP) since 2003 and a Fellow since 2006. He is a past winner of the MN-ACP Community Service Award and has been an annual participant in the Doctor's Dilemma® team competition for the past five years. His career has spanned both ambulatory and inpatient internal medicine. Dr. Hilden truly exemplifies all of the qualities for which the Laureate award is intended and richly deserves this recognition. As outlined below, Dr. Hilden will also soon be our new Governor-Elect –our chapter will be in very capable hands indeed!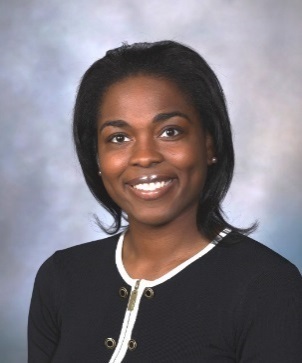 2017 Minnesota Community Volunteer Award winner… LaPrincess C. Brewer, MD, MPH, FACC
For over ten years, Dr. LaPrincess Brewer has volunteered with and is a co-founder of the highly successful program, FAITH! (Fostering African-American Improvement in Total Health). This organization has made a substantial impact by improving the cardiovascular health of African-Americans throughout the Rochester and Minneapolis-St. Paul, Minnesota areas. Dr. Brewer has been a long-standing mentor to youth and students, a lay health educator, a "hands on science" afterschool program leader, and a medical student volunteer in Haiti. Dr. Brewer was raised in Charlotte, North Carolina and graduated from Howard University with a degree in Chemical Engineering. She completed medical school at George Washington University and an MPH at Johns Hopkins University School of Public Health. Dr. Brewer completed a residency in Internal Medicine at Johns Hopkins and Fellowships in Cardiovascular Disease and in Preventive Cardiology at the Mayo Clinic. Currently, Dr. Brewer is an Assistant Professor of Medicine at the Mayo Clinic College of Medicine and Science and is a Senior Associate Consultant in the Division of Preventive Cardiology at the Mayo Clinic. She is also an NIH Institutional Grant Trainee in the NIH Office of Research on Women's Health (ORWH), Mayo Clinic Women's Health Research Center. Dr. Brewer requested that the $1000 check which accompanies the MN-ACP Community Volunteer Award be given to the Minnesota-based non-profit group Appetite for Change. appetiteforchangemn.org.
---
Two New ACP Masters Elected from Minnesota
Mastership in the ACP is one of the highest honors bestowed by the College and aims to recognize those who have achieved eminence in internal medicine, in conjunction with some degree of service to the ACP (at the chapter or national level). Over the last 50 years, Minnesota has had thirty recipients of the MACP designation, and we have now added two more!
Drs. Ensrud and Linzer will be formally recognized on stage during the convocation ceremony in New Orleans in April.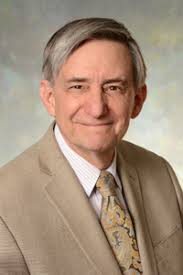 Mark Linzer, MD, MACP of St. Louis Park, MN and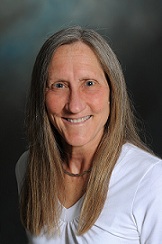 Kristine E. Ensrud, MD, MACP of Minneapolis, MN
---
Meet Our Governor-Elect Designee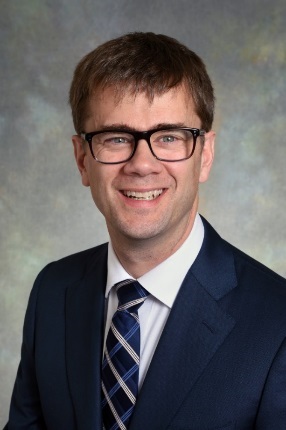 Our new Governor-Elect Designee is David R. Hilden, MD, MPH, FACP. He will serve as Governor-elect at the conclusion of the ACP Internal Medicine 2018 in New Orleans, and his four-year term as Governor will begin at the conclusion of Internal Medicine 2019 in Philadelphia. The Chapter thanks Dr. Hilden for his dedication to medicine and looks forward to his leadership.
---
Council Elections
Two Council positions were filled in the recent MN-ACP Chapter elections.
Karen Mauck, MD, MS, FACP (incumbent)
Evelyn Ivy Mwangi, MBChB, MPH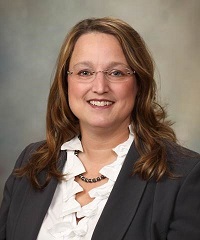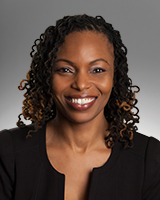 Later this Spring, we will be soliciting nominations to fill another at-large Council position opening, so please consider, if you would like to serve.
---
Minnesota Internal Medicine Meeting 2017 – Minneapolis Convention Center
The annual Scientific meeting chaired by Mary Miley, MD, FACP, Jason Szostek, MD, FACP, and Andrew Olson, MD, FACP was held on October 26-27, 2017. Over 360 attendees came from across Minnesota as well as Wisconsin, Kansas, California, Texas, and North Dakota.
The two SEP module sessions on Thursday morning drew a group that filled the room, intent on hearing discussion of the two topics from specialists in hospital medicine (Drs. Brad Benson and Ben Trappey) and out-patient medicine (Drs. Bri Vaa and Jill Huber). Attendees left the session with twenty points of MOC Medical Knowledge and with a deeper understanding of the issues covered. Dr. Amy Holbrook provided an update on MOC for all participants.
The Thursday afternoon session on Upcoming Opioid Prescribing Recommendations, Regulations and Resources drew a record crowd with internists seeking practical answers to patient questions and opioid clinical concerns. This session was videotaped and is available to watch here . Drs. Jeff Schiff, Charles Reznikoff, Heather Bell, Kurt Devine, Keith Olson, George Morris, Chris Johnson, and Claire Neeley provided data on opioid prescribers, urban and rural examples of what is working, along with state regulators on the upcoming recommendations. Internists are strongly encouraged to enroll in the Minnesota Prescription Monitoring Program (PMP). Click here for registration information.
Friday, October 27th began early with the Internists' Breakfast discussion on "I need a doctor! How do doctors choose their own PCPs and evaluate their fitness to practice medicine?"- moderated by Sally Berryman, MD, FACP. The rest of the morning included presentations on specialty areas and featured con-current sessions on out-patient and hospital medicine.
Commissioner of Health Dr. Ed Ehlinger challenged Minnesota internists to consider issues of health equity and health disparities. On a related note, MN-ACP was a co-sponsor of January as Health Equity month in Minnesota, with Minnesota Medical Association, Minnesota Doctors for Health Equity and other organizations. We will be having a special session on Health Disparities and Health Equity at our upcoming November meeting, so stay tuned for further details.
Dr. Brad Benson gave a fascinating and practical talk on "Bedside Technoscope" (in full appropriate uniform, see below.)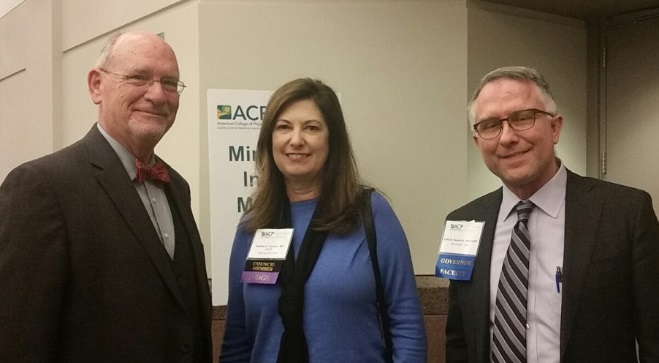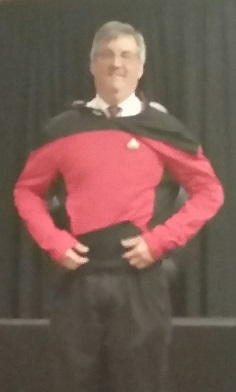 Presentation, viewing and judging of 148 posters of residents and medical students continued to be lively with the support of over twenty-five internist judges. The Doctor's Dilemma® brought a spirited demonstration of knowledge among the four teams. The Internal Medicine Residency teams of Abbott Northwestern, Mayo, HCMC and the University of Minnesota delivered an impressive performance–the future patients of these team members can rest assured they are in good hands. The team from HCMC successfully defended their championship this year and will be representing our chapter in New Orleans next month. Click here to view the presentations.
The day ended with another session of Thieves' Market, moderated by Dr. John Bundrick, where unknown cases are presented by chief residents at each of the Internal Medicine residency programs and the audience competes to get the correct diagnosis.
Presenters and audience winners for each case are as follows:
University of Minnesota —Drs. Demetri Andisani and Ben Webber case correctly diagnosed by Dr. Bryan Bergland
Mayo Clinic—Dr. Dagny Anderson case correctly diagnosed by Drs. Margot Zarin and Sam Philbrick
Abbott Northwestern—Dr. Bre Zarmbinski case correctly diagnosed by Drs. Paul Viscuse and Sami Ryan
Hennepin County Medical Center—Drs. Ann Becker and Annie Jacobsen case correctly diagnosed by Dr. Amanda Blanchard
Program Committee and Faculty
The Minnesota Chapter of the ACP expresses heartfelt thanks for the efforts of the Program Committee and Faculty who worked tirelessly to make the MN-ACP 2017 Scientific meeting a resounding success. The Program Committee was co-chaired by Drs. Mary Miley, Jason Szostek and Andrew Olson. Committee members included: Drs. Chris Aakre, MD, Brad Benson, MD, FACP, John Bundrick, MD, FACP, Mary Cameron, MD, FACP, Heather Gantzer, MD, FACP, Amy Holbrook, MD, FACP, Anya Jamrozy, MD, FACP, Kyle Lehenbauer, MD, FACP, Catherine Nguyen, DO, Charles Reznikoff, MD, FACP, Benji Mathews, MD, FACP, and Joyce Sanchez, MD, FACP.
We are also very grateful to our faculty presenters for sharing their time and expertise with the 360+ in attendance. Faculty included:
Wayne Adkisson, MD, University of Minnesota, Minneapolis, MN
Heather Bell, MD, CHI St. Gabriel's
Brad Benson, MD, FACP, University of Minnesota, Minneapolis, MN
Sally Berryman, MD, FACP, University of Minnesota Minneapolis, MN
John Bundrick, MD, FACP, Mayo Clinic, Rochester, MN
Kurt Devine, MD, CHI St. Gabriel's
Dimitri Drekonja, MD, FACP, VA Health System , Minneapolis, MN
Ed Ehlinger, MD, MSPH, Minnesota Department of Health, Saint Paul, MN
Molly Feely, MD, FACP, Mayo Clinic, Rochester, MN
Kevin Fleming, MD, FACP, Mayo Clinic, Rochester, MN
Andy Hamp, MD, Park Nicollet, Minneapolis, MN
Robert P. Hartman, MD, Mayo Clinic, Rochester, MN
David Hilden, MD, MPH, FACP, Hennepin County Medical Center, Minneapolis, MN
Amy Holbrook, MD, FACP, Abbott Northwestern, Minneapolis, MN
Jill Huber, MD, Mayo Clinic, Rochester, MN
Pete Melchert, MD, Abbott Northwestern, Minneapolis, MN
Liz Miller, MD, Park Nicollet, Minneapolis, MN
Sue Ravenscraft, MD, FACP, Park Nicollet, Minneapolis, MN
Charles Reznikoff, MD, FACP, Hennepin County Medical Center, Minneapolis, MN
Meghan Rothenberger, MD, University of Minnesota, Minneapolis, MN
Jeff Schiff, MD, MBA, FAAP, Minnesota Department of Human Services, St. Paul, MN
Pam Shultz, MD, FASM, Hazelden Betty Ford Foundation, Center City, MN
Aaron Tande, MD, Mayo Clinic, Rochester, MN
David Tierney, MD, FACP, Abbott Northwestern, Minneapolis, MN
Ben Trappey, MD, University of Minnesota, Minneapolis, MN
Bri Vaa, MD, Mayo Clinic, Rochester, MN
Tom Yacovella, MD, Regions Hospital/Health Partners, Saint Paul, MN

Abstract Competition Winners
With a continued high number of abstracts and posters (148) in the medical student and resident poster exhibition, competition was fierce and we all appreciated the high quality of work presented by the participants. Winning abstracts lead authors will receive a travel scholarship to present their abstract at IM2018 in New Orleans this spring. The following were the winners of the poster competitions:
Clinical Vignette
Ronstan Lobo, MD, "Shall We Thrombolyze?" (Mayo)
Resident Clinical Vignette Finalists
Daniel Childs, MD,"A Real Pain in the Neck: Early Stage Takayasu Arteritis Presenting with Isolated Carotidynia", Mayo;
Angie Lobo Romero, MD, " Spontneous Coronary Artery Dissection: The Importance of Considering Non-atherosclerotic Acute Myocardial Infarction in Women", (ABNW);
Alexander Ryu, MD,"A Case of Lyme Neuroborreliosis Presenting with Constipation, Hyponatremia and Weakness" , (Mayo);
Paul Viscuse, " Dire Consequences of the Steroid Stress Test", Mayo
Resident Research
Nasreen Quadri, MD, "Elevated Blood Glucose Prevalence in Newly Arrived Refugees" (University of Minnesota)
Resident Quality Improvement
Nick Zorko, MD, "University of Minnesota Resident Primary Care Continuity Clinic Prompt Notification of Patient Results: Strategies for Improvement" (University of Minnesota)
Medical Student Clinical Vignette
Elizabeth Fairbairn "Sticking Point: Severe Shoulder Pain Following Vaccine Administration" (University of Minnesota)
Medical Student QI
Garrett Welle, "Optimizing Appropriate Utilization of Cardiac Telemetry on an Adult General Medicine Unit" (University of Minnesota)
Medical Student Research
Crystal Donelan "Making a "Case" for High Value: Educating Residents on High Value Care Communication" (University of Minnesota)
Winners of the Clinical Vignette, Quality Improvement/Research and Medical Student poster competitions were awarded a $200 prize and travel scholarship to attend the national ACP meeting in New Orleans in Spring 2018 representing Minnesota to compete nationally. Finalists in each category were recognized at the annual meeting and presented with a prize. Winners will have their abstract published in a statewide publication in early 2018. A list of all abstracts submitted can be viewed here .
Doctor's Dilemma® Takes Center Stage
Four teams of internal medicine residents enjoyed friendly competition at the 2017 Minnesota Doctor's Dilemma®. Team members and their institutions were as follows:
A close final round between the Mayo Clinic Team and the HCMC team resulted in the HCMC team taking 2017 honors. All team members were recognized and received an "I Think therefore I.M." mug in recognition of their participation. The winning team goes on to represent our chapter nationally at Internal Medicine 2018 in New Orleans.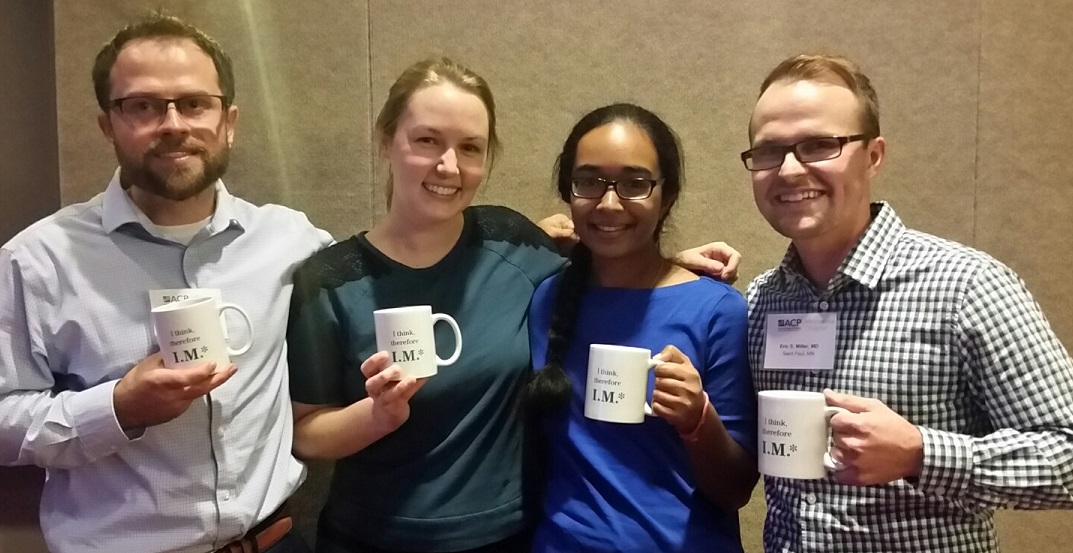 Hennepin County Medical Center Team— Dustin Potter, MD; Heather Rud, MD; Parvati Singh, MD; Eric Miller, MD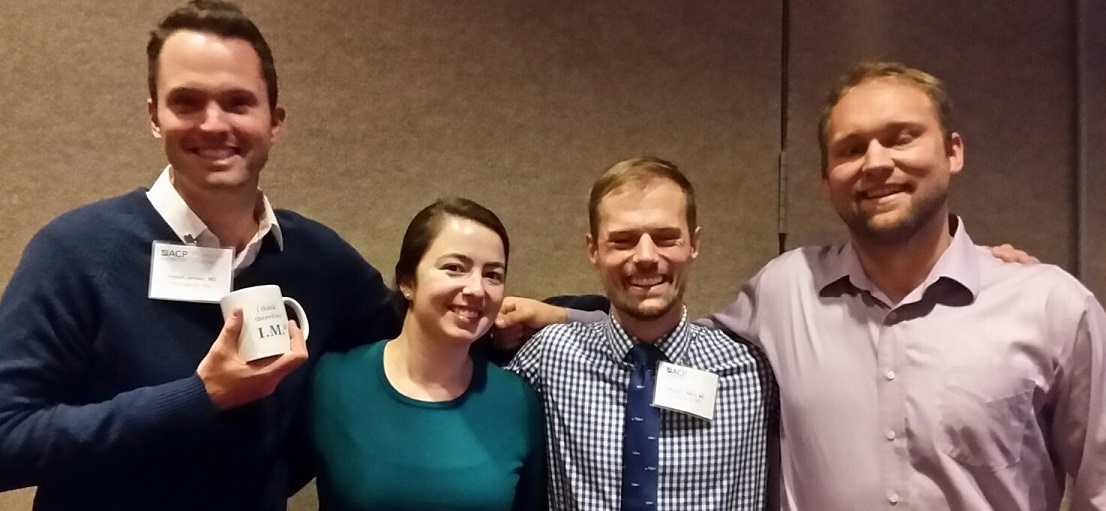 Abbott Northwestern Team—Joe Jensen, MD; Brynn Stenehjem, MD; Bryce Mikel, MD; Brian Berglund, MD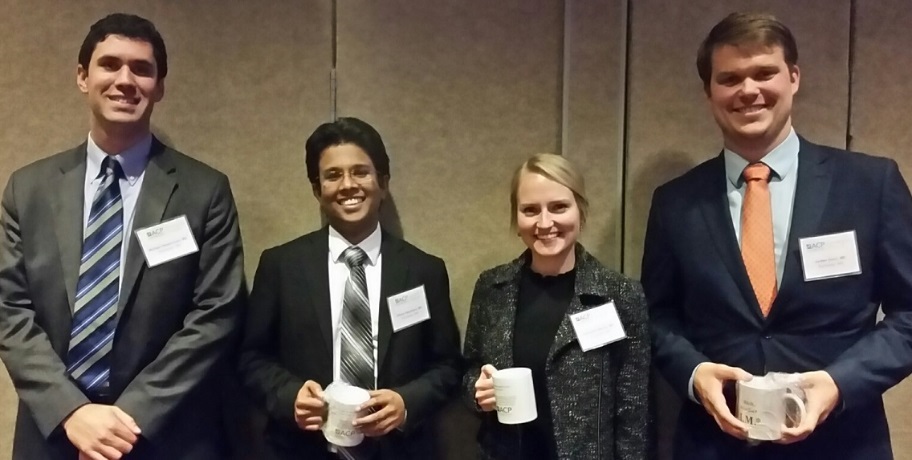 Mayo Clinic Team— Michael Hessenauer, MD; Jithma Abeykoon, MD; Sami Ryan, MD; Jordan Gunn, MD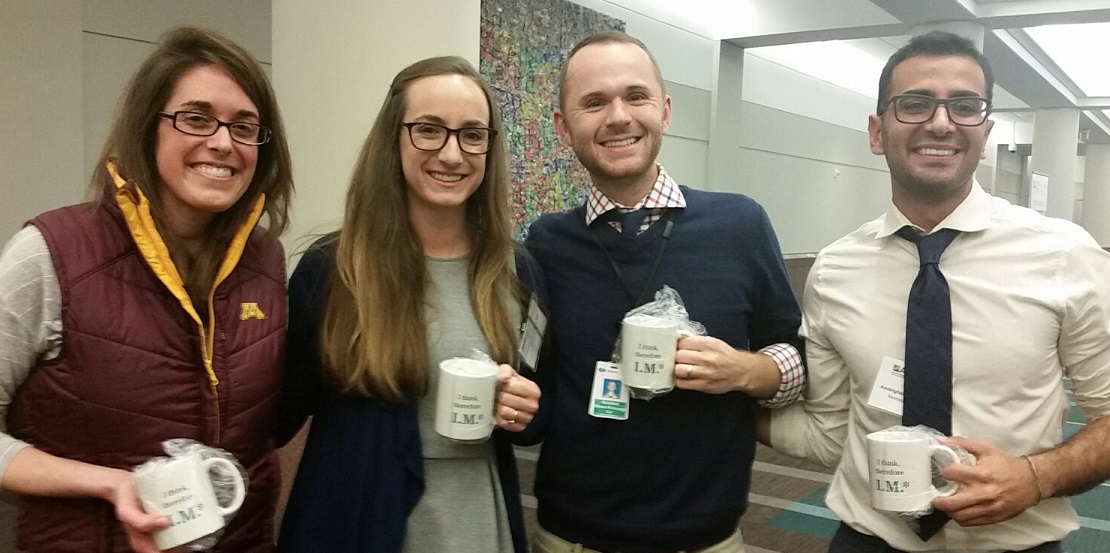 University of Minnesota— Megan Brandeland, MD; Audrey Jacobsen, MD; Steven Richmond, MD; Abdel Ghani El Rafei, MD
---
Health Policy
by Mark Liebow, MD, MPH, FACP
ACP Minnesota Chapter Policy Chair
ACP 2017 Achievements Advocacy in Focus Infographic
ACP's top achievements of 2017 included:
Staving off the potential repeal of the ACA
Influencing CMS to decrease administrative burdens
Co-founding a coalition of 6 professional organizations representing 500,000+ doctors to lobby Congress
ACP's advocacy efforts strive to achieve policy change that makes a difference in your daily practice and improves American health care.
ACP Key Health Policy Wins
Key ACP Policy "Wins" in the Federal Budget Agreement
Extends CHIP: Reauthorizes the Children's Health Insurance Program (CHIP) for another four years, in addition to the 6-year extension already enacted by Congress; thereby, funding the program for a total of 10 years.
Allows Greater Funding for Health Programs: Increases budget caps (statutory dollar limits on how much Congress is allowed to spend) in 2018 and 2019 for both domestic spending and defense spending, with billions of dollars more being specifically directed to the Centers for Disease Control and Prevention (CDC), the National Institutes of Health (NIH), and programs to address the opioid epidemic.
Extends Key Workforce Programs: Reauthorizes for two years the National Health Service Corps (NHSC), the Teaching Health Center Graduate Medical Education (THCGME) program, and Community Health Centers (CHCs)-all of which provide valuable resources for vulnerable communities across the nation and help train the next generation of primary care physicians.
Improves Coverage for Chronic Care and Telemedicine Services: Extends the Independence at Home Medical Practice Demonstration Program, which provides a home-based primary care benefit to high-need Medicare beneficiaries with multiple chronic conditions; allows Medicare Advantage plans to offer a wider array of targeted supplemental benefits to chronically ill enrollees; expands coverage of telemedicine services by Medicare Advantage Plans and Accountable Care Organizations; and beginning in 2021, payments will be authorized to physicians furnishing telehealth consultation services in all areas of the country for the purposes of diagnosis, evaluation, or treatment of symptoms of an acute stroke, eliminating current geographic restrictions.
Reduces Administrative Burden: Eases Medicare's regulatory burdens on clinicians, removing the mandate that EHR meaningful use/Advancing Care Information standards become more stringent over time. It also makes several other important improvements in Medicare's Quality Payment Program.
These wins for internists and your patients resulted from many months of intense advocacy by ACP and our allies, and especially, the phone calls, emails, meetings and other efforts from our Advocates for Internal Medicine members like yourself! Of note, the agreement delivers on 4 of our top priorities from last year's Leadership Day on Capitol Hill: reducing Administrative Burdens: Advancing Chronic Care Management; addressing the Opioid Use Epidemic; and Supporting Funding for Essential Health programs.
---
MN-ACP Council
Your Governor's Council met on Oct. 27, 2017 in Minneapolis, MN. Updates were provided by all committee chairs and by representatives from each medical school and residency program.

---
Resources
Music and Medicine Concert Video
Physician and concert pianist Dr. Richard Kogan, who has performed at several of ACP's Internal Medicine Meetings, delivers presentations that explore the role of music in healing and the impact of medical illness on the creative output of various composers. He recently gave a performance and talk about George Gershwin as a TED MED presentation; a video of the performance is available on YouTube.
2018 Adult Vaccine Schedule
Vaccine recommendations in the 2018 schedule based on age, medical conditions, and other indications, are summarized in two figures and detailed footnotes. A table of contraindications and precautions is also included, as is information on considerations for special populations (for example, pregnant women) and instructions for reporting adverse events and suspected reportable vaccine-preventable diseases, among other topics. The schedule was published by Annals of Internal Medicine on Feb. 6. A series of videos from ACP explaining the ACIP's 2018 adult immunization schedule is available online.
---
Save the Dates
April 10, 2018–I.M. on Tap meeting at 6:30pm at Kieran's Irish Pub in the Poet's Corner in downtown Minneapolis- with speaker Dr. Tyler Winkelman from HCMC who will be speaking on "Mass Incarceration and Health- Inequitable and Ineffective" RSVP.
April 19 - April 21, 2018–Internal Medicine 2018 ACP meeting in New Orleans. Information and registration here Please plan to attend!
April 20, 2018 at 6-7:00pm –MN-ACP, Mayo Alumni reception at Marriott Marquis New Orleans
May 22-23, 2018 –ACP Leadership Day in Washington, DC. Registration online.
Oct. 17, 2018 –I.M. on Tap meeting at 6:30pm at Kieran's Irish Pub in downtown Minneapolis
Nov. 8-9, 2018 for the ACP-MN Annual Scientific Session and Pre-courses, Minnesota IM:2017 at the Minneapolis Convention Center
---
Seeking Preceptors for 4th Year Medical Students!
Earlier this month, CMMS significantly revised their E/M documentation guidelines for working with medical students, such that re-documentation of the student's note is no longer required. This will substantially decrease the paperwork burden for clinical preceptors and allow them to focus more on teaching the student—thus making this activity even more fulfilling than it is already! ACP had a major role in advocating for this change.
Please see the following note from Dr. Sally Berryman regarding an opportunity to serve as a preceptor for senior medical students.
I would like to invite you to consider being a preceptor for 4th year University of MN students during their clerkship in Internal Medicine: Primary Care and Beyond (PCB). PCB students specifically choose this clerkship based on their career interests in Internal Medicine.
Each clerkship rotation is 4 weeks long and requires an average of 3 1/2 days per week of direct patient contact in an outpatient setting. Students are expected to hone their clinical skills and function near the level of an intern. They are also expected to participate in Quality Improvement activities.
The MN Medical Association (MMA) has put together a fabulous set of informative videos about precepting students. Here is the link.
Some key topics include:
How fulfilling and fun it is to work with students
How students can increase patient flow and satisfaction in your clinic
How working with students can add to your medical knowledge
How working with students can help you contribute to the medical profession and community
Please feel free to contact me directly if you are interested. As a preceptor myself, I can't emphasize enough how satisfying it is to work with students!
Sally Berryman, MD, FACP
Director, Primary Care Selective Clerkship
Division of GIM, U of MN
---
Congratulations New Fellows!
Achieving ACP Fellowship is a mark of distinction and a milestone in a physician's career.
I'm delighted that we have so many accomplished and dedicated clinicians, and am so pleased to have many advance to Fellowship. Please join me in congratulating the following new Fellows from the last six months. The following additional new Minnesota Fellows were named by ACP in the last six months:
Howard R. Epstein, MD, FACP, Golden Valley
Swapnil S. Lanjewar, MD, FACP, Rochester
Chukwuma S. Osifeso, MD, FACP, Chaska
Klaus K. Suehler, MD, FACP, Ramsey
Wade T. Swenson, MD, FACP of Fergus Falls
Racheal Tushabe, MD, FACP, Worthington
Make 2018 the year you apply for Fellowship- Fellowship is a high honor and a mark of distinction and professional achievement that is recognized by your peers and your patients. If you are now a member- become a Fellow by reviewing this link and find which pathway to Fellowship is appropriate for your career path. Links to the requirements for advancing to Fellowship and to the application are also found on this website. In Minnesota, there are over 600 current members who are eligible for a pathway to becoming a Fellow of the American College of Physicians (FACP)
If you have any questions about completing the Fellowship application feel free to email or call ACP at 800-523-1546 ext. 2709
---
Early Career Physicians
ACP's official definition of an "Early Career Physician" is a physician who has graduated from medical school within the last 16 years AND who is not currently in residency or subspecialty fellowship training. If you have any questions or suggestions, please contact the Early Career Physicians Chairwoman, Amy Holbrook, MD.
---
2017 Chapter Excellence Award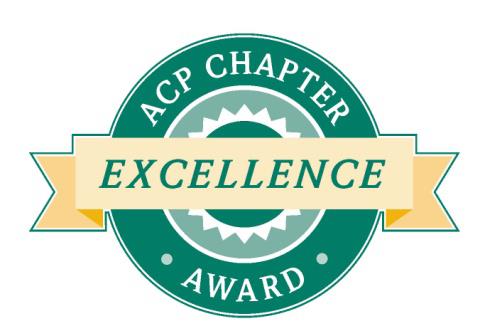 The Minnesota chapter of ACP has received the 2017 Chapter Excellence Award. The award recognizes chapters which successfully meet the standards for managing a chapter. In order to achieve the Chapter Excellence Award, chapters must meet all basic criteria and seven optional criteria. Criteria include such activities as formulating an effective Governor's Council and committees, communicating frequently with membership, providing educational opportunities, recruiting and advancing members and celebrating membership through local awards.
---
Chapter Vital Statistics – Membership at Record Levels!
Membership of the Minnesota chapter as of February 2018 demonstrates record levels, especially of members, medical students and affiliates. The table below shows a comparison of membership over the past five years. Thank you for your membership!
| | | | | | | |
| --- | --- | --- | --- | --- | --- | --- |
| MN-ACP membership profile | 2013 | 2014 | 2015 | 2016 | 2017 | 2018 |
| Masters | 20 | 20 | 21 | 21 | 20 | 23 |
| Fellows | 570 | 571 | 579 | 561 | 562 | 557 |
| Members | 972 | 1026 | 1074 | 1125 | 1006 | 1023 |
| Associates (Residents) | 486 | 391 | 405 | 392 | 474 | 457 |
| Medical Students | 234 | 275 | 307 | 334 | 358 | 405 |
| Affiliates (MD and non-MD) | 10 | 10 | 12 | 17 | 17 | 19 |
| Total members | 2292 | 2293 | 2398 | 2450 | 2437 | 2484 |
---
Welcome New Medical Student Members!
Many thanks to the Internal Medicine Interest Group Leadership at the University of Minnesota Medical School, UM-Duluth Medical School and the Mayo Medical School for their recruitment of new members. We look forward to all medical student engagement in the chapter!
New Chapter Members – Last Six Months
| | | |
| --- | --- | --- |
| Maggie Abraham | Saima Iqbal, MD FACP | Jamie Piepenburg |
| Sowda Ahmed | Ausia Iqbal, MD | David J Plevak, MD FACP |
| Kelley Salo Anderson, MD | Archana K Jeeji | Kaakou Pokona |
| Derek Anderst, MD | Sarah Jeffrey | Caitlin Raasch |
| Cyril P Appiagyei | Matthew Jergenson | Clemencia Rasquinha, MBBS |
| Ovidiu G Ardeleanu, MD | Whitney Johnson | Prathap Raviraj, MD |
| Mohamed Artan | Bryan Johnson | James Regan, MD |
| Ashwathy Balachandran Pillai, MBBS | Jenna Johnson | Lindsay A Riordan |
| Alexander M Barnett | Tina Johnson, MD | Skylar A Rizzo |
| Curtis J Bashore | Deborah Kay Johnson | Londyn Robinson |
| Elin Beck | Bray Johnson | David A Rollins |
| Sarah B Benton | Isaak M Jones | Astia Roper-Batker |
| Michael D Berken | Sneha Kaggal, MBBS | Angel Rosado-Burgos, MD |
| Prakhya Bhatnagar | Justin Kane, MD PhD | Heather W Rud, MD |
| Mylan R Blomquist | Abdul-Malik Kassim | Jenna Ruggiero |
| Beatrice Brumley | Diana J Kelm, MD | Jason Sakizadeh |
| Katerine N Chekhovskiy | Nathaniel T Klair | Arshia Sandozi |
| Justin J Choe | Luke J Klugherz | Jamie P Schlarbaum |
| Megan S Crow | Catherine G Knier | Abigail Schnaith |
| Megan E Crowe | Michael P Koller | Paige Selvey |
| Natalie David | Anna Krieger | Jad G Sfeir, MD FACP |
| Elizabeth Davis | Amelia Krug | Nisha Shankar, MD |
| Kurt C Demel, MD | Joel Kruse | Hayley Sharma |
| Jennifer C Dens Higano | Emily Kruse | Gurjinder Sidhu |
| Aakash Deshpande | Margaret E Lang | Mengistu A Simegn, MD |
| Minna Ding | A Karoline Lange, MD | Joanne Song |
| Kirk R Dornfeld, MD | Christina Lee | Ellen J Sparrtz |
| Michael Downey | Sharon Li, MD | Andrew Stone |
| Anthony Edholm | Kevin Lin | Linnea Swanson |
| Joel Edwall | Kiran Lingala, MBBS | Jamil Taji, MD |
| Ryan Else, MD | Mark Linzer, MD MACP | Jennifer Taves |
| Kristine E Ensrud, MD MACP | Mary E Logeais, MD FACP | Sarah Tawfic |
| Emily Ewan | Evan Louku | Whitney S Thompson |
| Priyal P Fadadu | Kimberly Lundeen | Leonardo Tjahjono |
| Jafary Fafara | Daniel Ly | Lena Trager |
| Elizabeth Fairbairn | Riya Madan | Cullen Trangsrud |
| Jenna Fleming | Mackenzie Maki | Sarah Usher |
| Bradley Fredrickson | Nick J Maleska | Saraschandra Vallabhajosyula, MBBS FACP |
| Thomas Freeman | Alan Manivannan | Lindsey Voller |
| Ally N Fuher | Esteban Martinez | Alaina Webb, MD |
| Natasha Gallett | Allison McCarter | Lauren M Webb |
| Brian Gooley | Dylan L McCreary | Taylor M Weiskittel |
| Katie Grausam, PA | John McGrory | Anna Weitz |
| Andrea Green | Alesandra Mendoza | John P Welby |
| Bruce Gregoire | Michael Michalik | Alexandra Wells, MD |
| Rebecca Grove | Ahmed H Mohamed | Kristen Westenfield |
| Barite Gutama | Fathima Mohamed | William White |
| Madeleine Hage | Ashley Nelsen | Georgianna Whiteley |
| Kelly Hallowell | Monica Ngo | Jason Wiederin |
| Andrew Hamp, MD | Junaid Niazi, MD | Natalie Wilson |
| Nathan Harris | Lauren B Nichols | Lily Wood |
| Amal Hassan | Sydney L Notermann | Shirlee Xie, MD |
| Jeannette A Heidlberg, MD | Makinna Oestreich | Brian Yablon, MD |
| Burton Hendrickson | Marin Olson | Simon Yang |
| Jordan Heser | Kafayat A Oyemade | Alicia Youssef |
| Nadezhda Horchner, MD | Sujaythat Paknikar | Lucas Zellmer |
| Alia E Huang | Angela Phillips | |
---
In Memoriam – Dr. Frank Lederle
Our chapter lost a beloved and esteemed colleague in January, with the death of Dr. Frank Lederle from pancreatic cancer. [He had written poignantly, and in his typical style, of his experience with the disease recently in the "On Being a Patient" section of Annals]. Frank was a frequent speaker at our chapter meetings over the years and enlightened us, in his wonderful way, on topics as varied as: oral vitamin B12 (back when that was first news); management of AAA (on which he had done seminal work and was an international expert); and the pernicious effects of conflicts of interest in the writing of guidelines (DVT prophylaxis) – among others. Our thoughts are very much with his family and other friends and colleagues as we grieve his loss.
---
How Can We Better Serve You?
Please feel free to contact me with any questions or thoughts you may have on how the MN-ACP can serve you.
John B. Bundrick, MD, FACP
Governor, ACP Minnesota Chapter