You are here
Massachusetts Governor's Newsletter December 2017
Massachusetts Governor's Newsletter December 2017

---
---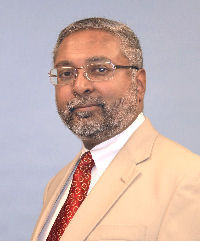 George M. Abraham, MD, MPH, FACP, ACP Governor
---
Message from the Governor
Dear valued colleague,
Believe it or not, it is already the fall and I hope everyone had a blessed and joyous Thanksgiving holiday. While we take time to reunite with family and friends, we are also grateful for the chance to live in a secure and free environment in this country and to have the privilege of serving our patients in this most noble profession of ours.
This is the final newsletter from me as Governor of our chapter. My term ends in April 2018, with the Annual Internal Medicine meeting in New Orleans, LA.
I am personally thrilled that we were able to break the proverbial 'glass ceiling' and elect our first woman Governor in the history of the Chapter. I am very proud to say that Dr. Elisa Choi, is our Governor-Elect. She is currently our Secretary/Treasurer for the Chapter. She is an internist and infectious disease physician who practices primary care, general infectious disease and HIV medicine in the Boston area. Additionally, she spends a lot of her time volunteering for a number of community and non-profit entities, sits on several non-profit Boards serving the MA and Asian American community, is the appointed Chairperson of the Commonwealth of MA Asian American Commission (the only state government organization exclusively devoted to supporting and advocating on behalf of Asian Americans), and is also a proud mother of two incredibly talented children (her son is a blossoming prodigy stage artist). I cannot think of a worthier person to lead our chapter in the next four years. I look forward to working with her and all of you to continue to make Massachusetts the best state to practice medicine in.
In this time of transition, it is always good to look back at how we, as a chapter, have done in the last 4 years. I am proud to say we have accomplished a fair amount, some of which is highlighted below.
Governor's Council Retreat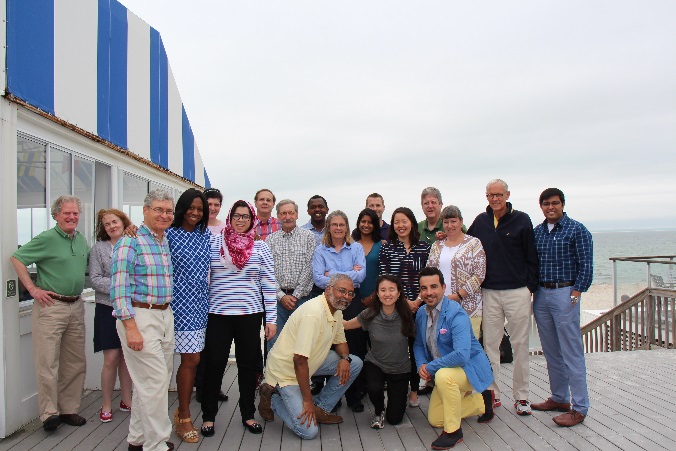 Once a year the sagacious members of the Governors' Council give up a weekend to spend at a retreat, to plan and contemplate on issues of concern to practicing physicians in the state. At this year's retreat in June, our theme was Strategic Planning, and we deliberated very thoughtfully about our role as a Chapter. We performed a SWOT analysis (Strengths, Weakness, Opportunities and Threats), which helped us lay out our priorities and determine where to focus our resources in this transition year for leadership of the Chapter. Over the next few months, as we make progress in some of our goals, we hope to highlight some of our efforts and solicit your ideas for how to achieve further progress.
Annual Chapter Scientific Meeting
This year's annual chapter meeting turned a spotlight on the larger issues of how our practice of medicine is impacted by so many factors, including our interaction with legislators and regulators. The title of our meeting was 'Being a Physician: More than just Medicine', and featured several 'star' speakers, with a keynote session on the national healthcare scenario by Robert (Bob) Doherty, SVP for Governmental Affairs at ACP.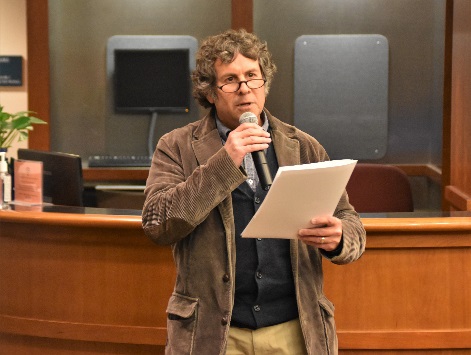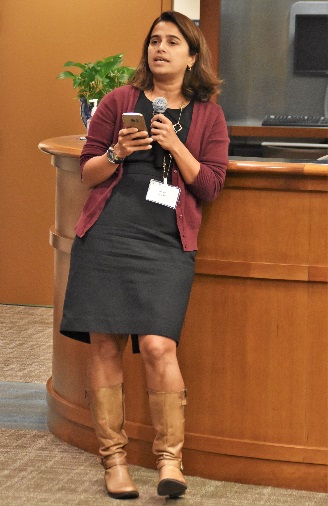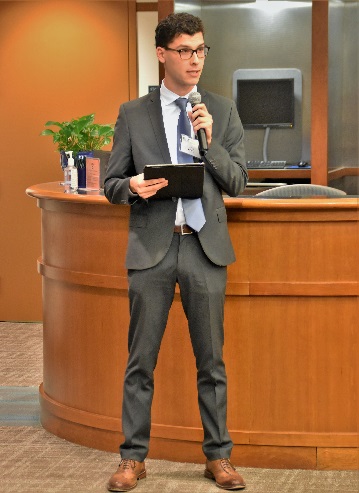 (Top to bottom) 1st MA ACP Story Slam - Dr. Robert Fishman, Dr. Nirmal Kaur and Adam Faletsky
In addition, we were thrilled to congratulate and recognize Drs. David Martin (Chief of Medicine at Lahey Health) and Eileen Reynolds (Chief of the Division of General Internal Medicine at BIDMC) as new Masters in the College.
We were also delighted to have MA Chapter members receive three of the national awards that ACP gives out each year. The ACP Award for Outstanding Educator of Residents and Fellows has been awarded to Dr. Hasan Bazari, former program director for the IM residency at MGH and now primarily focused on 'Wellness Initiatives' at the MGH.
Both the Richard and Hinda Rosenthal Award #1 and #2 from The Rosenthal Family Foundation came to us in Massachusetts, to Dr. Jeffrey Samet and Project ASSERT (Dr. Edward Bernstein) respectively. Both the awards center around the work on opioid abuse rehabilitiative work which is done through Boston Medical Center, where the awardees are based out of.
We are thrilled to congratulate all our awardees and new Masters on their singular contributions and recognition. Additionally, over the last four years, we have had over 120 new fellows from all over the state, we have successfully nominated 10 Masters and 8 National Award Winners, including the Phillips Award, the Henry Lester Award, the Rosenthal Awards (in past years), etc.
Membership, Governor's Council, Councils and Committees
Our membership rolls have steadily grown, with an increase in Masters by 8.8%, Fellows by 5.4%, Members by 0.4%, Residents/Fellows by 11% and Medical Students by 51.2%. The overall increase in membership is 10.7% with a Year end total in 2017 of 4,051.
We re-activated the Health and Public Policy Committee (HPPC) which has held two and is planning a third Advocacy Day at the Statehouse, and also has subcommittees on several topics including Opioid Use Disorder, Drug Pricing, and Access to Care. See the HPPC article later in the newsletter. We formed an Awards Committee, have formalized the Nominating Committee and nominations process, have formed a Finance Task Force to review Financial Safeguards, and continue to keep our other committees operational.
The Council of Residents and Council of Students helped organize the Annual Poster Day and Doctor's Dilemma which was critical to engaging residents and students. The Council of Early Career Physicians (ECP) held social events and an annual CME program including topics such as social media, mentoring, diversifying your career in global and public health. This committee is vital to developing new leaders for the chapter.
We have increased our representation on the Governor's Council to include ECPs, Chief Residents, Fellows and Medical Students. We held four Governor's Council Retreats with representation of the ECPs, Residents and Medical Students. We have developed funding for Residents and Medical Students to attend Leadership Day (in Washington, DC) and the annual national Internal Medicine meetings.
National ACP Representation
With the support of the chapter, Lynda Layer represented chapter staff on the Chapters Subcommittee and chaired the Best Practices sessions at Chapter Staff meetings nationally. She continues to be a vital contributor and leader at the staff level in ACP and is a role model whom many other chapter administrators tap regularly for wisdom. We are proud of her presence in our chapter and all that she does for us.
I represented the chapter on several national committees: Postgraduate Education, Chapters Subcommittee, Health and Public Policy, High Value Care, Governance, Diversity Task Force, Finance and Audit, the Executive Committee of the Board of Governors (ECBOG) and the Executive Committee of the Board of Regents (ECBOR). As my term as your Governor comes to a close I will begin my year as Chair of the Board of Governors.
We have received the Chapter Excellence Award all four years (a total of 11 consecutive years), we have received Chapter Development Funds for our Mentoring Workshop and were proud recipients of the 2017 Evergreen Award for our work on the Mentoring Collaborative. Additionally, we have submitted a proposal for the 2018 Evergreen Award, based on our work in starting the Advocacy Day at the Statehouse.
As you may recall, MA Chapter was the host of the 2015 centenary IM meeting, which was the highest ever attendance in the history of ACP meetings (over 10,000 attendees).
Finances
Fiscally, we have continued to be responsible with our assets, we increased our reserves to 1.32 years of expenses or $134,691.05 (2014 year-end balance $118,319.82). We have developed a Financial Safeguards document and managed to do all of what I described above with just a small increase in dues ($5), keeping a balanced budget over the past 5 years.
Into the Future
The chapter has been busy this past year and is beginning to plan for the coming year. You can read about future activities below.
Thanks to Dr. Orlando Torres, our Twitter feed remains active. Please do follow us on Twitter, if you are a user. We also maintain an active Facebook page. We are looking for help to increase our social media presence and any volunteers would be greatly appreciated. Please 'like' us on FB and share our page with your friends.
As always, it is through the interest of others in the chapter and in the field of medicine, that we support and enhance the practice environment in the state. To that end, any suggestions for areas to focus on, or volunteers for a particular task are always welcome.
In treading that tightrope between too much communication inundating your inbox and deafening silence leaving our membership wondering if the chapter exists, this newsletter serves as a means of information, a voice that relays our concerns (as practicing clinicians) to national leadership and policy makers as well as develop new initiatives of relevance to all the stakeholders that make up our membership. To that end, please do not hesitate to e-mail me or our Chapter Administrator Lynda Layer whose untiring efforts keep our Chapter running.
As I sign off, I am most grateful to the Governors' Council, all the subcommittees and numerous other members in our Chapter who have volunteered of their time, talent and energy to accomplish all that we have been able to do in the last four years. Additionally, so many of you have graciously offered your wisdom, a shoulder to lean on, and the arm of friendship and collegiality that has been invaluable for me personally and which I hope to treasure and foster in the days to come. My undying gratitude to Ms. Lynda Layer who remains the brain and limbs of all that we do and without whom we could not accomplish our many goals. My colleagues at work and my family have been incredibly supportive of all the time I have spent in my role as Governor and I am hopeful they will continue to support me as I take on my new role as Chair of the Board of Governors and as a Regent of the College.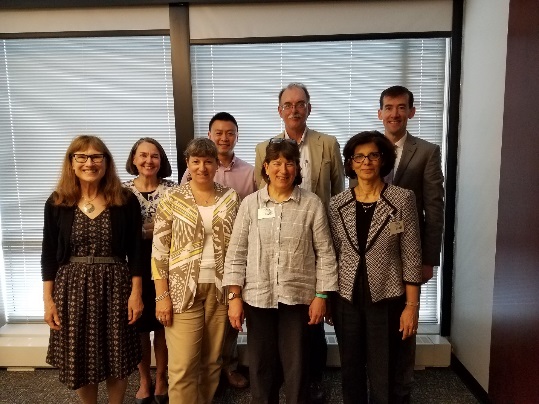 Massachusetts Chapter Administrator Lynda Layer, CAE, serves on the ACP Chapters Sub-Committee and attended their committee meeting at ACP Headquarters in Philadelphia.
Wishing each of you a restful and joyous holiday season!!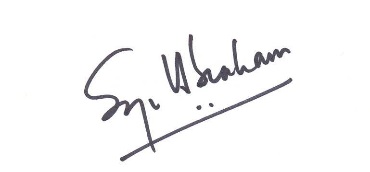 ---
Message from Dr. Elisa Choi, Governor-Elect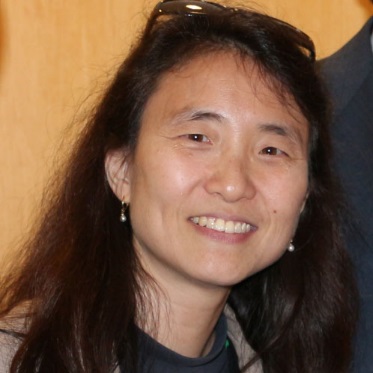 Dear Esteemed Colleagues,
I hope this message finds each of you doing well, as we head into the December holiday season. I am privileged and honored to be the Governor-Elect and your next Governor of the MA ACP Chapter. I acknowledge that it is a challenging time to be a physician and a medical professional. Our healthcare industry is undergoing many changes, and it has been increasingly more difficult to maintain the focus on the doctor-patient relationship.
My goal during my upcoming tenure will be to work on supporting the important and unique work that we do as physicians, in caring for and managing the health of our patients. Of particular importance to me, personally, is to ensure that our Chapter supports the efforts of front-line physicians, all of you who have dedicated your career to healing and helping patients. I look forward to the opportunity to work with each of you, and I am eager to continue and maintain the important advocacy efforts ACP provides for our internists and internal medicine specialists.
I wish each of you and your families and loved ones a wonderful holiday season!
Warmest regards,
Elisa Choi, MD, FACP
---
Annual Chapter Meeting and Poster Competition – a View from a Resident
Prarthna Bhardwaj, MD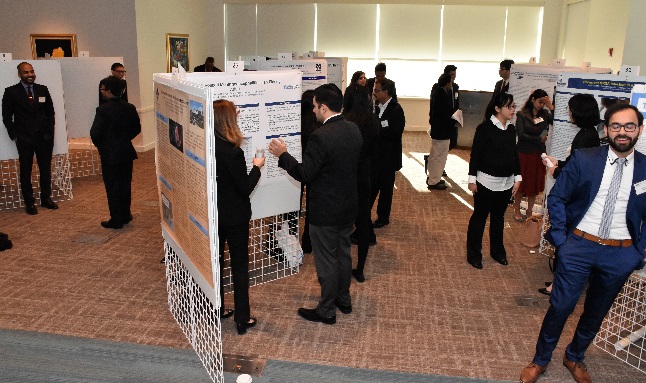 As a resident, I have always been on the lookout for opportunities to be able to make a difference. With this idea in mind, I submitted an abstract to the ACP MA regional poster competition to share my clinical vignette with people across the state in the hope that they would learn something new about tuberculosis.
While participation in this activity was an added bonus on my CV, the experience itself was invaluable as it not only enabled me to interact with specialists and internists from all over Massachusetts, but also students and residents from across the state with similar interests to mine. One of the most important things I learned is that our individual efforts at research can be communicated in a succinct and meaningful way along with the collected efforts of our colleagues to help foster both our learning and the delivery of optimized care for our patients.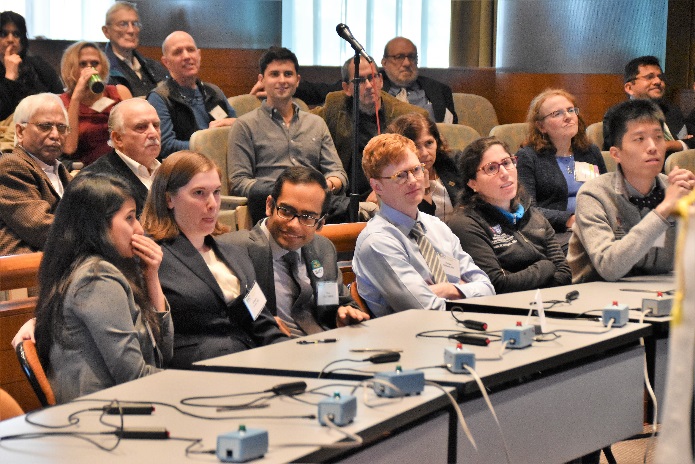 Being recognized for my poster also gave me the confidence to share my interesting cases at other forums. Watching "Doctor's Dilemma", another resident-related activity is a fun way of learning and a moment to recognize how bright some of our peers really are.
One of the best parts of an ACP meeting is always the coffee break. This is the best time to talk with colleagues about their lives and memorable moments in medicine. For all of us, these are moments of fellowship and collegiality, and really why we refer to ACP as the College.
ACP in all, is a fantastic platform to share experiences, research, interesting cases and be able to learn much more that we already know. Winning the runners-up award for clinical vignette for this year has been a thrilling yet humbling experience. I thank you all for your support on poster day and encourage other members to participate in this event next year.
---
MA ACP Laureate Award Winner – Michael J. Rosenblum, MD, FACP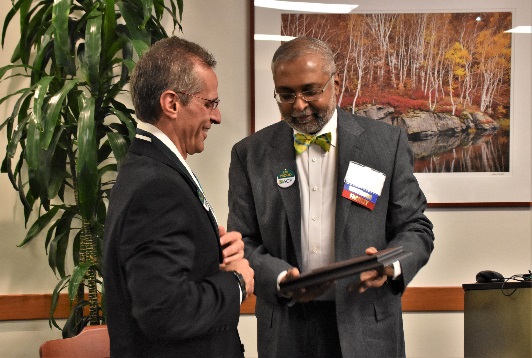 Dr. Michael Rosenblum was presented with the 2017 MA ACP Laureate Award at the Annual Scientific Meeting on November 4, 2018. Michael, a primary care internist and medical educator, had his initial exposure to medicine as a paramedic covering the Times Square area during the AIDS epidemic and crack cocaine era. He graduated from Albany Medical College in 1999 and did his postgraduate training and Chief Residency at Baystate Medical Center. He completed a Hartford Faculty Scholar program at the Boston University School of Medicine Center of Excellence for Geriatric Medicine in 2006.
Michael is developing a novel internal medicine residency as Program Director and Designated Institutional Official at Mercy Medical Center in Springfield. He was at Baystate Medical Center for close to twenty great years as a clinician-educator, health center medical director and as an associate professor of medicine at University of Massachusetts Medical School-Baystate and Director of the Baystate internal medicine residency programs.
Michael lives in Amherst with his wife, Kinga, his children, Jacob and Jacqueline as well as Geoffrey and Nesta (dog and cat respectively) and two unnamed hermit crabs. He has completed Tough Mudders alongside his residents, and enjoys travel, biking and running. He loathes sitting idly!
---
MA ACP Chapter Award Winners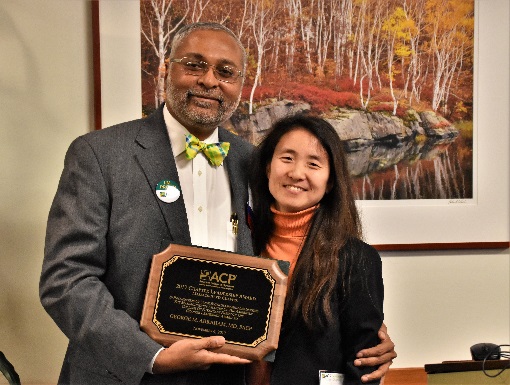 Chapter Leadership Award – Outgoing Governor, George M. Abraham, MD, FACP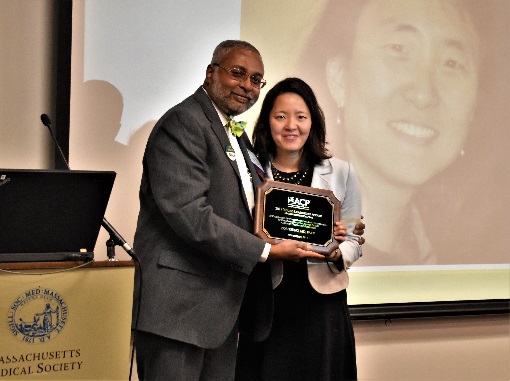 Chapter Young Leadership Award – Zoe Tseng, MD, FACP
(Not Pictured) Chapter Resident Award – Aisha James, MD
---
Health and Public Policy Committee (HPPC)
The Health and Public Policy Committee (HPPC) has been hard at work with an active agenda for 2017-2018 with three subcommittees. For details about our advocacy work, please visit our website.
Prescription Drug Costs
In 2016 and 2017, the MA Chapter testified at the State Senate in support of S. 652 An Act to promote transparency and prevent price gouging of pharmaceutical drug prices, sponsored by Senator Mark Montigny. The bill requires detailed reporting for the ten most expensive drugs in Massachusetts and drugs that have seen significant price hikes (>50% hike within the past five years or >15% within the past year). Information collected would include the actual cost of drug production, the R&D costs for individual drugs, advertising costs, lobbying expenses, prices for foreign purchasers, and profit margins for each drug. In addition, the bill empowers the attorney general to use this information to file lawsuits and designate drugs as having "excessively higher than justified" cost.
Since the July 2017 testimony, HPPC has been working closely with Senator Montigny's office to garner support for S. 652. In mid-October 2017, HPPC members met with the offices of Senator Jim Welch and Senate President Stan Rosenberg to discuss provisions on prescription drug cost transparency outlined in the Senate's comprehensive bill to address rising health care costs, S. 2202 An Act furthering health empowerment and affordability by leveraging transformative health care. While this bill asked the pharmaceutical manufacturers to report "net expenditures" on certain drugs and "aggregate, company-level research and development expenditures," we did not feel that it went far enough to create prescription drug cost transparency.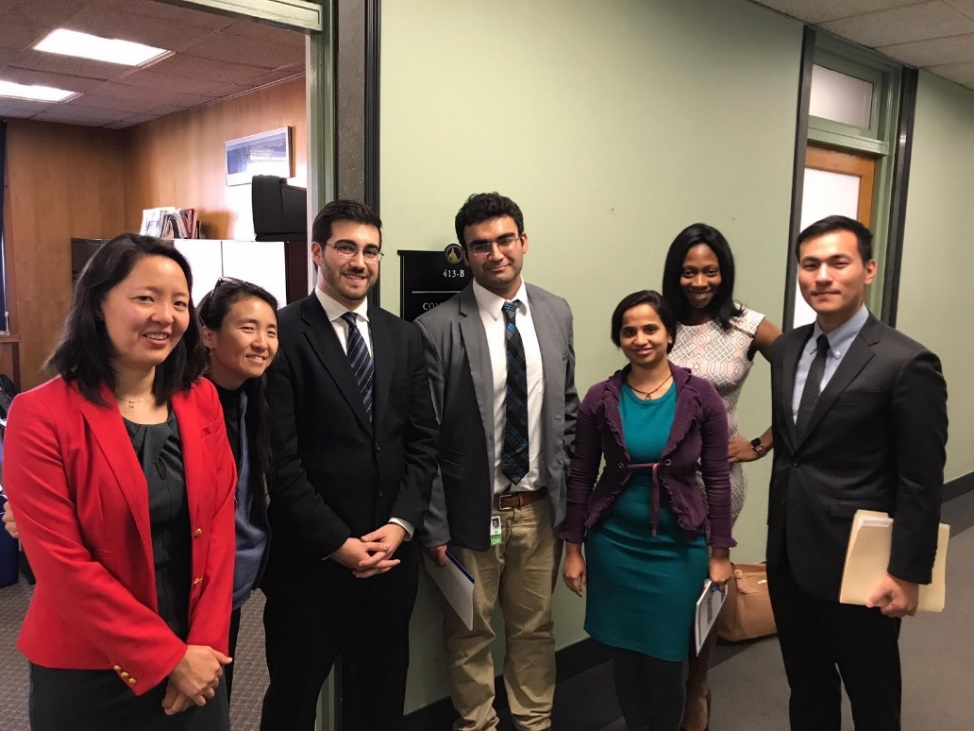 Meeting with Mike Cannella (Policy Advisor for Senator Jim Welch). Left to right: Zoe Tseng, Elisa Choi, Mike Cannella, Hayaan Kamran, Ammu Susheela, Fatima Cody Stanford, Jeremy Feng
HPPC wrote an op-ed voicing these concerns and asking the Senate to strengthen the language in this bill, which was published on KevinMD.com on November 9, 2017.
In response to the weak provisions in S. 2202, Senator Montigny's office submitted amendment #19, which strengthened the data reporting criteria, increased penalties for failure to report, required drug manufacturing companies of excessively priced drugs to develop and implement a prescription drug improvement plan, and authorized the Attorney General to deem excessive drug pricing that fails to conform to the prescription drug improvement plan as "unfair practice." Specifically, this amendment would require reporting of the cost of drug production, research and developments costs (including those paid with public funds), marketing and advertising costs, prices charged to purchasers outside the U.S., and annual profit margins.
On November 7, 2017, HPPC organized an advocacy campaign across the Chapter asking our members to contact State Senators to support amendment #19 and provided email template and phone script to facilitate this. The Chapter also released a statement of support for amendment #19, which was distributed to Senate offices. On November 9, 2017, amendment #19 was adopted with changes but retains the stronger language on transparent drug costs and the fines for failure to comply. It focuses on the Attorney General's power to hold the companies accountable without the drug companies needing to devise a drug improvement plan.
S. 2202 with amendments goes on to the State House of Representatives for consideration where it will likely face obstacles. HPPC will continue to work with Senator Montigny and others on pushing forward strong legislation to improve prescription drug cost transparency.
Opioid Use Disorder
This subcommittee has considered various avenues of advocacy including supporting state legislation for Safe Injection Facility (SIF), which is in preliminary stages. HPPC would like to provide more education to members about opioid use disorder treatment resources, including how to apply for waivers to prescribe suboxone, through an educational event in the future. Additionally, HPPC is looking for ways to support legislation recently passed by the State Senate requiring the Department of Corrections and county sheriffs to evaluate all inmates for drug dependency and provide FDA approved medication assisted treatment for addiction to all inmates and require inmates who are currently prescribed these medications before incarceration to continue their addiction treatment.
State House Advocacy Day
The third annual State House Advocacy Day will be held on Wednesday, April 4, 2018 at the State House. It will consist of morning sessions during which participants will hear from state legislators and receive training by advocacy and policy experts at Massachusetts Medical Society. In the afternoon, participants will visit the offices of their state legislators to discuss several important pieces of legislation. One of the goals of this event is for our members to build long-term relationships with state legislators to further the advocacy work of our Chapter.
---
The Massachusetts Chapter on Social Media
(American College of Physicians, Massachusetts Chapter)
---
2018 Annual Chapter Scientific Meeting – Mark Your Calendars
Monday, August 27 – Abstract Submission Deadline
Saturday, October 20 – Poster Day, MMS, Waltham, MA
Saturday, November 17 – Chapter Scientific Meeting
---
New Masters, Fellows, and Members
The Chapter recognizes and congratulates the following physicians who were elected to Fellowship in the College in the past 6 months:
Masters
David T Martin, MD MACP
Eileen E Reynolds, MD MACP
Fellows
Hafez Alsmaan, MD FACP
Jorgjeta Bukli, MD FACP
Suresh K Chirumamilla, MD FACP
Shoshana J Herzig, MD FACP
Grace Huang, MD FACP
David B Macdonald, MD FACP
Sayuj Paudel, MBBS MD FACP
Amy Ship, MD FACP
Nauman Saleem Siddiqui, MD FACP
Leigh H Simmons, MD FACP
Evan A Soderstrom, MD FACP
Fatima Cody Stanford, MD MPH FACP
Ramnath Subbaraman, MD FACP
Nestor G Tarragona, MD FACP
Shreekant Vasudhev, MD FACP
You may be eligible to progress to Fellowship in the college. If you have never considered the same, please check out the ACP website . I strongly urge you to consider becoming a Fellow. I am happy to help with any questions that may arise if you do not find the information on the ACP website.
Click here for the full list of new MA ACP members from the last six months.