You are here
Massachusetts Governor's Newsletter August 2017
Massachusetts Governor's Newsletter August 2017

---
---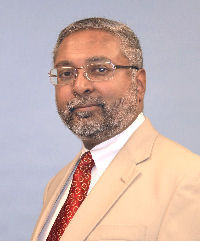 ---
Message from the Governor
Dear valued colleague,
Believe it or not, I am in the home stretch in my term as Governor of our chapter. My term ends in April 2018, with the Annual Internal Medicine meeting in New Orleans, LA. I am very proud to say that Dr. Elisa Choi, is our Governor-Elect. She is currently our Secretary/Treasurer for the Chapter. In my fall newsletter, I will profile her more, so that everyone who has not already met her, at least gets to 'e-meet' her. I am personally thrilled that we were able to break the proverbial glass ceiling and elect our first woman Governor in the history of the Chapter.
In the last year, we have accomplished a fair amount, some of which is highlighted below.
Once a year the sagacious members of the Governors' Council give up a weekend to spend at a retreat, to plan and contemplate on issues of concern to practicing physicians in the state. At this year's retreat in June, our theme was Strategic Planning, where we deliberated very thoughtfully about our role as a Chapter, and we did a SWOT analysis (Strengths, Weakness, Opportunities and Threats) which helped us lay out our priorities and where to focus our resources, as we are in a transition year, for leadership of the Chapter. Over the next few months, as we make progress in some of our goals, I hope to highlight some of our efforts and solicit your ideas for further progress.
To that end, our focus at this year's annual chapter meeting will be on the larger issues of how our practice of medicine is impacted by so many other factors, including our interaction with legislators and regulators. The title of our meeting is 'Being a Physician: More than just Medicine', will feature several 'star' speakers and a keynote session on the national healthcare scenario by Robert (Bob) Doherty, SVP for Governmental Affairs at ACP. Further information on the annual meeting is detailed below.
Additional areas of concern and interest are MACRA (Medicare Access and CHIP Reauthorization Act) which replaced Meaningful Use starting 2017. ACP continues to edit a resource page for the same, and further questions can be emailed to macra@acponline.org. ACP recognizes that the current measurement criteria and tools are imperfect and there are multiple stakeholders who are trying to influence what they should be. Therefore, a Performance Measurement Committee has been set up which is working with CMS and other national regulatory agencies to ensure that the measures are most relevant to us practicing clinicians.
As a reminder, you may be aware that as a benefit of ACP membership you have access to Dynamed Plus free for the first two years and then for $99/- per year. This should help with point of care access to resources in the office or at the bedside.
The chapter has been busy this past year. Our Health and Public Policy Committee headed by Drs. Fatima Cody Stanford and Elisa Choi led a 'State House Day' in addition to our presence on the Hill during Leadership Day in Washington DC this year. Their report is detailed later in this newsletter. They are transitioning leadership to Drs. Zoe Tseng and Aisha James. I particularly want to recognize Dr. Zoe Tseng who planned out, in excruciating detail, our trip to the Hill in Washington DC on Leadership Day, a picture of which is included below with the article on Leadership Day. In addition, Dr. Tseng testified on behalf of the chapter at a hearing on Senate Bill S 652 to promote transparency and prevent price gouging of pharmaceutical drug prices. Follow this link to the article in the Boston Herald featuring Dr. Tseng. This was another issue identified by the Governor's Council during our strategic planning session. Please let me know if you would like to get involved in this issue at the state level.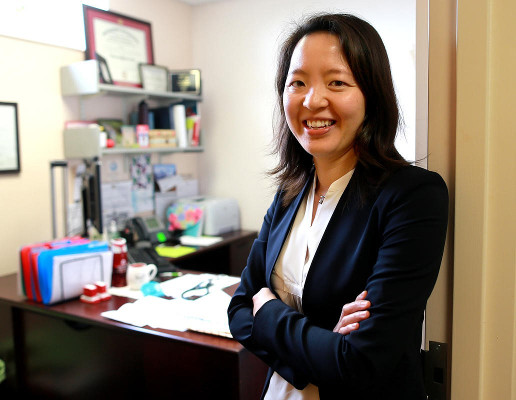 Zoe Tseng, MD, FACP
We are reestablishing our student and resident representation at the Chapter level in the hope of not only increasing their participation in ACP activities, but also to foster a greater interest in a career in internal medicine (IM). We are happy that several residents and fellows from programs across the state have shown an interest in participating and volunteering their time. Our Program Directors met with Dr. Diane Shannon to discuss wellness at the last Annual Meeting and continue to stay engaged, which has helped keep our residents engaged in the Chapter.
We have a number of new members and new Fellows in ACP, from our great state, their names are listed later in this newsletter. Please congratulate them. For those who have not yet become Fellows, please let me know if you have questions about your eligibility and consider becoming a Fellow in the college if you have not become one.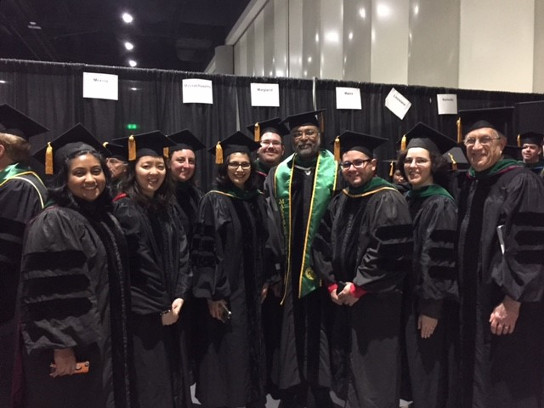 New Fellows at the IM2017 Convocation. (Left to right: Dahlia Banerji, Zoe Tseng, Yvette Youssef, Kalyani Murthy, Randall Morse, George Abraham, Governor, Fabian Delgado, Ruth Miller, Bruce Karlin)
Thanks to Dr. Orlando Torres, our Twitter feed remains active. Please do follow us on Twitter, if you are a user. We also maintain an active Facebook (FB) page, we are looking for help to increase our social media presence and any volunteers would be greatly appreciated. Please 'like' us on FB and share our page with your friends.
Our Early Career Physicians (ECP) continue to be active with hosting meetings, under the stewardship of our Co-Chairs, Drs. Ebrahim Barkoudah and Nii Tetteh. We had a wonderful meeting in the spring on Diversifying Your Career, a report of which is detailed below. Our Mentoring Collaborative continues to foster relationships under the untiring efforts of Dr. Linda Habeeb. More plans are being made for the annual chapter meeting.
As always, it is through the interest of others in the chapter and in the field of medicine, that we support and enhance the practice environment in the state. To that end, any suggestions for areas to focus on, or volunteers for a particular task are always welcome.
In treading that tightrope between too much communication inundating your 'inbox' and deafening silence leaving our membership wondering if the chapter exists, this newsletter serves as a means of information, a voice that relays our concerns (as practicing clinicians) to national leadership and policy makers as well as develop new initiatives of relevance to all the stakeholders that make up our membership. To that end, please do not hesitate to email me or Ms. Lynda Layer, our Chapter Administrator, whose untiring efforts keep our Chapter running.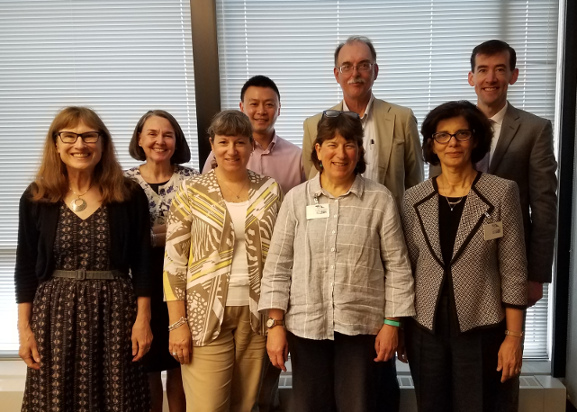 Massachusetts Chapter Administrator Lynda Layer, CAE, serves on the ACP Chapters Sub-Committee and attended their committee meeting at ACP Headquarters in Philadelphia.
Wishing each of you a restful and glorious summer!!
George M. Abraham, MD, MPH, FACP
Governor, Massachusetts Chapter
---
Massachusetts Chapter Receives the John Tooker Evergreen Award at IM2017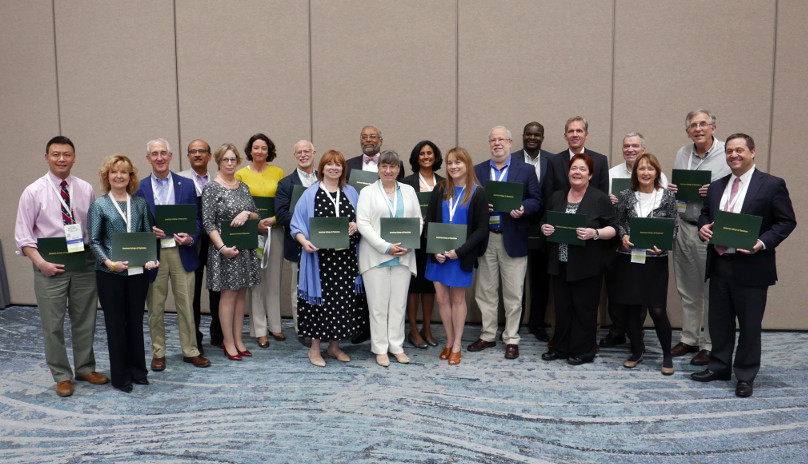 Our chapter received the John Tooker Evergreen Award during the ACP Internal Medicine meeting in San Diego in March. The award was presented to the Massachusetts Chapter for our Mentoring Collaborative. The John Tooker Evergreen Awards Program is in its 24th year of recognizing chapters for their outstanding efforts and activities at the local level. ACP presented eight awards and one special recognition that represent a full spectrum of programs and activities as well as several collaborative efforts among chapters.
In the Friday, March 31 edition of Internal Medicine Meeting News, Massachusetts was recognized with this write up:
"The Massachusetts Chapter's Mentoring Collaborative (MC) form by their Council of Early Career Physicians and the Governor's Council in 2013 was created to develop activities in support of mentoring relationships and helps members develop mentoring programs at their own institutions. The MC consists of member volunteers and includes participants from various stages of their careers. The Chapter hosted six events, including a mentoring workshop in 2016. The MC will incorporate one-on-one mentoring/networking opportunities at its chapter events, record future events to reach a larger audience and create a physician mentor database."
---
ACP Leadership Day - May 23-24, 2017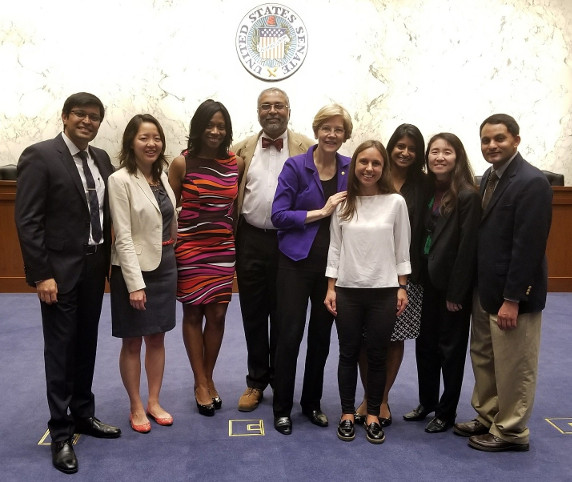 The Massachusetts Delegation (left to right: Drs. Aswanth Reddy, Zoe Tseng, Fatima Cody Stanford, George Abraham, Governor, MA, Senator Elizabeth Warren, Agustina Saenz, Anita Vanka, Elisa Choi, Governor-elect and Rohan Sen.
We had a large delegation of 11 people from Massachusetts attend Leadership Day in Washington D.C. including 1 medical student and 1 resident. The first day of training included a briefing for medical students, residents, and fellows as well as updates from Bob Doherty, senior vice president of Governmental Affairs & Public Policy at ACP. We also had the opportunity to hear from Representative Ami Bera (D-CA-07), an internist now in his third term in Congress. He thanked us for our advocacy efforts and urged us to continue to make physicians' voices heard. Additionally, Dr. Karen DeSalvo was awarded the Joseph F. Boyle Award for Distinguished Public Service. Dr. DeSalvo is an internist who until recently served as Assistant Secretary of Health for the U.S. Department of Health and Human Services.
ACP's top advocacy priorities include: ensuring key protections in the Affordable Care Act continue such as coverage for essential health benefits; reducing unnecessary administrative tasks on physicians and patients; improving the care of patients with chronic disease; funding for public health initiatives and research; making Graduate Medical Education (GME) funding more effective; reducing prescription drug costs; promoting continued action to address the epidemic of opioid use; reforming the medical liability system.
Our delegation met with the offices of all the senators and representatives from Massachusetts except for one, making it a very busy but productive day. All the meetings went well and we were met with strong support for our advocacy priorities. The highlight of the day was when we were invited to a private meet-and-greet with Senator Elizabeth Warren who is just as feisty in person as she is on TV. She expressed genuine concern about the importance of primary care and healthcare for all.
Half of our delegation were first time attendees to Leadership Day. Although they were nervous to meet their legislators, they were well-prepared for the meetings with the training provided by ACP and enjoyed the opportunity to advocate on Capitol Hill on behalf of patients and physicians.
Next year's Leadership Day will take place on May 22-23, 2018. We hope you will join our delegation! No prior experience needed.
ACP Advocacy Blog
The ACP Advocacy Blog is written by Bob Doherty and maintained by the American College of Physicians. Refer to the blog articles for the latest in issues important to Internists.
About the Author: Bob Doherty is Senior Vice President, American College of Physicians Government Affairs and Public Policy; Author of the ACP Advocate Blog. Bob will be our Keynote Speaker at this year's MA ACP Chapter Scientific Meeting on Saturday, November 4, 2017.
---
MA ACP State Advocacy Day: The Massachusetts Experience
The 2nd annual Advocacy Day at the Massachusetts State House took place on March 22, 2017. It was organized by the Chapter's Health & Public Policy Committee. There were 41 participants, most of whom took part in visits with their state representatives. The day started with a welcome from Chapter Governor Dr. George Abraham and from the host Representative Jennifer Benson. There was a keynote address by Dr. Monica Bharel, the Commissioner of the Massachusetts Department of Public Health, in which she urged participants to think about the social determinants of health and reiterated the importance of advocacy by physicians and physicians-in-training. Finally, Alex Calcagno, the director of Federal and Community Relations at Massachusetts Medical Society, prepared the group for talking to their legislators. In total participants visited the offices of 40 state representatives.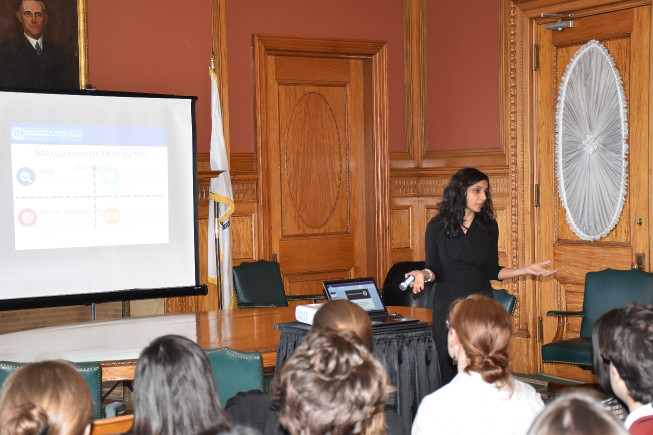 Dr. Monica Bharel, the Commissioner of the Massachusetts Department of Public Health gives the keynote address.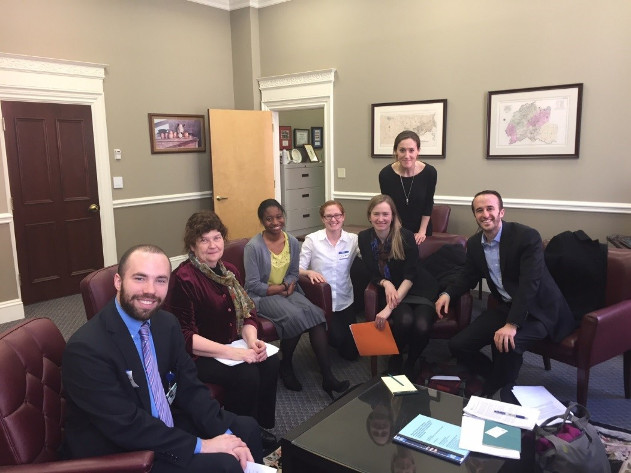 State Advocacy Day participants meeting with Senator Cynthia Creem's office.
(L to R) Daniel Wann, Catherine Anderson (Legislative Director), staff member, Herrick Fisher, Elizabeth Richey, Meghan Rudder, Doug Jacob
Legislative Priorities
Our chapter's top legislative priorities were modeled after ACP national's and tailored to the current legislative environment in Massachusetts. Within the Commonwealth, some of the more pressing issues with active legislation pending were discussed including expanding access to telemedicine services, MassHealth pay parity, and the Prevention and Wellness Trust Fund.
It was a particularly successful event in introducing early career physicians to advocacy as more than 50% of the participants were residents. We welcome your participation next year!
---
Early Career Physician Corner
Diversifying Your Career: Opportunities in Public & Global Health
The Early Career Physicians Council organized its first CME event of the year, the first in a series of discussions on Diversifying Your Career, on April 28, 2017. It featured three speakers on the topic of "Opportunities in Public & Global Health." Dr. Kristian Olson, director of the Consortium for Affordable Medical Technologies (CAMTech), spoke about getting involved in innovation and entrepreneurship through hack-a-thons. Dr. Jessie Gaeta, chief medical officer for Boston Health Care for the Homeless Program, spoke about the great need for health care for the homeless in Boston. Dr. Jessica Haberer, Associate Professor of Medicine at Massachusetts General Hospital, discussed the importance of mentoring in her career as a NIH-funded researcher with projects in multiple countries including Uganda and Kenya.
"I thought the event was wonderful, and it was useful to see what can be done OUTSIDE of medicine- policy, developing technology, traveling the world and doing global medicine. Helping vulnerable populations in our own backyards. We don't receive lectures on these on a regular basis at school, and it was a great perspective that was outside of the hard science facts of our textbooks. Thank you for hosting this event!"
Tiffany Chen, University of Massachusetts Medical School
MD Candidate, Class of 2019
The next event in this CME series on "Diversifying Your Career: Opportunities in Information Technology and Quality Assurance" is planned for fall 2017. Watch your e-mail and/or the chapter website at machapter.acponline.org.
To learn more about the ACP Early Career Physician Council and its activities please contact Lynda Layer at llayer@mms.org.
---
The Massachusetts Chapter on Social Media
"Like" us on Facebook:
American College of Physicians, Massachusetts Chapter
Follow us on Twitter:
@ACPMACHapter
(ACP Massachusetts)
---
Massachusetts Chapter Annual Scientific Meeting
Being a Physician: More than Just Medicine
This year we are honored to welcome the Robert Doherty, ACP Senior Vice President, Governmental Affairs and Public Policy. Mr. Doherty has more than 37 years of health policy experience and is an accomplished presenter at health conferences. He has senior staff management responsibilities for ACP's Division of Governmental Affairs and Public Policy, located in Washington, D.C. In addition we will have clinical topics on cardiology, dermatology/rheumatology and a special presentation "Voodoo Death Revisited: The Modern Lessons of Neurocardiology" from Dr. Martin A. Samuels.
Lunchtime will feature our Mentoring Collaborative, an ACP Update as well as the business meeting and awards presentations.
The afternoon sessions will include the Resident Oral Presentations, A Team-Based Care/Leadership Training panel discussion presented by the Early Career Physician Council and we will wrap up the day with Bob Doherty and our Governor's Reception.
Again this year, we will start the day with our annual Poster Competition and Doctor's Dilemma.
Registration information will be available on the MA ACP website in August.
---
Call for Abstracts – 2017
Abstract/Poster Competition
Resident/Fellow and Student Research and Clinical Vignette Competition
ACP Resident/Fellow and Medical Student Members are invited to submit abstracts to the 2017 Abstract/Poster Competition in advance of MA ACP Poster Day, Saturday, October 21, 2017
Massachusetts Medical Society, Waltham, MA
If you have worked on a research project or have an interesting clinical case, submit your abstract for a chance to present it at the Massachusetts Chapter Poster Day. Separate poster competitions will be held for entries in the following categories:
Research
Clinical Vignette
Deadline
The deadline to submit your abstract is 11:59 pm on Thursday, August 17, 2017.
How to Submit
All abstracts for submission must be approved by your Program/Clerkship Director. Your Program/Clerkship Director will provide you with the link to submit your abstract once approved.
Judging
Abstracts will be judged by ACP members and chosen to participate in the "MA ACP Poster Day" to be held Saturday, October 21, 2017. There will be two poster judging sessions between 8:00 am and 1:00 pm.
Awards
The Resident First Place winners on in the Clinical Vignette and Research categories on Poster Day will be invited to give an oral presentation at the Chapter Annual Scientific meeting on the morning of Saturday, November 4, 2017 and will be automatically submitted by the chapter to the national ACP Resident Poster Competition and will be provided funding to attend from the chapter.
The Student First Place winners in the Clinical Vignette and Research categories on Poster Day will be automatically submitted by the chapter to the national ACP Student Poster Competition and will be provided funding to attend from the chapter.
Other qualifying Posters from the Poster Day competition will be asked to return to present their poster at the MA ACP Annual Scientific Meeting on November 4, 2017 for final judging and cash awards.
Requirements
Please see the Rules and Regulations document and the FAQ document on the website for more details.
To participate in the abstract competition the first author MUST be a current Resident/Fellow or Student Member of MA ACP, be enrolled in a Massachusetts Residency Program or Medical School and be available to present your poster for the judges on Saturday, October 21st and for the attendees/judges at the MA ACP Annual Scientific Meeting on Saturday, November 4th if selected. Please plan to be available on both of these dates prior to submitting your abstract.
To check on your membership status, please contact ACP customer service at 1-800-523-1546 x 2600 or custserv@acponline.org. You can also contact Chapter Administrator, Lynda Layer at llayer@mms.org. Please also note that all abstracts must be submitted electronically using the on-line form. The link will be provided to you by your Program/Clerkship Director.
Click here for the Abstract Rules and Regulations
Click here for the FAQs
There are two categories: Clinical Vignette and Research.
First authors can only submit one abstract in each category. They may be second or third authors of other abstracts.
SUBMISSION DEADLINE: Thursday, August 17, 2017 at 11:59 pm EST. No late submissions will be accepted.
There is no fee for submitting an abstract. If your abstract is chosen there is a $25.00 registration fee to participate in Poster Day. If you are then selected for the annual meeting there is an additional registration fee of $25.
All novel resident or student-directed research projects are welcome. All work must be completed while a resident for the resident competition or while a student for the student competition and you must be enrolled in a Massachusetts Medical School or a Massachusetts Residency Program. All submissions must be made on-line.
The abstract must be limited to 450 words. Do not include the title and authors in the abstract.
Submissions will be accepted until 11:59 pm on August 17th – no late submissions will be accepted!
All communication regarding the abstract competition will be sent electronically, so please make sure your submission e-mail is accurate.
Authors of abstracts selected for presentation will be notified by October 2nd.
E-mail Lynda Layer with any questions.
---
New Fellows
The Chapter recognizes and congratulates the following physicians who were elected to Fellowship in the College in the past 6 months:
Jorgjeta Bukli, MD FACP
Nathan T Connell, MD FACP
Imola Daniel, MD FACP
Fabian Delgado, MD FACP
Bradley A Eisenberg, DO FACP
Richard C Galgano, DO FACP
Shoshana J Herzig, MD FACP
Bruce Gardner Karlin, MD FACP
Amy R Lo, MD FACP
David B Macdonald, MD FACP
Randall J Morse, MD FACP
Lucy C Paniszyn, MD FACP
Sayuj Paudel, MD FACP
Karen L Peterson, MD FACP
Nauman Saleem Siddiqui, MD FACP
Nancy Skehan, MD FACP
Evan A Soderstrom, MD FACP
Ramnath Subbaraman, MD FACP
Zoe Tseng, MD FACP
For many who are members of ACP, a number of you are eligible to progress to Fellowship in the college. If you have never considered the same, please check out the ACP website. I strongly urge you to consider becoming a Fellow. I am happy to help with any questions that may arise if you do not find the information on the ACP website.
---
New Members
| | | |
| --- | --- | --- |
| Bassima Abdallah, MD | Shradha Gupta, MD | Gulam Sadiq Parihar, MBBS,MD |
| Ahmed Abdul Azim, MD | Manoj Gupta, MD | Erin Penn, MD |
| Yewande Adepoju, DO | Boram Han, MD | Grace Perez-Lirio, MD |
| Debora Afezolli, MD | Sonali Harchandani, MBBS | Camille Petri, MD |
| Nitesh J Ainani, MD | Mini V Hariharan, MD | Pooja M Phull, MD |
| Aravind Ajakumar Menon, MD | Van Holden, MD | Mina Pirzadeh, MD |
| John S Albin, MD,PhD | Andrew Hsu, MD | Kavitha Prakash, MD |
| Fahd A Almohid, MD,MBBS | David Huckins, MD | Vassiliki Pravodelov, MD |
| Nassib Alsahwi, MD | Dempsey Hughes, MD | Hassan Qadir, MD |
| Marios Arvanitis, MD | Sonaina Imtiaz, MD | Ray Qian, MD |
| Bishow Aryal, MD | Mikhaela Ivancev, MD | Laura Aboitiz Rabideau, MD |
| Sanaa S Ayyoub, MBBS | Vikrant Jagadeesan, MD | Ramya Radhakrishnan, MD |
| Eisha Mahpara Azhar, MD | Kathryn A. M. Jobbins, DO | Kavitha Ramakrishnan, MBBS |
| Kirti Basil, DO | Vineetha Jose, MBBS | Juan Ramirez, MD |
| Thevenin Ch Beauzile, MD | Zahir Kanjee, MD | Paras Ranjitkar, MD |
| Adam Beitscher, MD | VADM Theodoros Karantanos, MD | Ahmed Anwer Rattani, MBBS |
| Elias V Belezos, MD | Anup Karlath, MD | Jyothi Ravindra, MD |
| Sean Bhalla, MD | Ingrid T Katz, MD | Guilly R Rebagay, MD |
| Anup S Bharani, MD | Kanika Khandelwal, MBBS,MD | Daniel Restrepo, MD |
| Benjamin Bier, MD | Shrinkhala Khanna, MD | Elizabeth Richey, MD |
| Rachel Blair, MD | Aalok V Khole, MD | Jalpan Ringwala, MD |
| Steven N Bleich, MD | Shaan Khurshid, MD | Riffat Sabir, MD |
| Christian Bolanos, MD | Pranav Kidambi, MBBS | Malvika Sachdev, MBBS MD |
| Preetam Bollampally, MBBS | Esther Kim, DO | Ilyas Sahin, MD |
| Amanda Boutrus, MD | Austin Kim, MD | Fabian Scheid, MD |
| Peter Brancale, MD | Eun Ji Kim, MD | Matthew Schlossberger, MD |
| Mehmet F Burak, MD | Tiffany A Kolniak, MD | Stacy Schwartz, MD |
| Lauren Campbell, MD | Sira Korpaisarn, MD | Ariadne S Scott, MD |
| Chunmin Chee, MD | Ashwin Kotwal, MD | Khaled Sheikh Qasem, MD |
| Meaghan Colling, MD | Tushar Heman Kulkarni, MBBS | Mahesh Shrestha, MBBS |
| Amanda Cooke, MD | Amartya Kundu, MBBS | Omar Shweish, MD |
| Prakash Darji, MBBS | Hyunju Lee, MD | Sukhmani Singh, MD |
| Joshua Davis, MD | Jacob Lemieux, MD | Antoine Soueid, MD |
| Em Dee, MD | Gregory Leslie, MD | Steven Spector, MD |
| Daniel Devine, MD | Annie Levenson, MD | Sathvik Srikanth, MD |
| Mehak Dhande, MD | David M Levine, MD | Pamela Stamegna, MD |
| Olivia M Diamond, MD | Nayna A Lodhia, MD | Sakthi K Sundararajan, MBBS,MD |
| Fernando Dominguez, MD | Kaysia Ludford, MD | Lakshmana Swamy, MD |
| John Donahue, MD | Eric Luk, MD | Leah S Taffel, MD |
| Adhirath Doshi, MD | Luke A Mantle, MD | Monique Aurora Tello, MD |
| Tracy Doyle, MD | Alexandra Marchetta, MD | Mary Thorndike, MD |
| Clark W DuMontier, MD | Jenna N McNeill, MD | Mayanka Tickoo, MBBS |
| Ghania El Akiki, MD | Michael Mi, MD | Ashley Tran, MD |
| Trenton C Elliott, MD | Deeqo Mohamud | Michael R Trautwein, MD |
| Christopher Estiverne, MD | Shahab Mohiuddin, MBBS MD | Panagiotis Trilianos, MD |
| Brian J Ferrara, MD | Kamaneh Montazeri, MD | Ye M Tun, MD |
| Scott Ferrara, DO | Saif A Muhsin, MBChB | Ahmad Z Turk, MBBS |
| Saima Firdoos, MBBS | Rehan Mujahid, DO | Sarah Turner, DO |
| Amy Olivia Flaster, MD | Naoka Murakami, MD,PhD | Patrick Tyler, MD |
| Dinah Foer, MD | Maheswari Muruganandam, MBBS | Amanda Velazquez, MD |
| Gina Friedt, DO | Sangeeta Nadkarni, MD | Sarah J Velten, DO |
| Zachary Frosch, MD | Shashikanth Nagabandi, MD | Kathryn Waksmundzki, MD |
| Chin Ho Fung, MD | John Nicasio, DO | Kathleen Walsh, MD |
| Rahul Ganatra, MD | Eric Nolen-Doerr, MD | Daniel Weisberg, MD |
| Alexander Geevarghese, DO | Tyson A Oberndorfer, MD | Sara Welinsky, MD |
| Reju M George, MD | Aderinola Ojengbede, MBBS | Gregory Westcott, MD |
| Sudip Ghimire, MD | Devin Oller, MD | Charles Weston, MD |
| Anahita Ghorbani, MD | Ariela Orkaby, MD | Megan Whelton, MD |
| Ann Glasman, MD | Claudia Paba Prada, MD | Andrew R Willment, MD |
| Andrea Goossens, MD | Atul Vijay Palkar, MD | Ekaterina Yavarovich, DO |
| Himmat S Grewal, MD | Argyro Papafilippaki, MD | Donglin Zhang, MD |
Physician Affiliate
Mark Andrews, MD
New Resident/Fellows
| | | |
| --- | --- | --- |
| Mazin Abdelghany, MD | Akash Gupta, MD | Denise Pong, MD |
| Rachel Ackerman, MD | Aanchal Gupta, MBBS | Perry K Pratt Jr, MD |
| Adeyika C Adejumo, MD | Jasmine Hanifi, MD | Joshua Price, MD |
| Max W Adelman, MD | Alexander Harding, MD | Christine Prifti, MD |
| Henrietta A Afari, MD | Kelly Hathorn, MD | Mina Ragheb, MD |
| Abaseen K Afghan, MBBS | Benjamin Herzberg | Ashish Rai, MBBS |
| Yahya Ahmad, MD | Claudia Hill, MD | Arvind Ravi, MD |
| Komal Akhtar, MD | Kelsey Hills-Evans, MD | Samira Reyes Dassum, MD |
| Bahaa Amer, MD | Michael Honigberg, MD | Julia Roberts, MD |
| Amnah Andrabi, MD | Jennifer Hu, MD | Jane Roberts, MD PhD |
| Peter Ankomah, MD | Andrew Hwang, MD | Bethany Roehm, MD |
| Shiva Annamalai, MD | Lisa Jarnagin, MD | Mikhail Romashko, MD |
| Sohaib Ansari, MD | Anil K Jha, MBBS | Ruth Y Romero, MD |
| Kanwal Anwar, MD | Haixia Jia, MD | Maria V Romero Alvarez, MD |
| Gelareh Atefi, MD | Patrick Johnson, MD | Brian Rosborough, MD |
| Karen Axten, MD | Caitrin M Kelly, MD | Philippe Rosenberg, MD |
| Warren Backman, MD | Philip Kemp, MD | David Rubins, MD |
| Lauren Banks, MD | Katherine Kentoffio, MD | Jason Sanders, MD |
| Matthew Basciotta, MD | Loura Khallouf, MD | Jonathan Sawicki, MD |
| Lauren N Bedrosian, MD | Sarah Khan, MD | Katherine Schiavoni, MD |
| Shana Berwick, MD | Joseph Kilch, MD | Olivia Severdija, MD |
| Pooja Bhargava, DO | Geon Kim, MD | Michael Shah, MD |
| Muhammad Bilal, MD | Ines Kurjakovic, MD | Syed Shehab, MD |
| Azra Borogovac, MD | Benison Lau, MD | Brett Simchowitz, MD |
| Jaine Bowen, MD | Kelsey Lau-Min, MD | Calan Sowa, MD |
| Davis Bradford, MD | Hung M Le, MD | Sean Spencer, MD |
| Cynthia Carbonneau, MD PhD | Molong Li, MD | James H Stoeckle, MD |
| David Cardona Estrada, MD | Brian Lilleness, MD | Rachel Strykowski, MD |
| Alyssa Castillo, MD | Samuel Lipten, MD | Apurva Subbaswamy, MD |
| Frank Chi, MD | Fang Liu, MD | Kimberly Sue, MD |
| Jacqueling Chu, MD | Stephen Lockwood, MD | Lova Sun, MD |
| Caitlin Cohen, MD | Justin Lui, MD | Mina F Tanaka, MD |
| Alexandra Coromilas, MD | Alexander Ly, DO | Yunus E Tarhan, MD |
| Elita Defeo, DO | Timothy Maher, MD | James Torchia, MD |
| Oluchi Dike, MD | Charlene Mantia, MD | Alison Trainor, MD |
| Ellen Dinerman, MD | Celia Martinez, DO | Frances Ue, MD |
| Joshua Drago, MD | Adam Matos, DO | Vivek Upadhyay, BCh |
| Ahmed Elantably, MD | Andrew Matthews, MD | Jeena Vaid, MBBS |
| Rasha Elhag, MBBS | Gregory McDermott, MD | Anubodh Varshney, MD |
| Daniel Ellis, MDCM | Jose Mena, MD | Pamela C Vasquez Buitron, MD |
| Feyza Erenler, MD | Emmanuel Mensah, MD | Benjamin Vaughan, MD |
| Victor Fedorov, PhD | Christian Mewaldt, MD | Mahesh K Vidula, MD |
| Maria Emilia Fermin Gutierrez, MD | Jeff Min, MD | Caitlin G Waters, MD |
| Danielle Fine, MD | Sharanya Mohanty, MD | Ryan Watson, MD |
| Darci L Finocchiaro, MD | Anahita Mostaghim, MD | Ashley Weihe, MD |
| Julie L. Fiore, MD | Manasa Mouli, MD | Risa L Wong, MD |
| Maria J Franco, MD | Ramy Nakhla, MD | William W Wong, DO |
| Joseph J Gallant, MD | Felipe Naranjo Sanchez, MD | Samuel Woodworth, MD |
| Shaan-Chirag Gandhi, MD | Ying Ning, MD | Samantha Wu, MD |
| Karthik Gangu, MBBS | Benedicta Nnodum, MD | Tong Wu, MD |
| Anish Geevarghese, MD | Vinit Oommen, MD | Xun Wu, MD |
| Hassan Ghoz, MD | Ana Pacheco-Navarro, MD | Lauren Yang, MD |
| Demtra S Gibson, MD | Alexander Parent, MD PhD | Richard Zamore, MD |
| Chudamani Giri, MD | Siddharth Patel, MD | Lauren Zeitels, MD |
| Shawnbir Gogia, MD | Deepan Paul, MD | Emily Zern, MD |
| Gregory Goodman, MD | Heather Pemberton, MD | David R Ziehr, MD |
| Zoe Gottlieb, MD | Jason E Phillippi, MD | |
| Benjamin Grin, MD | Andrew J Piper, MD | |
Medical Students
| | | |
| --- | --- | --- |
| Jordan Anderson | Meagan Hajjar | Peter Natov |
| Jessica Bloomfield | Daniel Haldar | Alexandra Nee |
| Drew Brooks | Travis Hallett | Kevin Neville |
| Sophia Chan | Sean Heavey | Anthony Nguyen |
| Katarina Cheng | Seyed Hosseini | Douglas Rioux |
| Michael Damiani | Ato Howard | Laura Santoso |
| Scott Doheny | Zaina Inam | Henry Su |
| Jeremy Feng | Rebecca Joseph | Erick Sun |
| Sarah Flint | Patrick Kurpaska | Octavio Viramontes |
| Duncan Flynn | Nicholas Kwok | Claire Wagner |
| Mark Godding | Abraham Lin | Xinyu Wang |
| Nicolas Govea | Zoe Michael, MD | Kathy Wang |
| Mallika Govindan | Alex Miller | Ran Xu |
| Jennifer Grimes | Usman Mughal | Alexander Yoon |
| Vishal Gupta | Rabia Nasir | |