You are here
Kansas Governor's Newsletter February 2018
Kansas Governor's Newsletter February 2018
---
---
From Your Governor, Isaac O. Opole, MD, PhD, FACP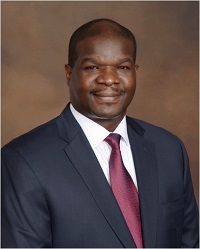 ---
Dear Colleagues,

As we dig out of another cold Kansas winter, I would like to take a minute to wish you great success in your upcoming endeavors this year, and also to reminisce on this past year and prognosticate on the upcoming year.

Advocacy is a major strength of our organization, and we have continued to work with our colleagues in the Kansas Primary Care Coalition, the Kansas Medical Society and the Kansas Association for Family Physicians in pushing for healthcare advocacy at the state level. This year, one of the foremost items on people's minds is the prospect of revisiting the expansion of Medicare in Kansas. Although this still remains somewhat of a long shot, it seems the general consensus that there is enough goodwill to eventually re-introduce legislation that may provide much-needed healthcare coverage for our at-risk population.

At our recent advocacy day in Topeka, we had very vibrant and promising conversations with Senators Pettey and Skuball and Representative Koesten, who are really committed to improving the lives and health of our patients in Kansas. I urge you all to continue to support them and their colleagues in advocating for common sense legislation that will make it easier for us to do what we do for our patients.

The proposed changes to the KanCare program ("KanCare 2.0"), however, may have a negative impact on access to healthcare for some of our most vulnerable patients. The proposed new work requirement, based on TANF (Temporary Assistance for Needy Families) eligibility, creates a paradoxical obstacle for those who become eligible due to disability, while limits in eligibility and the proposed 36-month term limit harm patients with chronic care needs, such as diabetes and cardiovascular disease, who likely require lifetime ongoing care. These are the patients we care for on a daily basis, and we must continue to speak for them through advocacy and direct action. In this regard, ACP President Dr. Jack Ende, MD, MACP and I have joined hands in writing a letter to Dr. Seema Verma, Administrator for the Center for Medicare and Medicaid Services (CMS) opposing these proposed changes as proposed in the KanCare 2.0 State Extension Application. A copy of the letter is available. I urge all our members to stay attuned to developments in Topeka and engage with your representative to emphasize the importance of a well-run and well-funded KanCare program to our patients.

Efforts to increase availability and access to primary care physicians remains high on the minds of Kansas legislators. Outgoing Governor Sam Brownback had set up a working group to evaluate strategies to increase the supply of physicians in rural Kansas, and one of the recommendations coming out of the group was the proposed establishment of an osteopathic school. However, as has been pointed out previously, such a move would not likely result in more practicing physicians in Kansas without the added stimulus of increased GME residency positions in the state.

We have forcefully emphasized to our representatives that GME expansion with a focus on Internal Medicine and Family Practice must remain a major milestone, and our suggestions including expansion of loan payback programs and possible direct state funding for primary care GME spots have been received favorably. The challenges remain unmet at this point, as our physician population ages out of practice and retires, requiring rural folks to continue to travel long distances to access much-needed care.

Our annual meeting held last fall in Wichita was well received by attendees, with an excellent panel of speakers and guests. Dr. David Meltzer, MD, PhD gave the annual Delp lecture on "Cost-Effective Analysis of Clinical Decisions," which was very appropriate and well received. Many thanks to our program committee chair Dr. Jennifer Jackson, the planning committee members and our invited speakers. The point-of-care ultrasound section led by Drs. Zubair Hassan, Stephanie Thom, Jeff Norvell and Jing Liu were once again a resounding success and over-subscribed. I cannot say enough to thank our colleagues from the departments of radiology and emergency medicine for donating their time and expertise to help train us in this vital clinical skill. Many thanks also go to the Topeka VA Medical Center and to SonoSite for donating the equipment, and lastly but not least, to our medical student volunteers who "lent us their bodies" to use during this event! During the meeting, I was proud to receive the Chapter Excellence Award on your behalf and hope we continue to excel in meeting high standards for chapter management and leadership. We look forward to a vibrant chapter meeting this year, and I urge you to mark your calendars for October 11-12 for the meeting slated to be held in Lenexa.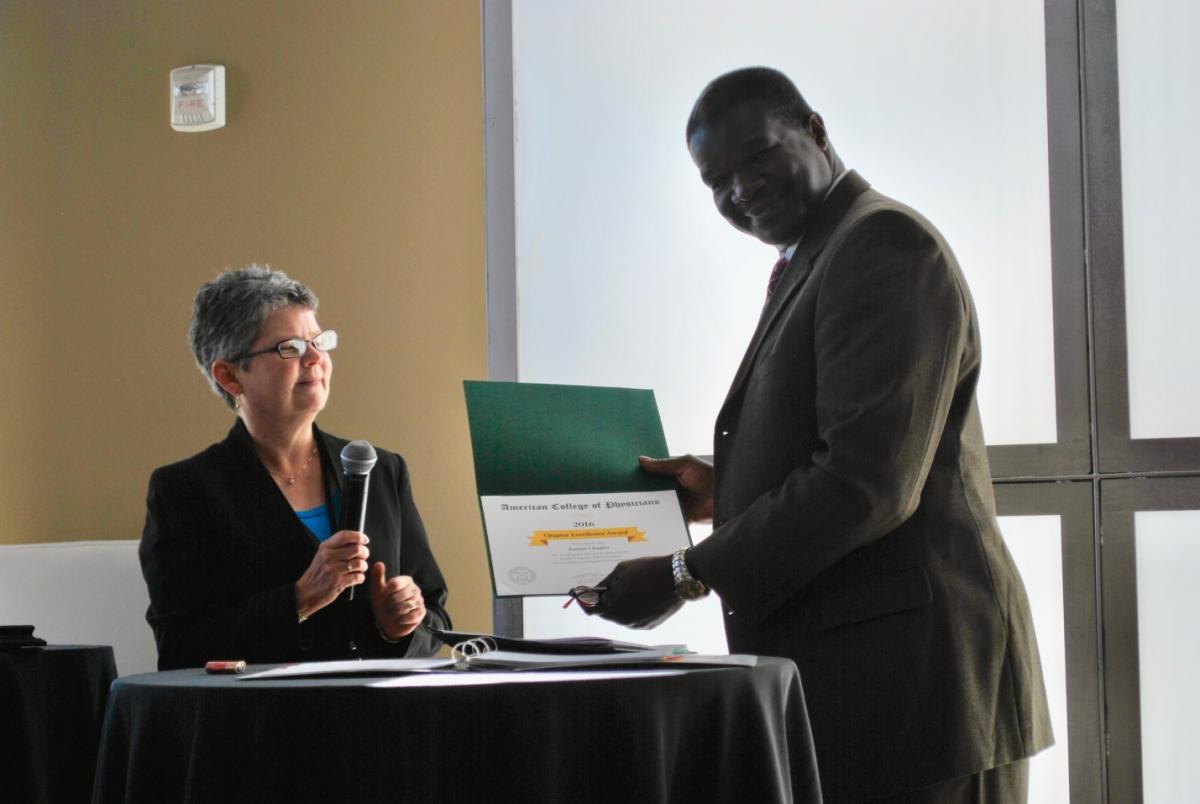 The national political arena continues to resemble the "OK Corral" in 19th century Dodge City, with seemingly intractable partisanship and daily partisan exchanges. We have seen a year-long effort to repeal all or part of the Affordable Care Act (ACA) and can anticipate that the ACA in one shape or another will remain a part of virtually every bill considered under this Congress. We must all continue individually and collectively to urge our legislators to ensure that we keep the health and well-being of our patients first as they consider any legislative action that impacts healthcare. In this regard, the full impact of the new tax legislation and changes to the individual requirements to maintain health insurance remains to be seen. It is gratifying, however, that a majority of eligible recipients still took advantage of the healthcare exchanges to obtain insurance under the ACA.

Other recent news from the capital include the Trump administration's declaration of an opioid emergency, as the opioid crisis continues to rage unabated across the country. The president has indicated that one of the anticipated strategies to deal with the crisis would be to target pharmaceutical companies and individual physicians, who have been described as being at the forefront of the crisis. While well intentioned, it is probably misguided to interfere with practice patterns of physicians who genuinely try to do the best for their patients. That being said, we must also recognize, as described in Dr. Anna Lembke's book "Drug Dealer, MD," that our profession, as much as anything else, has played a major part in the escalating opioid epidemic. We must stay engaged and informed and participate actively in helping to mitigate this crisis while resisting external intervention into how we practice medicine.

Closer to home, we are continuing to examine the problem of administrative burdens and how they impact our daily lives and satisfaction with clinical practice. Documentation requirements, particularly with the advent of the HR, have led to a significant degradation in physicians' perceptions not only about personal wellness, but all the quality of care provided. ACP is actively making efforts to mitigate documentations that are burdensome to physicians, through the patients before paperwork initiated. These efforts are difficult to promote without objective real world data from practicing physicians. I would urge you all to give your perspective through the ACP's Administrative Tasks and Best Practices Survey .

I cannot close without saying a huge thank you to all those who completed the recently sent out survey on medical student documentation. Indeed, CMS is already reexamining the rules for Medicare physicians at teaching hospitals (PATH) and has already come out with guidelines that roll back some of the restrictions on documenting when students are involved in patient care. I hope in the long run this will both improve learner engagement inpatient care through meaningful interaction and work product, while also providing efficiencies for all practitioners involved in medical education at the community and institutional level.

Finally, it is with some sadness that I bid farewell to our Executive Director, Ms. Kris Rahm, who has run the chapter tirelessly for the last 8 years. When I began my tenure as Governor, Ms. Rahm provided counsel, guidance, and support on many aspects of chapter management, and has remained an invaluable resource on local and national matters. I want to thank her very much for her dedicated service to our chapter and wish her Godspeed in her upcoming endeavors.


---
Health & Public Policy Update
Ky Stoltzfus, MD, FACP

A contingent of Kansas ACP members joined the Kansas Academy of Family Physicians for Advocacy Day in Topeka, KS on January 24, 2018. Speakers discussed a variety of topics related to Kansas health policy including Medicaid expansion, KanCare reform, and the opioid crisis. Kansas ACP members met with several key legislators in the capital to discuss our organizational priorities in addressing healthcare for all Kansans. The event was another excellent opportunity to hear directly from lawmakers and discuss key health policy issues with them.

ACP Leadership Day is May 22-23, 2018 in Washington, DC. If you are interested in attending with the Kansas chapter please contact Ky Stoltzfus or phone: 913-945-5611 for additional information.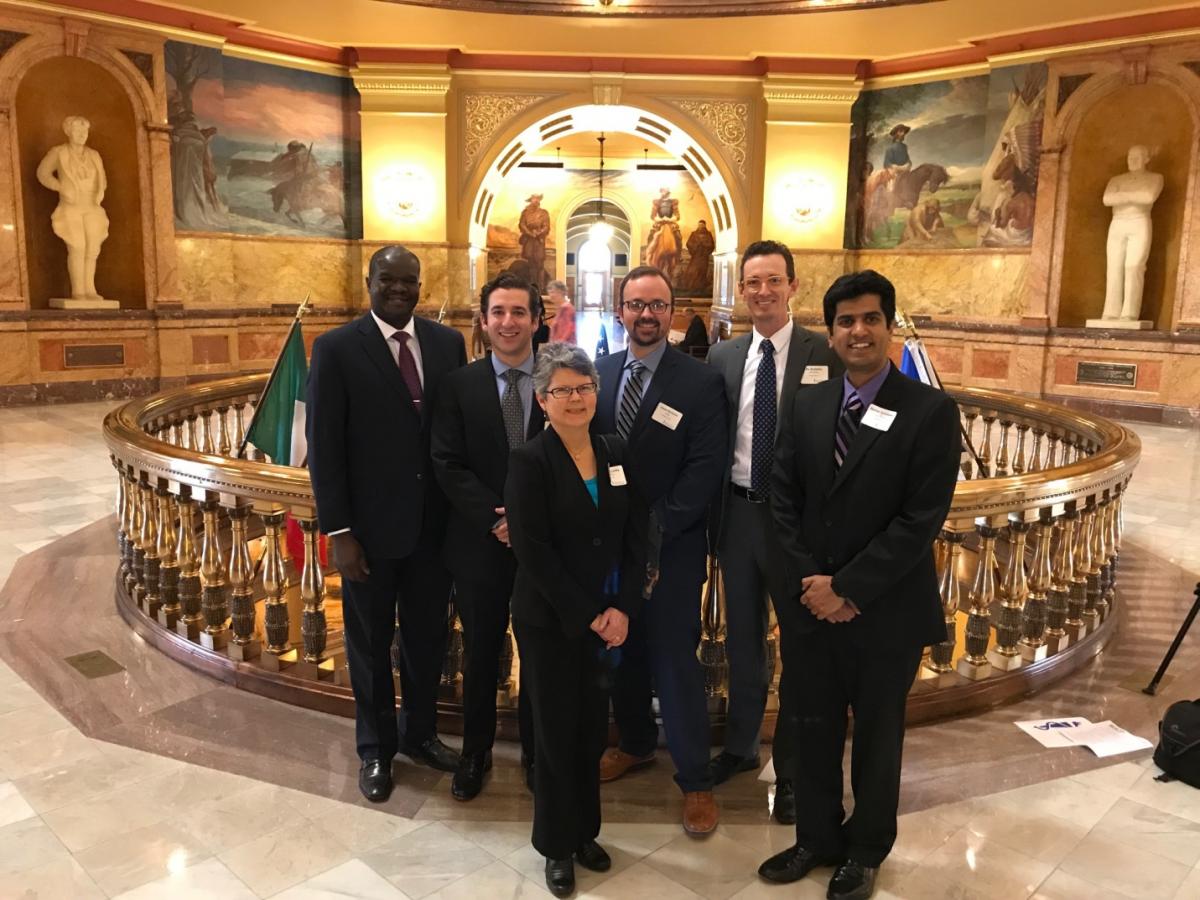 In attendance at Advocacy Day: Dr. Isaac Opole, John Fritzlen (medical student), Dr. Aileen McCarthy, Dr. Jesse Richards (resident), Dr. Ky Stoltzfus, Dr. Sachin Srinivasan (resident).


---
Membership Update
Segen Chase, MD, FACP

We thank you for your dedication to ACP! This time of year, the membership committee is reaching out to members who have not paid dues, as their membership will be dropped February 16, 2018. If you or someone you know has not paid due, please remember to do this. Each member is important to the vitality of Kansas ACP! As a reminder, our best method of recruitment is always YOU, our own members. Remind colleagues of the benefits of membership– professionalism, continuing education, and networking opportunities to other internists and subspecialists as well as publications, practice resources, clinical & ethical guidelines, advocacy, patient education materials, networking opportunities with other internists and subspecialists, and other valued benefits. We remind you to remember the affiliate members– PA, APRN, and mid-level providers when discussing membership as well.

Your continued efforts to strengthen our Kansas chapter in members and service help to sustain our legacy of excellence. Thank you for your support.

---
KS Chapter Excellence
Kansas Chapter Receives 2017 Chapter Excellence Award

The award recognizes chapters which successfully meet the standards for managing a chapter. In order to achieve the Chapter Excellence Award, chapters must meet all basic criteria and ten optional criteria. Criteria include such activities as formulating an effective Governor's Council and committees, communicating frequently with membership, providing educational opportunities, recruiting and advancing members and celebrating membership through local awards.


---
KS ACP Calendar of Events
KS Governor's Advisory Council Meeting - March 23 – 8:00 am (Teleconference)
Spring Board of Governors – April 17-18 (New Orleans, LA)
Internal Medicine 2018 – April 19-21 (New Orleans, LA)
SD, IA, NE & KS Combined Chapter Reception – April 20 (New Orleans, LA)
Leadership Day – May 22-23 (Washington, DC)
KS ACP Annual Scientific Meeting – October 11-12 – Lenexa, KS
Regional ACP Meeting (SD, ND, NE, WY in Deadwood, SD) – October 2-4, 2019
---
New Members (last six months)
Martha Allen, MD

Andrew Fields, DO

Kristin E. Humphreys, MD

Steve Krebs, MD

Reetu Singh, MD

Ahmad G. Tarakji, MD


---
New Fellows (last six months)
Jeffrey L. Beasley, DO, FACP

Nathan Bahr, MD, FACP

Georges Elhomsy, MD, FACP

Seth Page, MD, FACP


---