You are here
Indiana Governor's Newsletter November 2020
Indiana Governor's Newsletter November 2020
---
---
Bradley M. Sutter, MD, FACP, ACP Governor
---
Message from the Governor
We are currently experiencing another significant surge in COVID patient cases throughout Indiana, resulting in alarming increases in outpatient and inpatient volumes. Once again, the Indiana ACP Chapter salutes each of you for your tireless efforts on behalf of all our patients in need of care. While we wait for the widespread implementation of the newly-introduced vaccines against SARS-COV2, we are reminded of the simple, safe, and effective tools already proven to help ward off the virus: wearing masks, appropriate social distancing, flu vaccination, avoiding gatherings, and staying home when ill. And, as flu season rapidly approaches, my wish for all of us is that science, reason, and adherence to the above simple measures will save lives, and allow all of us to return to a more normal pre-COVID existence that much faster.
As I mentioned in my initial April newsletter, there are indeed silver linings to the COVID19 pandemic: our recent Resident, Medical Student, and Early Career Physician Poster session, and our annual Chapter Scientific meeting, were tremendous successes. The Poster Session presentations were superb, with impressive performances by the St. Vincent and IU Medicine Residency programs—my sincere congratulations to all poster session award winners! View the session HERE. Likewise, the Chapter meeting was rewarding and informative in equal measure, and there were 80 attendees for our first virtual meeting effort—again, a tremendous success! Special thanks to our Education Committee members, including Amna Anees, Kapil Mehta, Sam Singh, Brad Allen, Matt Neal, Randy Lee, and Heidi Lakanen, for putting together an outstanding meeting under such challenging circumstances. And, as always, special thanks to Colleen Keeku, our Indiana ACP Executive Director, who made it all happen smoothly and without any technical/Zoom glitches—amazing! If you missed the meeting you will be able to view all presentations soon! Watch for an email in the next few weeks with access.
I want to take this opportunity to remind everyone of ACP's constantly-updated COVID19 tool kit, containing important information for all internists involved in caring for COVID patients in all settings. You may review the content here.
I recently participated in the first-ever VIRTUAL ACP Board of Governors meeting, held in early October, where I had the opportunity to represent the chapter membership on important issues relevant to our daily practices, as well as new resolutions related to the COVID19 pandemic and its impact on our practices, communities, and under-represented people of color. All of the (amended) resolutions were thoughtfully debated and passed, and they are now on their way to the ACP Board of Regents, where official ACP policy is made, and where resolutions are ultimately adopted or rejected. I want to thank all chapter members who responded to the Fall 2020 resolution survey, as well as our Indiana Chapter's Health and Public Policy Committee, for your valuable feedback related to the resolutions submitted for consideration at the Fall BOG meeting.
As we enter the Thanksgiving and year-end Holiday seasons, I am grateful for the involvement and support that each of you has shown throughout this extremely difficult and life-changing year: truly, the ACP is made great by the tremendous number of talented physicians, housestaff, and medical students who make it their professional home. I am thankful for each one of you, and I hope you have a very memorable, safe, and enjoyable (insofar as possible) holiday season with your loved ones. And, please, take some necessary time for self-care and reflection, for your own sake. Please refer to the ACP's Well-being website for some helpful coping strategies to utilize in carrying out your daily work.
Lastly, let me put in a quick plug for our upcoming VIRTUAL Chapter Business Meeting and Awards Program, which we are planning to host sometime in early 2021, and during which we will honor all of our wonderful chapter awardees for 2020. Please look for additional announcements, and, of course, the ubiquitous ZOOM link that will be forthcoming.
Sincerely,
Bradley M. Sutter, MD, FACP
Governor, Indiana Chapter, American College of Physicians
---
ACP IN Poster Winners 2020
Clinical Vignette:
David Manring, IUSM: An Interesting Case of Otitis Media
Rituparna Medda, St. Vincent: When Poop Itches - Psoriasis-Associated Celiacs in the Elderly
Rachel Wester, St. Vincent: A Rare Case of Neuro-Behçet's
Quality Improvement:
Brandon Pearce, St. Vincent: Resident Physician Handoff: A Quality Improvement Challenge.
Stephen Hon, St. Vincent: Medical Malfunction! A combined simulation approach to improve resident awareness and performance.
High-Value Care:
Hanna Webb, IUSM: Describing Transfers Originating Out-of-Facility for Nursing Home Residents.
Kanupriya Gulati, St. Vincent: Do Incentives Work for Residency Patient Safety Education?
Rayanne Pancoast, St. Vincent: A Residency Clinic's Experience with the Emergency Implementation of Telemedicine
Research:
Natalia Reborido Campoy, St. Vincent: Risk of QT Interval Prolongation from Off-Label COVID-19 Treatmentd: a Single-Center Experience
Early Career Physician:
Katherine Palmisano, St. Vincent: Didn't See That One Coming: an Unusual Case of Sudden Blurry Vision
Khawaja Owais Omar, St. Vincent: Posterior Reversible Encephalopathy Syndrome Due to Tacrolimus
Anup Trikannad, Union Hospital: A Rare Case of COVID-19 Presenting as Rhabdomyolysis
---
ACP Indiana 2020 Gold Chapter Excellence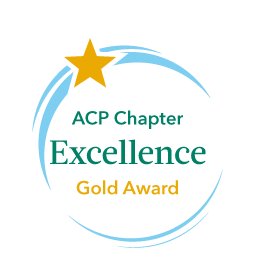 I am pleased to announce that our ACP Indiana Chapter is in receipt of the Gold Level of the 2020 Chapter Excellence Award! The award recognizes truly extraordinary chapters that surpass excellence in chapter management. We are in the company of 34 other outstanding chapters.
---
ACP Releases Statements Supporting Science And Expertise
ACP joined other professional organizations to support scientific, data driven decisions, and public health officials during the COVID pandemic.
On September 27, ACP joined close to 100 other organizations representing physicians and other clinicians, public health experts, scientists, patients, and other advocates, urging FDA Commissioner Hahn and Director Marks of the Center for Biologics Evaluation and Research to ensure that a COVID-19 vaccine is only authorized or licensed when it meets the Food and Drug Administration's (FDA's) existing high standards of safety and efficacy.
On August 27, ACP again expressed public support for the use of science, based on the best available evidence, in the fight against COVID-19 and emphasized that public health agencies should not be subjected to pressure or be influenced to issue policies that are not based on evidence and expert recommendations of their own scientists.
On July 14, ACP issued a statement supporting the use of scientific expertise, based on the best available evidence, in the fight against COVID-19 and urging national, state and local officials to heed the advice and information from leading experts. This statement included explicit support for Dr. Anthony Fauci, who received Mastership from ACP, in his effort to help stop the spread of COVID-19.
---
ACP Internal Medicine 2021
Save the date for the Annual Meeting, originally scheduled to be in Orlando, FL, April 29-May 1. Register for the virtual meeting HERE.
---
ACP Online Leadership Program
In partnership with the American Association for Physician Leadership, the ACP Leadership Academy offers a flexible, 18-month-long Certificate in Physician Leadership program with tracks in Hospital Medicine and Primary Care.
The program includes a combination of formal training through 49.5 hours of online coursework, online group discussions facilitated by leaders in internal medicine, and a capstone project that demonstrates successful mastery of leadership concepts.
Participants may apply online by December 1, 2020 to enroll in the cohorts that begin work in January 2021. We encourage you to promote this program to your chapter members.
This program offers exclusive training by leadership experts and important career-building skills. In addition, ACP provides participants with access to a number of professional development and membership engagement opportunities.
If you have any questions, please contact us at lead@acponline.org
Indiana Governor's Newsletter November 2020