You are here
GOVERNOR'S NEWSLETTEROctober 2015
GOVERNOR'S NEWSLETTEROctober 2015

---
---
From the Governor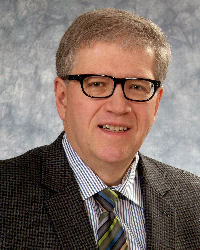 J. Matthew Neal, MD, MBA, CPE, FACP, FACE, FACPE, ACP Governor
Hope everyone is doing well as summer ends and we look forward to great fall weather. Dr. Brad Allen and I just returned from the Fall Board of Governors meeting in Palm Springs, CA, with some information on that below. This is my penultimate BOG meeting as Indiana Governor, as I will "retire" from the BOG after the May meeting in Washington, DC. I never cease to be amazed at the diversity of the collective intelligence of all the members of the Board of Governors and the great information I can bring back to the Indiana Chapter after meeting with such great colleagues.
After the regular meeting, I was privileged to attend a two-day workshop on physician wellness and burnout as part of ACP's "Wellness Champions" program. The program was conducted by Mark Linzer, MD, Director of the Division of General Internal Medicine at Hennepin County Medical Center in Minneapolis, who has studied physician burnout since 1996.
I and the other Wellness Champions hope to bring this information back to our Chapters and institutions with the goal of conducting similar sessions in our areas. Here is more information on Dr. Linzer's program.
---
Statement from the American College of Physicians On the Shootings in Oregon
October 1, 2015 -- The American College of Physicians, the largest medical specialty organization in the United States, expresses its sorrow about the horrific shootings in Oregon. We reiterate our position that firearm violence is a major public health problem that must be addressed by sensible regulations to reduce the likelihood of such tragic events. This year ACP developed and published a series of recommendations, part of a "call to action" to reduce firearm violence, in conjunction with 6 other medical professional societies, the American Public Health Association, and the American Bar Association. This paper and the associated recommendations has now been endorsed by 51 health care, legal, patient/consumer, and other organizations.
---
American College of Physicians Receives Transforming Clinical Practice Initiative Award
Collaborative network will join federal government and other partners in supporting large-scale health care transformation among clinician practices
Philadelphia, September 30, 2015 -- The American College of Physicians (ACP) is one of 39 health care collaborative networks selected to participate in the Transforming Clinical Practice Initiative, announced today by Health and Human Services Secretary Sylvia M. Burwell. ACP will receive up to $3 million over four years to provide technical assistance support to help equip clinicians across the United States with tools, information, and network support needed to improve quality of care, increase patients' access to information, and spend health care dollars more wisely.
Here is more info.
---
Register Now: ACP Indiana Chapter Annual Scientific Meeting: November 6-7, 2015
The 2015 Indiana Annual Meeting will take place on November 6-7, 2015 at the Renaissance North Hotel in Carmel. We are currently planning our scientific sessions to provide another great experience for all. More details will follow when they are available.
Register here.
---
Now Available: 2014-2015 Annual Report of the EVP
The American College of Physicians' 2014-2015 Report of the Executive Vice President (EVP), Dr. Steven Weinberger, is now available. We encourage you to read the report which is a review of ACP's activities and accomplishments over the past year in the areas of knowledge, clinical standards, advocacy and public policy, practice support, and collaboration. A special section of the report highlights ACP's 100th anniversary celebration around the Centennial.
Presented in a digital format for easy viewing and mobile accessibility, the report features a tabbed menu and scrolling feature and photos, graphic images, and embedded links to access more detailed sources of information.
---
Congratulations to our New Fellows!
I would like to recognize our new ACP Fellows elected on September 1:
Justin J. Chow, MD, FACP, Granger
Bijender Kumar, MD, FACP, Fishers
Azizullah Mehrzad, MD, FACP, Evansville
---
ACP Receives Four-Year Federal Award to Increase Adult Immunization Rates Nationwide
The American College of Physicians (ACP) was awarded a $1,002,884 Cooperative Agreement from the Centers for Disease Control and Prevention (CDC) to increase immunization rates in the United States. The award enables ACP to expand its seven-state evidence-based program to increase adult vaccination rates, which was funded by the CDC for 2013-15.
"Appropriate immunization of adults is a core component of preventive health care, leading to improved public health, fewer deaths, less suffering, and lower health care costs," said Wayne J. Riley, MD, MACP, President, ACP. "This award will help ACP's internal medicine physician members and their practice teams to protect their patients from serious, painful, and life-threatening diseases such as influenza, pneumococcal disease, shingles, whooping cough, measles, and others."
More information can be found here.
---
New ACP Book on Teaching Diagnostic and Clinical Reasoning in Medical Education
Teaching Clinical Reasoning, the newest book in the Teaching Medicine series, is designed to help medical educators of various levels enhance their clinical reasoning abilities. The book is available individually or as a part of the complete seven-book Teaching Medicine set.
More information can be found here.
---
Ethics Case Studies
Free CME credit is available where indicated for completion of online educational activities featuring case studies developed by the College's Ethics, Professionalism and Human Rights Committee and Ethics and Professionalism staff and published on Medscape (login required).
---
ACP Releases High Value Care Screening Advice for Five Common Cancers
In a paper published in Annals of Internal Medicine, Screening for Cancer: Advice for High-Value Care From the American College of Physicians, ACP issued advice for screening average risk adults without symptoms for five common cancers: breast, colorectal, ovarian, prostate, and cervical.
---
A New Member Benefit: DynaMed Plus
We are excited to announce that ACP and EBSCO Health are collaborating to focus on delivering the most current, evidence-based clinical decision support tool - DynaMed Plus™. Updated daily and analyzed systematically through the lens of an expert editorial team, DynaMed Plus provides relevant information in an easy to digest format for fast implementation at the point-of-care. ACP's input into the internal medicine content will begin in August 2015. All reviewed and approved topics will carry ACP's logo and will benefit all DynaMed Plus users. As a result of this partnership, ACP members will receive free access to DynaMed Plus for two years beginning on August 3, 2015. Afterwards, ACP members will be eligible for a deeply discounted annual subscription.
DynaMed Plus will replace ACP Smart Medicine as a member benefit on August 3, 2015.
More info can be found here.
---
New ACP Physician & Practice Timeline Text Alerts
We are excited to announce a new texting tool to help practices' stay up-to-date on important regulatory requirements and opportunities. Physicians and practice managers can subscribe to time-sensitive updates via your text messaging-enabled cell phone and receive brief reminders about important deadlines and details related to a variety of regulatory, payment, and delivery system changes and requirements. Text alerts may also contain links to both ACP-created and trusted external information and resources that will help you to stay prepared.
More info can be found here.