You are here
GOVERNOR'S NEWSLETTER May 2014
GOVERNOR'S NEWSLETTER May 2014

---
---
From the Governor
J. Matthew Neal, MD, MBA, CPE, FACE, FACP, ACP Governor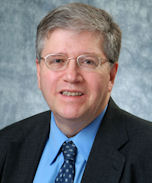 2014 National Meeting Recap
The National Meeting took place in Orlando April 10-12, and it was a great one (and fairly close for our Indiana attendees). It was wonderful to attend many educational sessions and see many old colleagues. The weather was great, and I am happy to report that the Florida sun has regenerated my stores of 25-hydroxyvitamin D3 after months of hibernation in the cold.
One of the pre-conferences was the "Art of Leadership" presented as a joint venture between ACP and the American College of Physician Executives (ACPE).
Clearly a "hot topic" at the Board of Governors' (BOG) meeting was the continued controversy regarding ABIM's Maintenance of Certification, with many Governors concerned about complaints from their members regarding the process. While I think we all agreed that keeping up-to-date with medical knowledge is important, many argued that the ABIM's implementation is flawed. The ABIM shared a disturbing statistic: 23% of internists taking MOC exams in 2013 failed, an all-time low. Unless the quality of our practicing physicians has taken a nosedive, the structure and implementation of the examination needs to be re-examined; remember, these are doctors who passed the examination to begin with. Some of the resolutions approved have the intent of exploring ways to partner with ABIM to improve this process. MOC, for many, has transformed from a useful self-learning process to a high-stakes enterprise with serious consequences for failure. While the ABIM states that MOC is "voluntary," board certification for the real-life physician is, in reality, mandatory.
Convocation was on Thursday evening (April 10), and the new Fellows and Masters of the College were elected. I would encourage all new Fellows to seriously consider "walking" in Convocation, it truly is an unforgettable experience for you and your family.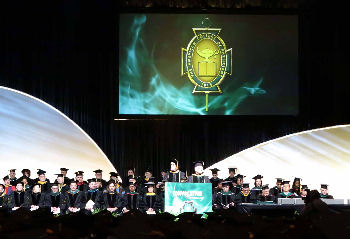 Convocation 2014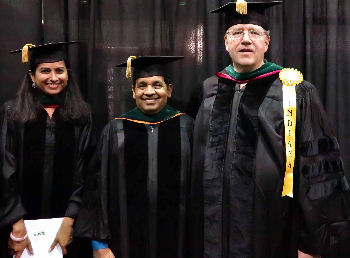 Indiana Chapter Fellows, left to right: Dr. Shilpee Sinha and Dr. Surendra Shah with Dr. Neal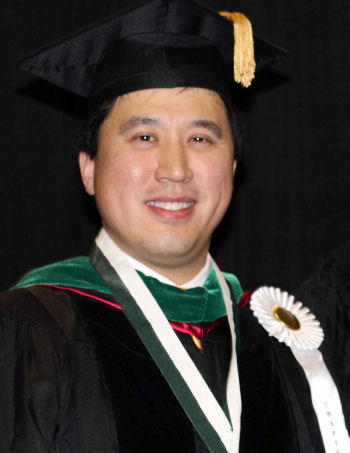 Dr. Michael Sha, Immediate Past Governor, also went through Convocation as the Chapter's Laureate Award winner
Four Indiana Chapter residents presented posters at the meeting: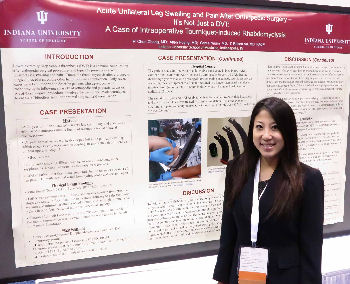 Dr. Jenny Cheng, Indiana University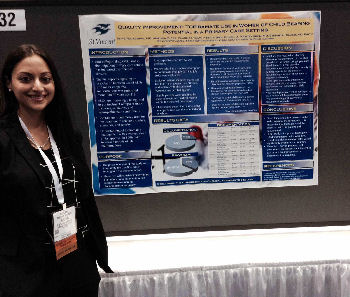 Dr. Anita Rajagopal, St. Vincent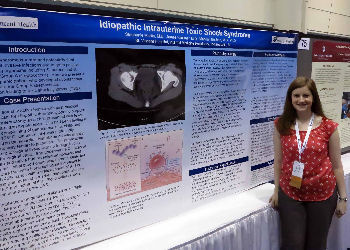 Dr. Stephanie Martin, St. Vincent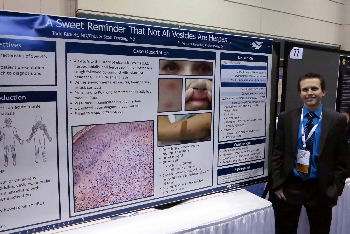 Dr. Todd Rickett, St. Vincent
St. Vincent, the Indiana Chapter Doctors' Dilemma champion, represented Indiana in the Doctors' Dilemma National Championships on April 10 and 11. The Indiana team advanced to the second round but was defeated in the semifinals.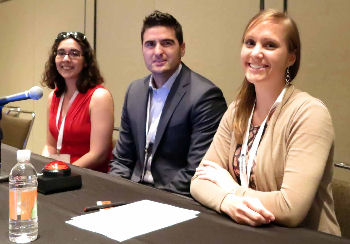 Left to right: Drs. Jennifer Mundell, Luis Nuñez, Emily Cochard
The Indiana Chapter reception Friday night at Maggiano's was excellent, and a number of Chapter members were in attendance.
Photos of the Indiana Chapter Reception on Friday, April 11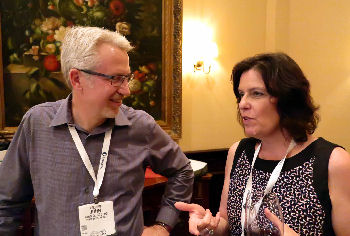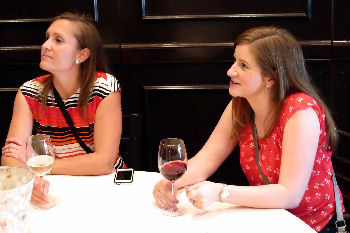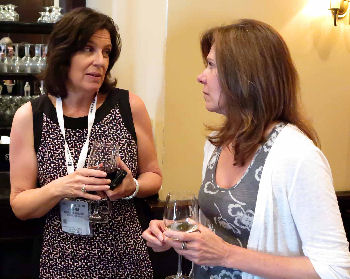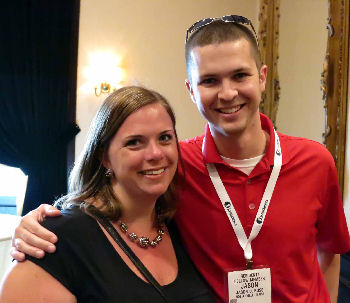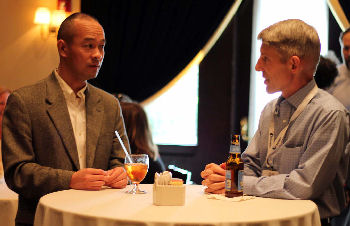 Dr. Douglas Rex was awarded Mastership in ACP at Convocation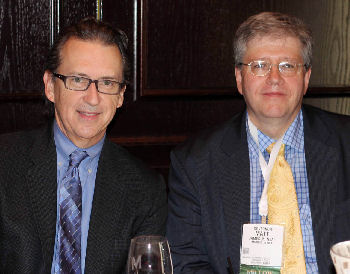 Dr. Douglas Rex (left) and Dr. Matt Neal (Governor)
Dr. Robert Lubitz, formerly of the Indiana Chapter, was also awarded Mastership. Dr. Lubitz now lives in the Atlanta area.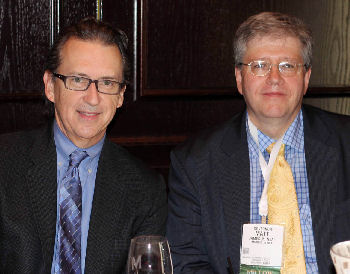 Dr. Arnaldo Marin, the Chilean Chapter poster entrant, poses with Dr. Michael Sha (Immediate Past Governor) and Dr. Matt Neal (Governor). The Indiana Chapter has sponsored a member of the Chilean Chapter to present at the National Meeting for the last several years.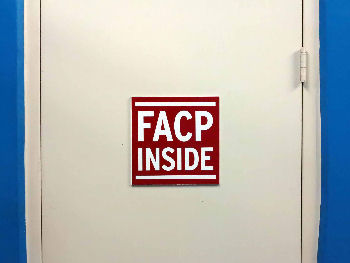 I saw this door in the parking garage of my hotel. It seems that Fellows of ACP are plentiful in Orlando and ready for duty even in storage closets.
---
Congratulations to Donna Seawards for achieving CAE Designation!
Our Executive Director, Donna Seawards, recently was awarded the Certified Association Executive (CAE) designation from the ASAE (Center for Association Leadership). The CAE credential is designed to elevate professional standards, enhance individual performance, and identify association professionals who demonstrate the knowledge essential to the practice of association management. Founded in 1960, the CAE program stands as a mark of excellence and has evolved to reflect what it takes to manage an association in today's challenging climate. The CAE program was accredited by the National Commission for Certifying Agencies in 2010. Successful candidates must have several years' experience in association management and must complete a rigorous examination, and Donna is only one of a handful of ACP Executive Directors to have achieved this milestone.
---
ACP Indiana Chapter Women in Medicine Event
Saturday, May 10, 2014
10:00 AM - 12:00 PM
IU Health Saxony Hospital
Conference Room B
13000 E. 136th Street, Fishers, IN
Franky Voss, MD
IU Health Ball Memorial Hospital
"What in the World is That? Picture and Treatment Overview of GYN Pathology" (10:15 AM - 11:00 AM)
"Five Things that Internist Need to Know about Gynecology" (11:15 AM - 12:00 PM)
Lunch and discussion to follow
Objectives:
Provide an update on cervical cancer screenings.
Review appropriate referral guidelines to gynecology.
Be able to identify common gynecologic pathology.
Registration is free for this event. Please click here to register as we are providing lunch.
Indiana University Health Ball Memorial Hospital is accredited by the Indiana State Medical Association (ISMA) to sponsor continuing medical education for physicians. IU Health Ball Memorial Hospital designates this live activity for a maximum of 1.5 AMA PRA Category 1 Credit™. Physicians should claim only the credit commensurate with the extent of their participation in the activity.
---
Resolution Update
The Board of Governors (BOG) reviewed the many resolutions presented at the Orlando meeting and the Board of Regents (BOR) took the following action:
Adopted and Referred for Implementation:
3-S13. Advocating for Studies that Assess Financial Collaboration between Long-term Facilities and Hospitals to Reduce Overall Healthcare Costs and Improve Patient Care
2-S14. Conveying Membership Dissatisfaction with the Maintenance of Certification (MOC) Process
4-S14. Requiring Education and Training in Team-based Care in Undergraduate Medical Education
8-S14. Studying the Impact of Underinsurance
10-S14. Updating College Policy on Healthcare Disparities to Include the Unique Needs of the Lesbian, Gay, Bisexual and Transgender (LGBT) Community
Adopted and Referred for Implementation as Amended by the BOR:
3-S14. Studying the Feasibility of Implementing Alternative Certification Methods
5-S14. Seeking Collaborative Partnerships to Study the Impact of Duty Hour Limitations on Resident Performance and Patient Safety
11-S14. Updating ACP Policy on FDA Regulation of Electronic Nicotine Delivery Devices
Adopted as a Reaffirmation of College Policy:
6-S14. Supporting Changes in Graduate Medical Education Funding to Help Address Projected Physician Shortages
---
2014 Indiana Chapter Meeting Update
The 2014 Indiana Chapter Meeting will be on October 31 and November 1, 2014 (Friday-Saturday) at the Embassy Suites North, 3912 Vincennes Rd, Indianapolis, IN. Friday will be the Scientific Meeting, and our Education Committee (headed by our Program Chair, Dr. Randy Lee) is working on an excellent slate of presentations. Saturday will be ABIM Self-Assessment Modules, topics to be announced, along with an afternoon presentation on ICD-10. As with last year, we will have a reception on Thursday evening, October 30, with poster judging to follow that.
---
2014 Leadership Day Update
Our Indiana Delegation will be traveling to Washington, DC May 21-22 to talk with members of Congress and their staff about various issues. As always, SGR, ICD-10, Medicare reimbursement, and graduate medical education financing are hot issues. I will return with a full report in next month's newsletter. Thanks to our Resident/Fellow Member Chair, Dr. Jeff Glant, for organizing the meetings.