You are here
Idaho Governor's Newsletter June 2016
Idaho Governor's Newsletter June 2016

---
---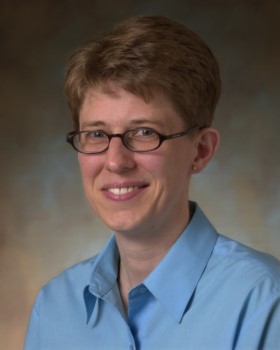 Melissa Hagman, MD, FACP, ACP Governor
---
The Changing of the Guard
Marking the end of the Internal Medicine meeting in Washington DC on May 7, Melissa (Moe) Hagman, MD FACP became the Idaho Chapter's new Governor. Dr. Hagman enjoys working with students and residents. She is the acting Program Director for the University of Washington Internal Medicine Residency Program in Boise and she is a hospitalist and palliative care physician at the Boise VA Medical Center. She already has some wonderful new ideas for the chapter and we look forward to keeping up the momentum created by Dr. Banu Symington. Congratulations to our new governor Dr. Moe Hagman.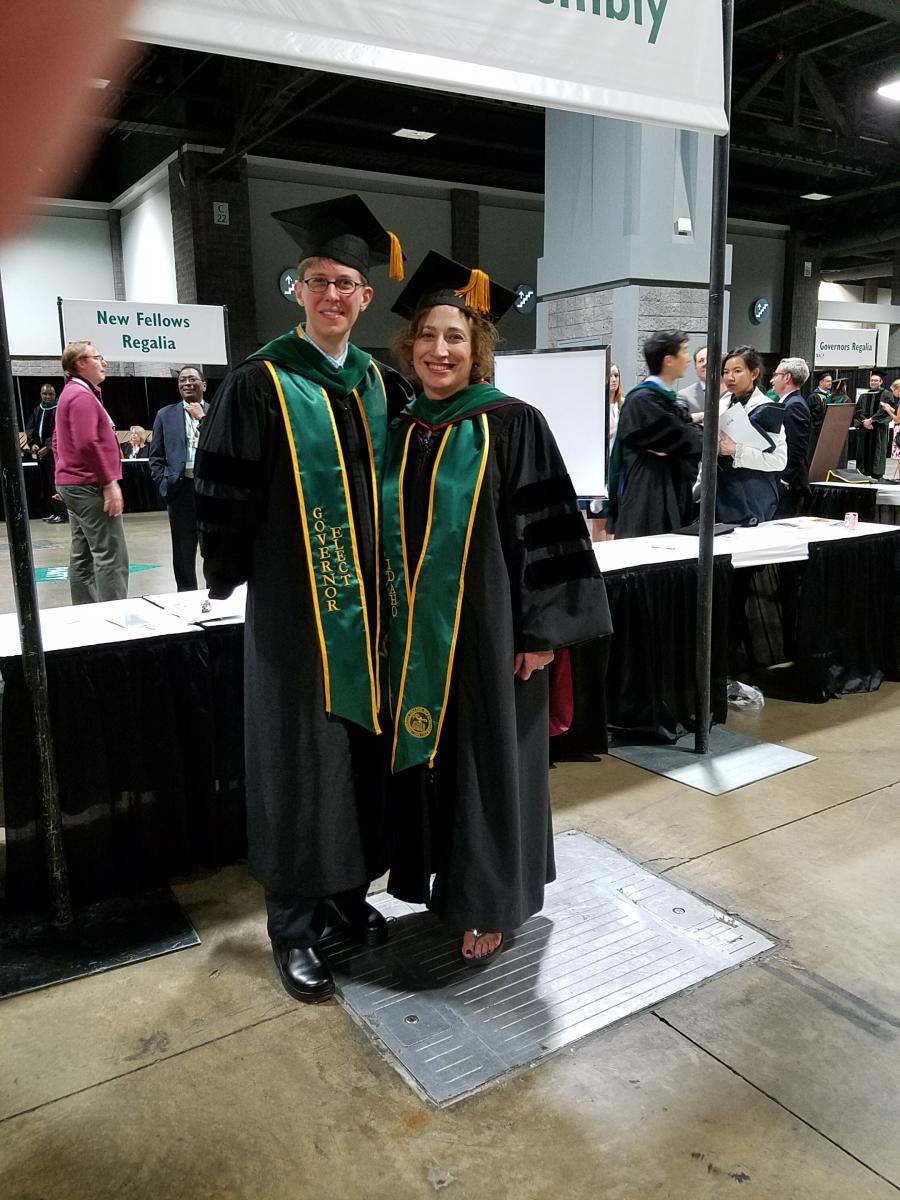 ---
Internal Medicine 2016
ACP Executive Vice President and CEO, Steven Weinberger, MD, FACP gave opening remarks and welcomed members to the Board of Governor's meeting.
Bob Doherty, Senior Vice President for Governmental Affairs and Public Policy for ACP talked about "Looking for Value, in all the Right and Wrong Places". Doherty talked about how value is subjective and no two people will see it the same. He also talked about how congress meant for MACRA to change our physician payment system from one focused on volume to one focused on value and to simplify and reduce administrative burden of quality reporting. Doherty's full presentation is available at powerpoint-presentations-spring-2016-bog-meeting
Another interesting presentation was delivered by Dawn Dewitt, MD MACP. Her presentation, "What Qualifying and Practicing in Three Countries Taught One ACP Governor about Practice, Healthcare delivery and Medical Education" was insightful and eye-opening about the cost of care in the United States. Dewitt has practiced in Australia, British Columbia, and the U.S. To see this slide set, go to Practicing in Three Countries - Dewitt
---
Leadership Day 2016
ACP Services, Inc. holds an annual advocacy day on Capitol Hill. This event provides an opportunity for ACP and our members to increase our presence in Washington and bring visibility to issues of common concern. Participants receive a comprehensive orientation and briefing on ACP's top legislative priorities and then have an opportunity to meet with legislators and the staff on Capitol Hill.
This year, since SGR is no longer the main issue on the ACP agenda, members converged on Capitol Hill to bring visibility to other issues of concern. Top priority issues for ACP include: Chronic Care Management, Health Information Technology, Telemedicine, Behavioral Health and Opioid abuse, Prescription Drug Costs, and Graduate Medical Education. Leadership Day was attended by Moe Hagman, Banu Symington, Judy Spahr (Chapter Liasion), and Kelly Hess (Chapter Executive Director). Our team spoke with congressional staffers (congress was not in session) for Senator Mike Crapo, Senator James Risch, and Representative Mike Simpson.
Chapter members interested in attending Leadership Day activites in 2017 may contact Kelly Hess for more information.
---
John Tooker Evergreen Award
The Idaho Chapter received an Evergreen Award this year. The John Tooker Evergreen award recognizes chapters for their outstanding efforts and activities at the local level. The Idaho Chapter received the award for Innovations in Member Engagement for reviving momentum in the chapter by holding a second annual meeting/dinner at the Internal Medicine meetings. This dinner resulted in a collaboration of then Governor, Banu Symington and chapter members who created, submitted and passed three resolutions. Something the chapter had never done before. The Idaho Chapter also received the Chapter Excellence Award for the fourth year in a row. We're coming up in the world!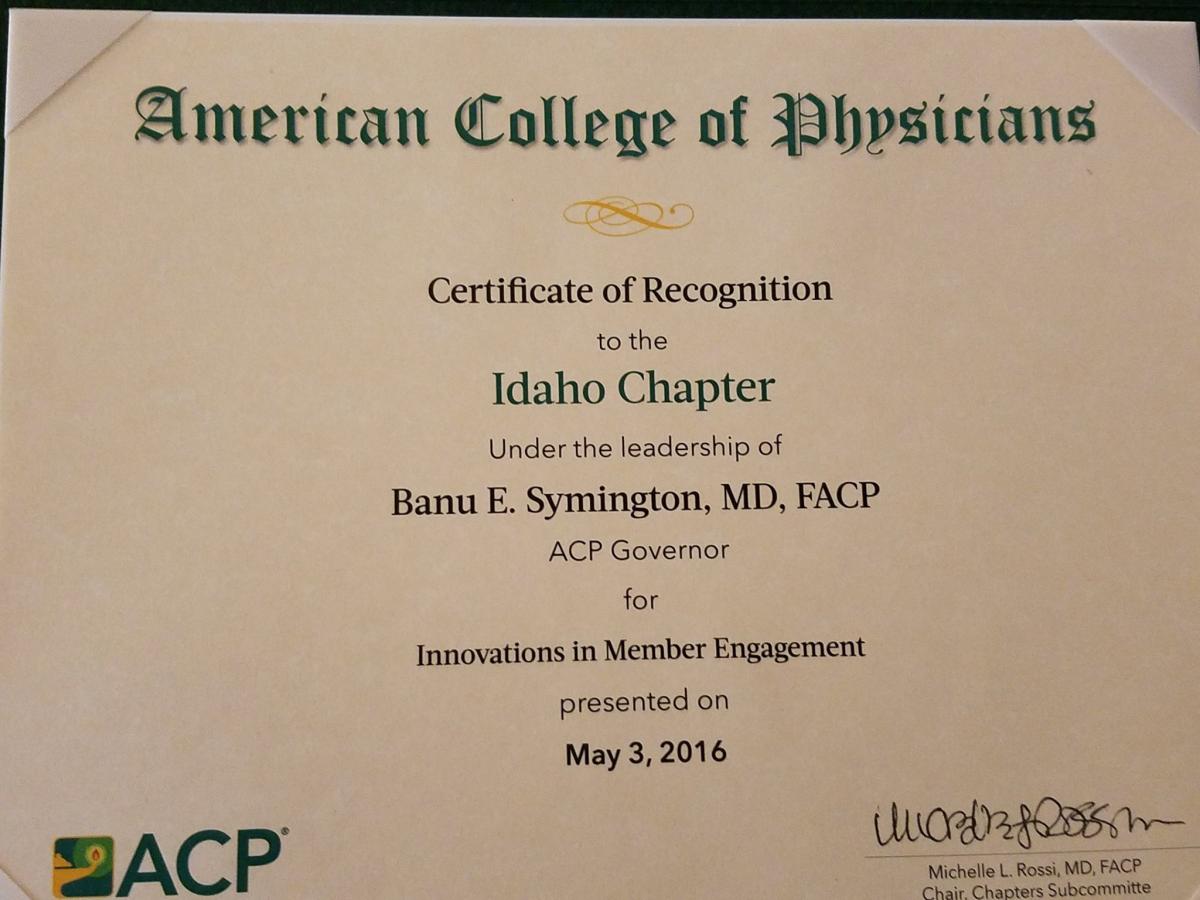 ---
From the Idaho Chapter's First Resident Sent to National Poster Competition
By Richmond Doxey, MD
While in clinic during the fall of my intern year I saw a 43 year-old gentleman who presented with upper extremity proximal muscle pain and weakness manifest as difficulty with heavy lifting and climbing stairs. On exam his shoulders, neck, and hips were weak. He had no rash at the time. Labs revealed elevated CK and liver enzymes with normal inflammatory markers. We suspected myositis, and given his age, high CK, normal inflammatory markers and absence of the characteristic rash found in dermatomyositis, we suspected necrotizing autoimmune myositis; this was further confirmed with antibody testing. We started him on high-dose steroids, ordered a biopsy and scheduled a visit with a rheumatologist.
At the urging of my clinic mentor, I began working on an abstract of the unique case, which she helped with tremendously; I reviewed the literature on myositis, wrote a draft and we sent it back and forth for several weeks. After many revisions the abstract was submitted. I was very excited when I found out it was accepted, and we started working on the poster. We gathered images, revised the text and formatted. Again we sent it back and forth, edited and revised with input from others until we had a polished product.
After the poster was finished and printed, the patient had the muscle biopsy. The pathologist read it as partially treated dermatomyositis. Curious, I called the pathologist and asked him about the biopsy. He stated that it was most consistent with dermatomyositis since it did not have the necrotic muscle fibers usually seen in necrotizing autoimmune mysoitis and it had antibody deposition seen in dermatomyositis, without significant immune cell infiltration. Soon thereafter the patient saw the rheumatologist whose notes stated that he had Gottron's papules and a rash on his face along with the muscle weakness we had seen which further pointed toward the diagnosis of dermatomyositis. I read more about myositides and discovered that in addition to the usual sub-classes of myositis, there are reports of overlap myositis with findings characteristic of one more than one subclass. In his case, the first line treatment for either necrotizing autoimmune myositis, dermatomyositis, or overlap myositis, was the same—high dose steroids. And indeed the steroids helped improve his strength and overall function.
It was a good learning experience to see the natural progression of a disease over time. He did not have a rash when we saw him, but he did later on when he saw the rheumatologist. Thankfully he responded well to steroids and his weakness had not progressed. His case was also a reminder that many diagnoses are not as clear and straightforward as we would like. Dealing with diagnostic uncertainty has helped me gain humility and respect for the human body and it ailments. However, this case also helped me to realize the importance of making a decision and treating a patient, sometimes without all the information, and being willing to revise the plan if needed as the diagnostic workup progresses.
I presented the poster at the Idaho ACP chapter meeting in McCall, ID and, to my surprise, won the competition. I was then invited to attend the national ACP conference in Washington DC. Presenting this case in Washington DC and attending the conference was a great experience. I learned a lot in the three days I was there, attending sessions on a wide variety of topics. I gathered with fellow residents to hear presentations about burnout and physician satisfaction from the AMA leadership, attended student poster and podium presentations, and watched residents play medical jeopardy; and I got to present my poster.
It was a rewarding experience to present this case to fellow residents, faculty and the judges. All the preparation paid off as I confidently talked through the case, the changes in our original thinking as the full workup unfolded, and his excellent response to treatment. His muscle weakness improved, his labs normalized and his function improved so he could go back to work and care for his family. It was an excellent learning opportunity, and ultimately rewarding to realize that we did the right thing for the patient.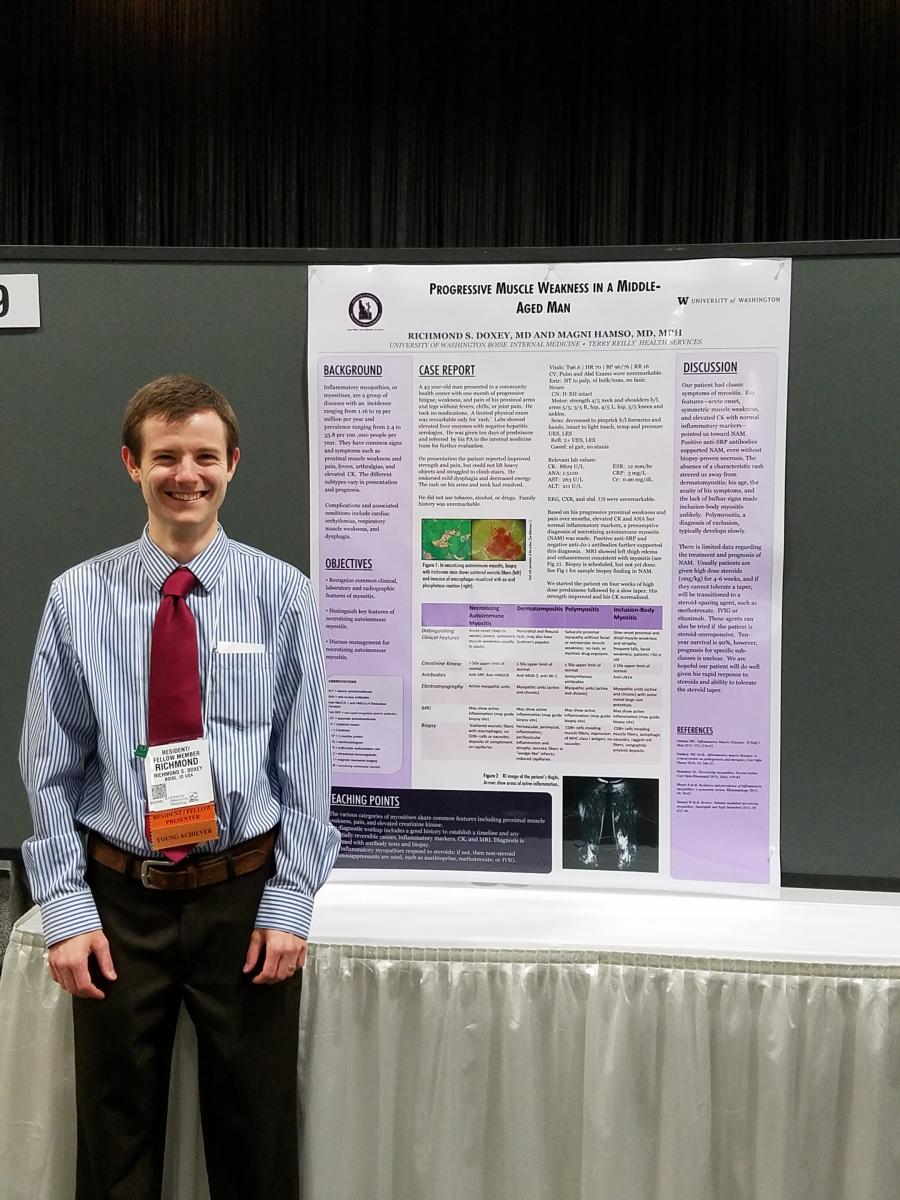 Richmond Doxey, MD at Internal Medicine 2016 Poster Competition
---
More changes for MOC in the works
From ACP Internist, Scientific Meeting News for May 7, 2016
On Thursday, the American Board of Internal Medicine (ABIM) announced plans to change its Maintenance of Certification (MOC) program to allow shorter, more frequent assessments, among other details outlined by ABIM representatives during a session at Internal Medicine Meeting 2016.
The new form of assessment will become an option starting in 2018. "The idea behind this is that physicians who perform above an expected level of performance will test out of the longer-form 10-year assessment," Richard Baron, MD, MACP, president and CEO of ABIM, said during the Thursday session.
The 10-year assessment will remain an option but will also undergo changes. "It will look different in a variety of ways from what we're doing now," said Dr. Baron.
One possible difference is that both kinds of assessment could go open-book. ABIM is conducting a pilot study of this concept with 850 physicians. "We don't know what happens when you make the book available," said Dr. Baron. That setup could better simulate real-world practice but also cause problems of its own, he noted, offering an example of the latter: "Do people look up every question and run out of time?"
Other considerations include how often these less frequent exams will need to be completed, how many questions they'll have, and how they might be given remotely but securely. "What we need to do is get people's thoughts and comments," said Dr. Baron.
ACP EVP and CEO Steven Weinberger, MD, MACP, offered an initial comment on the proposed changes. "ACP is encouraged to hear that ABIM is considering alternatives to the 10-year secure examination for Maintenance of Certification and that they are beginning to respond to the concerns we've raised on behalf of our members," he said. "The specifics of how the new approach is designed and implemented will be critical to its success in decreasing the burden and increasing the relevance of the current program."
The ABIM announcement promised greater specifics on the new assessment system by the end of 2016. Physicians who recertify in 2016 and 2017 will have to do so under the 10-year system, but their exams will also see some changes.
The MOC exam has been updated to be less like initial board certification and more focused on conditions and issues physicians actually face in practice, Patricia M. Conolly, MD, FACP, chair-elect of ABIM, said during the Thursday afternoon session. "The feedback that we have so far on the new exam is that it is far more relevant," she said.
Starting now, physicians are also getting more specific feedback with their exam scores, including comparisons to the performance of other test-takers.
During the session, ABIM representatives also addressed other complaints they've received from diplomates in recent years. "The board hears you and we know that there's a lot of frustration, anger, [and] concern, and many of you have questions," said Yul Ejnes, MD, MACP, former Chair of ACP's Board of Regents and member of the internal medicine subspecialty board.
Recent responses by ABIM have included freezing exam fees, providing the Board's financial information online, collaborating with CME providers, eliminating some components of MOC, adding a 1-year grace period for those who fail recertification, and changing terminology from "meeting requirements" to "participating in MOC," Dr. Conolly reported.
"There's no question that any way we do this, there are challenges to doing it right and it's going to take attention. If we closed tomorrow, doctors would still be spending a lot of time staying current in knowledge and practice," said Dr. Baron. "We want to be able to make a statement that someone is staying current in knowledge and have a basis for that statement. We all have an interest in there being a real standard."
---
American College of Physicians names new EVP & CEO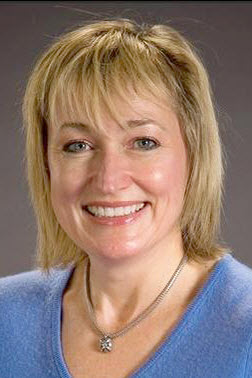 Dr. Darilyn V. Moyer will be the first female EVP & CEO in the 101 year history of the American College of Physicians
Philadelphia, May 12, 2016 – The American College of Physicians (ACP) has appointed Darilyn V. Moyer, MD, FACP, to be the organization's next Executive Vice President and Chief Executive Officer. The Lafayette Hill, PA, resident will assume the position of EVP and CEO of the largest medical specialty organization and the second-largest physician group in the United States on September 6, 2016. The selection was made after a national search and based on the recommendation from a search committee appointed by ACP's Board of Regents.
Currently, Dr. Moyer is Professor of Medicine, Executive Vice Chair for Education in the Department of Medicine, Internal Medicine Residency Program Director and Assistant Dean for Graduate Medical Education at Lewis Katz School of Medicine at Temple University. Her practice areas include primary care, HIV, and infectious diseases. She received the Temple University School of Medicine Women in Medicine Mentoring Award in 2012.
"It has been an honor and a privilege to serve as ACP's EVP and CEO for the past six years," said current CEO and EVP Steven E. Weinberger, MD, MACP, FRCP, who several months ago announced his intention to retire in September 2016. "Dr. Darilyn Moyer is an excellent choice to lead ACP's continuing pursuit to improve the health of our patients and their families."
As EVP and CEO, Dr. Moyer is the senior staff officer of ACP and has the authority and responsibility to implement all College policies and activities. Dr. Weinberger will assume the position of Associate Executive Vice President for one year and will assist with the organization's leadership transition.
"I look forward to helping ACP continue its mission of helping physicians provide the best possible care to their patients," said Dr. Moyer. "Whether it is issuing evidence-based clinical recommendations or helping physicians understand new payment systems, ACP plays a critical role in our nation's health care by fostering excellence in the practice of medicine."
Dr. Moyer had been elected to serve as ACP's President for one year with her term scheduled to begin on April 1, 2017. ACP will hold a special election for the position of President-elect within the next few weeks.
Board certified in internal medicine and infectious diseases, Dr. Moyer has been a Fellow of ACP (FACP) since 1995. FACP is an honorary designation that recognizes ongoing individual service and contributions to the practice of medicine. She has served on ACP's Board of Regents, which manages the business and affairs of ACP and is the main policy-making body of the College, chaired ACP's Board of Governors, and served as Governor of ACP's Pennsylvania Southeastern Chapter. Governors are elected by local ACP members and serve four-year terms. Working with a local council, they supervise ACP chapter activities, appoint members to local committees, and preside at regional meetings. They also represent members by serving on the ACP Board of Governors.
Dr. Moyer's research and scholarly activity interests and presentations have been in the areas of medical education, high value care, patient safety, professionalism and digital media, and HIV/infectious diseases. She is the Co-Faculty Advisor for the Temple University School of Medicine Internal Medicine Interest Group and for the Temple University School of Medicine Student Educating About Healthcare Policy Group.
She received her Bachelor of Arts degree in the Biological Basis of Behavior, Biology and Psychology from the University of Pennsylvania and attended medical school at Temple University School of Medicine. She completed her internal medicine residency at Temple University Hospital and served as a Chief Resident/Clinical Instructor of Medicine. She went on to complete an Infectious Diseases Fellowship at Harbor-UCLA Medical Center in Torrance, CA.
---
Recruit-a-Colleague
The American College of Physicians and the Idaho Chapter encourages all members to help strengthen our chapter by recommending ACP membership to colleagues. By joining the College, your colleagues will enrich their clinical knowledge and skills and have access to all of the ACP member benefits that you enjoy.
To thank you for your dedication to our organization, ACP offers incentives to members and their chapters that recruit new members through the Recruit-a-Colleague Chapter (RACC) Rewards Program.
As with the national Recruit-a-Colleague Program, the RACC Program rewards successful individual recruiters with dues credits for each new full Member or Physician Affiliate member recruited and a chance to win a trip to the annual Internal Medicine meeting. In addition, the RACC Program also provides rewards to the recruiters' chapters, including funding for chapter activities and complimentary registrations to the annual Internal Medicine meeting.
The 2016-17 Recruit-a-Colleague Chapter Rewards Program runs until March 1, 2017.
To participate, simply forward to your colleagues a membership application found at https://store.acponline.org/ebizatpro/Default.aspx?TabID=1485&MarketCode=RACC. To qualify for the program, your name must be listed on the recruiter line of the application, and the form must include the code RACC.
Thank you for your help in strengthening our chapter!
---
Watch, Learn, and Land the Job!
ACP still offers members assistance in preparing for their job search. Preparing for a job interview can be stressful. There are many factors to consider when trying to make the best possible first impression with a potential employer. Our 20 short CareerSpot videos have you covered whether you need advice in email etiquette, how to prepare for an interview, how to dress, or how to negotiate a fitting salary. Members have free access at Career Videos.
---
New Members
Clara Riji Anil, MBBS
Nagraj Narasimhan, MD
Thuy-Trang T Ngo, MD
Joel C. Swanson, MD
James Westberry, MD
---
New Fellows
James W. Lederer, Jr., MD, FACP
Robert A. McKie, MD, FACP
---
Contact Information
Moe Hagman, MD, FACP Governor, Idaho Chapter
Boise, Idaho
Kelly Hess Executive Director, ACP Idaho Chapter
Phone:208-490-3329