You are here
GOVERNOR'S NEWSLETTER February 2015
GOVERNOR'S NEWSLETTER February 2015

---
---
Message From the Governor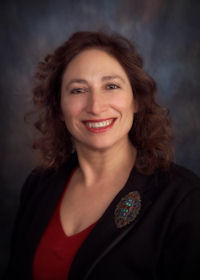 Banu E. Symington, MD, FACP, ACP Governor
---
Thirty-Eighth Annual Hindson Winter Conference and Idaho Chapter Meeting
The Idaho Chapter of ACP had a productive meeting at the annual Hindson Winter conference held in McCall last week. Your Governor, Banu Symington discussed the state of the chapter and activities over the past year. One glowing accomplishment - the Idaho chapter submitted a resolution advocating for legislation empowering the federal government to negotiate Medicare drug prices that was passed with amendments. Special thanks to Drs. Mark Christenson, Lisa Nelson, and John Freeman for their help on the first Idaho resolution ever adopted.
We also discussed the chapter's second resolution currently awaiting debate at the Spring BOG meeting. The resolution is titled, "Stopping Unnecessary Distracted Driving Deaths - Especially Newly Licensed Youth (SUDDDENLY)". The proposed resolution addresses injuries and deaths attributed to distracted driving and ask the Board of Regents to develop a strategy for comprehensive education for members to advocate responsible positions on individual health, particularly to young adults and parents of newly licensed youth, and provide educational resources. The need for this is great as the CDC claims nine people are killed every day and more than a thousand are injured in distracted driving incidents. The resolution is not current College policy and is subject to change or revisions, and has not yet been debated.
Dr. Symington announced a new chapter development activity that seemed to inspire members looking to make the chapter more proactive in the healthcare improvement area. The chapter submitted a chapter development application to ACP that was fully funded for forming a new healthcare improvement committee. As we look to the future, it would be good to have a chapter development committee that would work towards developing and submitting future CDA grants. Eventually, these projects might become the basis for an Evergreen Award.
Highlights of the Hindson Winter Conference included Dr. Mark Servis who presented a clinicians survival guide for personality disordered patients. Dr. Servis suggested we all wonder if we fit into one of the disorder groups he presented such as narcissism and antisocial personality disorders, but assured meeting participants it is normal if you fit into many. Dr. Gilbert Welch gave a presentation on two misleading statistics: relative change and survival. Welch had his audience quite amused as he explained statistics, did the math for the audience, and explained survival rates and mortality. Melissa "Call me Moe" Hagman and Bill Weppner lead the MOC modules and kept the sessions lively as well.

The McCall Pancake House across the street from the Hunt Lodge
---
Grand Rounds Event - March 4, 2015
Free Breakfast Grand Rounds on Adult Immunization Offers CME and 20 Practice Assessment MOC
The national American College of Physicians Center for Quality is partnering with the ACP Idaho Chapter, ACMEC, and St. Luke's Idaho Health System to support a breakfast grand rounds on March 4th, 2015 at St. Luke's Boise Medical Center - Anderson Center from 8:00 - 9:00 AM. The title of the symposium is, "I Raise the Rates: The Why and the How to Increase Adult Immunizations." National expert, Dr. Robert Hopkins will provide an update on recommended adult immunizations including Influenza, Pneumococcal, Td/Tdap, Zoster, and HPV, and discuss strategies for patient education and outreach within your practices. The program is approved by ABIM for 20 MOC practice assessment (part IV) points. In addition, participants will gain CME and access to a host of online tools and expert support for implementing immunizations into your practice. This program was made possible by resources from a cooperative agreement from the Centers for Disease Control and Prevention. For more information and to register.
---
New Chapter Activity - Healthcare Improvement Committee
As mentioned before, the Idaho chapter has an exciting new committee underway. We applied for chapter development funding and were approved for the full amount to develop a "Healthcare Improvement Committee". This novel concept we believe can break new ground at ACP, improve national healthcare, and improve the day-to-day work environment for physicians.
The Healthcare Improvement Committee will collaborate on challenges facing the national health care system and develop programs, specific for Idaho, to address those issues. The committee will develop "pilot programs" for their own areas or practices, addressing problems and working together to measure their success. The ultimate goal of these pilot programs is to develop solutions that can be used on a national level (by starting small at the state level) to improve the physician and patient experience and deliver quality care. Because physicians know the everyday problems, physicians should be able to come up with solutions to healthcare system issues.
We would like to find a committee chair and ten to fifteen members to collaborate and begin working on how to coordinate solutions. An example could be how to establish better communication between PCP and specialist for sucessful referrals and subsequent development of tools to address the issue such as referral and response checklists or other resources deemed appropriate. Another example could be Dr. Symington's pet project of more widely promoting HPV vaccines or even health care system waste reduction.
Once a group has been established, we plan to have a speaker familiar with healthcare issues to get the meeting going and a dinner, probably in the Boise area. Future communications of the committee should include general feedback from participants, program maintenance issues, associated costs (if any), and viability. Ideally, the committee should appoint one or two project coordinators for reports of the programs success. A Skype account for the Idaho Chapter will be available for periodic progress meetings and email communication to project coordinators are needed to ensure successful progression of committee goals.
If you are interested in this new chapter opportunity, please contact Kelly Hess.
---
Welcome New Members
Dan Fairman, MD, Ketchum
Magdelena Greene, MD, Moscow
Shanda Grooms, MD, Boise
Magni Hamso, MD, Boise
Nicholas Knighton, DO, Burley
Guillermo Mudad, MD, Moscow
Olawale Olaniyi, MD, Nampa
Patrick Villazon, MD, Meridian
---
Congratulations to our New Fellows
Tina Esther Bronner from Boise
Judith Csanky from Filer
---
Idaho Chapter Award Chapter Excellence Award
The Idaho Chapter received the Chapter excellence award for 2014. To achieve the Chapter Excellence Award, chapters must meet all basic criteria and seven optional criteria. Criteria include such activities as formulating an effective Governor's Council and committees, communicating frequently with membership, providing educational opportunities, recruiting and advancing members and celebrating membership through local awards. We are on track to receive this award again in 2015. This monetary award helps the chapter by allowing us to do more like sending a medical student to Leadership Day or other chapter activities.
---
Docs for Socks
ACP is partnering with the Boston Healthcare for the Homeless Program (BHCHP) to benefit from a charitable activity in conjunction with ACP's 100th anniversary celebration at Internal Medicine 2015 in Boston. As part of the "Docs for Socks" initiative, ACP will be collecting donations of socks and underwear to benefit the BHCHP's constituents during Internal Medicine 2015 and will also be offering tours of the BHCHP to interested attendees.
Boston Health Care for the Homeless Program (BHCHP) was founded in 1985 as one of the first Health Care for the Homeless programs in the country. BHCHP strives to provide or assure access to high quality health care for homeless men, women, and children in the greater Boston area. BHCHP cares for more than 12,000 individuals each year by providing an integrated model of care that includes primary care, behavioral health care, and dental care. Here is the BHCHP website for additional information.
We appreciate your help to benefit the Boston Healthcare for the Homeless Program in conjunction with ACP's 100th anniversary.
---
Meaningful Use Regulations Released for 2015
CMS has released a new rule on the meaningful use of electronic health records (EHR) systems. The rule added some flexibility to the requirements for reporting in 2014, allowing physicians different options to successfully complete reporting. However, the rule also established onerous requirements for 2015, requiring reporting for the entire year. Under the meaningful use program physicians demonstrate that they are using certified EHR systems in their practice to improve patient care. Read more about what ACP has to say about the Meaningful Use program and the new rule.
Don't forget to visit the Idaho Chapter Facebook page. Your executive director regularly posts interesting and relevant articles from various sources.