You are here
A Message from Your Governor July 2015
A Message from Your Governor July 2015

| | |
| --- | --- |
| July 2015 | Alice Lawrenz Fuisz, MD, FACP, Governor |
---
---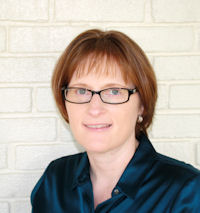 Since our last newsletter in December 2014, the DC Chapter has held a strategic planning meeting and our annual Resident's Abstract Session. Out of the strategic planning meeting, which was moderated by fellow VA Chapter Governor, Lisa Ellis, MD, FACP, we agreed upon specific goals for each of our Chapter Committees. The national office encourages each chapter to hold strategic planning meetings. A strategic plan helps a chapter to assess, clarify, and perhaps even change its current vision, mission, and strategies. It encourages the chapter to prepare for possible partnerships - both in revitalizing old or current ones and exploring new possibilities. Internally, a plan provides guidance to the staff, and, in the case of a leadership transition, helps the Governor's Advisory Council and staff work together and stay on track.
The Resident's Abstract Session was held at Georgetown again this year under the leadership of Joseph Timpone MD FACP. All our local programs participated and won awards for their fantastic oral presentations and posters. Those who helped out by judging were very impressed. We appreciate the effort all the residents made and would also congratulate their mentors. The winners were:
Podium Research
1st - Lynn Lei MD - GW
2nd - Nicholas Fiacco MD- Walter Reed
3rd - Savita Mall MD - Providence
Podium Clinical
1st - Erica McBride MD - GW
2nd - Ankit Mahajan MD - Howard
3rd - Antonio Corona MD - Providence
First Place Posters:
Manik Aggarwal MD - Georgetown - Research
Aparna Balasubramian MD - Georgetown - Clinical
Steven Quinn MD - GW - Clinical
Elizabeth Kidder MD and Niharika Tipireneni MD (tied) - GW - Clinical
Stefan Hemmings MD - Howard - Clinical
Vijay Kodadhala MD - Howard - Research
Sandra Okoli MBBS - PG - Clinical
Charles Mugera MD - PG - Clinical
S. Zainab Wasti MD- Inova - Clinical
Eleni Footman MD - Inova - Research
Kimia Ghaznavi MD - Providence - Research
Sasan Fazeli MD - Providence - Clinical
Blake Cirks MS- Walter Reed - Clinical
Daren Yang DO - Walter Reed - Clinical
Charran Yerasi MD - WHC - Research
Kavya Lingappan MD - WHC - Clinical
We have held another salon dinner, a meeting for hospitalists, a preliminary planning meeting for the Hospice and Palliative Care Committee, and the Awards Committee has met to pick local chapter awardees for the year and to nominate national awardees and submit nominations for Mastership. George Philips MBBS FACP has agreed to become our Membership and Faculty Development Chair and has been busy working on getting more and more interest groups up and running.
In April, prior to the ACP's Centennial Annual Session I attended the spring Board of Governor's Meeting in Boston along with our governor-elect designee, Ashesh Patel, MD FACP. Following that meeting Ashesh assumed the year long role of governor elect. During this transition year Ashesh will be involved with the activities of the chapter and nationally so the transition goes smoothly after the Annual Session next May.
During the Board of Governors Meeting we discussed and voted on a number of important resolutions including topics such as educating physicians about distracted drivers, the onerous requirements of EMR's, the legal implications of physicians recommending marijuana to patients, and the appropriate use of telehealth. I have also been serving on the national Medical Practice and Quality Improvement Committee which met in May in DC. We have since submitted a paper that we hope is published in the Annals about concierge medicine.
At the Annual Session in Boston we were well represented in terms of new Fellows.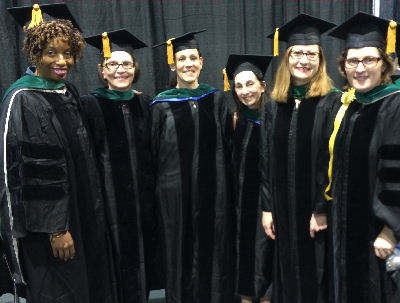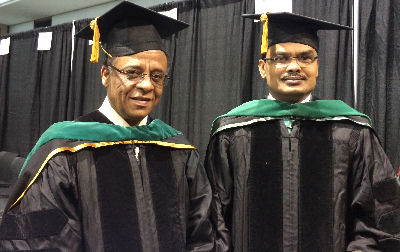 We held a reception for our local chapter members along with the VA, DE, and MD Chapters at Rosa Mexicana in Boston.
We are looking forward to another great local chapter meeting under the leadership of Nazia Qazi MD FACP in November. Note the location has been moved to Howard University.
The Annual Session will take place in DC in May 2016. We hope to have a large group of local members advanced to Fellowship so that you can participate in the ceremony on our home turf with lots of family and friends in the audience to cheer you on. If you are a current member, you should strongly consider applying for fellowship. Fellowship in the College is an honor. Being an FACP is a mark of esteem from colleagues who recognize accomplishments and achievements over and above the practice of medicine. Begin the process of applying for Fellowship today. Take a look at the ACP Web site for details. If you need help identifying current Fellows or Masters to write letter of support, please let me know and I can help you.
I was notified by Ellen Gold that a former DC Governor, James Curtin, MD, MACP, recently passed away. He was Governor from 1984-88 and served as Chair of the BOG 1988-89. Read his obit.
---
ACP Leadership Day (May 20-21, 2015)
By: Larry Klein MD MACP
Chair, ACP DC Health and Public Policy Committee
A contingent of DC ACP members (myself, our governor Alice Fuisz, MD, FACP, Jerry Meyer, MD, FACP, and Tracy Henry, MD, (our medical fellow from Georgetown) spent Wednesday afternoon May 20 being educated by ACP leadership, Congressional leaders, and Congressional staff regarding issues affecting upcoming and potential health care funding legislation. Then, we took off on visits to Congressional offices on Thursday, May 21 to meet with staff to explain our views on these issues.
Alice and Tracy joined the Maryland Delegation and visited Donna Edwards' office. A productive visit occurred with sharing of opinions.
Alice, Jerry, Tracy, and I then met with Eleanor Holmes Norton's health care staffer and then with Chris Van Hollen's health care staffer. Chris Van Hollen also joined in personally for part of our visit with his staffer. As you know from prior DC ACP Governor Newsletters, Congressman Van Hollen (Chris) has been supportive of measures to aid reimbursement for primary care internal medicine and for internal medicine training in the past and continues to express support for these measures.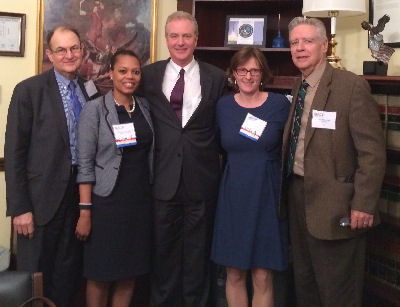 The primary issue we discussed in each of these offices was the planned loss at the end of 2015 of the 10% Medicare Primary Care Incentive payment and the Medicaid parity with Medicare reimbursement increase. In particular, since no legislation has yet been introduced into the House to continue the Medicare Primary Care Incentive payments after December 31th, we called upon these congressional offices to introduce legislation requesting a continuation of the Medicare Primary Care Incentive payments until at least 2019. We hope progress is made in this regard.
We also encouraged these offices to support adequate GME funding, as well as adequate funding for Title VII programs and the National Health Services Corp.
While meeting with staffers for Congresswoman Holmes Norton and Congressman Van Hollen, we raised concerns about the excessive demands of CMS when it comes to Meaningful Use rules and the fact that these rules and other billing requirements create cumbersome EHRs. We asked that these congressional leaders work to convince CMS to improve the way it "oversees" medical care so as to not force us to substitute time with computers for time with our patients.
Finally, let me remind readers that the DC ACP Health and Public Policy Committee is interested in feedback from our chapter members. Additionally, I would remind readers that all chapter members are welcome to join us when we visit Capitol Hill. Keep this in mind when spring 2016 approaches.
---
Hospitalist Committee
By: Dan Danila MD FACP
Chair, ACP DC Chapter Hospitalist Committee
Our committee is involved with catering for the needs of the hospitalists in the area, by organizing various events that are of interest to our members. From social/networking events to coding classes, we strive to listen to what our members need in order to be successful in their career.
The committee is open to any hospitalists in the area who are interested in educational improvement, networking, and/or moonlighting opportunities. Suggestions for future events are always welcome!
---
Hospice and Palliative Care Medicine Committee
By: Hunter Groninger MD
Co-Chair, ACP DC Chapter Hospice and Palliative Care Committee
The newly developed Hospice and Palliative Medicine Committee brings together clinicians, researchers, and policy experts to collaborate towards improving care of the seriously ill and the dying in the Washington, DC, metro region. Our inaugural meeting in March 2015 brought together interested individuals representing area institutions, practicing across care settings, to brainstorm the mission of this committee, as aligned with ACP. We were very fortunate to have present national experts in public policy related to hospice and palliative medicine educational, fiscal, and regulatory interests. Moving forward, this committee aims to assemble with regular frequency to provide education, research and quality improvement opportunities, and professional networking. We are actively planning our next activity to take place in the coming weeks. We welcome anyone interested in this important work.