You are here
Message from your Governor
Message from your Governor

| | |
| --- | --- |
| July 2013 | R. Bradley Slease, MD, FACP, ACP Governor |
---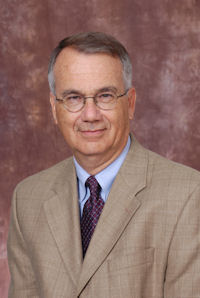 Since there have been no new, earth-shattering events in health care at the national level, (yes, the SGR formula is still in place), this is a good opportunity to review some of the recent Delaware ACP Chapter activities and alert you about upcoming events.
The annual ACP Chapter meeting in February was a major success. Attendance was the highest on record, and the feedback on the speakers was uniformly positive. Kudos to Tony Bianchetta, FACP, for planning the program. As in previous years, there was a large number of excellent medical student and resident poster presentations. Congratulations to Daniel Jacoby, ACP student member, and Don Slack, ACP Associate, who were the grand prize winners in the poster competition.
Next year's meeting is now being organized by Jim Ruether, FACP, and his planning committee. Due to a scheduling conflict, we will have the meeting in a different venue. Details will be provided later.
The Delaware ACP Chapter sponsored a Residents Journal Club in April, organized by Dan Elliott, FACP, and Heather Ragozine-Bush, ACP associate. The topic - the Time Magazine article about problems with health care economics - was unusual for a medicine journal club. However, it did generate a lively discussion.
Our Chapter, along with the Delaware Academy of Medicine, the Academy of Family Medicine, the College of Emergency Physicians, and the Society of Hospital Medicine co-sponsored a symposium in May on "Transitions of Care". We are hopeful that this initiative will lead to an ongoing, coordinated effort to improve effective communication among caregivers.
Other chapter activities include representation at ACP Leadership Day in Washington, D.C. with a Delaware contingent again headed by Dan Elliott, FACP. Nancy Fleurancois, heads the Delaware ACP Early Career Physicians group which sponsored a group at Leadership Day and will lead another session in July. Dan and Nancy have summarized these events for this newsletter.
The ACP National Office has urged state and regional chapters to name someone who would be willing to step into the position of chapter Governor should a sitting Governor be unable to fulfill the role. After a discussion with the Governor's Advisory Council and request for volunteers, I asked Neeta Milansincic, FACP, to assume that position, if necessary, and she has graciously accepted. Please give her your congratulations, (or condolences), and full support should she be needed to complete the current Governor's term.
By now, you will have received via e-mail the proposed resolutions to be considered at the upcoming Board of Governors Meeting in September. Some of these resolutions have special relevance to physicians in Delaware. Your comments and feedback on these resolutions are important, as I would like to represent the views of the Delaware ACP Chapter, not just my personal opinions.
Finally, let me remind you about the upcoming 15th Annual Lower Shores Symposium in Rehoboth Beach at the Boardwalk Plaza Hotel on October 26, 2013. Once again, Mansour Saberi, MACP, and Bandu Palekar, FACP, have put together an excellent program with topics covering a broad range of issues important to primary care physicians. Last year's symposium was very well-attended despite the imminent arrival of Hurricane Sandy. We hope to increase attendance again this year. Think of it as a day at the beach with CME credits. See you in Rehoboth!
---
Early Career Physicians
By: Nancy Fleurancois MD
Chair Council of Early Career Physicians
The ACP Council of Early Career Physicians, formerly known as the Young Physicians Council, is continuing to offer events aimed at enhancing the professional development and quality of life for physicians who are early in their career. Past events, under the leadership of Edmondo Robinson, FACP, have included a presentation by Beau Biden, Attorney General, that was very well received. The ACP has identified that physicians who are early in their professional career have special needs that the college is striving to meet. Fostering early involvement of physicians with ACP programs helps them become active participating members of the ACP throughout their career.
With a brand new team, the Council of Early Career Physicians held an event regarding Medical Audits and how the Affordable Care Act will affect physicians. Medical audit specialist Dr. Todd Trusty gave a dynamic and engaging presentation that was very helpful and eye-opening. The event was well attended and participants looked forward to more events from the Council. A summer event on June 25th focused on financial planning for physicians, including a discussion of tax strategies, asset protection, and managing debt including student loans.
Some of the topics on which we are focused are relevant to physicians throughout their career, but the unique aspect of our group's effort is to target early career physicians who are trying to find balance with career advancement and enrichment and oftentimes are too busy to seek out such opportunities. Each event is planned with a half hour for networking, providing a chance for us to get to know each other and perhaps make connections that can provide opportunities in the future.
Events planned in the upcoming months include a fall event on Advancement to Fellowship in the ACP and an event regarding work life balance, which has been a popular topic in the past. We are always searching for new members who are enthusiastic and willing to share their ideas on how to Increase the value of ACP membership for Early Career physicians. If you have any suggestions we would love to hear from you.
---
Health and Public Policy
By: Daniel Elliott MD FACP
It's been a crazy year for health policy - and the next few years are certain to be bumpy as health reform continues to roll out. My sense is that there is broad agreement on aspirational goals of increasing efficiency, increasing quality, and decreasing the overall cost of care - but there is wide variability in what people think is the best way to get there!
There are two pieces of the Affordable Care Act that are most active right now: Health Insurance Exchanges and Medicaid Expansion. Though the Affordable Care Act has already introduced many smaller changes, the establishment of the Health Insureance Exchanges will be the most dramatic overhaul of the health insurance marketplace to date. State and federal governments are scrambling to build capacity and infrastructure to enroll people - and all the while the majority of the population has no idea that this is coming! At the same time states are deciding whether to accept federal subsidies to expand Medicaid eligibility in their states. This is very controversial - and very partisan! - as many governors are concerned that the expansion will ultimately leave their states with a commitment to coverage that is unsustainable. Stay tuned to this one, as Medicaid expansion was the biggest mechanism to decrease the number of uninsured in this country and therefore at the center of the Affordable Care Act.
It was in the midst of this transition that a group of us headed to Washington for ACP Leadership Day. I was pleased to be joined this year by Eric Schwartz, MD, Marci Drees MD, MS, and Gia Uzelac, MD. Eric is the Medical Director of the Medical Group of Christiana Care, Marci is the Hospital Epidemiologist at Christiana Care, and Gia is finishing her second year as a medicine-pediatrics resident at Christiana Care. The diversity of opinions and experience proved helpful as we discussed with aides to our Congressional delegation.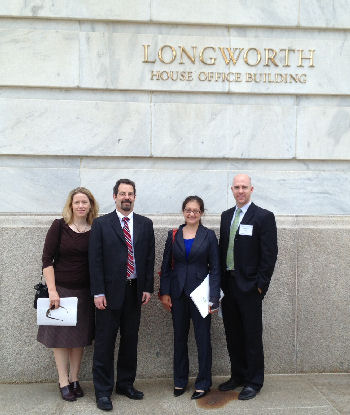 We focused on the following items:
Eliminating the Sustainable Growth Rate (SGR). This one felt a little less like Groundhog Day this year! In fact, it also seemed predestined that SGR will go away soon, largely because the Congressional Budget Office dramatically reduced the estimated cost of eliminating the program. Though there was universal agreement that SGR needs to go away, it needs to make its way through the legislative cycle. ACP continues to advocate for 1) complete elimination of SGR, 2) stable, positive updates for at least 5 years, and 3) create a mechanism for physicians who are engaged in Value-Based Payment models to have graduated incentives that will allow physicians to make the transition to newer payment models over time. We can't turn the system of payment "on a dime" so ACP is advocating for a gradual change that can start now for practices that are ready and willing to move in this direction.
Ensure Full Funding for Essential Health Programs. As you may remember, the federal budget received a significant across-the-board "haircut" earlier this year as a result of a process Sequestration. The Sequester occurred because the federal government was unable to agree on a financial path forward for the country. The Sequester cut funding irrespective of value and resulted in budget cuts for Programs that ACP considers essential. We spent time advocating for full funding of high-priority programs that have implications for the supply of physicians to primary care and patient access, including the National Health Service Corps and Title VII Funding for Primary Care Training; and for the continuation of funding for public health and research infrastructure including the Centers for Disease Control (CDC), Agency for HealthCare Research and Quality (AHRQ), and the National Institutes of Health (NIH).
Fund a Pilot of No-fault health courts. The ACP continues to advocate for liability reform, and specifically for health courts. Health Courts would utilize specially-trained judges and medical experts to expedite fair and just decisions about medical liability claims. There is no bill in Congress to address this, but ACP sees this as a key issue moving forward.
Reform and Sustain Graduate Medical Education (GME) Funding. The Federal Government currently funds GME through several mechanisms. As budgets get tightened, inquiring minds have wanted to know why the federal government has to bear the responsibility and cost of GME. ACP agrees, and we advocate for an all-payer system in which the cost is shared; and for increased transparency and accountability for GME payments overall.
I encourage you to read more about these and other healthy policy issues.
Are you interested in health policy and advocacy? Please consider joining us for Leadership Day 2014 - it is never too early to plan!
---
ACP Adult Immunization Initiative for DE Chapter Members
By: John H. O'Neill, D.O., FACP
Immediate Past Governor, DE Chapter, ACP
Medical Practice and Quality Committee, ACP
I wanted to update Delaware ACP Chapter members about an exciting new Adult Immunization Initiative that your practice will have the opportunity to participate in this year.
The Center for Quality of ACP (from the Washington DC office) has obtained a grant from the CDC to support a project in which internal medicine practices can assess their current adult immunization practices, implement a plan to improve these practices, and measure the results of this plan. In essence, it is a quality improvement (QI) initiative for medical practices. As you are aware, practice based QI efforts will be part of our future as practicing physicians. Since many of us have little or no experience in the QI arena, ACP will be developing programs for its member physicians that will take the mystery out of QI efforts and make it much easier for us to participate.
Most internists provide some immunizations for their adolescent and adult patients. Most commonly, these have included influenza vaccine, pneumococcal vaccine, tetanus vaccines (Td and Tdap) and herpes zoster vaccine. Nationally, we know that adult immunization rates have been low. There are many reasons for this, and one is the lack of practice based initiatives that promote immunization. Other important factors are related to patient acceptance and cost/reimbursement issues. ACP and other physician specialty organizations have recognized these dilemmas and are promoting adult immunization efforts on behalf of physicians and their patients.
Those of us who have implemented EHR's in our practices have been required to report clinical quality measures (CQM's) as part of the meaningful use government incentive program. Some of the easier to document and measure CQM's have been immunization related. Starting in 2013, practices that do not participate in the government's PQRS program for this year, will receive a penalty linked to their medicare reimbursement in 2015. Some of the PQRS measures are immunization related. Many of us are required to recertify in internal medicine every 10 years through the ABIM. A PIM (practice improvement module) will now be required every 5 years. An approved quality improvement (AQI) pathway is one way to accomplish this requirement, and it can be immunization based, if supported by a program through an organization such as ACPNet (ACP's practice based QI and research network).
You can see where this is going. ACP, as a professional organization for internal medicine is supporting its members by developing programs that coordinate making it easier for physicians to comply with government regulatory requirements, to avoid penalties in reimbursement, to participate in maintenance of certification, to facilitate receiving CME credit toward maintenance of licensure and to improve patient care. The idea is: practice based quality improvement efforts satisfy these multiple requirements simultaneously, to avoid redundancy and maximize benefit.
One of the ways Delaware internists can accomplish the above is through participation in the Adult Immunization Initiative. We are one of 7 chapters that will have this opportunity over the next 2.5 years. We have recruited 9 Delaware practices from the chapter to participate thus far. If you think your practice may be interested in participating in this initiative, please feel free to contact me at for more information. We plan to kick off the program in late September of this year. Meanwhile, I will be providing an update on adult immunization topics at Medical Grand Rounds at Christiana Hospital's Ammon Education Center on Thursday, July 11th, from 8-9 am. I hope to see you there.