You are here
President's Message
| | |
| --- | --- |
| January 2013 | W. J. Many, Jr., MD, FACP, ACP Governor |
---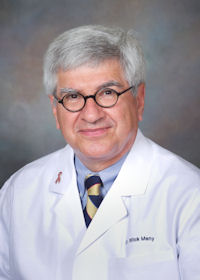 I trust that all of you had a very joyous 2012 Holiday Season and that thus far 2013 has proven to be prosperous, professionally rewarding, and healthy for all of you!
I have now had the privilege of serving as the Governor of our Chapter for over two years and each day I come to appreciate even more the value of being a member of the American College of Physcians. The tangible benefits are readily apparent to all of us - the vast educational resources that the College provides via publications, webinars, etc.; the superb CME activities available at our annual state meeting and at Internal Medicine Week; the extensive clinical practice guidelines that are easily accessible to the entire membership to enhance the quality of care and particularly the practice of evidence-based medicine; and patient education materials that improve health care literacy and as a result, engagement of patients in their health and wellness. Less apparent and tangible is the day to day advocacy for internists - general internal medicine specialists, hospitalists, subspecialists, residents and student members - that the College exerts on our behalf. Only after attending Board of Governor's meeting and the Awards Convocation at Internal Medicine Week did I fully comprehend how very special is the College and indeed an honor to be a member. Too frequently some of us view the College as an organization that sends us a copy of Annals of Internal Medicine every other week and is run by bureaucrats in Philadelphia out of touch with our unique problems. Rather, the real work of the College is performed by practicing physicians such as you and I - private practice and academics; generalists, subspecialists, and hospitalists - who encounter the same frustrations as all of us but are striving to make the practice of medicine more rewarding professionally for you and to enhance the delivery of healthcare for our patients. Therefore, I urge you to stay involved in the College activities and communicate to me whenever you feel the need so that I can serve as a conduit to others so that your voice may be heard.
There are very direct ways by which you can support the goals, objectives, and mission of the College:
Maintain your membership - our Chapter is committed to provide you full services but to keep Chapter dues as low as possible
Encourage others in your community to join the ACP or for those who were once members, ask them to reinstate their membership. In numeris sit robur
Attend the Alabama Chapter Meeting May 30th - June 3rd, 2013 at The Grand Hotel in Point Clear, AL. The program is intended to meet the majority of your CME requirements and provides a workshop to assist in the Maintenance of Certification. More importantly, the meeting affords a great opportunity to meet with old colleagues from year's past and meet the next generation of internal medicine physicians.
As always, please contact me or any of the Board members to share your concerns on any and all issues that impact internal medicine.
Best wishes and I hope to see you at Point Clear in May!
Wick
---
ACP Associate Activities
This was another exciting year for the Associates in the Alabama chapter! Alabama sent its team to compete in the "Doctors Dilemma" competition at Internal Medicine 2012 in New Orleans, Lousiana. The team, composed of Associates from UAB, was as follows:
Michael Mikolaj
Mallika Mundkar
William Schleifer
We had two Associates represent the Alabama Chapter in the National Clinical Vignette competition at Internal Medicine 2012. Sheela Subramanyam from Baptist Health Systems and Phillip Henderson from the University of South Alabama both did an excellent job.
At a state level, opportunities continue to become available for Associates to participate in chapter activities. The chapter continues to sponsor its annual Doctors Dilemma competition, oral clinical vignette competition, and poster competition for both clinical vignettes and research. Last year we received a record number of abstracts for the annual sate meeting.
The Alabama Chapter Council of Associates continues to be active and foster increased involvement within the chapter. Events hosted by the Council this past year include a talk on the fellowship application process, an Associate's night out at the Chapter's annual meeting, and the Stump the Professor session at the Chapter meeting. Our current members are:
Radhika Dasararaju - University of Alabama at Birmingham-Montgomery
Adam Edwards - University of Alabama at Birmingham
Courtney Shappley - University of South Alabama
Erin Stevens - Baptist Health Systems
They have done an outstanding job this year representing Associates and planning future activities!
It has been a pleasure this past year to get to work with Dr. Many, Dr. Rodriguez, the Internal Medicine Program Directors, Teri Dingler, and others in order to make our associate program one of the best in the nation.
T.J. Hundley, MD FACP
Chair, Associate Activities Alabama ACP
---
ACP Hospitalist Activities
The Alabama Chapter of the ACP has worked to enhance the growth of the hospitalist membership in our chapter. During the chapter meeting, there are educational topics geared toward hospitalist physicians. There is always a roundtable breakfast moderated by Dr. Robert Centor so that hospitalist concerns can be taken to the national level. The Alabama Chapter also works to ensure there is hospitalist representation on the Board of Governors
---
Advocacy Update
As 2012 comes to an end, physicians are preparing for a 26.5% reimbursement cut mandated by Medicare sustainable growth rate (SGR) statue and an additional 2% reduction in Medicare rates through a budget sequestration process required by a 2011 deficit reduction law. Although both sides of the aisles of congress and the White House has repeatedly assured physicians over past decade that no large reductions in Medicare reimbursement would be allowed to stand, the cost of even a one year pay patch for 2013 is now estimated at $25 billion by the Congressional Budget Office. The ACP, along with AARP and the American Academy of Family Physicians have encouraged lawmakers to abandon the SGR and stop future cuts without relying on the practice of stopgap measures to override the SGR. Organized medicine supports repealing the SGR and paying for the long-term solution by redirecting "unused" money from the overseas contingency operation (OCO) fund after the end of full-scale military operation in Iraq and Afghanistan. The White House and congressional Democrats support this type of budgeting offset.
In Alabama, reform of our Medicaid program is on the horizon. Currently, Medicaid consumes roughly 30% of Alabama's General Fund, which pays for most non-educational spending. Budget analysts predict that Medicaid will grow to consume nearly 90% of the General Fund by 2020 if changes are not made. Governor Bentley established the Medicaid Advisory Commission in October, chaired by State Health Officer Dr. Don Williamson, to study the funding of and delivery of care to Medicaid recipients. Dr. Williamson has made it clear that the current funding system for Medicaid is not sustainable and the Legislature has shown little interest in continually increasing funding each year going forward. Because of the state's inability to fund care for Alabama Medicaid's current 900,000 enrollees, Governor Bentley chose not to expand Medicaid to 133% of poverty level in 2014. Although Medicaid expansion would initially be funded by the federal government under the Affordable Care Act, eventually federal funding would drop to 90% leaving the state to make up the funding difference for 200,000 to 400,000 additional enrollees. Even without Medicaid expansion, expect the Medicaid Advisory Commission to recommend transformation of Alabama Medicaid to a managed care model.
Make plans to attend MASA's governmental affairs meeting in Washington, February 9-12, 2013 and ACP's Leadership Day, May 20-22, 2013. Please let me know if you plan to attend.
Ross B. Vaughn, MD, FACP
Chairman, Advocacy and Health Policy
---
Alabama Chapter Annual Spring Meeting
This year our annual meeting will again be held at the Grand Hotel in Fairhope, Alabama May 30-June 2.
The program features presentations on very important topics for primary care physicians, hospitalists, subspecialists, medical students and residents. Some of the topics include geriatrics, cardiology, perioperative management, hypertension, etc.
We will again have an ABIM recertification module. As usual, clinical vignettes will be presented by associates from all state training programs, and we will have a Doctor's Dilemma competition. We hope to see you in the Spring.