You are here
Bangladesh Governor's Newsletter July 2017
Bangladesh Governor's Newsletter July 2017
---
---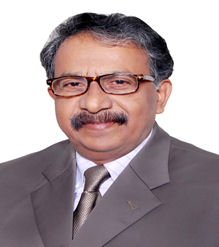 Quazi Tarikul Islam, MD, FACP, ACP Governor
---
Governor's Message
Dear Colleague,
I am highly privileged to welcome you all to the ACP Bangladesh Chapter Newsletter July 2017. I am also pleased that ACP Bangladesh Chapter became the fastest growing chapter among all ACP chapters. As of June 30th, the total number of our chapter member is 428. Besides gaining chapter members, ACP Bangladesh Chapter is doing hard work to increase chapter activities. The Bangladesh Society of Medicine and ACP Bangladesh chapter will organize the 18th International Congress and Conference from December 8th to 10th, 2017. All National and International ACP Members can join the meeting.
We had a successful BOG (Board of Governors) meeting on March 28th-29th and ACP annual Internal Medicine meeting March 30th to April 1st, 2017 at San Diego. Nearly 50 delegates with their accompanying persons attended the meeting. As a Chapter Governor, I assume, this is the highest number of international participationts from the chapter to ACP annual meeting. The coming BOG meeting will be held in Montreal, Canada in October 5th to 7th, 2017.
Bangladesh is a tropical country. Monsoon season starts in June and ends on August. However, this year early rainfall started in March. Early rainfall caused mosquito-born diseases like Chikungunya and Dengue. Chikungunya has had very huge outbreak among hundreds of thousands inhabitants of Dhaka City. Members of the Bangladesh Society of Medicine and ACP Bangladesh Chapter prepared a guideline for "Chikungunya Management".
---
Internal Medicine 2017, San Diego
Board of Governors Meeting
In the International Governor's break-out session, Quazi Tarikul Islam, Governor, ACP Bangladesh Chapter proposed the following points:
a. MKSAP 17 should be available for all International chapter members with a reduced price
b. MKSAP should include diseases that are prevalent to different parts of the world and may not be common in the USA
The next meeting will be held in New Orleans, April 19th-21st, 2018.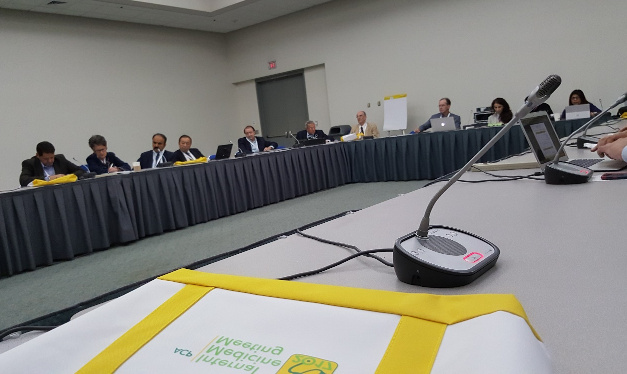 International Governors' breakout meeting at San Diego, 2017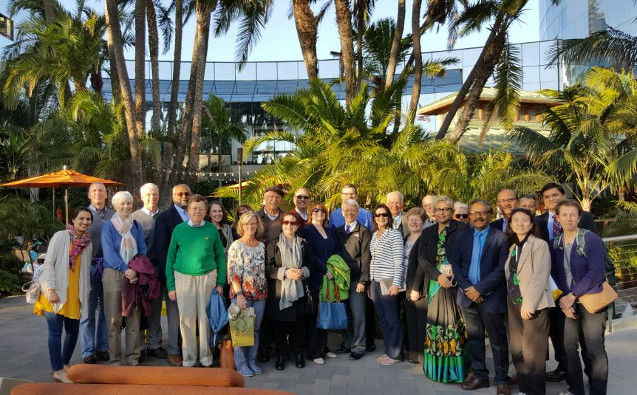 Governors' Class of 2018 in a photo session with accompanying persons before the cruise dinner on March 28th, 2017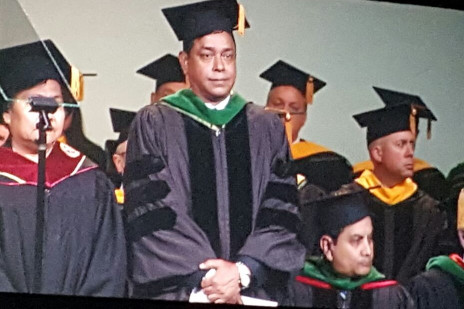 Prof. Khan Abul Kalam Azad, President, Bangladesh Society of Medicine, in a stage party session
ACP Bangladesh Chapter Participation
A total of 86 participants, 46 of them delegates from Bangladesh, attended the Internal Medicine meeting in San Diego. This is the highest number of participant in the meeting ever from Bangladesh. Of 16 new Fellows, 12 attended the convocation.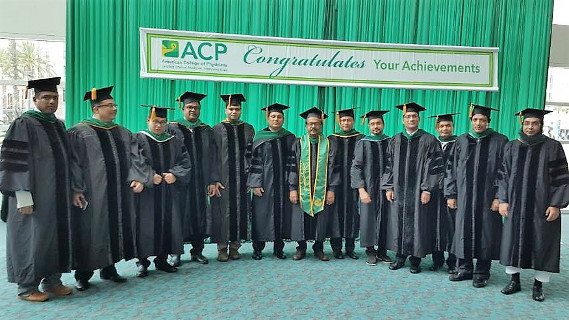 ACP Bangladesh Chapter Governor with newly inducted Fellows
AKM Shaheduzzaman
FarukAhammad
Md. Khalilur Rahman
Gobinda Chandra Banik
ParthaPratim Das
Syed Ghulam MogniMowla
Khan Fariduddin Mohammad Ayaz
Md. Toufiqur Rahman
Shah MdSarwer Jahan
Mohammad Mahbubur Rahman Khan
Ranajit Sen Chowdhury
Radheshyam Saha
Poster Session Judge
The Governor of the Bangladesh chapter fulfilled his responsibility as a judge of poster session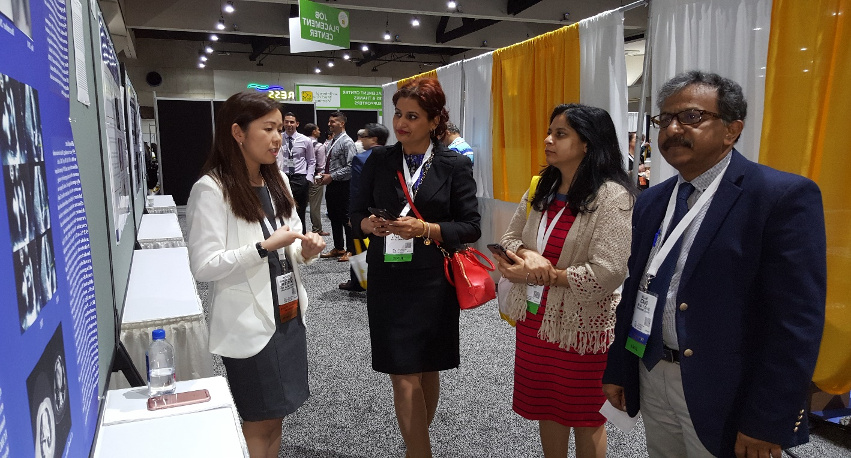 Poster Session: Governor ACP Bangladesh Chapter with the other two judges
---
Best of ACP Internal Medicine 2017 Coming to Doha
ACP will take the Best of ACP Internal Medicine 2017 to Doha, Qatar, as part of the 4th Qatar Internal Medicine Conference, hosted by Hamad Medical Corporation (HMC). The conference is scheduled for October 13th to 14th, 2017, at the Sheraton Grand Doha Resort & Convention Hotel. Through this collaboration, ACP is excited to feature top US faculty and offer a variety of popular formats typically used at the annual ACP Internal Medicine Meeting, such as Multiple Small Feedings of the Mind and News You Can Use. The Bangladesh Chapter is very much excited, as in addition to the Gulf Chapter region, ACP will be promoting the meeting to selected countries, including ours.
---
Chapter Meetings
6th ACP Bangladesh Chapter Meeting
The 6th ACP Bangladesh Chapter Meeting was held on May 2nd, 2017 in the premises of a restaurant at noon. Discussion and decisions were taken on following points.
Achievements in last 6 months: Member recruitment is highest among all chapters
Governor's Council member reshuffled
Governor council proposed 50% discount of MKSAP material
A total of 86 delegate members from Bangladesh attended the Internal Medicine Meeting in San Diego 2017. This is the highest number of international participants in the meeting
The USA Visa system is becoming complicated with delays. There is no single incidence of not returning from USA by any ACP members attended ACP meeting. Dr. Chandra Shekhor Bala, member of ACP was awarded International fellowship at California but could not join the program due to Visa issues. This will reflect negatively among the International ACP members who are competing for Fellowship awards
A skill development program for Resident/Fellow members would be held on May 21st, 2017
ACP Bangladesh Chapter has approved different committee chairman
Physicians who want to become a member of ACP should be screened by the local chapter Governor
LNC informed the Governor council members about the progress of the Governor-Elect election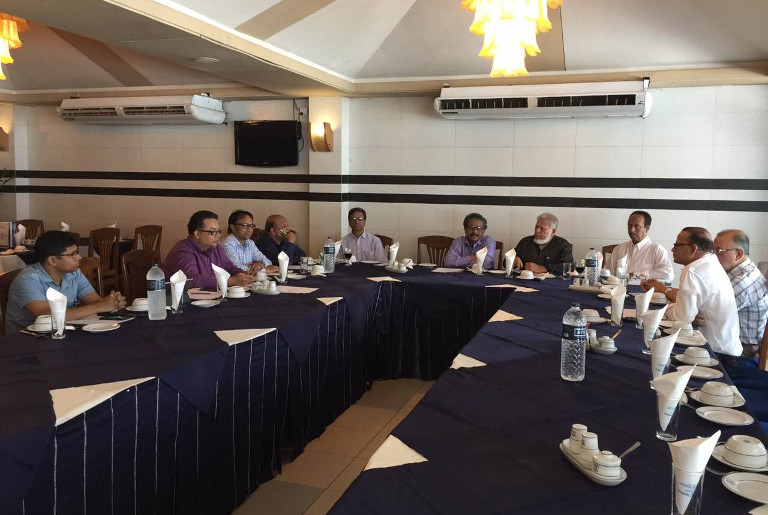 Chapter Governor's council meeting in a Restaurant
7th APC Bangladesh Chapter Meeting (Emergency Meeting):
The 7th chapter meeting was held on 24th May at Dhaka Medical College Hospital. Governor Council members unanimously approved the nomination of HAM Nazmul Ahasan, as single slate candidate for chapter Governor election.
---
Resident/Fellow Skill Development Program
Approximately 450 Resident/Fellow attended the skill development program on 21st′ May 2017 at Examination hall, Dhaka Medical College Hospital. Three Senior Teachers delivered speeches on the occasion. Total program was for 3 hours.
Prof. HAM NazmulAhasan : X-Ray Interpretation
Prof. Khan AbulKalam Azad: Data Interpretation
Prof. KhwajaNajim Uddin: ECG Interpretation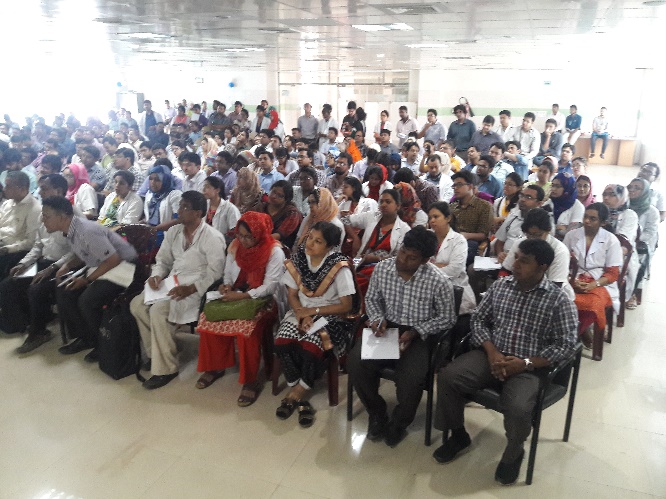 Participants in the Resident/Fellow Skill Development Program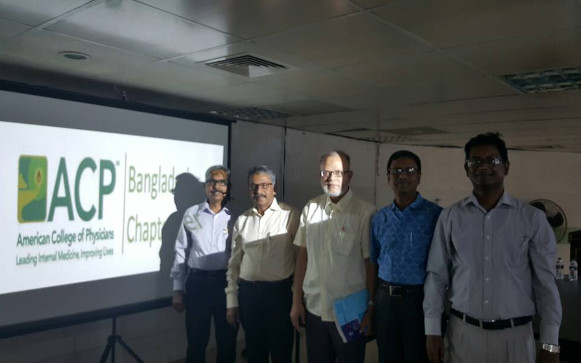 ACP Governor with other dignitaries at the Resident/Fellow Skill Development Program
ACP Bangladesh Chapter Governor and Advisory Council members witnessed the three hours' Skill Development Program session. The chapter Governor concluded the session with the hope that this sort of program will be held in other venues every 3 to 4 months.
ATTENTION: The deadline to submit an application to the International Fellowship program for 2018 to ACP headquarters is August 1st, 2017.
---
Last Six Months' Recruitment by ACP Bangladesh Chapter
New Members - Last 6 months (Total: 54)
Abu Saleh Mohammed Sirajum Munir, MBBS
Amit Wazib, MBBS
Amitabh Sarker, MD
Anupam Das, MBBS
Ariful Islam, MBBS
Ashutosh Saha Roy, MD
Benzir Ahammad, MD
Dilruba Alam
Golam Nabi, MD
Harimohan Pandit, MBBS
Hasan Hafizur Rahman, MBBS
Hasinatul Zannat, MBBS
Mazharul Islam, MBBS
Md Abdullahel Kafee, MBBS
Md Amir Hossain, MBBS
Md Firoj Hossain, MBBS
Md Golam Rabbani, MBBS
Md Humayun Kabir, MBBS
Md Jubaidul Islam, MBBS
Md Kamrul Hasan Lohani, MD
MD Monjur E Elahi, MBBS
Md Nahiduzzamane Shazzad, MBBS
Md Raknuzzaman, MBBS
Md Rashedul Hasan, MBBS
Md Sakhawat Hossain, MBBS
Md. Islam, MBBS MD
Md. Mosarraf Hossain, MBBS
Md. Sazzad Hossain, MBBS
Md. Zahid Amin, MBBS
Md.Helalur Rahman, MBBS
Mehrunnissa Khanom, MBBS
Mohammad Abdur Rahman, MBBS
Mohammad Abul Kalam Azad, MBBS
Mohammad Abul Kalam Azad, MBBS
Mohammad Fakhrul Alam, MBBS
Mohammad Lokman Hakim, MBBS
Mohammad Mahbubul Alam, MBBS,MD
Mohammad Mahmuder R Chowdhury, MBBS
Mohammad Majharul Haque, MBBS
Mohammad Monir-Uz Zaman, MBBS
Mohammad Mushahidul Islam, MBBS
Mohammad Shah Jahirul Hoque Chowdury, MBBS MD
Mohammad Shahadat Hoshen, MBBS
Mohammad Shamsul Arefin Patwary, MBBS
Mohammed Jahedul Islam, MBBS
Mohammed Khan
Muhammad Kamruzzaman Khokan, MD
Muhammad Mustafa Faysal, MBBS
Muhammad Saiyedur Rahman, MBBS
Muhammed Syedul Alam, MD
Munshi Mohammad Belal, MBBS
Raihan Rotap Khan, MBBS
Shahadat M Hossain, MBBS
Tania Tofail, MBBS
New Fellows - Last 6 Months (Total: 15)
Faruk Ahammad, MBBS FACP
Gobinda Chandra Banik, MBBS FACP
Khan Fariduddin Mohammad Ayaz, MD FACP
Md Arif Akbar Saibal, MD FACP
Md Toufiqur Rahman, MD FACP
Md. Azizul Islam, MBBS FACP
Md. Khalilur Rahman, MBBS FACP
Md. Mamunur Rashid, MBBS FACP
Mohammad Mahbubur R. Khan, MBBS,MD FACP
Mohammad Rafiqul Islam, MBBS FACP
Mohammed Masudur Rahman, MD FACP
Partha Pratim Das, MBBS FACP
Radheshyam Saha, MBBS,MD FACP
Sarmistha Biswas, MBBS FACP
Syed Ghulam Mogni Mowla, MBBS FACP
---
Chikungunya: Emerging Threat for Bangladesh
Chikungunya fever is an emerging viral disease transmitted to humans by mosquitoes. The word, Chikungunya, means "that which bends up", based on the stooped position of patients. Chikungunya Virus (CHIKV) is an arbovirus of the alphavirus genus (Togaviridae family). The Aedes aegypti and Aedes albopictus mosquitoes are the main vectors responsible for transmission of Chikungunya.
In 1952, a young man in Tanzania admitted to hospital with fever, rash and arthralgia. Eventually he was diagnosed as the first case of Chikungunya. In 2005–2006, a severe outbreak occurred on Reunion Island in the southwestern part of the Indian Ocean. Other islands in this area were affected during the same period. An estimated 300,000 people were infected and 237 patients died. The factors precipitating this epidemic included viremic travelers from Africa, to an immunologically naive population. Mutation of the Chikungunya virus expanded the mosquito vector from the Aedes aegypti to the Aedes albopictus, which was common on the island. Mutation (E1A226V) improves replication and transmission efficiency in Ades albopictus as well as the original Ades aegypti, and outbreaks spread to the India subcontinent.
India has been suffering from outbreaks of Chikungunya since 2005 with variable severity. India and Bangladesh are two neighboring countries which share some similar epidemiological patterns. Since 2000, Bangladesh has experienced the Dengue epidemic as vector mosquito Aedes aegypti and Aedes albopictusare spread in urban cities. Surprisingly, according to a survey by DGHS (Directorate General of Health Services) and WHO (World Health Organization), Aedes aegypti : Aedes albopictusis 25:1. In Africa, reservoirs are human during the epidemic period but monkey, rodents or bats in the inter-epidemic period. Unfortunately, in Southeast Asia reservoir status not yet been documented.
In 2017, Bangladesh experienced a large outbreak of Chikungunya just after premature monsoon in March. Urban areas are especially, affected including Dhaka city. Health care providers are not always fully aware of Chikungunya Virus, epidemics, phylogenetics, clinics and management. The public are also often not aware of this viral disease.
Upon onset of the acute phase, the viral load of CHIKV can rise to 108 viral particles per milliliter of blood, which enhances the development of the human-mosquito-human transmission cycle. Following the mosquito bite, the virus replicates in skin fibroblasts and then spreads via the bloodstream to target the liver, muscle, brain, joints, and lymphoid tissue. Release of cytokine produces fever. Replication of virus within synovium leads to an immune complex mediated attack on endostium and periosteum leads to nondestructive arthritis.
The incubation period of Chikungunya fever is 3 to 7 days but presentation is variable. Presentation of symptoms may start with fever or arthralgia or simultaneously. The febrile period usually persists for 5 days. Rash may appear any time of the febrile phase or post-febrile period. Muscle pain, fatigability, headache, backache, chill, nausea, vomiting and tender cervical and post auricular lymphadenopathy may present as well.
A resource-poor country like Bangladesh can't afford laboratory confirmation of all the cases. So when a patient meets the clinical and epidemiological criteria of Chikungunya infection, he/she should seek treatment. As Dengue fever and Chikungunya fever share common manifestations, careful history, examination and investigations may give a clue to the correct diagnosis. Fever, arthralgia, arthritis, rash are more marked in Chikungunya than Dengue. Myalgia, Hemorrhage are more remarkable in Dengue fever. Lymphopenia and high CRP value present in Chikungunya but thrombocytopenia and high PCV in case of Dengue fever. Despite all these facts, ruling out Dengue infection through NS1 antigen or antibody tests will be helpful for confident diagnosis of Chikungunya infection.
Clinical presentation of Chikungunya usually follows 3 phases a) Acute phase: Less than 3 weeks, b) Sub-acute phase > 3 weeks to 3 months, c) Chronic phase > 3 months. Acute symptoms typically resolve within 7–10 days. More than 90% of the symptoms resolve completely but some patients may have symptoms like episodic stiffness and pain, persistent stiffness without pain, or persistent painful restriction of joint movement. Rare complications include uveitis, retinitis, myocarditis, hepatitis, nephritis, bullous skin lesions, hemorrhage, meningoencephalitis, myelitis, Guillain-Barré syndrome, and cranial nerve palsies may develop as well. Some patients might have relapse of rheumatologic symptoms (e.g, polyarthralgia, polyarthritis, tenosynovitis) in the months following acute illness and leads to chronic Chikungunya related arthritis or Chikungunya Rheumatism.
For specific cases, confirmation can be done within 5 days by RT-PCR and after one week by MAC ELISA (Either IgM) or IgG for paired sample (First sample after 7 days of illness and second sample after 14 days of first sample). ICT based diagnosis is not recommended as the sensitivity and specificity is low. Treatment is entirely symptomatic. Paracetamol is the drug of choice with use of other analgesics if paracetamol does not provide relief. During the acute stage of the disease, steroids are not usually indicated because of the adverse effects. Controlling the spread of Chikungunya requires rapid diagnosis and education of clinicians and laboratory workers. Public awareness of how to reduce mosquito bite risk factors is the cornerstone of controlling spread of the vector Aedes aegypti :Aedes albopictus.
---
Conclusion
In the coming year, the Bangladesh chapter is going to elect a new Governor through election. In the last one and half years the chapter's progress in term of recruiting new members has been tremendous, as it has also been in making new scientific seminars and skill development programs available. I hope that in future this will be much more frequent as well as beneficial for resident, members and fellows. I regret that still I could not be able to make specific program for student members. I hope it will be done within this year. Hope to join New Orleans in 2018.
Wishing everyone's good health,
Quazi Tarikul Islam, FCPS, FACP
Governor, ACP Bangladesh Chapter
---
Contact Information
Quazi Tarikul Islam, FCPS, FACP
Professor of Medicine
Popular Medical College Hospital
Governor, American College of Physician-Bangladesh Chapter
Cell: +8801715299399, Mail: prof.tarik@gmail.com

Mohammad Rafiqul Islam. MBBS, FACP
Secretary to Governor, ACP-Bangladesh Chapter.
Cell: + 8801753199796, Mail: drrafiq73@yahoo.com