You are here
Carta del Gobernador Mayo 2013

| | |
| --- | --- |
| Mayo 2013 | Martin Herrera-Cornejo, MD, MSc, FACP, ACP Governor |
---
If you´re going to San Francisco Be sure to wear some flowers in your hair If you´re going to San Francisco You´re gonna meet some gentle people there…
San Francisco by Scott Mc Kenzie
San Francisco, CA: Ciudad famosa por The Golden Gate, Alcatraz, el edificio Transamérica, los tranvías que recorren las empinadas calles, la arquitectura victoriana y modernista, China Town; San Francisco, cuna de bandas musicales de rock, punk y de grandes equipos deportivos, los 49´s y los Giants; solo nos faltaron algunas flores en el cabello, pues las personas más amables del mundo médico se reunieron en esta emblemática ciudad.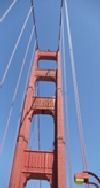 Tres días de intensa actividad científica comenzaron el 11 de abril. La ceremonia de inauguración bajo la coordinación de Ezekiel Emmanuel, MD, fue una motivación para continuar las actividades de ese día: problemas dermatológicos más frecuentes en la práctica del internista, actualidades en Medicina Interna, manejo crónico de la obesidad y sesiones interesantes que invitaron a valorar nuestras habilidades de acercamiento al paciente: el abordaje de pacientes terminales y ancianos.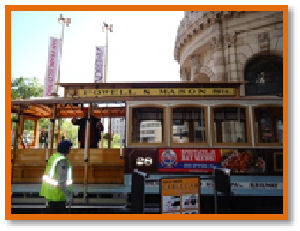 Cable Car, el transporte más famoso en SF
¿Cuál es el mejor tratamiento para la hipercalcemia, la hipocalcemia, la tormenta tiroidea o la insuficiencia adrenal? Estas interrogantes fueron resueltas en la sesión vespertina de emergencias endocrinológicas, problemas frecuentes a los que nos enfrentamos diariamente los internistas en México y el mundo.
Las mujeres son un reto en todos los aspectos de la vida, pero para el médico internista son muy especiales y esta reunión nuevamente les brindó un espacio reconociendo lo especiales que son como pacientes, además de darnos mucho que pensar al respecto: Women´s Health a cargo de Stephanie Faubion, MD, fue realmente muy interesante, recordándonos que el cuidado de las mujeres en todas las etapas de la vida debe incluirnos a nosotros los médicos internistas; Clinical Pearl´s, sesión plagada de esos tips que marcan la diferencia para hacer una mejor práctica clínica; ambas sesiones magistralmente coordinadas por Scott Litin MD. Por supuesto la salud masculina no podía hacerse a un lado, tema que abordó magistralmente en la sesión Adam & Eve, Michael Krychman, MD.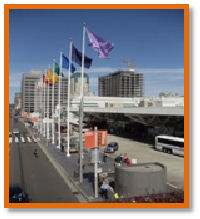 Vista de Moscone Convention Center
El mundo digital no solo ofrece oportunidades de desarrollo y crecimiento profesional para los médicos, se ha convertido en herramienta de apoyo para seguimiento y tratamiento de los pacientes, Twitter y Facebook son grandes aliados en el seguimiento, apoyo y evaluación de pacientes con diferentes condiciones, principalmente crónicas ¿por qué no atrevernos a probarlas?
Por la noche el salón D se vistió de gala con la marcha de los nuevos Masters y Fellows del American College of Physicians acompañados por los acordes de Vivaldi. La bienvenida a los nuevos Masters del ACP, la entrega de premios y reconocimientos a destacados miembros del College y, por supuesto, el capítulo México se enorgullece con el reconocimiento como Master del Dr. Guillermo José Ruíz-Argüelles y de los Dres. Carlos González-Parra, Isidoro Hoyos-Calleja, Isaac Raffoul-Cohen, José Angel Váldes-García, Miguel Angel Villarreal-Alarcón y Rubén Antonio Gómez-Mendoza, como nuevos Fellows, ¡Felicidades!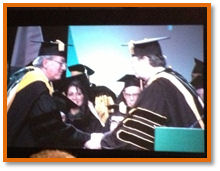 Dr. Guillermo José Ruíz-Argüelles, nuevo Master del ACP
Para cerrar el día: la entrega de premios y reconocimientos y la convivencia con colegas de otros capítulos en la recepción internacional, además de la asistencia del Presidente David L. Bronson, MD y de Molly Cooke MD, Presidente electa, orgullosa de recibirnos en su natal California.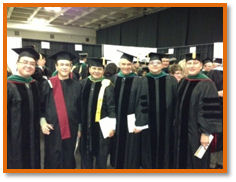 Dr. Martín A. Herrera Cornejo, Gobernador del Mexico Chapter y 5 de los nuevos Fellows
¿Anticonceptivos, problemas de pie y tobillo, dolores óseo y muscular crónicos, manejo del embarazo ambulatorio y en pacientes hospitalizadas? Sí, son temas que a los internistas nos interesan y en los que nos mantenemos al día, sin olvidar los áreas que sin lugar a dudas son dominio del internista: enfermedad pulmonar obstructiva crónica, osteoporosis, vasculitis, ventilación mecánica, diabetes mellitus, etc. Las actualizaciones en Geriatría, Hematología, Oncología, anticoagulación, demencia nos dieron oportunidad de conocer las mejores opciones de diagnóstico y tratamiento para nuestros pacientes y esperamos ansiosamente compartir lo aprendido con nuestros colegas mexicanos.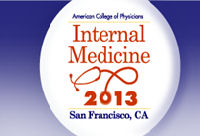 Sin duda la reunión del American College of Physicians de este 2013 nos dejó a todos con un grato sabor de boca y pueden estar seguros que más de uno, dejaron su corazón en San Francisco. En esta reunión la delegación mexicana en San Francisco, cuantificó más de 125 asistentes registrados.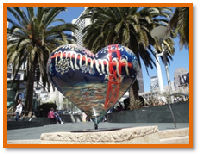 Una vista de Union Square Park
Ya esperamos ansiosamente la siguiente reunión: Orlando, Florida en Abril 2014, pues es la mejor oportunidad para compartir con colegas de todo el mundo.