You are here
Manitoba-Saskatchewan Governor's Newsletter April 2017
Manitoba-Saskatchewan Governor's Newsletter April 2017

---
---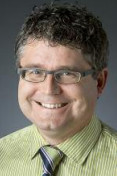 Glen R. Drobot, MD, FACP, ACP Governor
---
Governor's Message - Dr. Glen Drobot
Welcome spring! I am pleased to report that the recent ACP Internal Medicine Meeting in San Diego was another success with approximately 6,900 physician attendees from around the world, including over 250 Canadians.
Canada had 5 teams compete in this year's annual ACP Doctor's Dilemma® with Alberta and Ontario making it through to the semi-finals. Congratulations to the Ontario team who won a coveted spot in the finals. They did not take the trophy home but there is always next year!
The 8th annual Internal Medicine Interest Group's "Speed Dating an Internist" was enjoyed by students and physicians alike! On February 24th, 60 first and second year medical students from the University of Manitoba dined with 16 physicians representing 13 sub-specialties of internal medicine. Students heard from a variety of internists, who dispelled myths and inspired interest as they spoke candidly about the day-to-day life in their practice.
On March 14th, the Internal Medicine Interest Group at the University of Manitoba hosted a Renal Failure Skills Night for 20 medical students. The event, led by Dr. Thomas Jacob and 6 internal medicine residents, was appreciated by students, who reviewed the approach to renal failure through clinical cases covering evaluation, diagnosis, and treatment.
Join us for the next skills event, Geriatric Pearls & Skills, that will be co-hosted by the Internal Medicine Interest Group and the Geriatrics Interest Group at the University of Manitoba. Dr. Jacob has prepared an excellent curriculum. Mark your calendars for Monday, April 10, 2017; click here to register.
---
Recruit a Colleague and Save!
Receive a dues discount by recruiting colleagues to ACP membership! And be entered to win a trip to the ACP Internal Medicine Meeting 2018 in New Orleans! The more members recruited during the promotional period, the more entries you receive.
Click here for details and to download the international application form
---
Welcome New Members!
Tyler B Friesen, MD
Sowmya Narasimhan, MBBS
---
Fellowship
Becoming an FACP® is a distinction earned from colleagues who recognize your accomplishments and achievements in medicine. The application process is simple and I encourage you to pursue this honour. Please contact Dr. Glen Drobot with any questions.
---
Calendar of Events
MB-SK Chapter
Geriatric Pearls & Skills
April 10, 2017
University of Manitoba
Bannatyne Campus, Theatre D
"Like" the Internal Medicine Interest Group on Facebook and check us out on Twitter for interesting and informative resources and case discussion!
www.facebook.com/medinterestgroup
ACP Quebec Chapter Meeting
Congrès Neurologie
May 27-28, 2017
Saint-Sauveur, QC
The ACP Ontario Chapter Annual Meeting 2017 will be held during the Annual Meeting of the Canadian Society of Internal Medicine (CSIM)
November 1-4, 2017
Hyatt Regency – Toronto, ON
Click for the Call for Abstracts
Western Chapters and Rocky Mountain GIM Conference
November 16-18, 2017
Banff, AB
ACP Atlantic Provinces Chapter Annual Meeting 2017
November 24-25, 2017
Dalhousie – Halifax, NS
ACP Internal Medicine Meeting 2018
April 19-21, 2018
New Orleans, LA
---
Calling all volunteers!
Be an active part of this vibrant chapter! There are many volunteer opportunities – please e-mail Dr. Drobot directly.
Share your good news or that of a colleague and we will post it in our Chapter newsletter.
Follow the ACP Canadian Chapters on Twitter!
Canada Manitoba and Saskatchewan Governor's Newsletter April 2017