You are here
Canada Ontario Governor's Newsletter December 2016
Canada Ontario Governor's Newsletter December 2016

---
---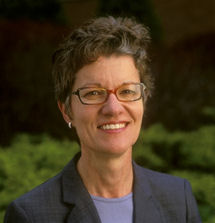 Irene Hramiak, MD, FACP, ACP Governor
---
GOVERNOR'S MESSAGE
I am very pleased to say we enjoyed an outstanding annual meeting November 4-5 in Toronto. The event had excellent speakers on a broad range of topics that were of interest to the audience. A number of people expressed their enthusiasm for the quality of the presentations.
Thank you to all meeting participants, presenters and organizers of the simulation lab. Thank you to Platinum Sponsor Lilly and Gold Sponsors Merck and Janssen.
A highlight for me is always to connect with our Ontario members to discuss their challenges and successes. The students who attended were also able to meet and strategize on how to enhance the role of ACP at their individual universities.
I am proud to announce that the Ontario Chapter has once again received an ACP Chapter Excellence Award! Thank you to all committee members and volunteers for their involvement.
At this time of year, we all prepare for some holiday time with our families and loved ones. I wish you the best of the season and look forward to a happy and healthy 2017.
---
LAUREATE PRESENTATIONS
The recipients of the 2016 Laureate Awards are true role models, and it was a pleasure for me to honour their work. Our congratulations to Dr. Gordon Guyatt, FACP, recipient of the ACP Ontario Chapter Laureate Award for Research Excellence, and Dr. Ameen Patel, FACP, recipient of the ACP Ontario Laureate Award for Distinguished Service.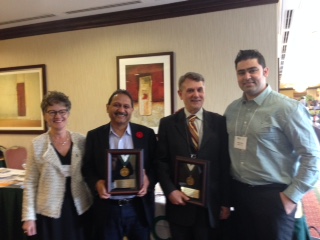 (Dr. Irene Hramiak, Dr. Ameen Patel, Dr. Gordon Guyatt, Dr. Hassan Mir)
---
ABSTRACT PRESENTATIONS
Congratulations to the winners and thank you to all presenters and judges. The poster winners have the great opportunity to present their papers at the 2017 Internal Medicine Meeting in San Diego.
Research Poster Winner
Dr. Lauren Lapointe-Shaw, University of Toronto
Effectiveness of a financial incentive to physicians for timely follow-up after hospital discharge
Clinical Poster Winner
Ms. Anastasiya Muntyanu, University of Ottawa
C-X-C Motif Chemokine 10 and Chemokine (C-X-C Motif) Receptor 3 are Elevated in Synovial Fluid of Psoriatic Arthritis Patients
Oral Clinical Vignettes Winner
Dr. Tooba Ali, McMaster University
Mind The Gap: Euglycemic DKA From SGLT-2 Inhibitor Use
DOCTOR'S DILEMMA COMPETITION
During our annual meeting, another competitive Doctor's Dilemma session pitted UWO against McMaster rivals. McMaster was victorious and will be representing the Ontario Chapter at the 2017 Internal Medicine Doctor's Dilemma competition in San Diego – good luck!
Congratulations to Dr. Tooba Ali, Dr. Casey Park and Dr. Michael Wang!
---
SAN DIEGO AWAITS! SAVE THROUGH THE CANADIAN DELEGATION!
The Canadian Chapters are offering a reduced registration rate to the 2017 Internal Medicine Meeting through the Canadian Delegation – Click here for more information. . The meeting will be held in San Diego from March 30-April 1, 2017.
---
MKSAP 17
Earn CME online and offline with MKSAP 17 Complete, an integrated learning system for a variety of your professional needs. Offers the full range of resources at the absolute best value!
Click to order MKSAP 17.
Limited Time Offer! Save 10% on MKSAP 17 Print, Digital, or Complete when you order by January 31, 2017 and use code MKSAVE10!
---
RECRUIT A COLLEAGUE AND SAVE!
Receive a dues discount by recruiting colleagues to ACP membership! And be entered to win a trip to the ACP Internal Medicine Meeting 2018 in New Orleans! The more members recruited during the promotional period, the more entries you receive.
Click here for details and to download the international application form.
---
BECOME AN FACP® TODAY!
Many of our Chapter members are eligible to become ACP Fellows. Becoming an FACP® is a distinction earned from colleagues who recognize your accomplishments and achievements in medicine. The application process is simple and I encourage you to pursue this honour. Please contact me with any questions.
---
WELCOME TO NEW MEMBERS!
Ardalan AkbarI, MD
Muhanad Y. Al Habash, MBBS
Raed A. Al-Dabbagh, MD
Resheed Alkhiari, MBBS
Nedal Bukhari, MBBS
Barry Chan, MBBCH
Betty Chui, MD
Joanna C. Dionne, MD
Jaclyn A. Ernst, MD
Andrew E. Gibson, MD
Olexandra Koshkina, MD
Rebecca Kruisselbrink, MD
Karim Ladak, MB BCH
Leslie J. Martin, MD
Mujaddid Masood, MD
Rebecca T. Mathew, MD
Damien Medina, MD
Hassan Mir, MD
Ayman Abdulaziz M Mukhtar
Nashwan Naom, MD
Hachem Nasri, MD
Shafiu O Ololade, MD
Cesar E Orellana, MD
Sanja Paleksic, MD
Rishi Parihar, MD
Rajeev V. Rao, MD
Ciaran Joseph Scallan, MBBCH
Muhammed Shaikh, MD
Courtney Thompson, MD
Ahmad Von Schlegell, MD
Indira K. Weerasinghe, MD
---
CALENDAR OF EVENTS
The ACP Ontario Chapter Annual Meeting 2017 will be held during the Annual Meeting of the Canadian Society of Internal Medicine
November 1-4, 2017
Hyatt Hotel – Toronto, ON
Watch the website for more details and for call for submissions.
ACP Internal Medicine Meeting 2017
March 30-April 1, 2017 in San Diego, CA
Click for more information .
Save through the Canadian Delegation .
Cheer on the Canadian teams who will be competing in the Doctor's Dilemma competition!
---
CALLING ALL VOLUNTEERS!
Share your good news or that of a colleague and we will post it in our Chapter newsletter.
Be an active part of this vibrant chapter! There are many volunteer opportunities – please email me directly.
Follow the ACP Canadian Chapters on Twitter! @ACPCanadian