You are here
Participant Instructions
Follow these instructions to participate in the Screening for Breast and Prostate Cancer Quality Improvement Activity.
Participation Process
The process for participating in this project follows the standard PDSA (Plan-Do-Study-Act) Cycle. More information on the PDSA cycle.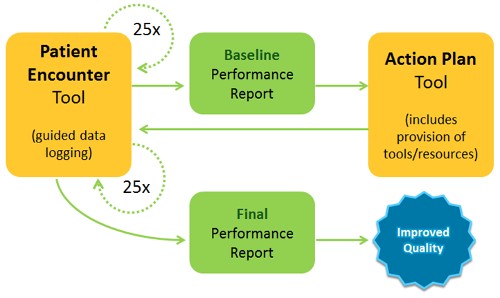 The specific process for this program is as follows:
Visit http://acp1.polldaddy.com/s/cancerscreening to access the Cancer Screening Encounter Tool. Follow the on-screen instructions to enter data for 25 patients for whom you are considering cancer screening (either breast cancer screening in females or PSA screening in males).
After you complete entry of data for at least 25 patient encounters, you will receive, via email, your Baseline Performance Report, which will show how you performed relative to four performance measures. You will then be asked to assess your performance and establish goals for improvement by creating/submitting an Action Plan.
Visit http://acp1.polldaddy.com/s/cancerscreening-plan to enter your Action Plan for improving your performance. During the creation of this plan, you will be provided with a number of tools and resources to assist in improving your performance. We encourage you to take advantage of these resources.
After submitting your Action Plan and notifying us by emailing acppatools@acponline.org, you can begin implementing your action plan and subsequently collecting follow-up data using the same Cancer Screening Encounter Tool that you used for logging your baseline data: http://acp1.polldaddy.com/s/cancerscreening.
After you complete your follow-up data entry for 25 patient encounters, email acppatools@acponline.org to request the creation/provision of your Final Performance Report.
Your customized Final Performance Report will show how you performed relative to goals that you established in your Action Plan as well as in comparison to your baseline data.
The final step of the project is to visit the CME/MOC submission form at: http://acp1.polldaddy.com/s/cancerscreening-cme-moc
After we receive your CME/MOC submission and validate your participation, you will receive a CME certificate via email along with instructions for confirming receipt of your CME and/or MOC within your ACP CME transcript and ABIM MOC portal, respectively.