You are here
Patient Education Resources and Tools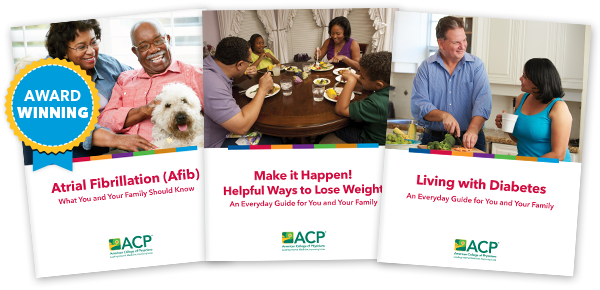 Developed to help patients and their families understand health conditions and facilitate communication between patients and their healthcare team.
The Wellness Network Patient Education & Video Library
ACP and The Wellness Network are partnering to deliver new patient education programming that will be available via The Wellness Network's Patient Channel, an in-hospital TV network and online portal.
ACP members will have access to the Patient Channel library of over 107 disease and medication management, wellness and patient safety videos that can be viewed by patients during an office visit or at home. Programming topics include heart failure, diabetes, hypertension, COPD, joint replacement, hospital safety, and more.
You can access Patient Channel programs anytime online at www.thepatientchannelnow.com. Use this password: 24510
To promote the Patient Channel in your office to your patients, feel free to download these materials: