You are here
Other Care Models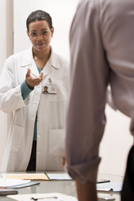 Under the Affordable Care Act, Congress created the Center for Medicare & Medicaid Innovation (CMMI) with the authority and direction to "test innovative payment and service delivery models to reduce program expenditures, while preserving or enhancing the quality of care" for those who get Medicare, Medicaid or CHIP benefits.
CMMI's mandate gives it great flexibility in selecting and testing innovative payment and service delivery models and enables the center to work with programs to better serve beneficiaries.
The CMMI is part of a broader effort by CMS and other federal agencies to support and help clinicians and other health care providers deliver higher quality care. With the help of the CMMI, CMS is working to transform our fragmented fee for service healthcare system into a system that provides seamless, coordinated care for beneficiaries that will ultimately improve quality and reduce costs.
Find out which CMMI Initiatives are in your state!
ACP has assembled a collection of information and materials to assist you in learning about and understanding initiatives set forth by the CMMI:
Transforming Clinical Practice Initiative (TCPi) - New payment models for medical care are coming in 2019, and ACP is committed to helping U.S. clinicians be well-prepared.
MACRA/Quality Payment Program - The Quality Payment Program begins January 1, 2017. Learn about your options for participation.
Comprehensive Primary Care Plus (CPC+) - This multi-payer initiative from CMS is intended "to transform and improve how primary care is delivered and paid for."
Comprehensive ESRD Care Initiative - A CMMI shared savings program for clinicians who treat Medicare patients with end-stage renal disease. Through this initiative CMS will partner with health care providers and suppliers to test the effectiveness of a new payment and service delivery model in providing beneficiaries with patient-centered, high-quality care.
Oncology Care Model - A CMMI model that aims to deliver more highly coordinated oncology care at the same or lower cost to Medicare by financially incentivizing physician practices to provide high-quality enhanced services to cancer patients undergoing chemotherapy treatment.
Bundled Payments for Care Improvement - This CMMI initiative seeks to improve patient care through payment innovation that fosters improved coordination and quality through a patient-centered approach.