You are here
Become a Patient-Centered Medical Home with ACP Practice Advisor®
Become a Patient-Centered Medical Home with ACP Practice Advisor®
ACP Practice Advisor is an online tool designed to help practices improve patient care, organization, and workflow.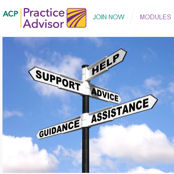 ACP Practice Advisor includes 39 modules, five of which are available for Maintenance of Certification for the Self-Evaluation of Practice Performance, covering all aspects of patient-centered care and an assessment tool that covers the 2011 NCQA, URAC, and Joint Commission standards — and more.
ACP Practice Advisor is available in both a Basic and Premium level license, with built-in data management and analysis tools. The Premium license has more in-depth analysis capabilities and is intended for larger groups or multi-location practices. Learn More
New! Access Free Modules
We are pleased to offer new visitors the opportunity to engage in featured modules and Practice Biopsies at no cost. These free modules illustrate how Practice Advisor works. Simply register your practice and select the "free access license" option, and from there you will have access to featured modules. You may also choose to invite clinicians and other members of your practice to join with a unique referral code associated with your practice. At any point you may upgrade your account to a paid license and gain access to the full site without losing your data!