You are here
Genesis Registry®
Genesis Registry®
A National, Multispecialty, CMS-approved Qualified Clinical Data Registry (QCDR).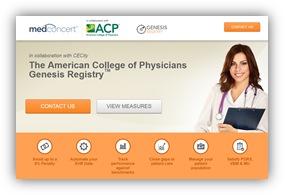 Approved by CMS as a Qualified Clinical Data Registry (QCDR), ACP's Genesis Registry provides seamless integration with participating EHRs to collect quality measure data and automatically submit data measures that satisfy QPP reporting.
Satisfy Quality, Improvement Activity, and Promoting Interoperability (PI) requirements
Fulfill the Specialized Registry PI measure
Earn bonus incentives for QCDR reporting
The Genesis Registry supports all electronic clinical quality measures which are used in MIPS as well as additional custom QCDR measures. It facilitates data connectivity through partnerships with EHR vendors, including Allscripts, Aprima, Greenway, NextGen, Quest Diagnostics/Care360, and STI/Chartmaker, to support ongoing quality improvement through clinical data registries.
Benefits of the Genesis Registry include:
Eliminate data entry—Genesis is "EHR-Ready," meaning data are automatically submitted from your EHR to the registry
Track performance against benchmarks across multiple specialties
Continuous, real-time performance feedback supports quality improvement and population health management
Automatically identify patient outliers to address clinical quality gaps
Discounts available to ACP members
If you are interested in enrolling and submitting data to ACP's Genesis Registry, please visit www.medconcert.com/genesis and complete the "Contact Us" form at the top of the webpage.
Don't see your EHR? Visit www.medconcert.com/genesis for information about connecting other EHRs to the Genesis Registry.
ACP developed the Genesis Registry in partnership with Premier Inc.