You are here
ACP Vaccine Advantage
ACP Vaccine Advantage
Managing the procurement of vaccines can be complicated. Several variables impact a vaccine program's total cost, including contract price, payment terms, and vaccine returnability. Optimizing this combination yields the lowest costs.
As a member benefit, ACP Vaccine Advantage provides a free and unbiased assessment of a practice's vaccine procurement process. It offers improvement recommendations to simplify the process and save the practice both time and money.
The Problem:
The vaccine procurement landscape is confusing, and many internists feel vaccines are not profitable. Practices need help in determining their best combination of contract pricing, ordering terms, and vaccine returnability.
The Solution:
ACP staff reviews the vaccines, contracts, and ordering processes the practice uses. If an improvement is warranted, you will receive recommendations that offer the best contracting and sourcing (where orders are placed).
Can the Service Benefit My Practice?
If you can answer "yes" to any of these questions, ACP Vaccine Advantage may be able to help your practice.
Are the due dates on your vaccine invoices within 30 days?
Has your practice had vaccines expire that were not returnable for credit?
Does your practice purchase its vaccines only direct from manufacturers?
Are all vaccines ordered from one distributor under the distributor's vaccine program?
Is the vaccine business deemed as not profitable for your practice?
How Does the Service Work?
1. Fill out the Request for Consultation form which asks for basic information about the vaccines used in your practice and how they are ordered.
2. ACP Vaccine Advantage staff will review the information and schedule a brief, no-cost consultation.
3. Recommendations are provided post consultation, if they will benefit the practice. These recommendations encompass contracting with national vendors including a Physician Buying Group, a Group Purchasing Organization, and two Physician Distributors with whom ACP Vaccine Advantage has relationships.
Vaccines Potential Profitability
Many physicians believe vaccines are not profitable, and costs are the top reason many practices don't stock vaccines. However, the right purchasing strategy can make your vaccine program profitable.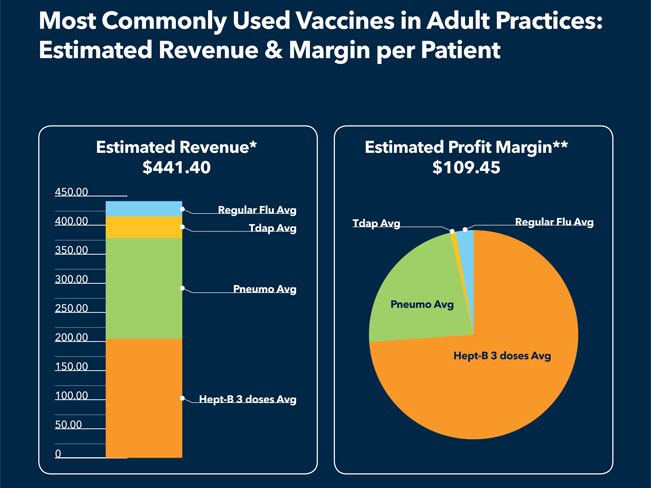 * Reimbursement data is from the Net Medicare Part B payment allowances for January 1, 2021, to March 31, 2021, and does not include revenue from administering vaccines.
** Cost data is based on the purchasing strategies recommended by ACP Vaccine Advantage.
Frequently Asked Questions (FAQ)
Read frequently asked questions and answers here.
More Resources
Free Consultation
To receive a free consultation please use one of the following: