You are here
Chapter News
Chapter News
Congratulations New U.S. Army Chapter Fellows
(March 2022) Congratulations to the U.S. Army Chapter's newest Fellows. Fellowship in the College is an honor. Being an FACP® is a distinction earned from colleagues who recognize your accomplishments and achievements over and above the practice of medicine. The most important considerations for ACP Fellowship are excellence and contributions made to both medicine and to the broader community in which the internist lives and practices.
---
Support our Local Speakers at Internal Medicine 2022

Join ACP and your colleagues as we reconvene to meet our personal and professional goals. World-renowned faculty will present important topics and the latest evidenced-based clinical and practice information that invite you to discover new ways to improve your own techniques and patient care. Internal Medicine Meeting 2022 will also introduce a refreshed schedule and two plenary gatherings featuring must-see speakers.
We wanted to take a moment to shine a spotlight on this year's Army Chapter Members who are serving as faculty:
Lisa Moores, FCCP, FRCP,COL, MD Debates in Thromboembolism Management - Saturday, April 30, 2022
Todd Vento, MPH, FIDSA, MD Alternative Practice Models in Primary Care: Is It Time for a Change? - Friday, April 29, 2022
---
BOR Action on Fall '21 BOG Resolutions
(December 2021) A summary of Board of Regents (BOR) actions on resolutions debated at the Fall 2021 Board of Governors (BOG) virtual meeting is now available. Resolutions initiated by ACP members and endorsed by a chapter council and the BOG become ACP policy when adopted by the BOR.
If you have an idea you'd like to suggest to ACP, consider submitting a resolution to our chapter.
---
Mastership
(October 6, 2021) Congratulations to COL Kent J. DeZee, MD, COL William F. Kelly, MD, MACP, COL Cristin A. Mount, MD, MACP, MACP, and COL Patrick G. O'Malley, MD MACP, the newest Army Chapter Masterships of the American College of Physicians (MACP). MACP is one of the most prestigious awards in the college, for those fellows of the college who demonstrate integrity, the utmost professional behaviors, excellence in the practice of medicine, and significant impact on the profession. MACPs represent a very small percentage of college membership.
Join me in congratulating them on this tremendous accomplishment.
---
US Army Chapter receives 2021 Chapter Excellence Gold Award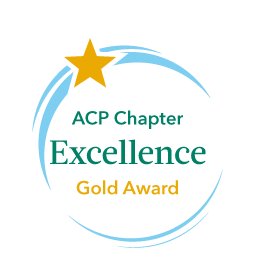 We are pleased to announce that our chapter is in receipt of the Gold Level of the 2021 Chapter Excellence Award! The award recognizes truly extraordinary chapters that surpass excellence in chapter management. We are in the company of 44 other outstanding chapters. In order to achieve the Gold Level of the Chapter Excellence Award, chapters must meet twenty-one Bronze criteria, seventeen Silver criteria and multiple Gold level activities. Criteria include such activities as having a legislative action plan or agenda, holding a volunteerism/community service activity, holding multiple stand-alone meetings, having revenue sources outside of dues and meeting registration fees, implementing a strategic plan, implementing a formal recruitment and retention plan and measuring outcomes, conducting various activities for Medical Students, Residents and Early Career Physicians. we would like to extend a special thanks to those chapter members who assisted us in all of these endeavors! For their hard work and dedication, we received this award.
---
Council of Resident and Fellow Members Applications Open
(August 2021) The Army ACP Council of Resident & Fellow Members (CRFM) is seeking applicants who are interested in serving on the council. As a member of the Army CRFM you will represent your peers in Army Chapter ACP matters, advocate for Army ACP resident and fellow members, and find ways to maximize the benefit of the College to resident and fellow members in our chapter.
Responsibilities will include attending 3 in-person or teleconference meetings (including one in-person meeting at the Annual Tri-Service ACP Meeting), as well as supporting the Governor on issues pertaining to residents and fellows. We also play a key role in the annual Doctor's Dilemma competition that occurs yearly in conjunction with the Tri-Service meeting, and ask that the members of the CRFM help in the orchestration of this event through writing questions, serving as emcees, etc. Additionally, the council will communicate with the National CRFM about our ideas and needs.
In our first year, the council was able to initiate a National Grand Rounds series. One of our goals this year is to continue and hopefully increase the number of events we are able to organize. Additionally, the CRFM sponsored a "Day of Service" activity around multiple MTFs to gather donations of food and money for local food banks. We would like to see increased activity from our members in both of these events this year, and hope that our representatives from each MTF could spearhead one National Grand Rounds and be the leaders for an Army chapter wide "Day of Service".
We will select 2 resident representatives from each Army Internal Medicine residency as well as 2 fellow representatives from both Walter Reed and San Antonio. Your term on the council will be for a one year period, and there is no limit on the number of terms you may serve.
If you are interested, please respond by September 1st 2021 with your CV, a brief statement of support from your Program Director, and a personal statement (maximum length: 1 page, double spaced) on what you would bring to the Council.
Those who are selected will be notified during the Tri-Service ACP Meeting in early September. We look forward to hearing from and we are happy to answer any questions you might have.
---
Call for Chapter Awards
We have extended the awards deadline to 15 July. Please note, all award nominees must be ACP members in good standing in order to be considered for the award.
Please consider nominating a colleague for a Chapter Award, to be presented at our TriService meeting in September. The attachments contain the nomination requirements for each award. Suspense for nomination materials to be submitted is 30 June 2021. If you have any questions, please reach out to myself, or our Awards Committee chairs, LTC Rob Walter and MAJ Ian McInnis.
In brief, here are the award names and descriptions:
William Crosby Superiority in Research Award: The Superiority in Research Award is designed to honor a member, fellow, or master of the Army Chapter of the ACP who has demonstrated excellence in the design, performance, and publication of peer reviewed research which exemplifies the characteristics displayed by COL William Crosby MC (Retired). The recipient should be recognized in both the military and civilian academic community as having made significant contributions to the scientific literature. This award recognizes research as a pivotal requirement of the Army Internist.
Excellence in Operational Medicine Award: The Excellence in Operational Medicine Award is designed to honor a member of the ACP in the ranks of CPT through COL who has demonstrated dedicated care of patients, outstanding leadership and novel innovation in an Operational Medicine environment.
Master Teacher Award: The Master Teacher Award is designed to honor a member of the ACP in the rank of Fellow or higher who has demonstrated the qualities of master mentor and teacher. The recipient should be acclaimed by their students as inspirational and the award therefore recognizes education as a pivotal requirement of the Army Internist.
Robert Moser Award: The Colonel Robert H. Moser Award is designed to honor an Army Captain or Major. The award honors an outstanding General Internist for superior clinical practice. It is named after COL(Ret) Robert H. Moser, MACP, a true legend in Army medicine.
Lisa Zacher Award for Mentorship of Women in Medicine: The COL Lisa L. Zacher Award for Mentorship of Women in Medicine is bestowed on a member of the US Army Chapter for distinguished contributions in the mentorship of women in military medicine. This award recognizes a woman physician who has furthered the careers of women medical students, residents, and staff physicians through mentoring and leadership development, shepherding the career advancement of women.

ACP Laureate Award: The Army Chapter ACP Laureate Award is designed to honor a senior physician who is a retired Army Medical Corps Officer. The award honors a Fellow or Master of the ACP with a long-term record of excellence in clinical, academic, research, and administrative roles in the Army Internal Medicine community, as well as demonstrated contributions to the Army Chapter of the ACP.
SAUSHEC Team Represents U.S. Army Chapter in National Doctors' Dilemma Competition
(June 2021) Congratulations to the SAUSHEC Doctors' Dilemma Team, CPT Lisa Townsend, CPT Carl Kay, and CPT Andrew Wilson, who boldly represented the Chapter at the virtual national ACP Doctors' Dilemma Competition on May 14. Although they did not win the national title, they will always be champions in our hearts—in particular for their obviously correct Final Round answer of "Go Army, Beat Navy!"
---
COL Hawley-Molloy shares 3 goals for his term as Governor
(June 2021) COL Joshua S. Hawley-Molloy took over as Governor of the U.S. Army Chapter after COL Cristin Mount completed her four-year term. COL Hawley-Molloy has established 3 core goals for his term and invites all chapter members to reach out to him with any ideas or feedback.
To develop a new post-pandemic model for our meetings (with a hybrid of both in-person and virtual offerings to ensure as many of you as possible can be involved)
To continue our efforts to make our Chapter membership and activities reflect the diversity of Army Internal Medicine (we are generalists, subspecialists, academicians, operationalists, scholars, and clinicians from multitude of backgrounds—but we are all Army Internists)
To make this chapter your Professional Home of choice