You are here
So Alive
So Alive
By Nikki Kumura
When my dad passed away, my aunt hugged me and said, "I'm so sorry you're going through this all alone." Out of everyone in my world, I was closest with my dad. All my life, my dad was my number one role model and supporter in so many ways. He was raised on a farm in Brazil and came to the United States, where he started his own restaurant. At his funeral, I met many of his customers; even though I didn't know many of them, they all knew me. They knew where I went to college, what grades I had gotten in my courses and on the MCAT, and that I would soon be going to medical school. My father had always been a quiet man, but it was then that I realized he was pretty good at bragging. It warmed my heart. Becoming a doctor was not just my dream but also my dad's. The idea of doing it all without him was unfathomable. For a while, I did feel alone.
This past April I had the pleasure of attending the American College of Physicians' annual Internal Medicine Meeting, where I participated as a model in the ultrasonography demonstrations. A joke I've made with my friends probably too many times has been a line from The Office in which one of the main characters, Michael Scott, says with a totally pleasant and unbothered affect, "I am dead inside." Because I'm a pretty cheerful person, it's usually amusing to people when I say this and they'll laugh. But there are times when I've revisited this question—am I dead inside? Grief, the kind that has gnawed at your hope that you'll be okay in the future, can make you question what real life you have left in you. Seeing my heart beating on the ultrasound monitor with what seemed like a kind of certainty about its next beat in a weird way made me feel strong. I thought, "Wow, I'm really doing this. I'm alive. I'm okay." When the conference finished, I reflected on my heartbeat. I thought of the things in my life that validated that heartbeat, the things that gave me certainty that I was a whole being and not just a shell of a person on autopilot. It made me think of love, life, hope, and healing. I thought of the patients I'd helped care for who got better, and those who didn't.
The first patient I had on my medicine subinternship was a 64-year-old man with newly diagnosed metastatic lung cancer. The cancer had spread to his adrenal glands, brain, and liver. The prognosis was poor. He was awaiting acceptance to charity hospice—a difficult task because he was undocumented, his native country was Barbados. When he was first admitted to our service, he was irritable and hardly spoke to me or other members of our team. He refused to eat and needed multiple D50 boluses for recurrent hypoglycemic episodes. Each morning when I came to see him on prerounds, he would answer my questions curtly and shoo me away with his classic, "Okay miss, that's good … thanks … bye." I'd try to be as efficient as possible without annoying him too much. One day, I discovered he really liked Ensure but only when it was iced. So, in the afternoons, I would bring him a cup of ice with a straw and pour him a bottle. He'd crack a smile when he'd see me coming with his ice cup, and it became an afternoon ritual to stop by his room. It felt nostalgic to ask him the same things I had asked the people I served when I waitressed before entering medical school: "Mr. Marshall, is there anything else I can get for you?" "How's the Ensure tasting today?" "Let us know how if there's anything you need."
It occurred to me that much of good health care comes down to just caring. Doing little things that make people feel attended to, even if it's as simple as delivering cups of ice and Ensure. One of the most memorable experiences I had was this past Father's Day. Mr. Marshall had an estranged son living in Maryland whose only request was to be notified when his father finally passed away. As for me, I had already gotten that kind of telephone call. And here we were—Mr. Marshall was sipping his beverage and watching television while I adjusted the pillows keeping his edematous feet propped up. A Dr. Phil Father's Day special was being aired. We both watched in a comfortable silence. Amidst the unspoken sadness, I felt a sense of companionship. I think he felt it, too, because he let me linger a while and didn't shoo me away.
I've learned that in life there are tragedies and disappointments and numerous things that will challenge our well-being and sense of self. As medical professionals, we see constant reminders of the fragility of the human condition and are tasked with being the cool and objective "deciders of what to do next." Instead, I feel that I am an engrossed participant in the experiences of my patients. But it doesn't feel like an impairment. When I see my own loved ones in the faces of my patients, the feeling is that of reciprocal healing. The reality is, I will never have the burden or the privilege of being the caretaker for my dad. He never got to be an elderly, bedbound man undergoing a peaceful, predictable death. But what I can do is pay tribute to his memory by going after what I love and believe in, which is being the best physician I can be to the patients I encounter. Caring for them is my way of honoring my dad. And when all is said and done, I have learned that helping patients is what helps me feel alive and not so alone in this world.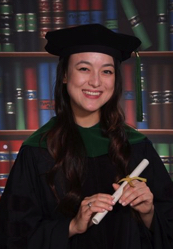 Nikki Kimura
SUNY Downstate College of Medicine; MD Candidate, 2019