You are here
Proliferative Diabetic Retinopathy (PDR)
Proliferative Diabetic Retinopathy (PDR)
ILLUSTRATION: Superior and inferior to the disc are multiple fine, new abnormal vessel formations, the hallmark of PDR. Along the disc toward the macula, there is extensive fibrosis extending superiorly and inferiorly. This fibrosis is in response to recurrent hemorrhages and repair from proliferation around the optic disc. This fibrosis is anterior to the surface of the retina. Inferiorly there is retinal hemorrhage that also involves the inferior macula. This hemorrhage is on the retinal surface. However, inferior to the hemorrhage between 4-5:30 o'clock there is a darker brownish area that would be consistent with hemorrhage more anteriorly extending into the vitreous.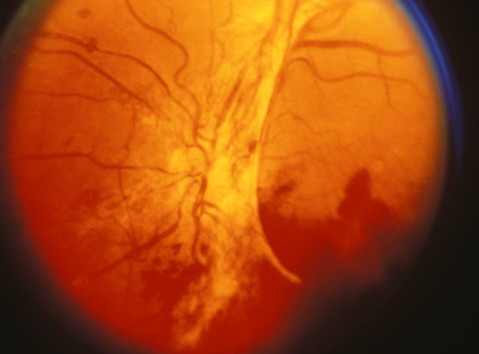 DISCUSSION: PDR is found in longstanding DM. Risk factors include poor control of serum glucose, the use of insulin and also being a Type 1 diabetic. Proliferative retinopathy requires extensive laser treatment in the form of "pan retinal photocoagulation" (PRP), a technique that treats the peripheral retina in an effort to reduce VegF (Vaso endothelial growth factor). This factor is released by the retina in response to chronic ischemia and induces formation of abnormal vessels. The Diabetic Retinopathy Study (DRS) in the early 1970's statistically provided overwhelming data indicating that this type of laser treatment reduces the risk of severe visual loss in PDR. This type of treatment is also employed in more severe NPDR and is lightly applied in recalcitrant macular edema secondary to diabetic retinopathy. Recent use of the anti-vegF agents, Avastin and Lucentis, as intravitreal injections has shown some promise. However, laser PRP is the recommended treatment.
Sight threatening complications of DR include traction retinal detachment and vitreous hemorrhage.
Despite significant improvement in management, DR remains a significant cause of blindness.