You are here
Optic Disc Atrophy
Optic Disc Atrophy
ILLUSTRATION: This is a photograph of a pale, atrophic disc (optic nerve head, papilla). It is indicative of a loss of retinal ganglion cell axons which make up the optic nerve. As a result there is loss of capillarity on the disc surface, hence the pallor. The disc edges remain sharp. Sometimes there may be a narrowing of the retinal vessels because of less metabolic demand. Often the disc may be cupped.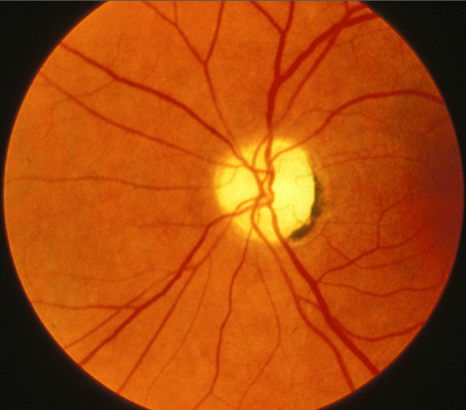 COMMENT: Optic atrophy may be primary (as in this case) or secondary. It may be the result of a degeneration of the cellular elements of the retina or a pre-chiasmal tumor in the orbit with pressure on the optic nerve and retrograde degeneration. Demylination of optic nerve fibers also result in optic atrophy, as does anterior ischemic (temporal arteritis) and non-ischemic optic neuropathy.
Secondary optic atrophy is the result of an inflammation involving the papilla. The disc often appears more yellowish and sheathing of the vessels in the disc area may be present.
Usually optic atrophy is accompanied by an afferent papillary defect, decreased vision and changes in the visual fields.