You are here
Hypertensive Retinopathy
Hypertensive Retinopathy
ILLUSTRATION: This fundus exhibits all of the features of Grade 4 hypertensive retinopathy including:
Narrowing of the arterioles
Splinter (flame) hemorrhages: Are superficial and assume the contour of the nerve fiber layer.
Cotton wool spots: Focal areas of ischemic retina.
Hard exudates: Are lipid and protein residues of capillary leakage. In the macula they tend to radiate in star fashion.
Edema of the disc: The disc margins are blurred (papilledema) with adjacent splinter hemorrhages and cotton wool spots.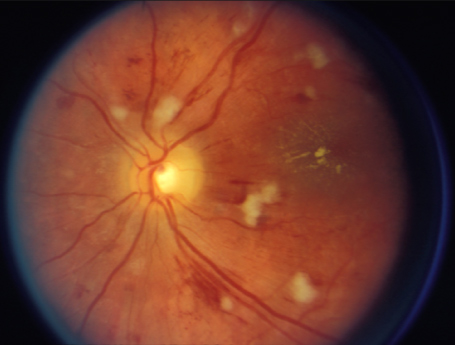 DISCUSSION: There have been many classification models of hypertensive retinopathy. The following is a modified Scheie classification.1
Grade:
Barely detectable arteriole narrowing.
Arteriol narrowing and focal irregularities.
Grade 2 plus retinal hemorrhages and exudates.
Grade 3 plus disc swelling
The more severe retinal findings are seen in conditions such as renal hypertension and toxemia of pregnancy and indicate an urgent need for treatment.
---
AM Acad Ophtho Basic and Clinical Science Course. 2008-2009 12: Retina and Vitreous, pp 107-109.