You are here
Disc Edema
Disc Edema
ILLUSTRATION: The disc surface is elevated, hyperemic and edematous. The edema extends beyond the disc blurring the margins and the adjacent peripapillary nerve fibers. Flame shaped hemorrhages often are seen on or near the disc (none in this case).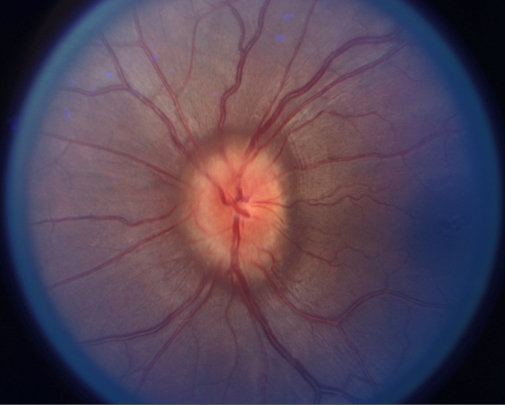 DISCUSSION: When the disc edema is bilateral (as in this case) the term papilledema is used. Papilledema specifically refers to disc edema secondary to increased intracranial pressure. Specific causes include intracranial mass, hydrocephalus pseudo tumor cerebris or infectious process involving the CNS. An urgent neurologic workup is necessary including imaging and consideration of a spinal tap. Vision is usually good in early papilledema. Rarely bilateral disc edema may occur without the presence of increased intracranial pressure such as in severe hypertension, diabetes, or localized infections processes.
There are a host of optic neuropathies that are associated with unilateral disc edema. These include optic neuritis secondary to demylination, anterior non-ischemic optic neuropathy, anterior ischemic optic neuropathy (temporal arteritis), diabetic papillitis, as well as local inflammatory conditions.
It may be difficult to distinguish between some of these entities with the ophthalmoscope.