You are here
Diabetic Retinopathy (Non-Proliferative with More Severe Findings - NPDR)
Diabetic Retinopathy (Non-Proliferative with More Severe Findings - NPDR)
ILLUSTRATION: Scattered small round and dot hemorrhages along with irregular "blot" hemorrhages are seen throughout the retina. The shape of hemorrhages will vary depending on the depth in the retina of the hemorrhage location. The larger whitish area (note superior to the optic nerve) is a "cotton-wool" spot. These are infarcts in the nerve fiber layer resulting in capillary drop out and focal edema. The smaller more yellowish lesions are "hard exudates" which are lipoprotein deposits from incompetent capillaries. There is mild macular edema as evidenced by a mild haze and slight swelling of the macula. Vision, most likely, will be moderately reduced.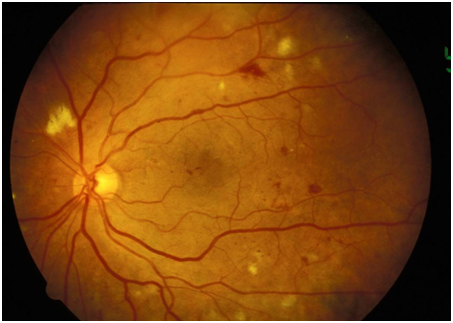 DISCUSSION: The onset of retinopathy is variable but is related to the duration of the diabetes, age, control of the blood sugar, necessity of insulin and control of hypertension. One study showed that after 20 years, 99% of type 1 and 60% of type 2 diabetics will have some retinopathy.1
NPDR in this case has more severe changes, particularly macular edema. A fluorescein study will delineate areas of microaneurysms that are the etiology of the macular edema. Macula edema is the most common cause of decreased vision in diabetes. According to the Early Treatment Diabetic Retinopathy Study (ETDRS), Argon laser treatment to these microaneurysms is warranted for resolution of the macular edema and restoration of visual acuity. Patients with similar changes, but without macular edema, should be followed at 4-6 month intervals and should be seen at any time they notice a change in vision.
---
AM Acad Ophtho Basic and Clinical Science Series. Section 12, Retina and Vitreous, 2008-2009, pp 109-132.
(Slide courtesy of Linda Lippa, M.D. and the University of California Irvine)