You are here
Central Retinal Artery Obstruction (CRAO)
Central Retinal Artery Obstruction (CRAO)
ILLUSTRATION: The inner layers of the retina are ischemic (pale). This is particularly prominent in the macular area because the anterior retina is thicker in this area. However, the fovea itself will appear its normal red color (cherry red spot) because it is supplied from the choroid by diffusion. The arteioles are narrowed and boxcarring of the blood column may be noted in both arteries and veins (arrow).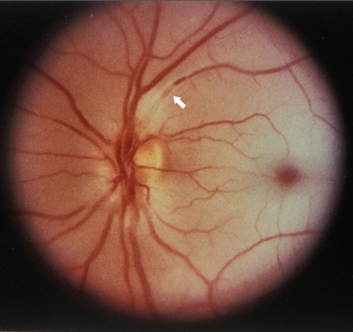 DISCUSSION: CRAO presents as a painless, sudden and severe loss of vision in one eye. Previous episodes of amaurosis fugax may have occurred. The etiology may be the result of atherosclerotic related thrombosis occurring in the central retinal artery just posterior to the papilla or the occlusion may be embolic. Origins of the emboli are plaques from the carotid artery or heart valves. The plaque may be of cholesterol, calcific or platelet-fibrin composition. Associated systemic diseases include hypertension, arteriorsclerosis, collagen vascular disease, hemoglobinopathies (especially SS) and temporal arteritis. All patients with CRAO or BRAO should have a work up to rule out TA.
Unfortunately there is no good treatment of CRAO. Massage of the globe (try to dislodge the embolus) medication to lower the eye pressure and tap of the anterior chamber have been tried without significant success. Experimentally, it has been shown that retinal tissue dies within 90 minutes of complete arterial obstruction.
A cardiovascular work-up is indicated in patients with CRAO and BRAO to search for associated systemic disease particularly in the carotid arteries and heart valves. Continued ophthalmic observation is indicated as 11% of CRAO patients will develop neovascular glaucoma.
---
AM Acad Ophtho Basic and Clinical Science Series. Section 12, Retina and Vitreous, 2008-2009, pp 162-164.