You are here
Branch Retinal Artery Occlusion (BRAO)
Branch Retinal Artery Occlusion (BRAO)
ILLUSTRATION: The inferior branch of the central retinal artery has been obstructed by an embolus seen at the inferior margin of the disc (Hollenhorst Plaque) (arrow). The entire inferior retina in the distribution of the affected vessel is pale and edematous. Note the markedly narrow arterioles in the inferior retina.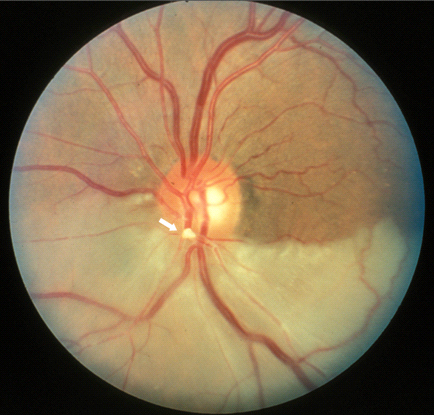 DISCUSSION: BRAO is the result of an embolic phenomenon. The emboli may be cholesterol, calcific or platelet-fibrin associated with large vessel arteriolsclerosis. Cholesterol plaques are more common and often originate from the carotids. Calcific emboli are more likely to originate from the heart valves. Other less common emboli include septic associated with SBE, fat following trauma and talc in IV drug abusers.1
Cardiovascular disease is the most common associated systemic disease and any patient with a BRAO should be investigated with particular attention to the carotid arteries and the heart valves.
Giant cell arteritis can also be associated with a BRAO and this possibility should be investigated.
---
AM Acad Ophtho Basic and Clinical Science Series. Section 12, Retina and Vitreous, 2008-2009, pp 160-162.