You are here
Arteriosclerosis
Arteriosclerosis
ILLUSTRATION: The arterioles have a much more reddish-brown appearance ("copper wire"). The reflex stripe off of the arterioles is broadened. The narrowed arteriole inferior to the macula demonstrates patchy white sheathing, particularly toward its' distal end. This is partial "silver-wiring". Just superior to this are two adjacent examples of A/V nicking (arrow). Macular edema is present.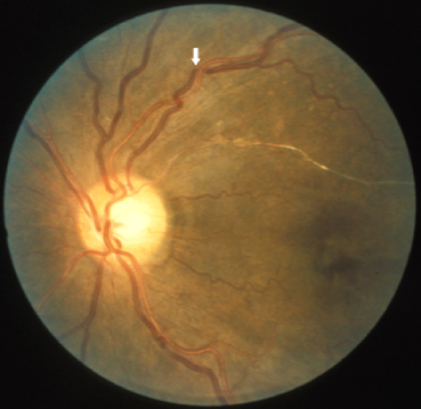 DISCUSSION: Arteriosclerosis in the retina is felt to be primarily the result of long standing hypertension. The changes that develop in the arteriolar wall include an increase in the elastic and muscular components and hyaline thickening of the intima. These changes result in a broadening of the light reflex stripe off the blood column and a change in the reflected color of the arteriole.
"Nicking" defects occur at points of arteriovenous crossing. The vein appears tapered as it approaches the artery, and as it leaves the crossing. The angle formed by A/V crossing becomes more obtuse. Glial cell proliferation of the common adventitia also contributes to this A/V nicking phenomena. In its extreme the vein may appear obstructed (it usually isn't). A/V nicking is the easiest AS sign to identify.
Continued glial cell proliferation in the adventitia surrounding the arteriole may result in a silver wire appearance.