You are here
Internal Medicine Board Review Flashcards App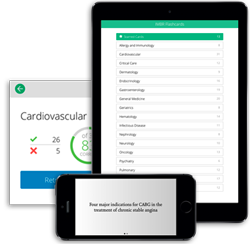 This app offers over 200 flashcards across 16 categories—perfect for studying for the ABIM exam quickly and on-the-go. The flashcards are available free to attendees of ACP's live Internal Medicine Board Review (IMBR) courses and MOC Exam Prep courses 24 hours after the conclusion of their course. Purchasers of the course recordings provided by our partner, Playback Now, may also log in to access flashcards. Free access is also available to residents in programs subscribing to the ACP Board Prep Curriculum.
Refresh your knowledge gained during these courses and ensure that you are ready for your exam. Simply:
Download the app or access the mobile web version.
Log in with your ACP username/password.
(If you purchased recordings from Playback Now) Enter your Playback Now username/password.
Features:
Over 200 cards across 16 categories
The ability to mark flashcards correct or incorrect
After finishing a category, users are invited to review flashcards that they marked incorrect, retry them all, or move on to another category
The ability to create custom sets of cards to focus your studies