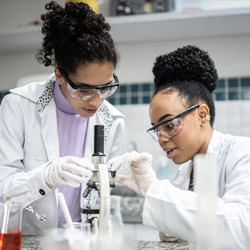 Issue: Fund and promote federal programs and initiatives that support the public health infrastructure and improve preparedness for both future pandemics and other potential public health needs.
Why Action is Needed
With the onset of the coronavirus came the rude awakening that the United States was ill-prepared for a pandemic. As a result, our nation's public health infrastructure and ability to develop and manufacture critical health care supplies and vaccines faced unprecedented challenges. This was in addition to a myriad of health care workforce needs and challenges associated with furnishing continuous care and services at crisis levels. Now more than ever, Congress must support our federal public health infrastructure and invest in public health research and pandemic preparedness, such as the U.S. Centers for Disease Control and Prevention (CDC) and the National Institutes of Health (NIH), which helps strengthen state and local health agencies.
ACP's Position
ACP was encouraged that much of the bipartisan PREVENT Pandemics Act legislation was enacted at the end of 2022. ACP supported several provisions in that legislation that included improving public health data, revitalizing the public health workforce, and modernizing and strengthening the supply chain for vital medical products. However, sustained and adequate funding remains essential for the federal government and public health agencies to support the country's ongoing efforts to prevent and mitigate the harmful effects of COVID-19 on patients and to be prepared for the next pandemic. Yet, without additional federal resources these critical efforts are in jeopardy of not continuing. New funding is still necessary to purchase enough booster vaccines for all patients.
Resources are also needed for the development and supply of new vaccines that will be needed in the future. The COVID-19 pandemic demonstrated the critical role that our public health infrastructure plays, through functions that include the rapid development, deployment, and expansion of testing and vaccine administration capacity. These are just a few examples of why funding for public health agencies like the CDC and the NIH, and the resources put in place during the COVID-19 public health emergency, have become so vital.
Call to Action
Support at least $11.581 billion for the CDC in Fiscal Year 2024, including at least $600 million for Public Health Infrastructure and Capacity, which provides cross-cutting funding for data infrastructure upgrades and public-health workforce.
Support the Public Health Infrastructure Saves Lives Act, S. 1995, which would provide annual funding for the CDC to strengthen core public health infrastructure and award grants to public health departments.
Monitor and support reauthorization efforts for H.R. 4421, the Preparing for All Hazards and Pathogens Reauthorization Act, and S. 2333, the Pandemic and All Hazards Preparedness Act (PAHPA) in the House and Senate, respectively.