You are here
Advocate Article
Advocacy Event in Washington Offers ACP Members Face Time With Congress
Registration deadline nears for annual Leadership Day
The chance to take your health care concerns straight to Capitol Hill awaits internists who take part in ACP's Leadership Day in Washington, D.C., in early May.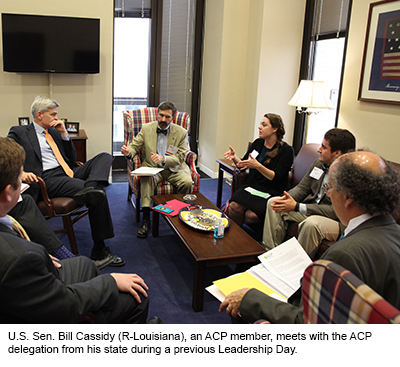 "This is a great opportunity for the College and our members to bring our policy priorities to Congress and try to influence the legislative process on behalf of internal medicine," said Jonni McCrann, senior manager for legislative affairs for the American College of Physicians.
This year's Leadership Day, set for May 3-4 at the Washington Convention Center, coincides with Internal Medicine 2016, also held at the convention center that week. The first day includes a series of briefing and workshops on issues of importance to internists. The second day focuses on meetings on Capitol Hill.
"There's nobody more effective than people in the trenches who are actually delivering care in explaining what the impact of these policies are on real people -- their patients," noted Bob Doherty, ACP's senior vice president for governmental affairs and public policy. "Public policy affects [physicians'] daily lives. It affects what you will be reimbursed, it affects whether your patients have access to health insurance, it affects how many doctors we have, where they're located and [whether] we have enough primary care physicians."
Health care policy goals on the Leadership Day agenda this year include:
Improving payment, eliminating cost-sharing and reducing regulatory barriers to chronic care management
Reducing burdens associated with reporting requirements for electronic health records and enhancing their usability and operability
Eliminating payment and regulatory barriers to telemedicine in a way that supports the patient-physician relationship
Reducing barriers to integrating behavioral health into primary care
Addressing the rising death toll from prescription opioid abuse and ensuring effective pain management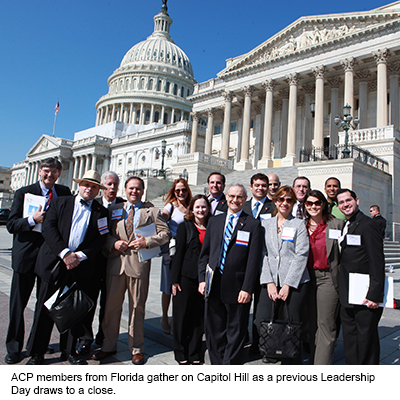 Dr. Mary Huerter, an internist in Omaha, Nebraska, noted the importance of ACP members' participation in Leadership Day: "Doctors in general, I think we really underestimate the power of our voice and our experiences."
Dr. Donna Sweet, a professor at the University of Kansas School of Medicine-Wichita, expanded on that idea. "If we don't have input into what our legislators know and do, it's our own fault in terms of what the policy that comes out is," she said. "This is a way that we as individual members of the ACP can impact overall the policy of this country."
But besides influencing the legislative process, McCrann said that taking part in Leadership Day "also enables members to prepare for laws and regulations that will soon hit their practices, earn valuable continuing medical education credits and collaborate and socialize with other physicians from across the country."
More Information
The registration deadline for Leadership Day is March 25. Full details, including schedules, registration and reservation information, are available on the ACP website.
Also available is a video on Leadership Day.