You are here
History of ACP: Sheldon M. Wolff, MD, MACP
History of ACP: Sheldon M. Wolff, MD, MACP
Sheldon M. Wolff, MD, MACP: Physician, Scientist, Educator, and Infectious Disease Expert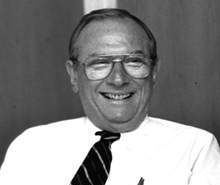 Sheldon Malcolm Wolff was born August 19, 1930, in Newark, New Jersey to Harold and Margaret Wolff. Shelly, as he was known by family and friends, received a full scholarship to the University of Georgia in 1948, where he was a music major and in time, the drum major of the university's Redcoat Marching Band. He switched his major to chemistry and decided to become a physician.
Upon graduation in 1952, Shelly experienced a dilemma affecting many American Jewish pre-med students: most U.S. medical schools had instituted quotas to limit the number of Jewish students in the 1920s and these quotas remained in place until the late 1960s. As a result, many qualified American Jewish students had to attend medical schools in other countries. Wolff spent his first two years in medical school at the University of Heidelberg in Germany, before transferring to Vanderbilt University, where he received his medical degree in 1957. While doing a rotation at Newark's Beth Israel Hospital during his third year of medical school, Wolff met his future wife, a nurse named Lila Leff. They married the following year, and after graduation, Dr. Wolff became an internal medicine resident at the Bronx Municipal Medical Center in New York City.
In 1960 he joined Dr. Vernon Knight's team in the Laboratory of Clinical Investigation (LCI) at the National Institute of Allergy and Infectious Disease (NIAID)—one of the 27 departments that make up the National Institutes of Health (NIH), an agency of the United States Department of Health and Human Services (HHS). Knight mentored Dr. Wolff, who became a Senior Investigator at LCI. When Dr. Knight took a position at Baylor College of Medicine in 1966, Shelly Wolff succeeded him as Chief of the LCI and Clinical Director of NIAID.
In a tribute to Dr. Wolff, his friend and colleague, Harry R. Kimball MD, MACP, described Shelly as creating an incredibly productive and supportive environment during his tenure at LCI. According to Kimball, Wolff was just as interested in clinical medicine as he was in laboratory research. Under his guidance, the Wolff laboratory conducted many ground-breaking investigations focusing on regulation of the human immune response. Their discoveries enabled them to reveal the biological properties of endotoxins, find the cause of fevers of unknown origin, understand the processes involved in triggering the immune response, and expand comprehension of how the immune response is related to multiple autoimmune inflammatory disorders.
These breakthroughs led to many clinical advancements for patients, such as the discovery that colchicine, a drug used to treat gout, was also an effective therapy for the hereditary inflammatory disorder, Familial Mediterranean Fever; development of alternate day therapy to reduce the side effects of oral glucocorticoid treatment while maintaining therapeutic effectiveness; and using low dosages of chemotherapeutic agents (such as cyclophosphamide) as an immune modulator to effectively treat inflammatory diseases.
In 1977, Dr. Wolff left NIAID to become the Louisa C. Endicott Professor in Medicine, Chair of the Department of Medicine at Tufts University School of Medicine, and Physician-in-Chief of New England Medical Center (now Tufts Medical Center). According to his friend Samuel O. Thier MD, MACP, Shelly made an immediate impact by launching several new divisions, doubling the occupancy for inpatients, overhauling the intensive care units, improving the teaching programs, and developing a top-notch research program. In his new role, Dr. Wolff was in high demand for consultations. He had patients referred to him from all over the world, and always strived to make himself available for residents who needed assistance in solving complex clinical challenges.
Shelly was also sought to serve in leadership roles on several prominent advisory panels to the federal government through the 1980s. In 1982, he chaired the National Committee on Toxic Shock Syndrome that concluded that high-absorbency tampons were associated with a much higher risk of toxic shock syndrome. In 1986, he co-chaired the Institute of Medicine review panel Committee on a National Strategy for AIDS, which resulted in the landmark "Confronting AIDS" report. The panel urged that federal funds for AIDS research be quadrupled to advance research for a cure. Dr. Wolff testified about the panel's conclusions in front of the U.S. Senate on January 15, 1987 and subsequently directed an Institute of Medicine group concerned with the development of drugs and vaccines for AIDS.
Throughout his career, Shelly had the opportunity to mentor and work with an entire generation of renowned, world-class physician-scientists. Like their mentor, many have received Mastership in the American College of Physicians. He hired Anthony S. Fauci, MD, MACP, for a position as a clinical associate at LCI in 1968. They became the closest of friends and he served as the best man at Fauci's wedding. Dr. Wolff also mentored and became close to Harry R. Kimball MD, MACP, John I. Gallin, MD, MACP, Jerome P. Kassirer, MD, MACP and former ACP President, David C. Dale, MD, MACP.
Dr. Charles A. Dinarello, was hired as an LCI clinical associate by Wolff in 1972 and followed his mentor to Tufts in 1977. Dinarello continued research that he had begun with Wolff at LCI to isolate Interleukin-1 (IL-1), which secretes signaling proteins that participate in the regulation of immune responses and inflammatory reactions. In 1979, they published an article theorizing that IL-1 was the exact same protein that many scientists in a wide range of fields had been trying to identify. They conclusively proved their theory in 1984 when Dinarello and his team reported the first cloning of Interleukin-1 beta in the Proceedings of the National Academy of Sciences. Upon accepting the Ernst Jung Prize in 1993, Dinarello honored his mentor by endowing the Sheldon M. Wolff Professor in the Department of Medicine at Tufts.
Dr Sheldon Wolff authored over 300 scientific papers, nearly 200 peer-reviewed articles and numerous sections in leading medical textbooks. His achievements, honors and accolades are astounding. He served as President of the Infectious Diseases Society of America; Chair of American Board of Internal Medicine and its Infectious Diseases Board; was elected to the National Academy of Sciences' Institute of Medicine and the American Academy of Arts and Sciences; Received Mastership in the ACP and the John Phillips Memorial Award.
Shelly and Lila Wolff had three children: Brad, Suzanne, and Daniel. In1981, Steven Peskin applied for a residency position at Dr. Wolff's hospital. The nephew of Wolff's college roommate, Steven was far from home during the Jewish High Holidays and was invited to the Wolff's home to celebrate them just as the Peskin family often did for a young Shelly, when he was in College with their son). It was at this dinner that Steven and Suzanne met. They married in 1985, and have two children, a son, Benjamin and a daughter, Shelly, who is named for Dr. Wolff. In 2021, Steven joined his father-in-law by receiving Mastership in the ACP. Dr. Sheldon Malcolm Wolff died on February 9, 1994 at age 63, due to complications from cancer. His daughter Suzanne summed up her father's legacy as a doctor and researcher with loving understatement: "He left this world a better place."
Sources:
Prepared by Eric Greenberg, based on materials from the Archives of the American College of Physicians. A shorter version will be used for a BOR meeting in February 2021.
Phone and email interviews with Dr. Wolff's daughter, Suzanne Peskin.
Peskin/Wolff Family Archives
Medical/Science review by Philip Masters, MD, FACP
Cohn, V. (1982, June 05). Case of Toxic Shock Still a Mystery. Retrieved January 5, 2021, from https://www.washingtonpost.com/archive/politics/1982/06/05/case-of-toxic-shock-still-a-mystery/0218747c-b3c5-4f58-b2da-ff9dcc6b8629/
Service, K. (2018, October 11). SCIENCE CALLS FOR $2 BILLION -- TO AVERT AIDS 'CATASTROPHE'. Retrieved January 5, 2021, from https://www.orlandosentinel.com/news/os-xpm-1986-10-30-0270050035-story,amp.html
Cohen, B. (2020, April 16). The Mentor Who Made Dr. Anthony Fauci. Retrieved January 5, 2021, from https://www.wsj.com/articles/the-mentor-who-made-dr-anthony-fauci-11587040520
Tufts Medicine. (n.d.). Retrieved January 22, 2021, from https://sites.tufts.edu/medicine/winter-2018/first-in-the-field/
Kimball, Harry R. 1997 - history - Office of NIH History and Stetten Museum. (n.d.). Retrieved January 6, 2021, from https://history.nih.gov/display/history/Kimball%2C+Harry+R.+1997
Fauci, A. (2007, October 01). A view from Washington through the eyes of an AAP physician-scientist: 2007 Association of American Physicians George M. Kober Medal. Retrieved January 24, 2021, from https://www.jci.org/articles/view/33691
Posey, L. (2020, June 30). From Fauci to philanthropy: One Georgia family's story of mentorship and generosity. Retrieved January 5, 2021, from https://alumni.uga.edu/2020/06/10/from-fauci-to-philanthropy-one-georgia-familys-story-of-mentorship-and-generosity/
Harry R. Kimball, Sheldon M. Wolff, M.D., Tribute, The Journal of Infectious Diseases, Volume 170, Issue 2, August 1994, Pages 261–264, https://doi.org/10.1093/infdis/170.2.261
Photo:
Peskin/Wolff Family Archives