You are here
U.S. Air Force Governor's Newsletter October 2016

---
---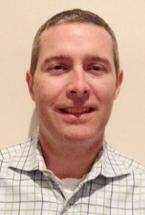 William N. Hannah, Jr, MC USAF, ACP Governor
---
From the Governor
Greetings from San Antonio! I am excited to update you on all of the events that our chapter has been involved in over the last few months. First and foremost, we resumed our in-person chapter meeting with the Army chapter in San Antonio in September. The meeting was an overwhelming success with over 150 Air Force and Army members in attendance. More importantly, the meeting confirmed the value in networking and collaborating with our colleagues throughout the AFMS and paved the way for future meetings in the years to come. The attendance from Air Force chapter members outside of San Antonio was equally impressive, and the highlight for me was to see the Doctor's Dilemma competition renewed in full force. While there are many people to thank for the success of the meeting, a special recognition goes out to Dr. Mike Morris and Major Andy Skabelund for planning and coordinating every detail of the meeting.
I just returned from our combined Air Force and Ohio chapter meeting in Columbus, Ohio, October 13-14. This was an invaluable opportunity for our members in Ohio and the Midwest to attend a high quality ACP meeting. We had over 30 Air Force members in attendance, many of whom were residents competing in various scholarly competitions. Even if you don't live in the area, I would highly encourage you to attend this wonderful and worthwhile meeting in the future. I am especially grateful to Michael Tan (Ohio Governor) and the entire Ohio chapter for allowing us to continue this valuable partnership. We will also continue our combined Ohio chapter and Tri-Service reception at the national meeting in San Diego. I certainly hope to see you there.
While in Ohio, I am pleased to report that our chapter once again received the Chapter Excellence Award which recognizes are chapter for meeting and exceeding the standards of chapter management.
Both Matt Carroll (Governor-elect) and I attended the recent Board of Governors meeting in Austin Texas. Matt and I had the opportunity to discuss all aspects of our chapter as well as attend various workshops designed to continue strengthening our solid foundation. As the leadership of our chapter transitions over the next 6 months, I am certain that Matt is the right person to lead us forward.
Lastly, please consider attending the national ACP Internal Medicine Meeting, March 30 through April 1, 2017 in San Diego, California. I know this will be another exceptional meeting for our chapter members!
---
Congratulations to our Chapter Winners
Doctor's Dilemma Competition: Keesler Medical Center Residency Program (Kristen Bader, Geoffrey Bader, Alan Bartholomew)
Grollman Award (first place resident research): Captain Michael Gonzales, "The Incidence of Pulmonary Disease in Inflammatory Bowel Disease"
Performance Improvement: Captain Janelle Gyorffy, "Preventing Errors: Improving Outpatient Recognition of Venous Thromboembolism"
Clinical Vignette: Captain Daniel Cybulski, "Curious Rash in a Man with Waldenstrom Macroglobulinemia"
Note: All of our chapter award winners are automatically entered into the national competition in San Diego. For those who are interested, you can view the presentations here.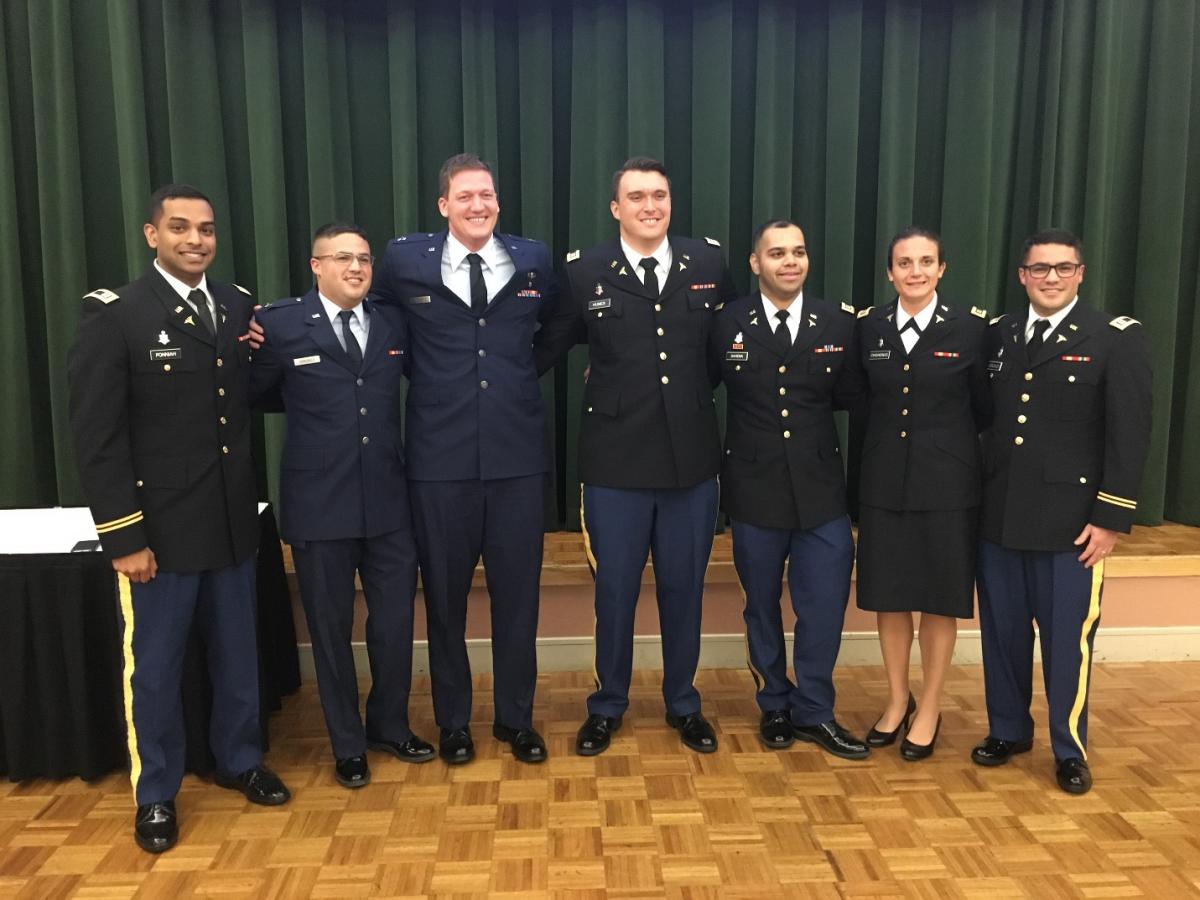 Air Force and Army Award Winners (pictured for the Air Force are Michael Gonzales and Daniel Cybulski)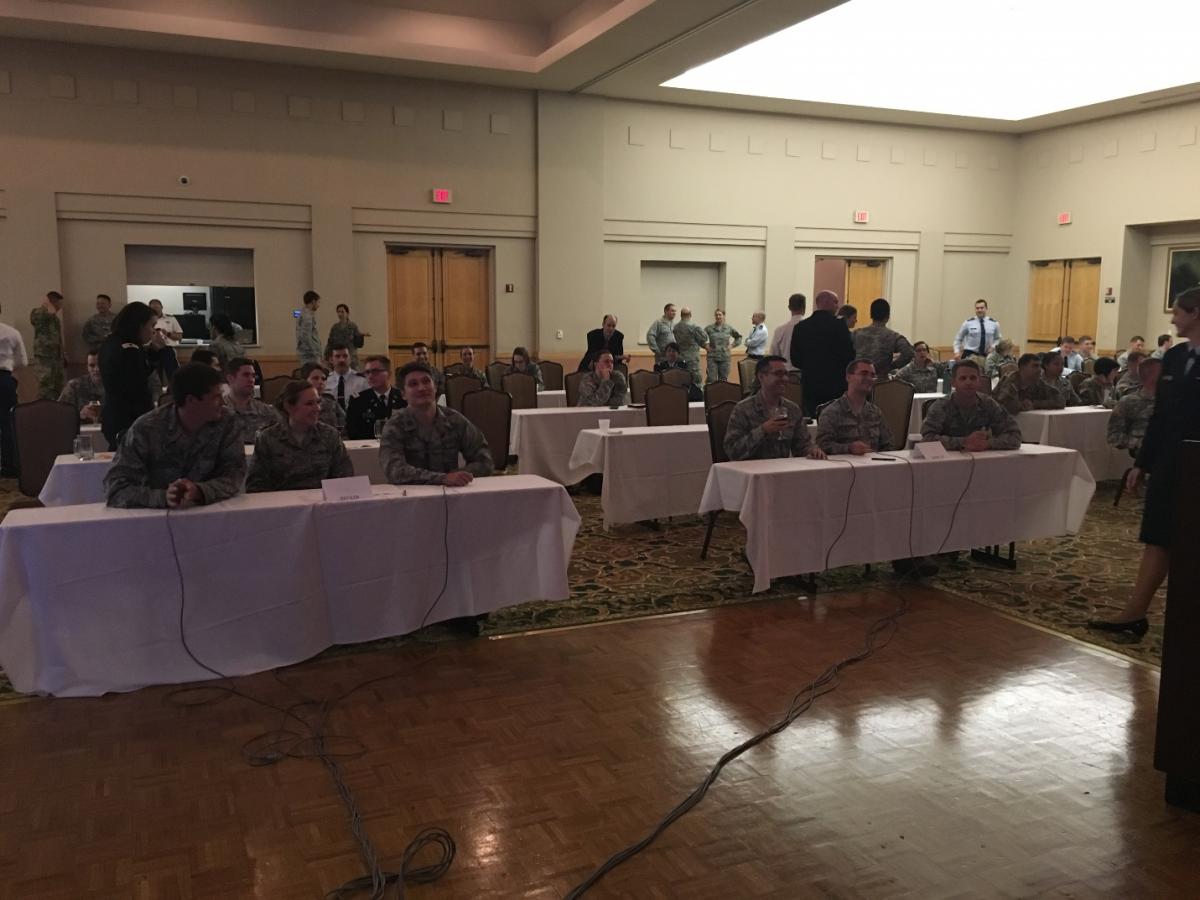 ---
Air Force Doctor's Dilemma Competition
Winning Keesler Doctor's Dilemma Team (Pictured left to right: Alan Bartholomew, Kristen Bader, and Geoffrey Bader)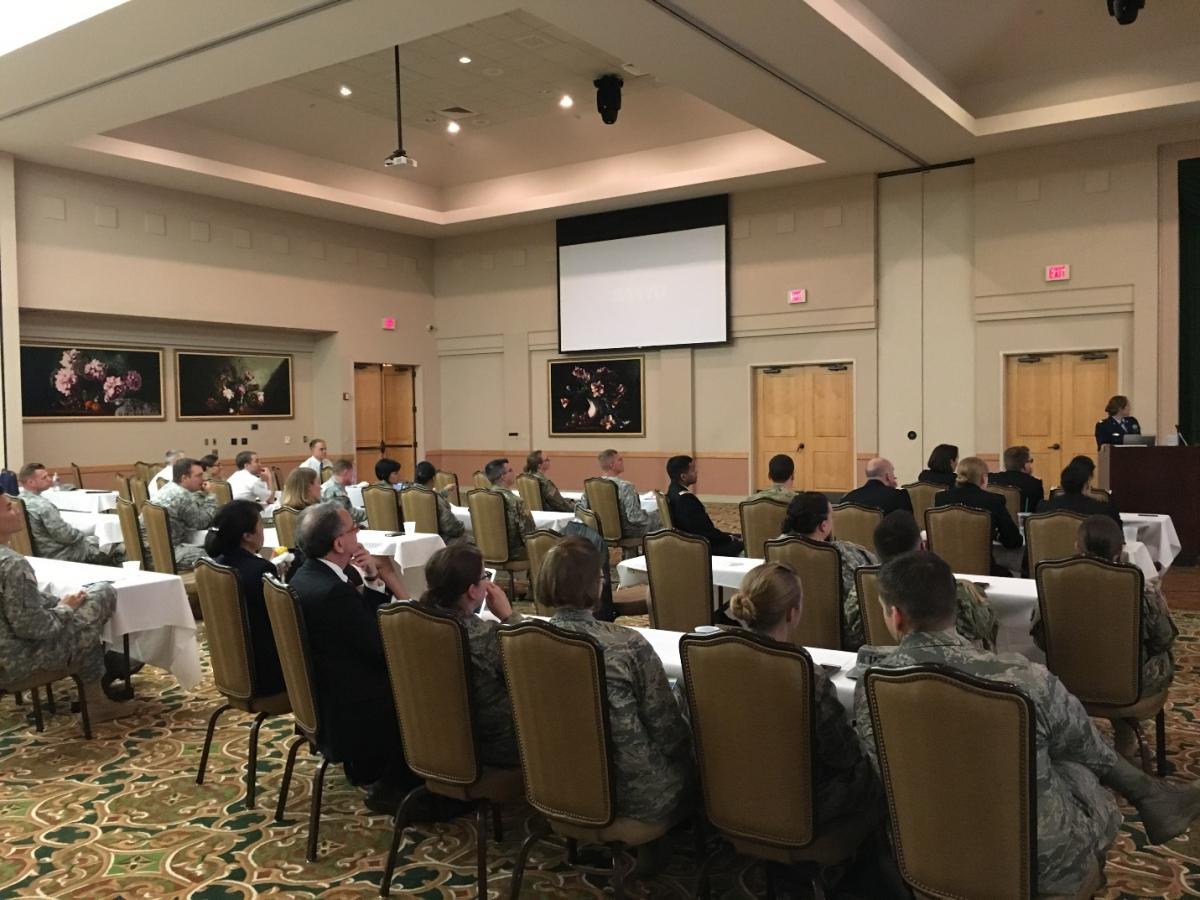 ---
Chapter Meeting at the Lackland Gateway Club
ACP's Work to Reduce Burnout and Promote Professional Satisfaction and Wellness
Recent data show that more than half of US physicians have symptoms of burnout. In response to this, ACP is in the midst of a multi-year effort to promote professional satisfaction, support physician wellness, and reduce burnout. In addition to successful and popular courses offered at national ACP Internal Medicine meetings on work-life balance, resilience, burnout, and wellness, there have been numerous events directed at promoting and supporting chapter-level programming.
ACP Wellness Champions have presented at conferences and via webinars across the country, at chapter meetings and free-standing events. ACP members wishing to learn more about reducing and preventing burnout can find more information. Additional resources on promoting physician wellness and resiliency may also be found here.
---
Volunteer Opportunities for Abstract Review Board Members/Poster Judges at ACP Internal Medicine Meeting 2017
ACP invites you to volunteer to review abstracts and/or judge posters submitted by medical students and residents/fellows for the 2017 National Abstract Competitions. We offer five submission categories:
Basic Research
Clinical Research
Quality Improvement and Patient Safety
High Value Care
Clinical Vignette
---
Abstract Review Board
If you volunteer to review abstracts, you will be directed to a URL on our website to view/print and grade your abstracts. You will be assigned up to approximately 10-20 abstracts and will have 4-5 weeks to review them. The reviewer process begins around mid-November through early December depending upon which category you volunteer to review.
---
Poster Judging at ACP Internal Medicine Meeting 2017
Volunteers are needed to judge the National Poster Finals at ACP Internal Medicine Meeting 2017. Last year, more than 3,300 abstracts were submitted for consideration. The approximately 600 posters that will be on display, along with the 30 oral presentations, represent the best of the best. We hope that you will have some time during the Internal Medicine Meeting to act as a poster judge and be part of this exciting program.
Volunteer
If you or your chapter members are interested in participating, please log in and complete the ARB/Poster Judge RSVP form found on our website .
We encourage you to share this information with your chapter members. If you have any questions, please contact Tracey Henry at (800) 523-1546, ext. 2727 or at abstracts@acponline.org.
---
Introducing the ACP Early Career E-Poster Competition
It is with pleasure that we announce that there will be an ACP Early Career E-Poster Competition, taking place on Thursday, March 30, during ACP's Internal Medicine 2017 in San Diego.
The goals for this new program include:
Increase engagement with early career members
Enhance ACP's reputation as a partner in Recognizing and supporting academic excellence
Increase membership recruitment and retention of early career physicians
Build a pipeline for potential Fellowship advancement
The Early Career E-Poster Competition differs significantly from the Medical Student and Resident/Fellow Member competitions currently held. The Early Career E-Poster competition will be online only with no onsite judging. We will limit the number of submissions to 100, with 50 selected to develop an online poster. The online posters will be online as well, with the authors able to include many of their source materials that along with the poster itself. In addition, the author may add voice-over narration to the poster so that viewers may hear from them what makes the findings significant, original and relevant.
The portal for the Early Career E-Poster competition will open in early October with submission accepted through December. Both case and research abstracts will be accepted. Judging and selection will take place in December. Those selected to develop an e-poster will be notified in early January. Once notified, they will be able to build their online poster and narration right up until the meeting.
This is a test year so during it, those who participate will receive neither complimentary meeting registration nor travel support. Nonetheless, they will be included in the Young Achievers Program at the meeting with their name highlighted with other early career physicians who have participated in our programs.
---
Maintenance of Certification (MOC) Exam Preparation Courses
Prepare to pass the ABIM recertification exam by attending an ACP MOC Exam Prep course. Conveniently scheduled shortly before the ABIM MOC Exam, our courses fit any schedule.