You are here
U.S. Air Force Governor's Newsletter January 2018

---
---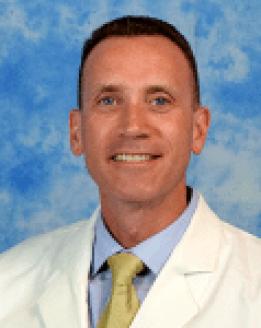 COL Matthew B. Carroll, MD, FACP, USAF, ACP Governor
---
From The Governor
Happy New Year! I hope that sometime during December you had time to spend with family and friends to celebrate Christmas as well as to reminisce as 2017 ended and 2018 began. I was fortunate to have had some time to reflect on my first year as Governor of our ACP Chapter. I want to start by saying how tremendously honored I have been to serve as your Air Force ACP Chapter Governor, representing the 700+ members that comprise our vibrant chapter. Despite the challenges that restricted our chapter in the recent past, 2017 was a year marked with accelerated growth and interest in revitalizing the chapter. Our combined chapter meeting with the Army was a resounding success and I am excited about the combined meeting in September 2018. Both the Army Governor and myself have already had in person and teleconference meetings as we plan to make the 2018 combined meeting even better! Our combined chapter meeting with the Ohio ACP Chapter was also another successful combined engagement. More details about the October meeting are forthcoming in this newsletter. I have been honored by the support and interest our members have demonstrated in chapter activities, filling several vacancies that we have had in the chapter but also pursuing national positions as well. Our chapter again continues to earn the recognition of (national) ACP with the receipt of the John Tooker Evergreen award. These are just a few of the events that came to mind as I reflected on 2017 and have made me grateful to serve as your Governor. As 2018 begins I wish you and your family not only a happy and healthy 2018 but one filled with growing professional enrichment and satisfaction, promoting the best patient care, and continued involvement in our dynamic chapter!
---
Ohio/Air Force ACP Chapter Combined Meeting
In late October the Ohio/Air Force ACP Chapter Combined Meeting was held. We are very grateful for the hospitality and multiple opportunities to participate that the Ohio ACP Chapter provided. A special thanks to the Ohio ACP Chapter Governor Dr. Michael Tan and his staff for hosting us! Our Vice Governor Dr. Angie Collamer was there representing our chapter leadership. Below are a few pictures that Dr. Collamer took during the meeting: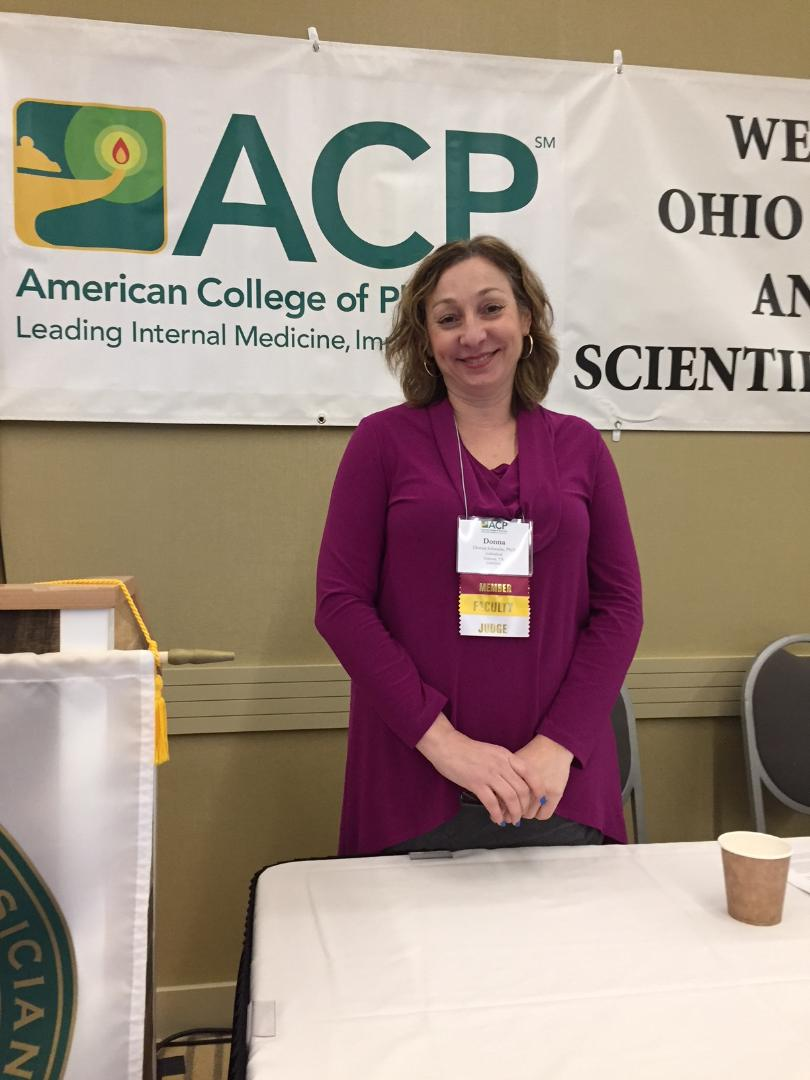 (Above) A picture of Dr. Donna Schwabe, Clinical Psychologist, GME HARBOR, Director, Fort Sam Houston, TX after presenting "Maintaining Physician Well-Being". (Below) Dr. Nicholas Conger from Wright Patterson AFB giving the "2017 Update in Infectious Disease."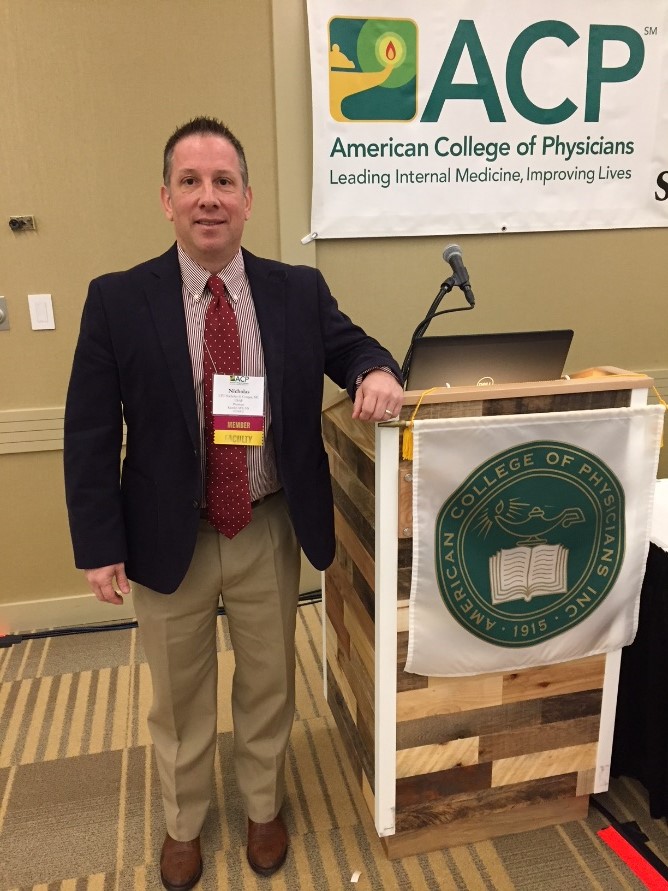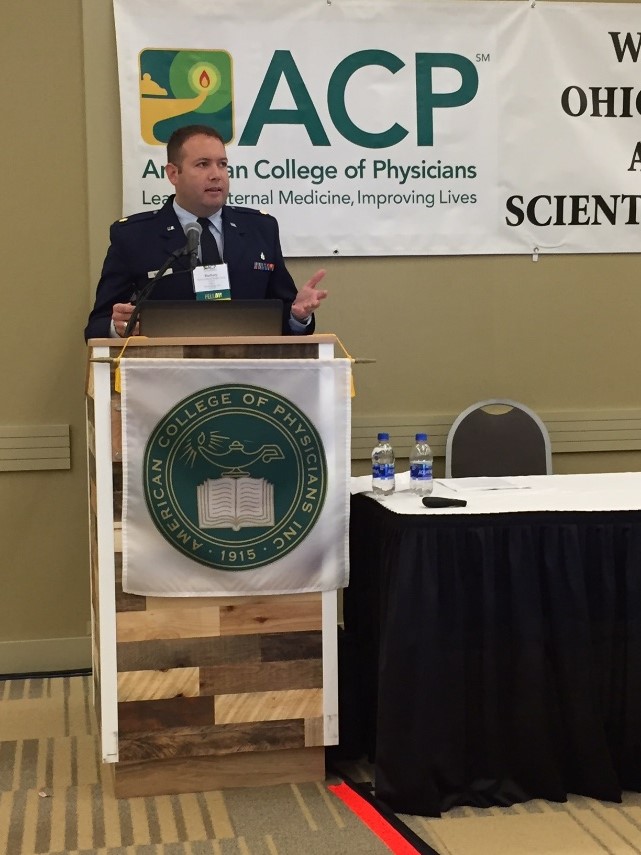 (Above) Dr. Zachary Wright from Kessler AFB speaking at the "2017 Update in Oncology." (Below) Dr. Nicholas Keaton representing SAUSHEC with his poster "Unrecognized Pneumonia: A Rare Case of CLL Associated Organizing Pneumonia"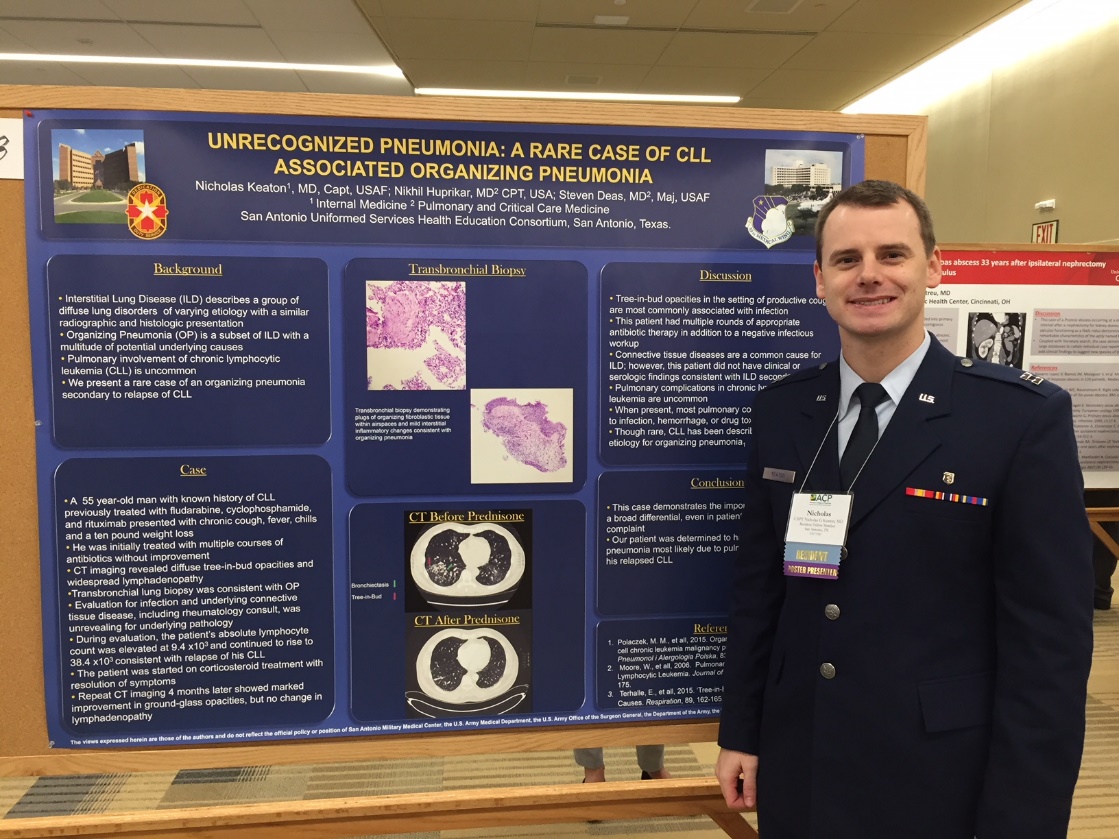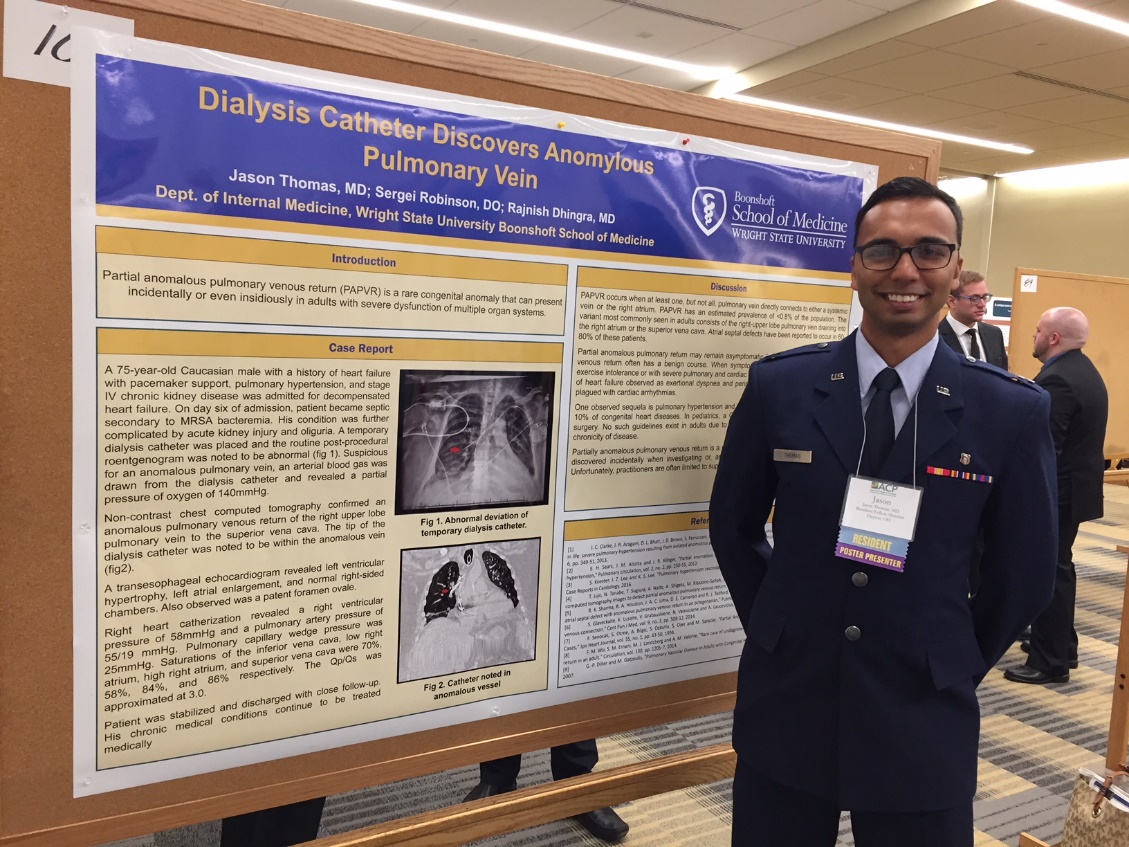 (Above) Dr. Jason Thomas representing Wright Patterson AFB with his poster "Dialysis Catheter Discovers Anomalous Pulmonary Vein" (Below) Dr. Morgan Manley also representing Wright Patterson AFB with her poster "Combination of Daptomycin and Ceftaroline versus Monotherapy for Methicillin Resistant Staphylococcus aureus Bacteremia"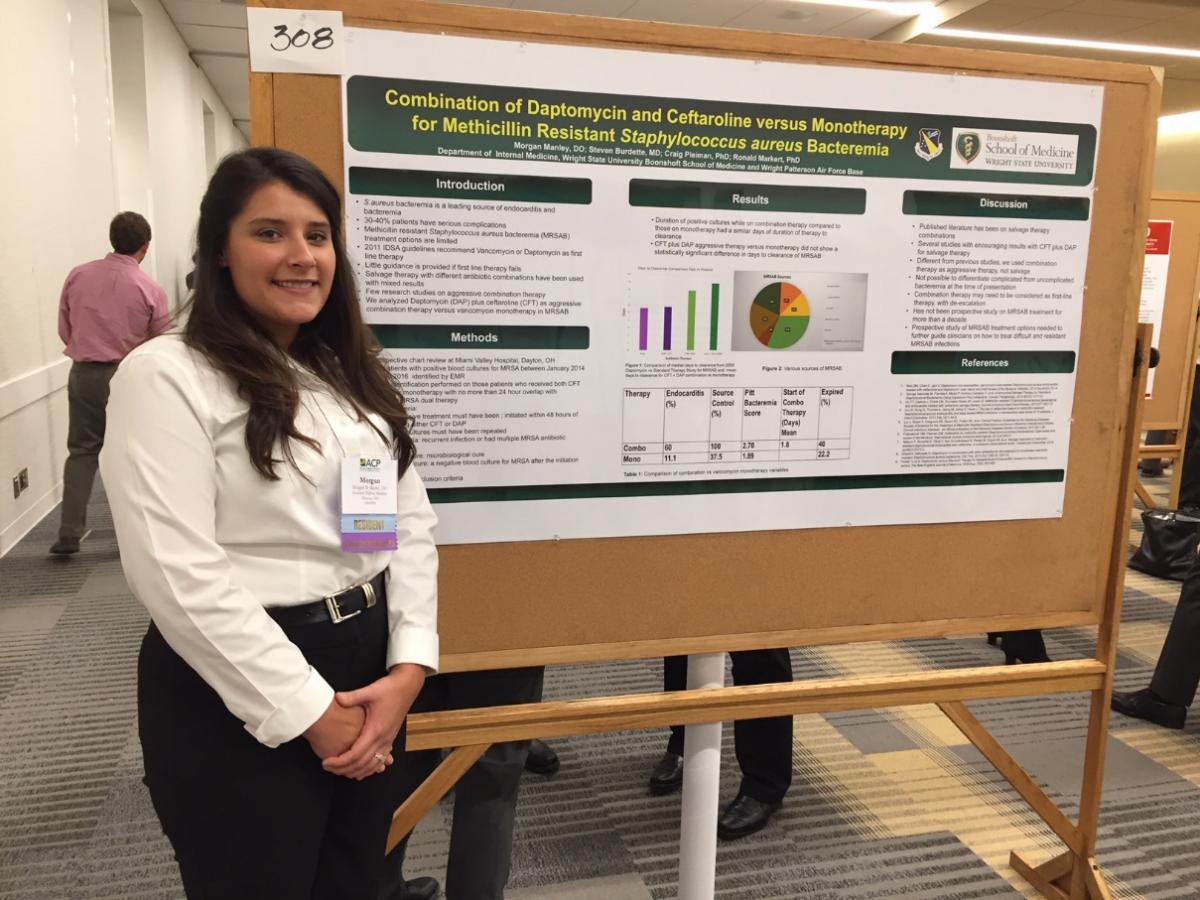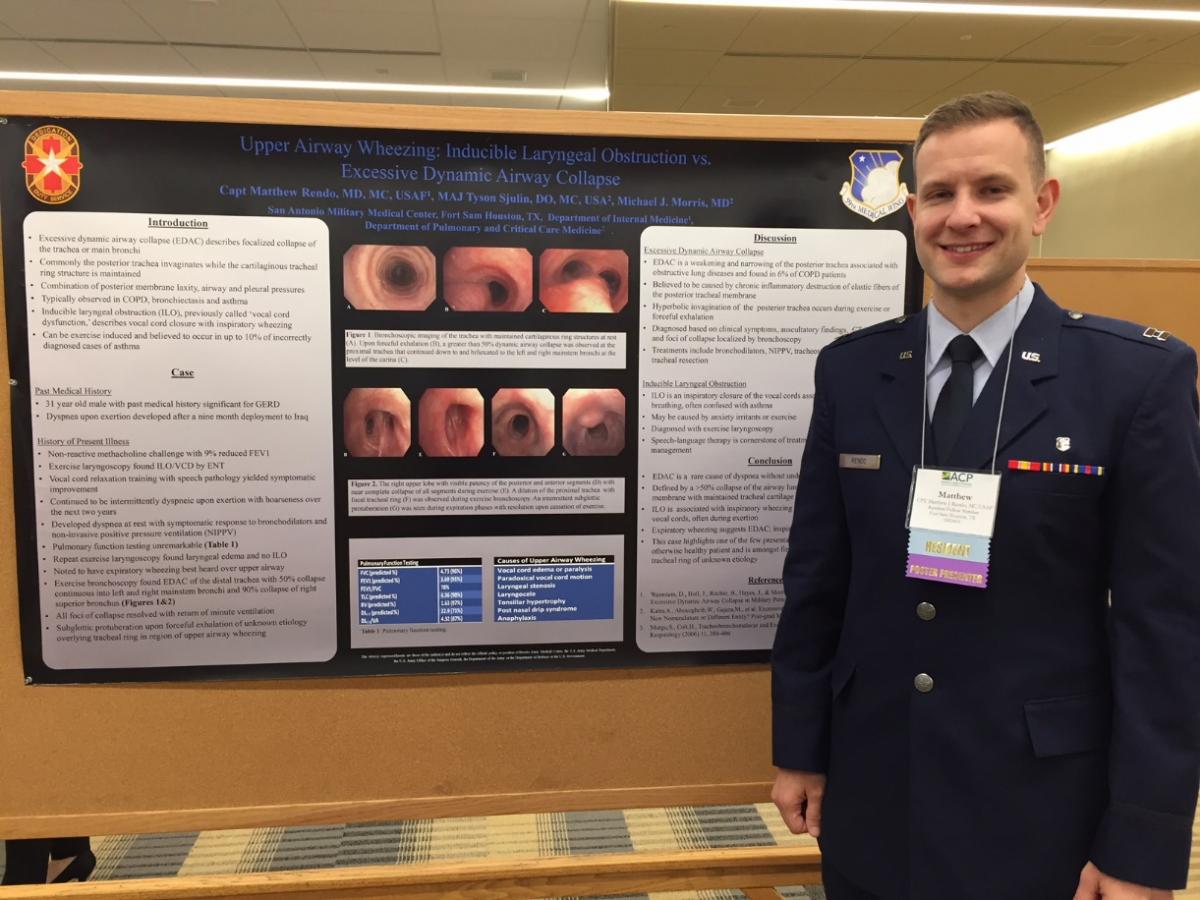 (Above) Dr. Matthew Rendo also representing SAUSHEC with his poster "Upper Airway Wheezing: Inducible Laryngeal Obstruction vs. Excessive Dynamic Airway Collapse."
Thanks to everyone who brilliantly represented our chapter at this great educational meeting!
---
Chapter Excellence Award
In late November 2017 I received word from National ACP that the Air Force ACP Chapter (as well as our Army and Navy ACP chapter colleagues) garnered the prestigious 2017 Chapter Excellence Award. This award is to recognize chapters that are exceeding the standards of chapter management. Each chapter receiving this award must meet a basic set of criteria for managing a chapter but also show engagement in 10 other domains (for the record, we are not graded in the political advocacy domain as we are a federal entity). This is an impressive feat for our chapter as we not only win it year after year but we do it without a paid support staff! Everyone volunteering to support the Air Force chapter in our many endeavors do it on a volunteer basis. So, thanks to everyone who in ways large or small has volunteered to help run a chapter event, attend our meeting, or stay engaged! Chapters earning this award receive a $2000 check, which we can use to support future activities. Thank you again to everyone for their support of our outstanding chapter!
---
Chapter Well Being Champion
As described in my October 2017 Newsletter, at the Board of Governors meeting that was held in early October 2017, the ACP demonstrated its continued commitment to supporting its members in multiple ways, including enhanced well-being and professional satisfaction. ACP has strengthened its Well Being Champion program (WC) to include expanded training, a clear set of responsibilities and expectations, and new tools to help Champions do and track their wellness work. Congratulations and thanks to Dr. Alyssa McManamon for volunteering for this position. I look forward to seeing her at training in April 2018 at the National ACP Meeting (IM18) but also to the value that her training will add to our future combined chapter meetings!
---
Save the Date
Just a friendly reminder, as announced toward the conclusion of our September 2017 Air Force / Army ACP Combined Chapter meeting, the combined chapter meeting will be held again at the Gateway Club on Lackland AFB, TX from 6 – 8 September 2018. More announcements will be forthcoming, but both Dr. Mount and I sincerely hope that you will plan to be in attendance next year!
In addition to the educational content of this meeting, it will again be an important forum for me to update you on our chapter and its accomplishments, review chapter finances, vote, and hold a townhall meeting at the end. The chapter meeting will thus be important for ALL chapter members, regardless of whether you're a medical student or a Master of the ACP. Please plan to attend.
---
CALENDAR
19 – 21 April 2018 - National ACP Meeting (IM18), New Orleans, LA
6 – 8 September 2018 - Air Force/Army ACP Combined Meeting, Lackland AFB, TX
---
Newest Air Force Chapter Members
Please extend a hardy welcome to our newest members, resident/fellow members, and medical students honorably mentioned below. We appreciate their joining our chapter and look forward to their contribution to growing our chapter!
Newest Members:
Benjamin M Ware, MD
Timothy Dempsey, MD
Erick Aponte, MD
Sarah Scott B Dietz, MD
CAPT David Kline, MD
Sandipani Sandilya, MBBS
Caroline M Green, MD
Nicole R Bane, DO
CAPT Evan Fisher, MC USAF
CAPT Shane B Patterson, MC USAF
Philip Clerc, MD
CAPT Luke Menner, DO
Christopher D Smith, MD
CPT Daniel T Bond, MD
CAPT David R Geottman, MD,USAF
CAPT Arash Hassantoufighi, MD
Kristen Bader Cpt, MD,USAF
CAPT Ellis Easterling IV, MD, USAF
CAPT Jared A Cohen, MD
CAPT George Shahin, MC USAF
Michael McCormick, DO
Mallory Michelle Chan, MD
CAPT Jess Anderson, MC USAF
CAPT Charles L Wilson, DO
Stuart Brigham, MD
Elise Marshall, DO
Douglas Summerfield, MD
Dan Urbine, MD
Newest Resident / Fellow Members:
CAPT Matthew L Bezzant, USAF
Lacy Lowry
Howard Lee
CAPT Gyan Narayan Das, MD USAF
CAPT Satej Pradhan, USAF
CAPT William Bennett V, MD USAF
Jonathan Kim, MD
CAPT Joshua Erlandsen, MD
CAPT Billy-Joe Liane, MD
Morgan Gettle, DO
David Short, MD
Jared Joffer, DO
Henry Sanchez
Jacob Bessler, AHP MD
Hyaehwan Kim, MD
Jason Hunt, MD
Joseph Cook, MD
Taylor Faulk, MD
William Moore, DO
Danielle Larson, DO
Hamish Patel
Newest Medical Students:
Eric Karr
Jared Laney
Maxwell Kruse
Haley Caldwell
Michael Middleton
Daniel Abramson
Sean T Wickers
Rafaela Izurieta
Ashley Murphy Shaw
2LT Curtis S Pacheco
Anthony Yao
Michael Wilson
Clinton Ulmer
Cody Larowe
Andrew Engle
Steven Gingues
Caitlin Brauer
William McCallum
Lauren Fehr