You are here
U.S. Air Force Governor's Newsletter April 2017

---
---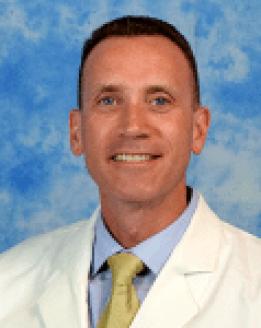 COL Matthew B. Carroll, MD, FACP, USAF, ACP Governor
---
From The Governor
Greetings from Ocean Springs, Mississippi! It is an honor to write to you as the new Governor of the Air Force ACP chapter! The formal gubernatorial transition from Bo Hannah to myself occurred at the ACP Annual Meeting in San Diego, California. I cannot thank Bo enough for his time and patience in making sure the transition went as smoothly as it did! I also greatly appreciate his leadership through a challenging time in our chapter's history. Sequestration and other forces hindered our chapter, but through it all Bo was able to grow chapter membership by 18% and work with other ACP chapters to provide educational venues for our members. Through it all the Air Force ACP chapter was ranked as a chapter of excellence and with Ohio earned the prestigious John Tooker Evergreen Award for chapter collaboration! With the Army Chapter, he also set a very solid foundation for future chapter meetings last September when we met in San Antonio. Please congratulation Bo on all of these accomplishments in support of the vibrancy of our chapter!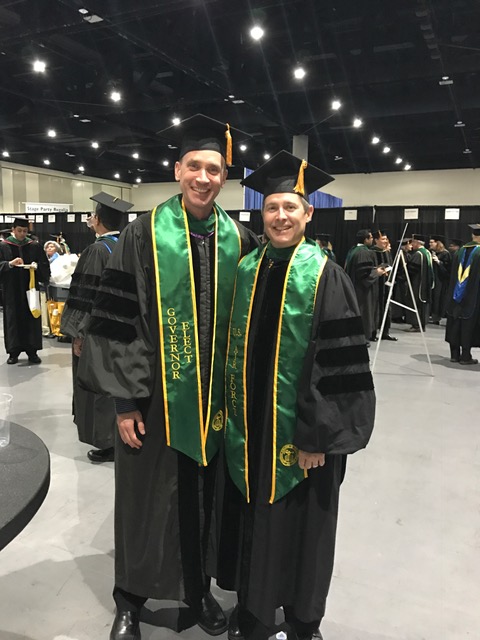 Above: Bo and I in our Convocation regalia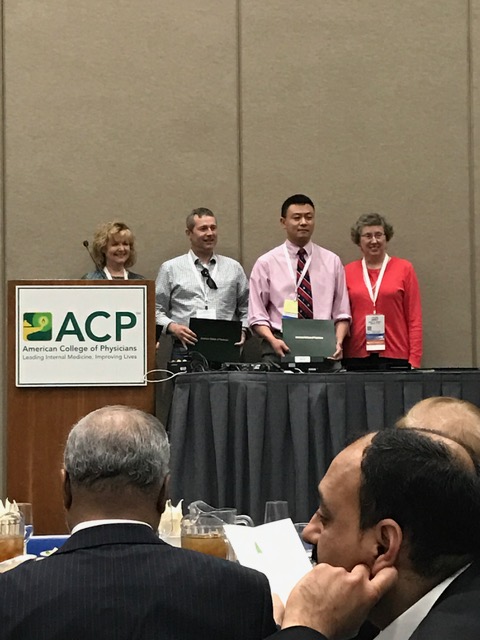 Below: Drs. Hannah (AF Chapter) and Tan (OH Chapter) receiving John Tooker Evergreen Award
While I have proverbial "big shoes to fill"; I am excited to be your new Governor! At the Annual Meeting in San Diego it was refreshing to hear all that ACP is doing for us as Internists. I will talk about several "Hot Topic" items below, but to summarize the ACP is very actively promoting patients before paperwork, Internists as specialists and not just another primary care provider, and Maintenance of Certification (MOC) reform. These topics seemed the most germane to me as an Internist in the Air Force, but of course ACP is also very active in the debate of health care in general in our country. The outcome of this issue will inevitably affect us all, so it is important to keep tabs on everything that the ACP is doing for us.
---
2016 Chapter Excellence Award
I am pleased to announce that our chapter is also the receipt of the 2016 Chapter Excellence Award! The award recognizes chapters, which successfully meet the standards for managing a chapter. In order to achieve the Chapter Excellence Award, chapters must meet all basic criteria and ten optional criteria. Criteria include such activities as formulating an effective Governor's Council and committees, communicating frequently with membership, providing educational opportunities, recruiting and advancing members and celebrating membership through local awards. Much thanks again to Bo and his team for their hard work earning yet another prestigious national ACP award!
---
SAVE THE DATE!
The combined Air Force-Army chapter meeting will be September 7-9 in 2017. It will be in San Antonio again at the Gateway Club, Lackland AFB. We had a successful meeting last year and are working to make this combined meeting even better. We are diligently working to have faculty development sessions by USU, primary care and critical care Ultrasound courses, and food! There will be poster sessions for residents, fellows, and our early career physicians (ECPs). We are also working with national ACP and hope to have CME and MOC. It should be a fantastic opportunity to learn, network, and enjoy San Antonio.
In addition to the educational content of this meeting, it will be an important forum for me to introduce our growing team who are helping me run the chapter, review chapter finances, vote, and hold a townhall meeting at the end. The chapter meeting will thus be important for ALL chapter members, regardless of whether you're a medical student or a Master of the ACP. Please plan to attend.
I would be remiss if I also did not mention that we will also be having our combined Ohio-Air Force meeting October 19-20 in Columbus, Ohio. The Ohio chapter has been very gracious to open several speaking positions to our members and we are looking forward to another great meeting!
---
ACP Annual Meeting in San Diego
If you had a chance to go to the Annual Meeting in San Diego in late March/early April, it was a fantastic event. A tremendous diversity of topics and issues were discussed. Of course, the weather in San Diego was amazing every day, so even if you didn't make it one of the conference sessions, you hopefully had time to enjoy San Diego!
I will get on my soapbox for a moment . . . as the Governor I had the honor of attending the Convocation ceremony at the Annual Meeting. We witnessed the bestowing of National ACP Awards, honoring those who earn the prestigious title of Masters of the ACP, and walking with our new Fellows. Regarding the latter, we had no (zero) new Fellows this year. For a chapter of about 750 people, I find it hard to believe that we had no Fellows. I know that you have a choice where you can participate in the Convocation ceremony, and perhaps San Diego was too far or expensive to travel, but we have such fantastic members that we should have at least 2-3 Fellows every year. Please take time to recognize those ACP Members around you who are teaching, leading, and working hard every day and clearly ready for the next step to Fellowship in the ACP.
While in San Diego the Air Force Chapter had great representation by our residents! Our knowledge bowl team consisting of Captain Alan Bartholomew, Captain Geoffrey A. Bader, and Captain Kristen Bader made it to the semi-finals. Congratulations on fighting the good fighting!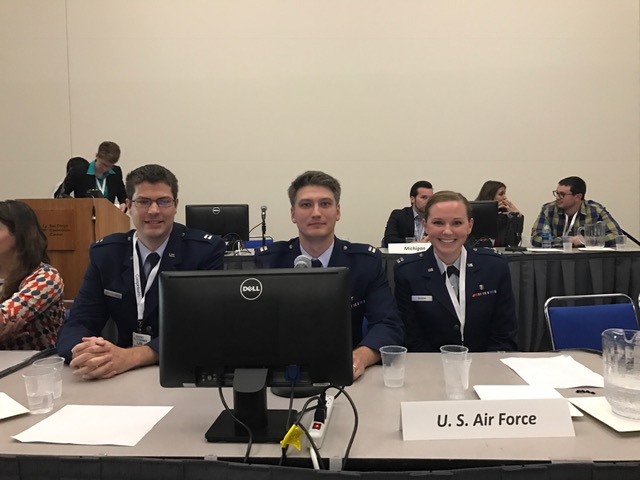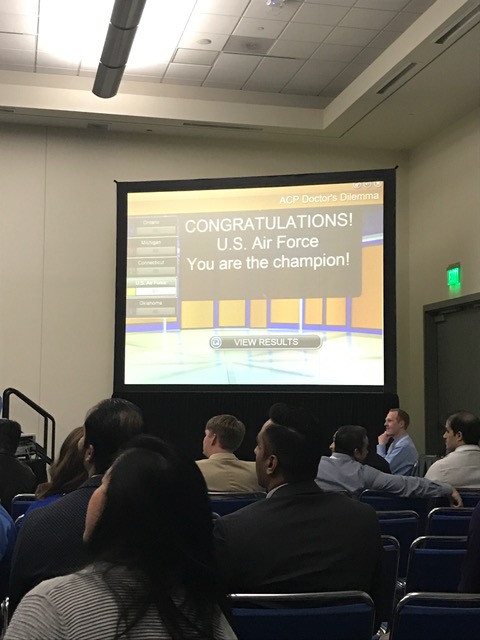 In addition to the stellar performance of our knowledge bowl team, I was very impressed with the high quality of the posters that I saw. Congratulations to all of the poster presenters and their hard work preparing for the meeting! I tried to make it to everyone, so if I missed you, please forgive me. Of note, Major Jason Cromar was one of ten top clinical vignette poster winners chosen this year. That's quite an amazing accomplishment and re-affirms the high quality cases and presenters that we had this year! I have a picture of the poster presenters for our chapter below: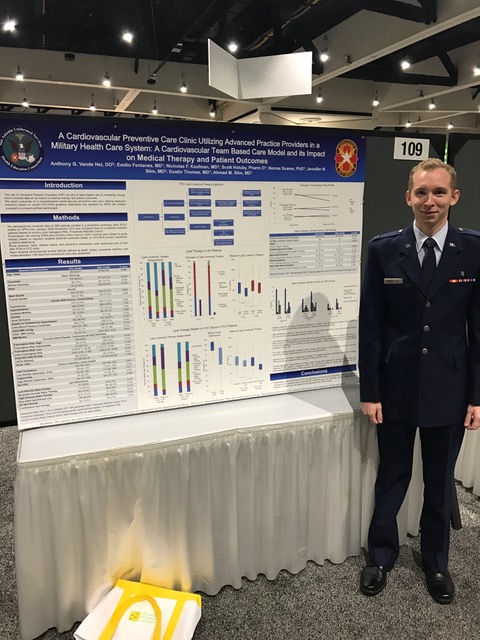 Captain Anthony Vande Hei: A Cardiovascular Preventive Care Clinic Utilizing Advanced Practice Providers in a Military Health Care System: A Cardiovascular Team Based Care Model and its Impact on Medical Therapy and Patient Outcomes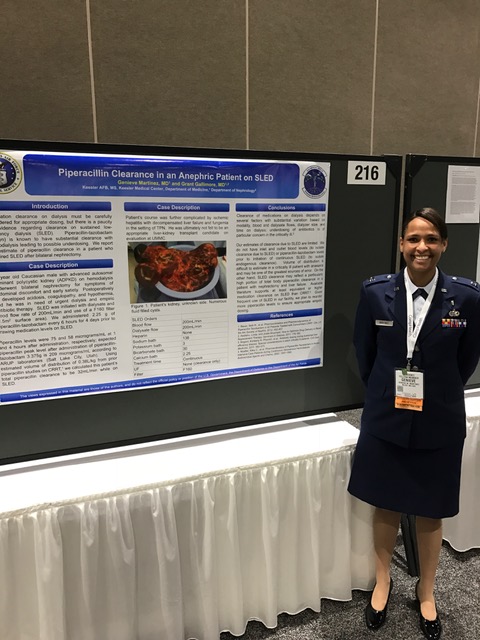 Captain Genieve M. Martinez: Piperacillin Clearance in an Anephric Patient on SLED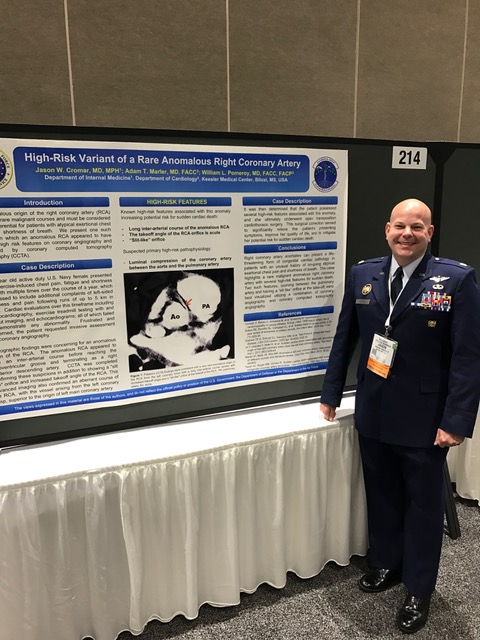 Major Jason Cromar: High-Risk Variant of a Rare Anomalous Right Coronary Artery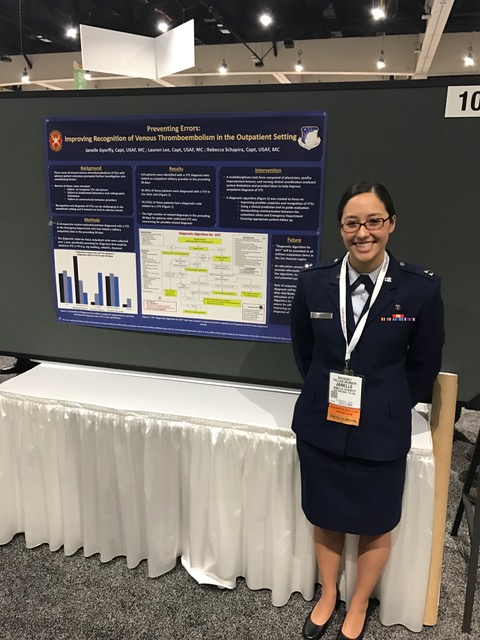 Captain Janelle Gyorffy: Preventing Errors: Improving Recognition of Venous Thromboembolism in the Outpatient Setting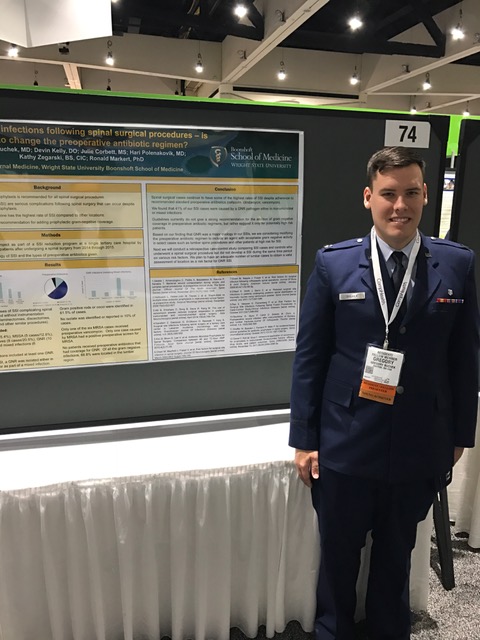 Captain Gregory Buchek: Surgical site infections following spinal surgical procedures - is it time to change the pre-operative antibiotic regimen?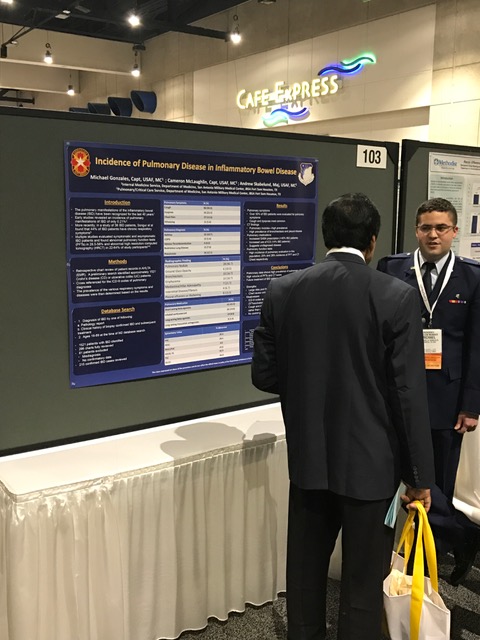 Captain Michael Gonzalez: Incidence of Pulmonary Disease in Inflammatory Bowel Disease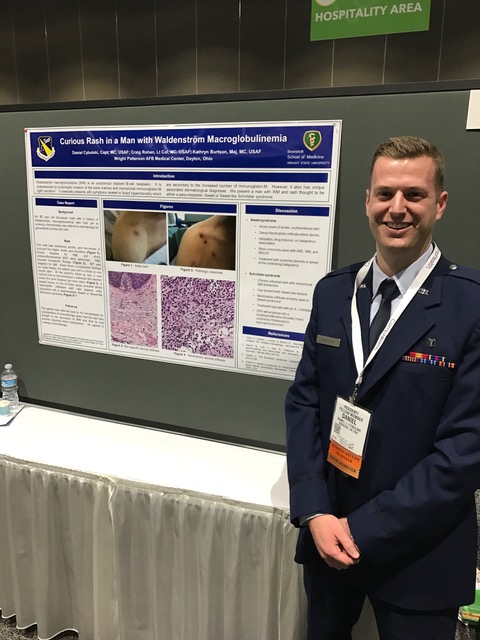 Captain Daniel Cybulski: Curious Rash in a Man with Waldenstrom Macroglobulinemia
Captain Joshua Fields: Disseminated Histoplasmosis Masquerading as Refractory Crohn's Disease
I would also like to recognize the very powerful break-out session led by Dr. Matt Schupe and Dr. Donna Schwabe. They hosted a Residents/Fellows Luncheon Forum titled "2017 It's Time to Talk about it: A Discussion on Burnout and Its Consequences" The personal testimonies and education content were top-notch and really bring to light the imperative to address resident suicide, to take care of our own health as we would do for our patients. Thank you Matt and Donna for talking about this critical issue!
---
Hot Topics
I. Maintenance of Certification (MOC)
ACP's relationship with ABIM is at a critical point given the heightened concerns about MOC among our members and in the media. ACP's view is that positive changes to MOC are most likely if we maintain an effective working relationship with the ABIM so that they listen when we bring to them the concerns we are hearing from members.
Provided below are talking points from the Board of Governor's meeting that convened before the annual meeting. In summary, efforts are underway to develop a potential society MOC pathway that ACP is discussing with ABIM:
–The American College of Physicians (ACP) is pleased to have been invited to work with the American Board of Internal Medicine (ABIM) to develop a society MOC pathway. We hope to create an additional MOC option that is valuable to physicians and patients, is convenient and flexible for busy physicians, and integrated with ongoing life-long learning that is relevant to daily practice.
–The new society maintenance pathway would be an alternative to other MOC pathways offered by ABIM, such as the current 10-ear secure exam or the 2-year approach that ABIM is developing. It would be anchored in the principles of continuous learning, and would include guided independent study, self-assessment, and evaluation - all based on ACP's Medical Knowledge and Self-Assessment Program (MKSAP).
–The society MOC pathway that ACP and ABIM are working together to explore would be offered by ACP, but ABIM would continue to be the certifier. ACP would attest to ABIM that a member has successfully completed the ACP pathway, which would satisfy ABIM's requirements for maintaining certification.
–Senior leaders and senior staff from ACP and ABIM have had recent meetings and made progress in working through the details of a potential society pathway and are hopeful that this progress continues. Feedback from ACP members and the internal medicine community is critical to the redesign of ABIM's MOC program.
II. Patients Before Paperwork
ACP has long identified reducing administrative complexities or burdens as a priority. Ongoing actions to achieve this goal have included developing and maintaining related policy, participating in various efforts to work to alleviate specific regulatory and insurance requirements, and eliminating other unessential tasks that detract from patient care and contribute to physician "burn-out" Published on March 28, 2017, the ACP position paper "Putting Patients First by Reducing Administrative Tasks in Health Care: A Position Paper of the American College of Physicians" reports policy recommendations to address the issue of administrative tasks to mitigate or eliminate their adverse effects on physicians, their patients, and the health care system as a whole. The paper outlines a cohesive framework for analyzing administrative tasks through several lenses to better understand any given task that a clinician and his or her staff may be required to perform. In addition, a scoping literature review and environmental scan were done to assess the effects on physician time, practice and system cost, and patient care due to the increase in administrative tasks. The findings from the scoping review, in addition to the framework, provide the backbone of detailed policy recommendations from the ACP to external stakeholders (such as payers, governmental oversight organizations, and vendors) regarding how any given administrative requirement, regulation, or program should be assessed, then potentially revised or removed entirely.
The article can be found here.
III. Physician Wellness and Resiliency
Recent data show that more than half of US physicians have symptoms of burnout. In response to this, ACP is in the midst of a multi-year effort to promote professional satisfaction, support physician wellness, and reduce burnout. In addition to successful and popular courses offered at national ACP Internal Medicine meetings on work-life balance, resilience, burnout, and wellness, there have been numerous events directed at promoting and supporting chapter-level programming. Numerous educational events have been held and will continue to occur to bring attention to this significant issue affecting our workforce. I anticipate that there will be more about this topic in my newsletters in the future as well as likely at our chapter meetings. For more information and resources consider going to this site.
IV. Internists as Specialists
A factor that contributes to an Internist's workplace dissatisfaction is the "lumping" of Internists into the mix of primary care providers. Internal medicine physicians are specialists who apply scientific knowledge and clinical expertise to the diagnosis, treatment, and compassionate care of adults across the spectrum from health to complex illness. Our training makes us distinct from providers in the primary care spectrum. As an area of interest, the ACP continues to hear feedback from us and our colleagues on making sure that payers, employers, and other recognize how our training distinguishes us.
---
Mark Your Calendar
7 - 9 September 2017 Air Force/Army ACP Chapter Meeting (Lackland AFB, TX)
19 - 20 October 2017 Ohio/Air Force ACP Chapter Meeting (Columbus, OH)
19 - 21 April 2018 ACP Internal Medicine Meeting (New Orleans, LA)