You are here
GOVERNOR'S NEWSLETTERJune 2014

---
---
From the Governor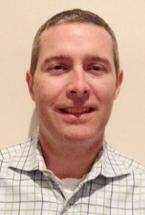 William N. Hannah, Jr, MC USAF, FACP, Governor
Having returned from Internal Medicine 2014 in Orlando, Florida, I am excited to update you on all the activities of the Air Force ACP chapter since the last newsletter in January 2014. Among networking with friends and colleagues and taking in the excellent educational sessions, I had the pleasure of walking at convocation with our Laureate Award Winner, Dr. Tom Grau.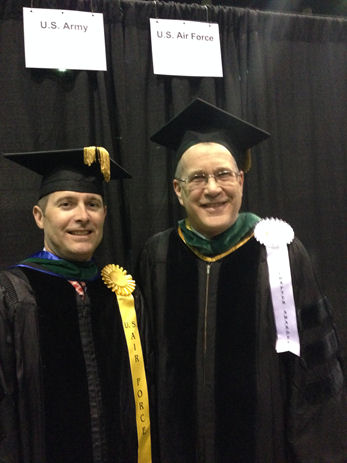 William Hannah and Tom Grau
In addition, the Air Force Chapter had several residents presenting in the poster competition at the national ACP meeting. Participants included: Captain Amada Deans, Capt Blair Laufer, Capt Lauren Lee, and Capt Spencer Motley (Arthur Grollman Award Winner - best resident research). All four represented the Air Force incredibly well and the quality of their presentations were obvious.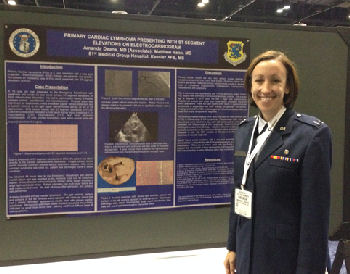 Capt Amanda Deans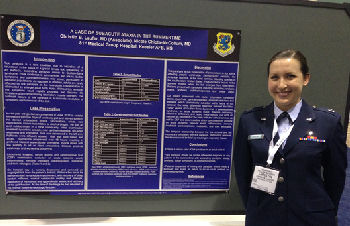 Capt Blair Laufer
Capt Lauren Lee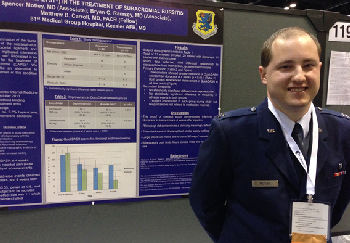 Capt Spencer Motley - 2013 Grollman Award Winner
Our chapter was well represented by our Doctor's Dilemma Team: David Anderson, Paul Hiles, and David Lindholm. For those of you who could not attend, the Air Force team made it to the semifinal round and only missed making the final challenge by a few points. Congratulations to them all.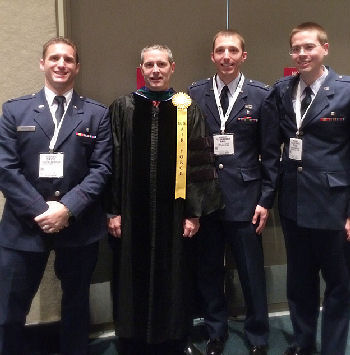 Left to right: David Anderson, William Hannah, Paul Hiles, and David Lindholm
Finally, in preparing our annual summary for the ACP, I would like to encourage anyone who interested to consider being a part of our leadership council. We have several opportunities for those who are interested in serving the chapter in any capacity. I am especially eager to add new faces to our council and those who have want to provide input to various chapter activities.
I am looking forward to another excellent year for the Air Force ACP chapter. While there remains significant uncertainly about our ability to host an independent chapter meeting due to non-federal entity restrictions and budget constraints, I am hopeful that we can continue our tradition of excellence through collaborations with other chapters, local early career activities, and continued resident competitions as we did this past year.
---
Congratulations to New Fellows
Fellowship is an honor achieved by those recognized by their peers for personal integrity, superior competence in internal medicine, professional accomplishment, and demonstrated scholarship.
The USAF Chapter recognizes and congratulates the following physicians who were elected to Fellowship in the College in the past 6months:
Capt Alice Barsoumian
Maj Peter Matthews
Maj Natascha Minidis
Maj Christopher Tessier
Maj Charla Tully
For anyone interested in applying for ACP Fellowship, please contact me.
---
Congratulations to New Members
We are proud to welcome the following members who have joined the Chapter during the past 6 months:
Dr. Yun Chong
Dr. Robert Hatcher
Lt Col Colleen Kersgard
Capt Samuel Nokuri
---
Air Force Chapter - 2014 John Tooker Evergreen Award
At the Awards Luncheon during the combined Board of Regents and Board of Governors meeting in Orlando, the Air Force chapter received the prestigious John Tooker Evergreen Special Recognition Award. The Evergreen Awards recognize outstanding chapter efforts as they strive to enrich, educate, and enlighten the membership while improving the recognition of ACP and chapter efforts at the local level. The Air Force chapter won the Evergreen Award in recognition for our collaborative efforts along with the Army and Navy chapters for hosting the first ever Tri-Service Chapter Meeting in Bethesda, Maryland.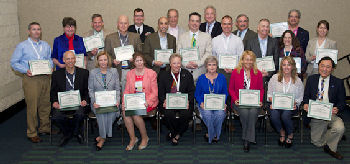 2014 Evergreen Award Winners (William Hannah, Air Force Governor, far left)
---
American Board of Internal Medicine - Maintenance of Certification Update
As you may be aware, numerous concerns and complaints about the Maintenance of Certification (MOC) requirements from the American Board of Internal Medicine (ABIM) have been expressed by the internal medicine community over a number of months. Although ACP is a totally separate organization from ABIM and has no jurisdiction over the MOC program, the concerns have often been conveyed to ACP with a request that ACP advocate strongly for significant reform in the MOC program - and even potentially for ACP to develop a parallel pathway to MOC. The ACP has not only heard the concerns, but is actively working to address these concerns and is exploring many options. In fact, this is currently ACP's #1 priority. For more information, please read the editorial in Annals of Internal Medicine that was recently released as an early online publication, co-authored by ACP's current Chair of the Board of Regents, the President, and the Chair of the Board of Governors. This editorial notes many of the issues that we have heard from members.
---
ACP Knowledge Resources for ABIM Recertification Modules
As a benefit of membership, ACP is pleased to provide direct access to the knowledge resources you trust most to assist you in the completion of the General Internal Medicine ABIM Recertification Modules.
We have compiled a specific collection of ACP knowledge resources for ABIM Recertification Modules. Simply select a module, then a section within that module, and you'll be connected instantly to ACP knowledge that will directly help you answer the question.
If you are a member of ACP, get started now. Please note that you will need to log in with your ACP username/password.
---
Are you using this free ACP Member Benefit?
JournalWise, a free, time-saving, ACP Member benefit, is a mobile-optimized service that screens over 120 internal medicine journals for the highest-quality, clinically relevant and newsworthy articles with custom criteria that you determine so that only the articles (and e-tocs) you want are delivered when and how you want them.
This short, 2-minute video shows you how set-up is quick, easy and free!
For more information and to sign-up, log in.
If you have any questions, please contact Tony Felicetti.
---
Call for Spring 2015 Board of Governors Resolutions
Are you concerned about a practice or clinical issue or have an idea you'd like to suggest? If so, you might consider submitting a resolution to your Governor or chapter council.
Initiating a resolution provides ACP members an opportunity to focus attention at the ACP national level on a particular issue or topic that concerns them. Participating in the Board of Governors resolutions process provides the ACP grassroots member a voice and allows you to shape College policy that impacts the practice of internal medicine. When drafting a resolution, don't forget to consider how well it fits within ACP's Mission and Goals. In addition, be sure to use the College's 2014-2015 Priority Initiatives to guide you when proposing a resolution topic.
If effecting change interests you, the deadline for submitting new resolutions to be heard at the Spring 2015 Board of Governors Meeting is September 24, 2014. Members must submit resolutions to their Governor and/or chapter council. A resolution becomes a resolution of the chapter once the chapter council approves it.
Not sure how to begin drafting a resolution? Researching the College's position on an issue can give you a start. Visit the ACP Online homepage and click the "Advocacy" link in the right-hand, top margin to access ACP policy positions, read about recent ACP advocacy activities, or search ACP's library of policies and recommendations. Visit your chapter website, too, and click the link under "Advocacy" to access Electronic Resolutions System (ERS) where you can search past or proposed resolutions. A copy of the resolutions process is available on the ERS, which furnishes more details on formatting resolutions, as well the process for submission, review, and approval.
Share your good idea with us. Draft a resolution.