| | |
| --- | --- |
| January 2014 | William N. Hannah, Jr, MC USAF, FACP, Governor |
---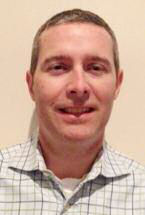 Greetings from San Antonio!
The Air Force chapter of the ACP has had a very productive Winter, but I am looking forward to the Spring and Internal Medicine Week 2014 in Orlando. I hope many of you will be able to make it to the National meeting April 10-12, 2014.
As many of you are aware, the new Air Force travel restrictions coupled with the non-federal entity (NFE) conference policy did not allow us to hold an independent Air Force Chapter meeting. Nevertheless, we were able to partner with the Texas Chapter and hold our own breakout session and enjoy the exceptional educational sessions and venue in November in San Antonio. I see our chapter partnering with other chapters in the future in such locations as Louisiana, Mississippi, and Ohio in addition to Texas to afford our members the same great benefits of our own chapter meeting.
At the same time, we were able to host our first-ever Early Career Physicians dinner program and highlight a session on High Value Care. Special kudos goes to Lavanya Viswanthan for arranging and planning this hugely successful event. I am hopeful we can have similar events in Dayton and Biloxi in the coming months to concentrate on our early career physicians in the chapter outside of San Antonio.
Many of our chapter activities which could not be handled through a meeting were accomplished on line. I am pleased to announce our 2 chapter award winners who will represent us at the national ACP meeting: Dr. Blair Laufer (clinical vignette) and Dr. Spencer Motley (clinical research). I can assure you of the quality of the competition, and I am certain we will be well represented in Orlando.
The SAUSHEC trivia team won the Doctor's Dilemma competition at the Texas ACP meting. As a result of their efforts, the team will represent both the Texas and Air Force chapters. The team is composed of: David Anderson, Paul Hiles, and David Lindholm.
Lastly, but certainly not least, I am honored to announce our 2013 ACP Laureate Awardee, Dr. Tom Grau. Please take the opportunity to read his bio sketch and forward your congratulations to him. I plan to see him at the national meeting and officially present his award at that time.
I wish the best to everyone in the coming months and hope to see you in Orlando.
---
2013 Air Force Chapter Laureate Awardee
Thomas C. Grau, MD, FACP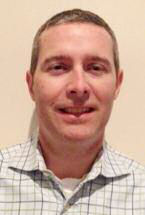 Thomas C. Grau, MD, FACP is a native of Oakhurst, New Jersey where he graduated from Ocean Township High School. He then attended Muhlenberg College in Allentown, Pennsylvania graduating with a BS in Chemistry in 1982. Dr. Grau attended UMDNJ-Rutgers Medical School where he earned his doctor of medicine degree. He was commissioned in the Air Force under the Health Professions Scholarship Program in 1983. He completed his residency in Internal Medicine at Presbyterian- University of Pennsylvania Medical Center in 1989 and stayed an additional year to serve as Chief Medical Resident.
After completing his year as Chief Resident, Dr. Grau entered active duty as an Air Force physician. He spent three years as a general internist at Davis-Monthan AFB in Tucson, Arizona. During that time, he also served a teaching faculty for the University of Arizona College of Medicine. In 1993, Dr. Grau was assigned to Andrews AFB, where he served as Chief of General Internal Medicine. He was an active teacher, instructing students from the Uniformed Services University (USU) and Family Medicine residents at Malcolm Grow Medical Center. In 1997, Dr. Grau was transferred to Wilford Hall Medical Center (WHMC) in San Antonio, Texas where he stayed for the next 11 years. Dr. Grau served in a number of academic leadership positions at WHMC including Site Director for the USU clerkship, Chair of the Internal Medicine residency education committee and Chief of the Division of General Internal Medicine. From 2004 to 2008, he served as the Internal Medicine Residency Program Director overseeing a program of 57 residents. During his tenure at WHMC, Dr Grau was deployed to Balad, Iraq where he served as the Chief of the Medical Staff at for the 332nd Expeditionary Medical Group from May to September of 2007. Dr. Grau completed his Air Force career by serving as the Chief of Air Force Physician Education from 2008 to 2012. In that position, he oversaw 53 graduate medical education programs at eight Air Force bases.
After retiring from the Air Force in 2012, Dr. Grau joined the faculty at the University of Pittsburgh School of Medicine. He is an Associate Program Director for the UPMC Internal Medicine residency, overseeing the residency track at UPMC Shadyside.
Dr. Grau became a Fellow in the American College of Physicians in 2001 and was very active in the Air Force ACP chapter throughout his career. He served on the Air Force ACP Board of Governors from 2001 to 2007. He was a member of the planning committees for Air Force regional ACP meetings in 2000, 2002 and 2004 and served as the Program Chair of the 2006 meeting. Since retiring from the Air Force, Dr. Grau has continued his involvement with the ACP, serving as Program Chair for the Western Pennsylvania ACP regional poster competition in 2013.
Dr. Grau has won numerous teaching awards throughout his career. He is a trained facilitator of the Stanford University Faculty Development Program and has given faculty development workshops at numerous military and civilian medical centers. He is a member of the Association of Program Directors of Internal Medicine and the American College of Physicians. Dr. Grau is married to Anne Marie Grau and they have three children, Matthew (25), Joseph (24) and Emily (20).
---
Early Career Physicians
Lavanya Viswanathan, Council of Early Career Physicians
On behalf of ACP and the Council of Early Career Physicians, I hope this finds you all in good health and good spirits. This past quarter has been extremely busy and productive. The Air Force chapter of Early Career Physicians hosted its first High Value Care event in November, with the focus on educating our young physicians more about the topic. Dr. Hannah was instrumental in procuring funding for this event, which was held at Perry's Steakhouse and attended by over 70 members! Our speakers included John Hornbeak, retired CEO of Methodist Healthcare System and current faculty at Trinity College, and Bill Connolly, COO of WellMed Management, Inc. I would like to thank the University of Texas San Antonio and WellMed staff who added to our robust discussion. Our residents found this program especially useful in directing them to helpful resources to help implement high value cost conscious measures in their daily medical practice. It's hard not to smile when overhearing statements like, "Do we really need that CT scan?" while walking through our residency program. I encourage my fellow Air Force physicians to continue being health care leaders and lead by example by adopting this important concept. We hope to continue this discussion and host similar high value care programs in the future.
With the new year comes new innovative ACP Webinar programs. Please join us in our Early Career Physician Leadership Webinar on February 4, 2014 from 7-8pm EST. This will be moderated by Dr. Angela Johnson, Chair, CECP, along with various chapter leaders who will discuss successful programs for Early Career Physicians as well as direct our members to useful resources. Please sign up by January 30, 2014.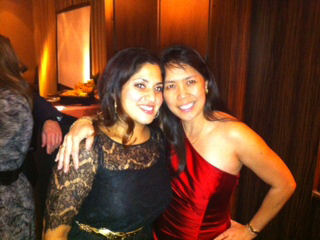 Lavanya Viswanathan and Rechell Rodriguez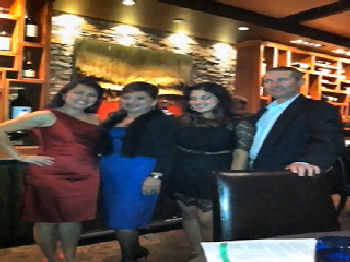 Rechell Rodriguez, Regina Cerna, Lavanya Viswanathan and Bo Hannah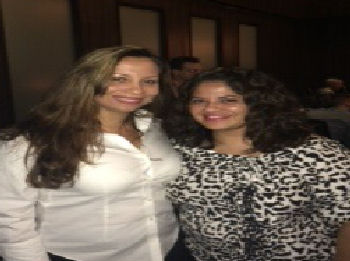 Dianne Frankel and Lorena Rodriguez
---
Introducing ACP Smart Medicine
ACP's new web-based, mobile-optimized clinical decision support tool
The American College of Physicians has released ACP Smart Medicine, a web-based clinical decision support tool developed specifically for internal medicine physicians containing 500 modules that provide guidance and information on a broad range of diseases and conditions.
Integrated with content from Annals of Internal Medicine, ACP JournalWise, and ACP's clinical practice guidelines with a display that automatically adjusts to desktops, smartphones, and tablets, the clinical recommendations in ACP Smart Medicine are evidence-based and rated based on the quality of the underlying evidence. Information is continually updated through triggered updates with new, relevant content and guidelines. Additionally, ACP High Value Care recommendations identify care activities that offer little benefit to patients.
ACP Smart Medicine also offers easy access to submit for CME credit. Physicians can select modules from the list of content areas they have reviewed, answer a question, and submit for CME credit.
ACP Smart Medicine is available as a free benefit to ACP members and can be purchased by non-members.
---
Updated Version of High Value Care Curriculum Now Available
ACP has released a new version of its High Value Care Curriculum, an instructional program jointly developed by ACP and the Alliance for Academic Internal Medicine to train physicians to be good stewards of limited healthcare resources.
The original 10-hour program, released in July 2012, has been updated and condensed into a 6- hour program, based on user feedback. The new version includes multimedia content and a toolbox for program directors so they can measure curricular impact and individual resident performance in high value care. The six 1-hour sessions include:
Eliminating Healthcare Waste and Over-ordering of Tests
Healthcare Costs and Payment Models
Utilizing Biostatistics in Diagnosis, Screening and Prevention
High Value Medication Prescribing
Overcoming Barriers to High Value Care
High Value Quality Improvement
The curriculum is FREE.
---
New Members-Only Program: ACP Leadership Academy
In October 2013, ACP launched the ACP Leadership Academy to provide internists with training and resources specific to leadership in a healthcare setting. The Academy mainly focuses on preparing early career internists for leadership roles, however it also offers opportunities for existing leaders to enhance their skills or refresh their knowledge.
Partnership with an Industry Expert
The primary component of the ACP Leadership Academy is formal education offered in partnership with the American College of Physician Executives (ACPE). Steep discounts are provided to ACP members on select courses, including strategic thinking, financial decisionmaking, managing physician performance, and more. Offered in a variety of formats, these courses offer opportunities to build your CV, earn CME, and even roll coursework into either a certificate program or a master's degree. To learn more or to register.
Building on the ACP Brand
An additional component of the Academy is the ACP pre-course offered during Internal Medicine 2014, "The Art of Leadership". Focusing specifically on leadership within internal medicine, precourse topics include management skills, building effective work teams, and more. To register.
Moreover, ACP is working on additional programs and resources, including live local workshops and online modules.
Enhance Your Skills Locally
Don't forget - you can always hone your leadership skills further by participating in and leading local chapter committees. Contact us if you are interested: William N. Hannah, Jr, MC USAF, FACP Governor, ACP Air Force Chapter.
For more details about the ACP Leadership Academy, including updates to program offerings
---
Upcoming Meetings & Events
Spotlight on ACP's Educational Solutions
Internal Medicine 2014 will be held April 10-12 in Orlando, FL.
Choose from more than 200 CME courses in internal medicine and the subspecialties presented by faculty unsurpassed in their fields.
Register Now
---
New, Free CME is available from Annals of Internal Medicine!
Introducing The Consult Guys! A unique and entertaining way to earn FREE CME from Annals of Internal Medicine!
The Consult Guys make learning a pleasure!
Hosted by Geno Merli & Howard Weitz, two, seasoned clinicians, educators, and comedians who answer questions from preoperative evaluations to clinical puzzlers. Each episode reviews topics essential for anyone practicing internal medicine or its subspecialties.
Enjoy, learn, and laugh while Geno and Howard entertain and teach you on their medical consult talk show:
Watch the videos and then take the companion CME quizzes
ACP Members and Annals subscribers can earn .5 CME credit per quiz. Nonmembers can purchase tokens for CME.
2 premier episodes are available now.
Episode 1: Cleared for Surgery? Perioperative Risk Assessment
Episode 2: Stumper: A 23 year old with a myocardial infarction - will you get the right diagnosis?
Tune into a new episode each month