You are here
U.S. Navy Governor's Newsletter June 2016
U.S. Navy Governor's Newsletter June 2016

---
---
CAPT Michael P. Keith, MC USN, FACP, ACP Governor
---
Governor's Update
An unusually wet May in Washington greeted attendees of Internal Medicine 2016. I'm proud to report the Navy Chapter was well-represented at multiple levels at the meeting. CAPT(Ret) Brooks Cash served on the scientific planning committee, LCDR Brent Lacey served as the emcee for Doctor's dilemma, and several former Governors were in attendance.
At both the chapter and national levels, I am always impressed by the wonderful networking that occurs within the college. For example, the chapter co-hosted a reception with the Ohio and other military service chapters. It was networking across the Board of Governors which got us there. Now it's not much of a stretch of the imagination to discern how we came to co-host with the Army and Air Force chapters. But how did we connect with the Ohio Chapter? The Ohio chapter had parterned with the AF chapter in its meeting last year and was looking for other ways to partner with other chapters. The Ohio Governor is one of my Governor 'classmates' and when he extended the invitation, I naturally accepted. I'm pleased to note how large a success the reception was. It brought together several generations of military physicians and facilitated mentoring, learning about paths to fellowship, and catching up with old friends, including some that are no longer in the service but still feel ties to their colleagues on active duty. Thanks to everyone who was able to attend and contribute to its success.
The word success leads me to succession. I'm only at the end of the first year of my term; however, the ACP is already reminding me that the process of choosing a new Governor will begin in earnest toward the end of my second year. If you or someone you know is interested, please have them contact me.
---
Convocation 2016
The Annual Convocation ceremony took place on Thursday evening May 5th at Internal Medicine 2016. I had the pleasure of marching with 4 New Fellows from our chapter:
Scott Asakevich, MD FACP
CDR Sean McKay MC USN FACP
LCDR Scott Parrish MC USN FACP
LT Andrew Philip MC USN FACP
It was great to visit with CAPT(ret) Angeline Lazarus who sponsored 3 of the 4 fellows present to march in the assembly.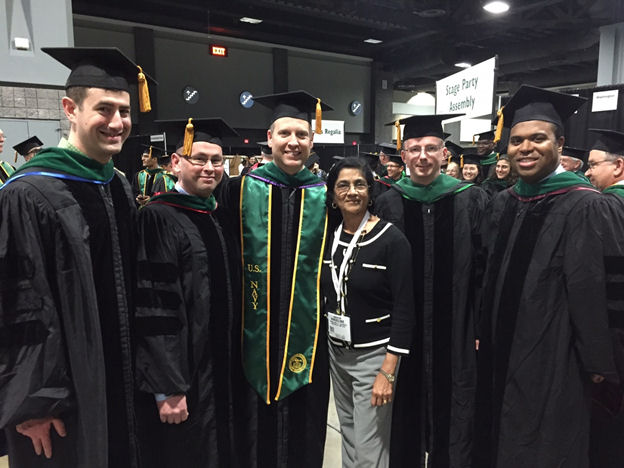 ---
Membership Update
It's been a good year for membership in our chapter. As of June 2, 2016 we have 8 Masters, 250 Fellows, 174 Members, and 138 Resident/Fellow Members. There are also over 200 student members associated with our chapter. Almost 90% of our membership is current with their dues. This is well above the national average and the average for similarly sized chapters. Thank you for your continued support of the chapter and the ACP.
An important milestone in membership is election to fellowship in the college. Congratulations to all our Members elected to fellowship in the last 6 months.
LCDR Laura Artabazon
LCDR Jonathan Bolanos
LCDR Andrew Kellermann
LT Andrew Philip
I'd also like to recognize the sponsors who nominated and provided letters in support of these New Fellows.
CAPT Joseph Sposato
LCDR Sam Gao
LCDR James Fletcher
Jeffrey Cole, MD, MACP
Angeline Lazarus, MD, MACP
CAPT William Shimeall
CDR Antonio Rodriguez
If you have questions about your own advancement or would like to sponsor a member's application to fellowship, please contact me at michaelpkeith@gmail.com
---
Resident Activities Internal Medicine 2016
Doctor's Dilemma
Team Naval Medical Center Portsmouth captured the Admiral's cup and earned a berth in the annual Doctor's Dilemma competition. Our chapter was represented by the team of LT James Prim, LT David Oliver, and LT Derek Larson. The team almost pulled off a comeback late in their first round match against stiff competition but unfortunately was eliminated. You can watch team NMCP in action at our chapter's next annual meeting as they defend against teams from WRNMMC and NMCSD.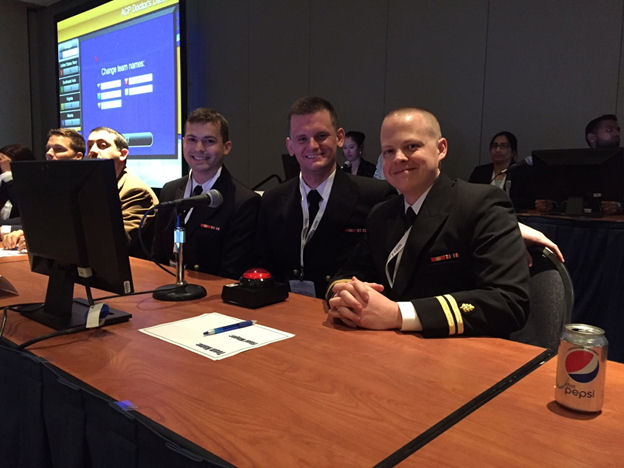 Associate Poster Competition
The Chapter was well represented by our resident/fellow members in the poster competition. I'm proud to report we had ten poster presenters at Internal Medicine 2016. An impressive 8 of our resident members were winners in the national abstract competition that was adjudicated prior to IM 2016.
Research Posters
LT Christina Jamros: "Anal Cancer Screening with High Resolution Anoscopy in HIV positive Men who have Sex with Men at a US Department of Defense Infectious Diseases Clinic "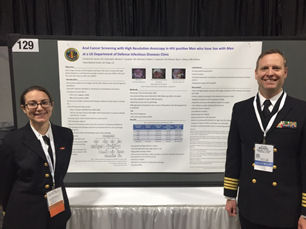 LT Brett Sadowski: "Leadership Training in Graduate Medical Education: A Systematic Review"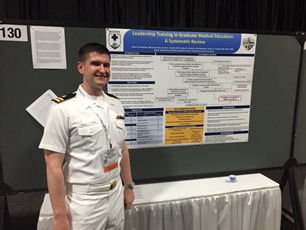 Clinical Vignettes
LT Clete Barrick: "A Zebra with Plucked Chicken Skin: a Rare Connective Tissue Disorder"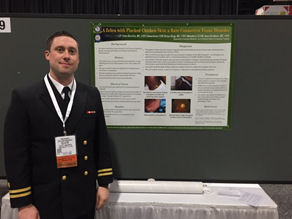 LT Dean Drizin: "Chylothorax: An Unusual Type of Pleural Effusion"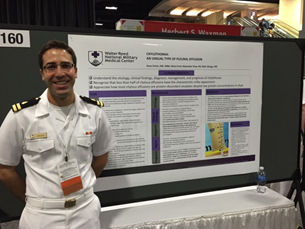 LT Laura Gilbert: "POEMS Syndrome: A Debilitating Systemic Disease and a Road Less Traveled by Internists"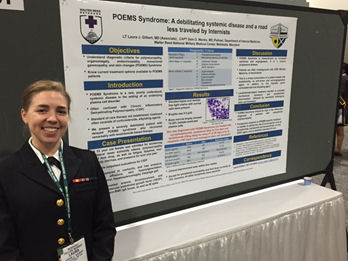 LT Ian Grasso: "Systemic Lead Toxicity Due to a Retained Extra-Articular Gunshot Fragment"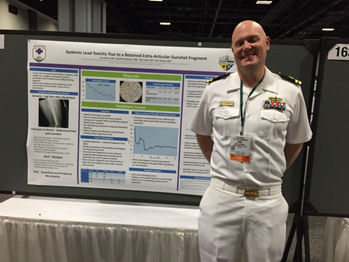 LT Allison Lane: "Ehrlichia-Induced Hemophagocytic Lymphohistiocytosis Causing Multi-System Organ Dysfunction"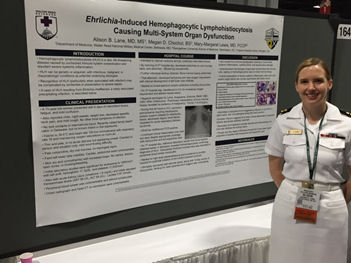 LT Patrick Moon: "Ex-Spleening A Rare Diagnosis: Disseminated Aseptic Abscesses as a Presentation of Ulcerative Colitis"
LT Michael Skaret: "Leptospirosis: A Dangerous Diagnosis to Miss"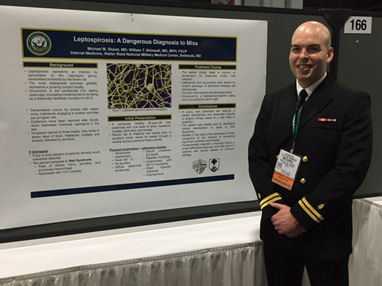 LT Ayeetin Azah: "Rare Squared – An Extragondal Germ Cell Tumor in a Patient with a Mitochondrial Disorder"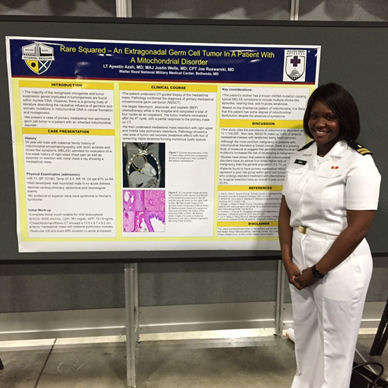 ---
Updates from the College
ACP Issues Urgent Call to Action on Climate Change
In the paper, "Climate Change and Health: A Position Paper of the American College of Physicians, " published April 19 in the Annals of Internal Medicine, ACP urges physicians and the world health care community to engage in environmentally sustainable practices that reduce carbon emissions; to support efforts to mitigate and adapt to the effects of climate change; and to educate the public, colleagues, community, and lawmakers about the health risks posed by climate change.
ACP Develops Safe Opioid Use Resources and Supports CDC Guideline
In response to public health concerns over the adverse impact of opioid misuse, ACP has developed new patient education resources related to chronic pain management and safe opioid use.
ACP also issued a statement of support for the recent Centers for Disease Control and Prevention (CDC) Guideline for Prescribing Opioids for Chronic Pain. The CDC included a number of ACP recommendations made in response to a mid-January draft CDC guideline, including acknowledgment of the current limited, but emerging evidence related to the treatment of pain using opioids, recognition of individual patient needs, and recognition of coverage and workforce barriers to approaches to non-opioid treatment of pain.
Cognitive Behavioral Therapy Recommended as Initial Treatment for Chronic Insomnia
Cognitive behavioral therapy for insomnia should be the first-line treatment for adults with chronic insomnia, ACP recommends in a new evidence-based clinical practice guideline published on May 3 in Annals of Internal Medicine.
---
Save the Date
Save the date for our next Chapter Meeting which will be hosted by Naval Medical Center Portsmouth on 13 and 14 January 2017. The full agenda is being worked out at present but we hope to offer around 10 CME credits and Doctor's Dilemma.
---
Contact Information
Michael Keith, MD, FACP
CAPT MC USN
Governor
US Navy Chapter