You are here
GOVERNOR'S NEWSLETTER January 2016
GOVERNOR'S NEWSLETTER January 2016

| | |
| --- | --- |
| January 2016 | CAPT Michael P. Keith, MC USN FACP |
---
---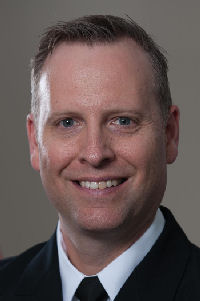 CAPT Michael P. Keith, MC USN FACP, ACP Governor
From the Governor
Happy New Year! 2015 was a good year for the chapter and 2016 promises to continue along the same course. The chapter received amazing support in the planning and execution of its annual meeting from its members. I was overwhelmed by the interest the meeting generated and the feedback I received following its adjournment. Membership is growing which is vital to the future success of our chapter. Though covering a huge geographic area with the worldwide posture of Navy medicine, our membership numbers are relatively small compared to the average chapter size. In the absence of support outside the college, I can't stress the importance of each member of our chapter. Every member of our chapter has something to contribute whether it is to serve on a committee, judge associate abstracts, provide a CME lecture, or simply continue to pay chapter dues and remain active on the chapter's and college's membership rolls.
A bit more on chapter dues- Your chapter dues are vital to the ongoing financial health of the chapter. They are collected on our behalf by ACP with your annual dues payment and returned periodically to the chapter during the fiscal year. Without them the chapter will be unable to support resident and student activities, support travel for chapter winners to attend the national meeting, or cover the expenses of the chapter's annual meeting. If you are current with your dues - thank you! Encourage your colleagues around you to renew their memberships or join the college. If you are not current, I highly encourage you to pay your dues and remain an active member of our chapter and the college. As always, I welcome your thoughts and opinions.
Michael Keith, MD FACP
michaelpkeith@gmail.com
---
Membership Update
I recently received a membership update from our chapter liaison. Total membership has increased since I last received a report from the college. As of January 2016, the chapter has a total membership of 796, up from 758 in October 2015. We have 8 masters and 252 fellows. 'Big M' members number 191, an increase from 178 around the time of my last newsletter. The chapter letter saw its largest growth in resident/fellow members up over 14% to 132 and medical student members up over 9% to 213 members. I encourage each member to make sure the college has your current contact information including email and mailing address. The customer service department can help you with any changes: 1-800-523-1546, x2600.
Deliquent dues 'drops' will occur in February 2016. If you are in this category and want to know what to do to preserve your membership, please contact me.
New Fellows
Over the last 6 months, seven members were elected to fellowship. Our new fellows include:
LCDR Mary Andrews, MC, USN, FACP
CAPT Robert Browning, MC, USN, FACP
LT Edgar Gonzalez, MC, USN, FACP
LCDR Brooke Hooper, MC, USN, FACP
LCDR Andrew Kellerman, MC, USN, FACP
LCDR Jeffrey Levine, MC, USN, FACP
CDR Gregory Matwiyoff, MC, USN, FACP
Congratulations to our new fellows and thanks to their sponsors for their nominations!
---
Navy Chapter 2015 Meeting
The chapter held its annual scientific meeting on December 4 and 5, 2015 on the grounds of Naval Support Activity Bethesda. Activities on Friday the 4th took place in the Sanford auditorium of Uniformed Services University. Highlights from Friday include the plenary address from outgoing surgeon general, VADM Matthew Nathan, MC, USN, FACP. Immediately following his address, Dr. Nathan was presented with the chapter's Laureate Award. Angeline Lazarus, MD, MACP was recognized with the Centennial Legacy Award. These award presentations were followed by the resident's abstract competition featuring podium and poster presentations. Continuing medical education talks on a wide variety of topics and a simulation workshop rounded out the day's activities.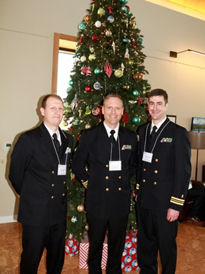 Navy ACP Planning Team (L to R): LCDR Casey Flanagan, CAPT Michael Keith, LCDR Andy Philip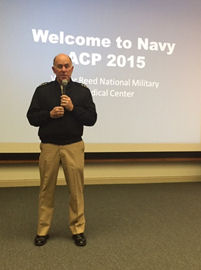 VADM Matthew Nathan kicking off Navy ACP 2015
Saturday featured Doctor's Dilemma, held before a standing room only crowd at the USO. Each training program center was well-represented by its team and its cheering section. Special thanks to COL William Kelly from USU-SOM for emceeing the competition and LT Ben Vipler, WRNMMC Chief Resident, for overseeing the production of the questions and answers. The competition was fierce but in the end victory belonged to Team Naval Medical Center Portsmouth. Congratulations to program director CAPT Joe Sposato and his winning team of LT James Prim, LT Derek Larson, and LT David Oliver who hoisted the admiral's cup in victory. This team will represent the chapter in the national Doctor's Dilemma competition at the upcoming annual ACP meeting in Washington, DC, May 2016.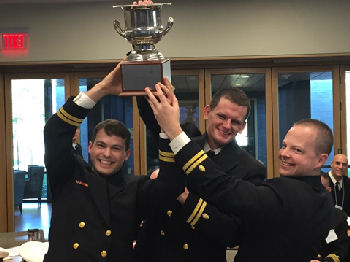 NMC Portsmouth's winning jeopardy team
Saturday's session also featured a career/mentoring panel by senior members of the chapter and an update on Navy Internal Medicine provided by CDR Tim Quast. The meeting concluded with chapter awards outlined below. Thanks to CDR Rachel Lee (chair) and the rest of the awards committee for compiling and adjudicating all the award nominations.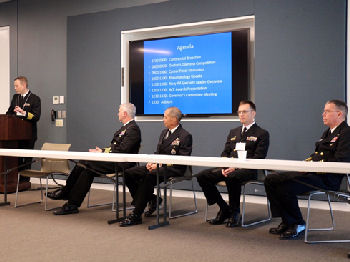 Panelists from L to R: CAPT Chris Culp, RADM Colin Chinn, CAPT John Gilstad, and CAPT Jeff Timby
2015 Chapter Award Winners
Laureate Award: VADM Matthew Nathan
Centennial Legacy Award: CAPT(ret) Angeline Lazarus
Sparks Award: LCDR Andrew Kellermann (NH Lejeune)
Master Teacher Award: CDR Ryan Maves (NMCSD)
Young Leader Award: LCDR Kristina St. Clair (NMCP)
Volunteerism Award: LT Bradley Davis (NH Beaufort)
Winning Podium Presentation: Clinical Vignette: LT Ian Grasso (WRNMMC)
Winning Podium Presentation: Clinical Research: LT Christina Jamros (NMCSD)
2015 MTF Award Winners
NMCP Resident of the Year: LT Clete Barrick
NMCP Staff Teacher of the Year: LCDR Justin Lafreniere
NMCSD Resident of the Year: LT Joni Bartlett
NMCSD Staff Teacher of the Year: LCDR Nancy Miller
WRNMMC Resident of the Year: LT Nicholas Fiacco
WRNMMC Staff Teacher of the Year: LCDR Mary Andrews
Congratulations to all our awardees!
---
News from the College
Dragon's Lair: Breathing Fire Into Health Care Transformation is now accepting applications for IM 2016!
Thanks to LCDR Mark Tschanz, MC USN FACP, member of the Council of Early Career Physicians (CECP) for bringing this to my attention for inclusion in this newsletter.
This "Shark Tank"- themed competition will showcase the best transformative ideas in the areas of:
Patients Before Paperwork
High Value Care
Finding Joy in Practice
Improving Medical Education
Meaningful Use of Technology
Deadline to submit is February 15, 2016.
Selected finalists will present their ideas in front of a live audience and a distinguished panel of judges at the Internal Medicine Meeting 2016 in May in Washington, DC.
Winner will receive $5000 in funding for project development, implementation, and mentorship from senior leaders. All finalists are eligible to receive mentorship, meeting registration, and travel funds.
For questions regarding this event, contact Daisy Smith or Joanne Ey.
Think you've got what it takes to transform health care? Then enter the Dragon's Lair!
Please feel free to distribute this information to anyone that may have a project eligible for submission.
ACP and non-ACP members are welcome to apply.
ACP Offers Patient FACTS - Resources for Common Health Conditions
Patient FACTS, a patient-tested educational series designed to help patients and their caregivers increase their understanding of common health conditions, are available in both English and Spanish at no charge for all physicians and patients in PDF format. Select topics are available to order in print by calling ACP Customer Service at 800-523-1546, extension 2600.
ACP and Consumer Reports Release New Series of Patient-centered Articles on Health Topics
ACP and Consumer Reports have collaborated on a series of High Value Care resources designed to help patients understand the importance of seeking appropriate care in order to maximize value and live a healthy life. Topics include: the importance of adult immunizations; how to manage your health by knowing your numbers such as blood pressure and which health screenings to get: and the most appropriate setting to seek care when you're sick or healthy. For a complete list.
Free Access to DynaMed Plus™ for ACP Members
As of August 3, 2015, ACP members will have free access to DynaMed Plus™, a new evidence-based point-of-care clinical reference tool that provides answers to clinical questions quickly and easily.
---
Chapter Excellence Award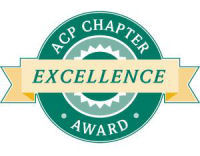 The Navy Chapter received the Chapter Excellence Award for 2015. This award recognizes chapters which successfully meet the standards for managing a chapter. In order to achieve the Chapter Excellence Award, chapters must meet all basic criteria and seven optional criteria. Criteria include such activities as formulating an effective Governor's Council and committees, communicating frequently with membership, providing educational opportunities, recruiting and advancing members and celebrating membership through local awards.
---
Future Dates
IM 2016: The 2016 National Meeting will be held in Washington, DC on May 5-7, 2016. If you are considering attending IM16 go here for more information. Stay tuned for updates on a chapter reception in partnership with the Ohio, Army, and Air Force Chapters at IM 2016.
Navy ACP 2016: Naval Medical Center Portsmouth will be the host site for our 2016 chapter meeting. Tenative dates for an in-person meeting are all day 13 - 14 January 2017.