You are here
Governor's Desk March 2014
Governor's Desk March 2014

| | |
| --- | --- |
| March 2014 | CAPT Mark L. Dick, MD, FACP |
---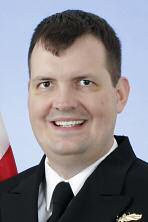 Governor's Desk
Everything flows, nothing stands still.
- Heraclitus
Less than 1 month until Internal Medicine 2014 in Orlando and I hope even less time until Spring. A lot of changes have occurred over the fall and winter: Open enrollment for Obamacare, standing up of the Defense Health Agency, opening of the new, award-winning Naval Hospital Camp Pendleton, and implementation of the small hospital project. The Chapter held its first virtual meeting hosted by Naval Medical Center Portsmouth. The 2013 virtual chapter meeting may not have been as monumental change as the others, but feedback regarding the format will clearly effect our professional medical home and community collegiality in the future.
Over the next 6 months, another big change is on the horizon of American Medicine with the implementation of ICD-10. I would encourage you to read The Washington Post article When Squirrels Attack There's A Medical Code for That to get an idea of the impact of the near quintupling of codes. A small sample of commonly used ICD-10 codes can be found here to give you an idea of some of the changes. The College has put together a list of resources to help Internists with the October 1st implementation of ICD-10.
Recently, I have been asked about what it means to be a Navy Internist. I think of our Service's sea origin were interdependence on our shipmates, independence from remote shore, and mobility are our cornerstones. The defining of Internal Medicine and carving out its role in primary care is a nation-wide challenge. We a struggle to separate ourselves from Family Medicine and between physicians and mid-levels in cost- constrained, team-based health systems. In the late summer, the College launched the Defining Internal Medicine campaign. I think this Internal Medicine word cloud captures the complexities of modern Internal Medicine and serves as a great starting point for discussing the complexity of our specialty. The campaign's simpler tag lines are "I Think, Therefore I.M" and "I.M. Your Doctor's Doctor".
When we entered the Profession of Medicine, we dedicated ourselves to a career of service and life-long learning. Over the past 6 months, I was reminded that some of my best lesson are learnt sitting at the bedside of a sick family member. The noise and machinations of the business of medicine with its accompanying voluminous administrative burden frequently crowd out the patient in the center. I learned that appropriate, coordinated care of the medically-complex, chronically ill is probably the most-valued, difficult to find clinical skill. This skill is our foundation.
One of the best parts of being Navy Governor is all of the bragging that I get to do about our accomplishments. The past several months have been exceptional. CAPT Jeff Cole was selected for Mastership. Dr. Mark Tschanz, currently Senior Medical Officer of the USS ESSEX(LHD-2), was selected as the for a 3-year term on the Council of Early Career Physicians(CECP). RADM Christine Hunter was selected to serve on the ACP's Medical Practice and Quality Committee. Dr. Evan Bilstrom had a prose piece, Boots on the Ground, published in the On Doctor section in November 5th Annals of Internal Medicine.
Kudos the NMCP Internal Medicine Residency! They had seven resident research abstracts selected for presentation at the Virginia Chapter research competition out of 144 submissions from EVMS, UVA, VA Tech-Carillion, and VCU. LT James Prim (PGY-1) took 2nd place for "Carney Complex and Cushing's Syndrome in Pregnancy". LT Amie Harvey (PGY-2) took 4th for "Liver Klebisella: An Emerging Pathogen in Infectious Disease". The NMCP "Medical Jeopardy" team of LT's Weiner, Harvey, and Prim won the Virginia's Doctor's Dilemma. NMCP team and LT Prim poster will be representing the Virginia Chapter at Internal Medicine 2014. Special thanks to CDR Gentry, CDR Galitz, LCDR Daily, and MAJ Glasser for mentoring the presenters.
I have included other links in the newsletter involving changes at the College and member benefits. In September, Pier was replaced by Smart Medicine. The LEAD program has been phased out and replaced with the Leadership Academy.
Hope to see you in Orlando!
---
Soliciting Nominations for Chapter Treasurer
With the selection of Michael Keith as Governor, the Chapter is looking for a new Treasurer. The only absolute requirement is the Treasurer be a Fellow of the College. Previous experience as a treasurer is welcome, but we are happy to show the selectee the ropes. If you are interested, please submit a letter of interest to myself, by April 8th. If you have any questions about the job, Dr. Keith or myself are happy to answer them.
---
Paul Florentino Memorial
The ACP Governors Class of 2015 has organized a memorial for Paul Florentino in honor of his service to the Virginia Chapter and American College of Physicians. The memorial is the Harvey Cardiopulmonary Simulator in the Waxman Skills Center at the Internal Medicine 2014 meeting and beyond. The memorial was felt to be very appropriate in honor of Paul's many years of exceptional teaching.
The memorial plaque will read:
The sound equipment of the Harvey cardiopulmonary simulator is supported by a grant to the American College of Physicians in memory of Paul Florentino, MD, FACP, by his fellow Governors of the Centennial ACP Class of 2015, and his colleagues and friends in Virginia, the Navy, and throughout the American College of Physicians. Paul Florentino, 1955-2011, is remembered for clinical excellence and dedication to Internal Medicine. He served as an Air Force Flight Surgeon, faculty and specialist in pulmonary and internal medicine at the Uniformed Services University of Health Sciences, Deputy Commander of Medical Services, and Governor of the Virginia Chapter of the ACP. His clinical expertise, knowledge, integrity and compassion are memorialized in this gift to contribute to the continuing education of his fellow physicians.
If you would like to make a tax deductible contribution to this memorial, the donation address is below. Checks may be made out to the ACP (on the memo line write Florentino fund).
Mary Bieter
Governor and Chapter Activities Department
American College of Physicians
190 N. Independence Mall West
Philadelphia, PA 19106
---
2013 Chapter Meeting
The 2013 Chapter meeting was hosted by NMC Portsmouth broadcast via teleconference to Walter Reed National Military Medical Center, Naval Medical Center San Diego, and Naval Hospital Jacksonville. I would like to thank the meeting committee,--LCDR Kristina Kratovil(NMCP), LCDR Amanda Hooper(NMCP), LCDR Karen Kaufman(NMCP), LCDR Elexis McBee(WRNMMC), and CDR Robert Carpenter(CDR)--for a very successful, innovative meeting. I would particularly like to single out NH Jacksonville for taking the time out of their schedule to join us.
Attendees heard 4 State of Science lectures on hot topics in military medicine gaining up to 4 hours of CME. LT Karl Nadolsky (WRNMMC) presented "Update on Obesity Pharmacology". LTC Todd Villines (WRNMMC) delivered "The Current Status of Novel Anticoagulants for Stroke Prevention in Atrial Fibrillation". LCDR Octavian Adam (NMCP) lectured on "A Review of Traumatic Brain Injury". The meeting was capped off with CAPT Alfred Shwayhat updating us on "Hypogonadism: Evaluation, Diagnosis and Treatment for Primary Care Providers"
During the virtual meeting, an abbreviated housestaff competition was held with research and clinical vignettes from each of the medical centers.
Original Research:
1st Place: Cost Effectiveness Analysis of Reverse Syphilis Screening in US Military HIV Population, LT Kristi Stone-Garza, MD (NMCSD)
2nd Place: The Utility of Peak Flow Meters in the Management of Asthmatics Receiving Allergen Immunotherapy: A Retrospective Chart Review,
LT Andrew Biggs, DO (WRNNMC)
Clinical Vignettes:
1st Place: A Worm in the Works: Neurocysticercosis as a cause of Migraines LT Derek Larson, DO (NMCP)
2nd Place: Acute cholestatic liver injury and rash associated with a weight-loss supplement in an active duty soldier LT Andrew J Spiro, MD (WRNNMC)
3rd Place: A Case of Isolated Cryptococcal Osteomyelitis with Previously Undiagnosed CD4 Lymphocytopenia: The Risks of non-FDA Approved Therapy LT Kristi Stone-Garza, MD (NMCSD)
There was no Doctor's Dilemma competition this year. The chapter will be represented at IM2014 by an All-Navy team comprised of:
LT Richard Bower - Naval Medical Center San Diego
LT Ben Vipler - Walter Reed National Military Medical Center
LT Haydar Aleid - Naval Medical Center Portsmouth
---
2013 Chapter Laureate
2013 Navy Chapter Laureate Awardee
CAPT(ret) Jeffrey B Cole, MD, FACP
Captain Cole graduated from the University of California at Los Angeles. He was commissioned as a lieutenant junior grade through the Officer Indoctrination School (OIS) in 1980. Upon completion of OIS, he reported to the Naval Nuclear Propulsion School in Orlando Florida for instructor duty. Following instructor duty in 1984, Captain Cole augmented to the regular Navy and served as an Engineering Duty Officer with the nuclear propulsion directorate (NAVSEA 08) in Washington DC.
After resigning his commission as a lieutenant commander, he was immediately re-commissioned as an ensign in the medical corps in 1988. He attended the Uniform Services University of Health Sciences (USUHUS) medical school in Bethesda, Maryland. Upon his graduation and re-commissioning as Lieutenant in 1992, he completed his Internal Medicine residency at the National Naval Medical Center in Bethesda Maryland. Following completion of his residency in 1995, he reported to Naval Hospital Great Lakes as staff internist becoming Head of Internal Medicine Department in 1996. In 1998, he reported as a staff internist to US Naval Hospital Rota Spain while also serving as the Physician Advisor for Process Improvement and participating in 1999 MEDFLAG humanitarian visit to Tanzania.
In 2001, he reported in Naval Medical Center Portsmouth becoming the Head of the General Internal Medicine Division. In 2003, he became the Head of the Internal Medicine Department and Chief of Medicine. He deployed on the USNS COMFORT for CONTINUING PROMISE 2009(T-AH 20) as Head, Adult Medicine Department. He served as the Director of Quality Management at Naval Medical Center Portsmouth from February 2011 until his retirement from Naval Service in December 2013.
CAPT Cole served as the Navy ACP Chapter Governor from 2007 to 2011. He currently serves as Chair of the National ACP Credentials Committee. He has been recognized by the Navy ACP Chapter with the Sparks award and Master Teacher awards in addition to 18 awards for excellence in medical instruction over the past 11 years.
---
2013 Navy Chapter Master Teacher
CAPT(ret) Preston Gable, MC, USN
Captain Gable was nominated by both the Chair of Medicine and Program Director at NMC San Diego. Dr. Gable has been the cornerstone of residency education at NMCSD since 1995 teaching countless medical students, interns, and residents the fundamentals of hematology and oncology from the microscope to the bedside. He has been an invaluable mentor and role model for the housestaff. He has served as faculty liaison to the program director, Chair of the Competency Committee, and core faculty member for the past 10 years. He is a constant presence at noon conference and morning report. Dr. Gable is an accomplished researcher serving as principle CALGB investigator since 2002 and past command Research Integrity Leader using his expertise to mentor multiple ACP Associate abstracts. In his off-duty hours, he volunteers to teach and supervise the NMCSD residents at St. Vincent de Paul Village.
---
2013 Navy Chapter Sparks Award
LCDR Jim Prahl
Lieutenant Commander Jim Prahl was nominated by the Commanding Officer of US Naval Hospital Guam. In his nominating letter, the Command Officer commended Dr. Prahl as exemplifying the finest qualities of compassionate care, leadership, and academic talent. LCDR Prahl is a pulmonary-critical care physician at USNH Guam. Guam's ICU is the 4th busiest with an acuity unmatched in Navy Medicine. Reporting out from fellowship at NMCSD, he initially served as the solo intensivist directing the care of internists and very junior nurses and Corpsmen until he was joined by a 2nd intensivist last year. He was the driving force in bringing continuous renal replacement therapy to USNH Guam spearheading the training and certification of 90% of the active duty ICU patients. Continuous renal replacement therapy at Guam has saved 9 lives and avoided $330,000 in medevac costs. He collaborative worked across directorate to hire a speech-language pathologist who had been invaluable in the care of 50 post stroke patients. His leadership was pivotal across the command in the implementation of the following initiatives: Medical Home Port, protocol for therapeutic hypothermia, and a hybrid hospitalist model. He is an active investigator with 4 on-going IRB protocols with six publications since arriving at USNH Guam. Dr. Prahl is widely recognized throughout the command and region for his clinical expertise.
---
Staff and Resident Teacher Award Winners
Naval Medical Center Portsmouth
Staff: CAPT Michael Wagner
Resident: LT Jason Weiner
Naval Medical Center San Diego
Staff: CAPT Al Shwayhat
Resident: LT Kristi Stone-Garza
Walter Reed National Military Medical Center
Staff: CDR Cory A. Carter
Resident: LT Richele L. Corrado
---
For Students Members
The chapter is co-hosting the "Eleventh Annual Medical Students' Steps to Success" meeting on Saturday April 26, 2014 at Uniformed Services University of the Health Sciences.
---
ACP Launches 'Online High Value Care Cases'
A series of free online cases and questions addressing high-value care is available to help clinicians weigh the benefits, harms, and costs of tests and treatment options for common conditions in order to improve health and eliminate waste.
Each topic can be completed in 30 to 60 minutes on a desktop, laptop, tablet or smartphone. These interactive cases offer clinicians the opportunity to earn free CME credits and ABIM Medical Knowledge (MOC) points.
The five topics are:
Avoid Unnecessary Testing
Use Emergency and Hospital Level Care Judiciously
Improve Outcomes with Health Promotion and Disease Prevention
Prescribe Medications Safely and Cost Effectively
Overcome Barriers to High Value Care
Learn more about ACP's High Value Care initiative and access other helpful and free materials.
---
ACP Smart Medicine
ACP's new web-based, mobile-optimized clinical decision support tool
The American College of Physicians has released ACP Smart Medicine, a web-based clinical decision support tool developed specifically for internal medicine physicians containing 500 modules that provide guidance and information on a broad range of diseases and conditions.
Integrated with content from Annals of Internal Medicine, ACP JournalWise, and ACP's clinical practice guidelines with a display that automatically adjusts to desktops, smartphones, and tablets, the clinical recommendations in ACP Smart Medicine are evidence-based and rated based on the quality of the underlying evidence. Information is continually updated through triggered updates with new, relevant content and guidelines. Additionally, ACP High Value Care recommendations identify care activities that offer little benefit to patients.
ACP Smart Medicine also offers easy access to submit for CME credit. Physicians can select modules from the list of content areas they have reviewed, answer a question, and submit for CME credit.
ACP Smart Medicine is available as a free benefit to ACP members and can be purchased by non-members.
---
ACP Leadership Academy
The ACP Leadership Academy is ACP's new leadership development program designed to provide early-career internists with the skills and knowledge necessary to become leaders in medicine.
The program's first offerings will be live and online courses offered in partnership with the American College of Physician Executives (ACPE), the nation's largest health care organization for physician leaders. These courses are eligible for CME credit through the ACPE and were selected to provide episodic leadership training for members wanting to brush up on a specific content area. Participants can put these courses toward earning a nationally recognized leadership certificate from the ACPE and can also roll course credits into advanced degree programs from accredited universities. ACP members will receive a 15% discount on approved courses.
In addition to these courses, in coming months, the ACP Leadership Academy will begin offering additional, informal leadership development opportunities via other College-wide vehicles to enhance the formal coursework.
More information, including a list of courses and LEAD transition information, is online.
---
Are you using JournalWise?
JournalWise, a free, time-saving, ACP Member benefit, is a mobile-optimized service that screens over 120 internal medicine journals for the highest-quality, clinically relevant and newsworthy articles with custom criteria that you determine so that only the articles (and e-tocs) you want are delivered when and how you want them.
This short, 2-minute video shows you how set-up is quick, easy and free!
For more information and to sign-up, log in. If you have any questions, please contact Tony Felicetti.