You are here
Governor's Desk June 2012
Governor's Desk June 2012

| | |
| --- | --- |
| June 2012 | CAPT Mark L. Dick, MD, FACP |
---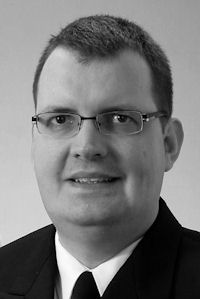 Governor's Desk
Spring has flown by and we have started the summer PCS cycle. It seems like I just did a newsletter (and I did), but now it is time for another one. It was great to see several of my colleagues at Internal Medicine 2012 in New Orleans. It was also great to have the ACP back in New Orleans, after the last previously scheduled New Orleans conference was postponed in the wake of Hurricane Katrina.
I was reminded by the end of the conference about the sage advice for my predecessors of how quickly your term as Governor goes. In about a year from now, the search for my relief will begin. I have repeatedly said the Lieutenant Commanders and Associates are the lifeblood of the chapter. Our Lieutenant Commander internists are critical to the success of the chapter and Navy medicine. This is why I tried to encourage the development of a Navy ACP Young Physician group. For those Commander internists, it is in all likelihood that one of you will relieve me as Governor. I would strongly encourage any of the Lieutenant Commanders and Commanders who like to be more involved in the chapter to contact me.
I have several member updates. Navy Surgeon General, VADM Matthew Nathan, has been featured in two recent ACP articles. Many of you saw his profile in the ACP Internist. He was also interviewed in the College's medical student publication, IMpact, in the October 2011 edition.
LCDR Sunny Ramchandani was recognized as the 2012 recipient of the Federal Asian Pacific American Council (FAPAC) and Department of Defense Meritorious Service Award (Navy). Sunny recently completed a White House fellowship after being the first Navy physician selected for this prestigious fellowship. I have included an article about his experiences in the newsletter.
Three of our members, Kevin Dorrance, Eric Sawyers, and Annette Von Thun were selected for promotion to Captain amongst the lowest in zone promotion rate in several years. LCDR Kenneth Bonaparte, Janine Danko, Jose Gomez, Min Kim, Andrew Lin, Alex Minter, and Wade Shields were selected for promotion to Commander.
Congratulations, or possibly condolences, are in order for CDR Brian Bowes who is replacing CDR Jeff Odell at BUPERS-4415 as a medical assignments detailer.
CAPT (ret) Eric Holmboe gave a presentation at the 2012 Spring Board of Governors meeting regarding the role of ABIM certification in the Federation of State Medical Boards Maintenance of Licensure (MOL) concept. Currently, the FSMB is piloting the MOL program with a few state medical boards. A recent Annals article, explains upon the concept. The licensing boards will be transitioning to a more rigorous and ongoing process to maintain licensure beyond the current minimum CME requirement. ABIM is working with the FSMB to ensure that MOL can be met through participation in maintenance of certification (MOC). However, this will mean that MOC requirements will change. Furthermore, those with grandfather certificates will be offered the opportunity to participate in the MOC to achieve MOL. One upcoming change will be that the ABIM certificates for longer have an expiration date as it is expected that MOC is an ongoing process. Early next year, the ABIM's Web site will be updated to give the Diplomates a customized interface of the milestones needed to achieve MOC.
There are several things that I would like to highlight in this newsletter. I have written of the College's High-value Cost-conscious campaign. One offshoot of this campaign is the collaboration with the American Board of Internal Medicine Foundation's choosing wisely campaign. I have included some information on this campaign with the newsletter.
Within the newsletter I have included several new features from the College's programs and services. The College has heard the members' frustrations with navigating their Web site. They are continuing trying to update and change the appearance. Recently, the Annals Web site was re-launched. It is almost time for a new MSKAP. Information on MSKAP 16 discounts can be found at http://www.acponline.org/products_services/mksap/16/ with 10% off of the digital or print version or 15% off the complete digital and print versions if ordered by July 31st.
This is also the season to renew your ACP membership. The College strives to continually give its members value for their dues. I am happy to announce that the chapter's portion of the dues has remained stable. However, I do realize the cost of the dues is significant. The College has put into place several ways to discount your membership dues. One way is the recruit a colleague campaign which gives you a dues reduction for each new member recruited into the College. Some other discounts include reductions for married dual ACP members, retired members as well as dual members of American College of Osteopathic Internists (ACOI), American Thoracic Society (ATS), and American Academy of Pediatrics (AAP). Further information on discounted membership can be found at http://www.acponline.org/membership/dues/special.htm.
Finally, I had mentioned in a previous newsletter that the Board of Regents were studying a resolution from the Board of Governors that would allow for military-affiliated members to have dual state and Service chapters. Upon study, this was found not to be feasible with the College's current IT system.
Hope to see you in Bethesda in November.
---
2012 US Navy Chapter Scientific Meeting
This year's chapter meeting will be a Tri-Service ACP meeting. The meeting is being held at the Hyatt Regency Bethesda from November 1-3rd. The Web site registration can be found on the HMJ Foundation Web site. The Hyatt Regency Hotel information can be found on the Web site or you can call, 1-888-421-1442 and ask for the Tri Service ACP or HJF rate. The special rate for the conference is government rate.
Each of the Service's program chairs have been working frantically to finalize the conference line-up and gather the required CME criteria. All of the military Governors feel that the meeting format will combine the best features of past Army/Air Force and Navy meetings. We feel that this meeting will have something for everyone at all times. I cannot thank Navy Program Chair, LCDR Lynn Byars, at Walter Reed National Military Medical Center.
Highlights of this meeting:
The Keynote Speaker will be Navy Surgeon General VADM Matthew Nathan, MC, USN.
The highlight of the 2nd day of the conference will be Dr. Geno J. Merli, FACP, Senior Vice President and Chief Medical Officer, Thomas Jefferson University Hospital speaking on peri-operative medicine.
In addition to the plenary speakers, "year-in-review" talks from the various subspecialties will update the attendees on recent journal articles that will change your practice.
The Jeopardy competition has the added excitement of crowning the tri-service champion for the first time. Each service will have a winning team that will go to national ACP as always, but these three teams will face off on day two for the ultimate bragging rights!
We will be offering a "Maintenance of Certification" module and simulation training on both Thursday and Saturday afternoons. These sessions offer great opportunities to brush up on procedural skills.
The military uniform for the meeting will be Service Dress Blues.
---
Chapter Awards
From Rachel Lee, Chair of the Chapter Awards Committee
Dear fellow Navy internists,
As you may know, the annual ACP Chapter Scientific meeting is coming up. This is the call for nominations for the Navy Chapter ACP Sparks Award and the Navy Chapter ACP Volunteerism Award. Award descriptions/criteria are described below:
Navy Chapter ACP Sparks Award for Excellence in Internal Medicine - This award is bestowed upon a staff internist at a non-internal medicine teaching hospital or other Navy Military Treatment Facility (MTF) in recognition of outstanding achievement including, but not limited to the following attributes: teaching prowess and academic acumen, displaying exemplary characteristics of care and concern for individual patients, professionalism, and serving as a role model and mentor. Nominees will be submitted by the department head or his/her designee. Prior awardees are not eligible.
Navy Chapter ACP Volunteerism Award - This award is bestowed upon a staff internist in recognition of consistent and extraordinary volunteerism outside of the military setting. Additional attributes for consideration include, but are not limited to the following: displaying exemplary characteristics of care and concern for individual patients, professionalism, and serving as a role model and mentor. Nominations can be submitted by all members. Additionally, one can nominate more than one physician. The recommended number of awardees per year for the Navy Chapter ACP is one Volunteerism Award per year. Prior awardees are not eligible.
Nominations with an accompanying nominating letter are due to me by Friday, Sept 7, 2012. The Navy ACP Awards Committee will review all nominees and select an award recipient for each award. Nominations can be submitted to me via e-mail: Rachel.Lee@med.navy.mil.
---
A Navy Internist Goes to the White House
After returning from a year-long deployment to Afghanistan in 2010, LCDR Sunny Ramchandani turned his thoughts to what he wanted to do next. He had served as a staff internist at the National Naval Medical Center (Bethesda), and had really enjoyed being part of the team that helped launch the Navy's Medical Home Port program. As he talked with another Navy internist, CAPT(s) Kevin Dorrance, they thought about ways in which they could help improve other parts of the healthcare system.
"We both thought there were some very innovative ideas that we could help promote throughout the Military Health System," Ramchandani said. "Kevin really stressed the importance of how we needed to figure out ways in which we could promote health instead of healthcare."
Those conversations helped spur Dr. Ramchandani to think about where he could learn new ways to improve Navy Medicine. An old Naval Academy friend of his had told him about the White House Fellowship program, and had encouraged him to apply.
Founded in 1964 by President Lyndon B. Johnson, the White House Fellowship allows young leaders to spend one-year working in the offices of Cabinet Secretaries, Deputy Secretaries, and other high level Executive Branch officials. A Fellow's responsibilities range from chairing interagency meetings, to designing and implementing federal policies, to drafting speeches for cabinet secretaries, and/or representing their agencies on Capitol Hill. Fellows also participate in an education program that consists of roundtable discussions with all senior government leaders (including the president) and international trips that focus on U.S. policy in action. Since its founding, the White House Fellowship has been non-partisan and supported by presidents of both parties. Previous White House fellows include former Labor Secretary Elaine Chao, General Colin Powell, Governor Samuel Brownback, CNN Medical Correspondent Dr. Sanjay Gupta, writer Doris Kearns Goodwin, and Univision President Cesar Conde.
LCDR Ramchandani began the arduous application process, which required ten essays and multiple recommendation letters. After the entire process was complete, he had passed through 24 different interview panels; a few of these panelists included Tom Brokaw, General Wesley Clark (ret.), former Senator Thomas Daschle, and former Senator Paul Sarbanes.
In June 2010, he finally received the call: He was the first Navy physician to ever be selected to the program. Dr Ramchandani was assigned to be the Chief Medical Officer of the Federal Employee Health Benefit Program (FEHBP). FEHBP, which has an annual budget of $43 billion, serves 8M beneficiaries and contains over 200 healthcare plans. The learning curve was steep.
"EVERY night was a long night for those first few months", laughed Ramchandani.
After learning the nuances of the FEHBP, he led its comprehensive review of Applied Behavioral Analysis Therapy (for autism), to cover 1.8 million children/adolescents at an estimated cost of $70 million annually. He also designed and implemented FEHBP's metric strategy to drive quality improvements for over 200 healthcare insurance products.
Now, as the Medical Director for Healthcare Business at Naval Medical Center San Diego, he's using what he learned in the White House to implement an "Integrated Health Community" - A population health initiative designed to improve the health of all Navy beneficiaries in San Diego County.
But his heart still lies with internal medicine:
"The White House Fellowship was an awesome experience, and we really got a chance to learn from some very senior leaders. But as I was going through the year, I realized that I've probably learned even more about leadership from dozens of friends and mentors in our own internal medicine community. Many internists, some of whom are still on active duty - officers like CAPT(s) Kevin Dorrance, RDML Colin Chinn, and VADM Matt Nathan - They've all taught me a ton. I can't tell you how grateful I am to all of them, and to the entire Navy internal medicine community as a whole. It really is a family."
To others who may be interested in the White House Fellowship, or even other health policy opportunities, please reach out to LCDR Ramchandani at sunny.ramchandani@med.navy.mil.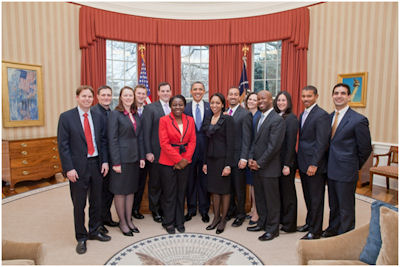 President Obama with 2010-2011 White House Fellows, Sunny Ramchandani (far right)
---
Associates Corner
Congratulations to all of our recent Fellowship and Residency graduates. I want to extend best wishes to the 3 new chief residents:
LT Mary Andrews, WRNMMC
LCDR Kristina Kratovil, NMCP
LT Jeremy Waldram, NMCSD
Update from NMC Portsmouth
As the 2011 - 2012 academic year draws to a close, we say farewell to the graduating residents and warmly welcome our bright-eyed first years to the program!
On June 21, we graduated our third year residents, presenting Jefferson Cups and Certificates of Residency. CDR Joseph Sposato, Program Director, began the ceremony by recapping the whirlwind of a year, and CAPT Jeff Cole provided the graduation address, giving sage advice and personal remarks for each of the graduating residents. LT Jennifer Cunningham will be joining the 2nd Marine Expeditionary Force in Camp Lejeune; LT Patrick Daly joins the staff at US Naval Hospital Guantanamo Bay; LT Mack Kellermann finishes slightly off-cycle and is currently awaiting orders; LCDR Kristi Kratovil is homesteading at NMCP as Chief of Residents; LT Ken Prince will move to Naval Submarine Base King's Bay, Georgia; LT Paul Schmidt will be at Naval Air Station, Lemoore, California; and LT Eric Shafer accepted Cardiology Fellowship at Naval Medical Center, San Diego. Bravo Zulu to our graduates! Fair winds and following seas…
At the senior resident Dining Out in May, CAPT Cole and CAPT Lisa Inouye were presented with our departmental Teacher of the Year award. LT Cunningham was presented with the coveted Aequanimitas Award presented to the graduating senior who embodies the ideal physician. Intern of the Year was presented to LT Kendra Cagniart, who is going to Pensacola, Florida for Flight Surgery this summer. Congratulations to all of our recipients.
We have a stellar group of housestaff and faculty who are dedicated to patient care, education, and most importantly to each other. We are looking forward to another successful and productive year!
LCDR Kristina Kratovil, MC, USN, ACP Associate
Chief of Residents, NMCP
From the Military Representative to the ACP Council of Associates
Greetings Associates!
The Council of Associates is excited about the upcoming year. I'm starting my second year as the military representative for the COA and we are excited about all of the great things coming up this year. I'm particularly looking forward to the Tri-Service meeting coming up this fall. It's going to be a great opportunity to meet our colleagues from the other branches of service. There are a number of great Associate activities being planned for the meeting, so stay tuned.
I also want to put in a plug for attending the National ACP meeting. It's an opportunity to showcase our work and potentially get national recognition for research or clinical work. One of the Army residents actually won the research competition this year, and it would be great to see the Navy represented heavily next year.
If anyone is interested in being more involved in the ACP as an Associate, please feel free to contact me any time.
Later this fall, we'll be accepting applications for the ACP Health Care Policy Internship. It's a one month paid fellowship in Washington, D.C., working with ACP leadership to help shape national debate and policy legislation governing health care. Certain restrictions apply for military personnel; please contact me for details.
Additionally, my term as COA military representative expires at the conclusion of the National ACP meeting next spring, and I would love to pass the mantle on to a fellow Navy resident or fellow. Please let me know if you're interested.
Congratulations to our graduating residents and fellows and welcome to our new interns! We look forward to seeing you this fall at the Navy ACP meeting!
LT Brent Lacey
NMC San Diego
---
Medical Students' Corner
Again this year, the Chapter co-hosted Medical Students' Steps to Success at USU. Over 90 students participated with 40 students presenting abstracts in both clinical vignettes and primary research poster competitions.
Over 50% of students attending indicated that the meeting had a very positive impact on their views of internal medicine and the ACP. Ninety-two percent of students attending left with an interest in pursuing a career in internal medicine. I would like to thank the faculty at USU and WRNMMC for making this program such a success.
Recently, a new military representative to the ACP Council of Student Members was selected. ENS Erik Kumetz, from the University of Miami, Class of 2015. Erik's e-mail is: Eakumetz@med.miami.edu.
---
Internal Medicine 2012
Fifty-six Navy Chapter members attended Internal Medicine 2012. New Orleans was a Navy town during the meeting as the city was hosting Navy Week and continuing their commemoration of bicentennial of the War of 1812.
Several of the highlights included:
Navy GI had a very strong presence with featured lectures by CAPT (ret) Walt Coyle and CDR Patrick Young. CAPT (ret) Eric Holmboe delivered a series of presentations as the Chief Medical Officer (CMO) and Senior Vice President of the American Board of Internal Medicine and the ABIM Foundation.
Drs Cole, Meek, Monson, Nath, Stickle, and Lacey competed in the Associate poster competition. ENS Nicholas Rocco, from USU, delivered his winning clinical vignette during the Medical Student Podium presentations.
LCDRs James Fletcher, Sam Gao, Vinh Mai, Heather Ventura, and Megan McGavern advanced to Fellowship at the Convocation Ceremony. As the chair of the College's Credentials committee, CAPT Cole presented the Fellows to the leadership and audience for advancement.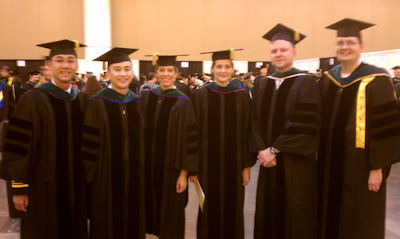 LCDRs Vinh Mai, Sam Gao, Heather Ventura, Megan McGavern, and James Fletcher(left to right) advancing to Fellowship at the Convocation Ceremony with Navy Governor.

Credentials Committee Chair, CAPT Jeff Cole presents the new Fellows.
---
Strengthen Our Chapter: Participate in ACP's Recruit-a-Colleague Chapter Rewards Program!
The American College of Physicians and the Navy Chapter encourages all members to help strengthen the voice of internal medicine by recommending ACP Membership to colleagues. By joining the College, your colleagues will enrich their clinical knowledge and skills and have access to all of the ACP member benefits that you enjoy.
To thank you for your dedication to our organization, ACP offers incentives to members and their chapters that recruit new members through the Recruit-a-Colleague Chapter (RACC) Rewards Program.
As with the national Recruit-a-Colleague Program, the RACC Program rewards successful individual recruiters with dues credits for each new full Member recruited and a chance to win a trip to the annual internal medicine meeting. In addition, the RACC Program also provides rewards to the recruiters' chapters. The Recruit-a-Colleague Chapter Rewards Program runs annually from April 1 through March 15.
Ask your colleagues to join ACP today. To thank you for your time and effort, we offer the following recruitment program. Between now and March 15, 2013:
Recruit one colleague and receive a $100 credit toward your 2013-14 annual dues
Recruit two colleagues and receive a $200 credit toward your 2013-14 annual dues
Recruit three colleagues and receive a $300 credit toward your 2013-14 annual dues
Recruit four colleagues and enjoy free annual dues in 2013-14
To participate, simply forward to your colleagues the Membership application found at www.acponline.org/racc. To qualify for the program, your name must be listed on the recruiter line of this specially coded application.
To learn more, please visit www.acponline.org/recruitacolleague.
---
"Choosing Wisely" Campaign
The ABIM Foundation in cooperation with nine specialty societies including the ACP has developed the "Choosing Wisely" campaign. This has resulted in each of the nine specialty societies creating a 'Top 5' list. These lists include the top five things in each of these specialty areas that physicians and patients should question. This is a list all primary care physicians should familiarize themselves with. The list is on the ABIM Foundation Web site and can be accessed here.