You are here
U.S. Army Governor's Newsletter November 2017
U.S. Army Governor's Newsletter November 2017

---
---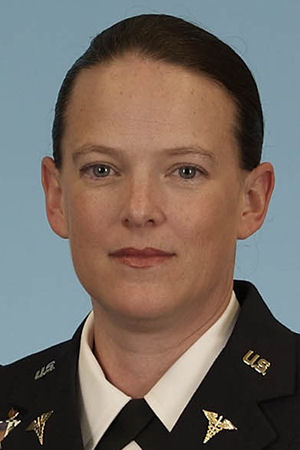 LTC Cristin A. Mount, MD, FACP, ACP Governor
---
Chapter Meeting 2017 – "It's Back!"
September saw the return of the annual Chapter Meeting, cohosted with the Air Force Chapter, in San Antonio, TX. The weather was unseasonably cool – maybe I brought it with me from Washington? – and the Gateway Club at Lackland, AFB hosted approximately 300 staff, residents, fellows, and medical students over a jam-packed three day agenda.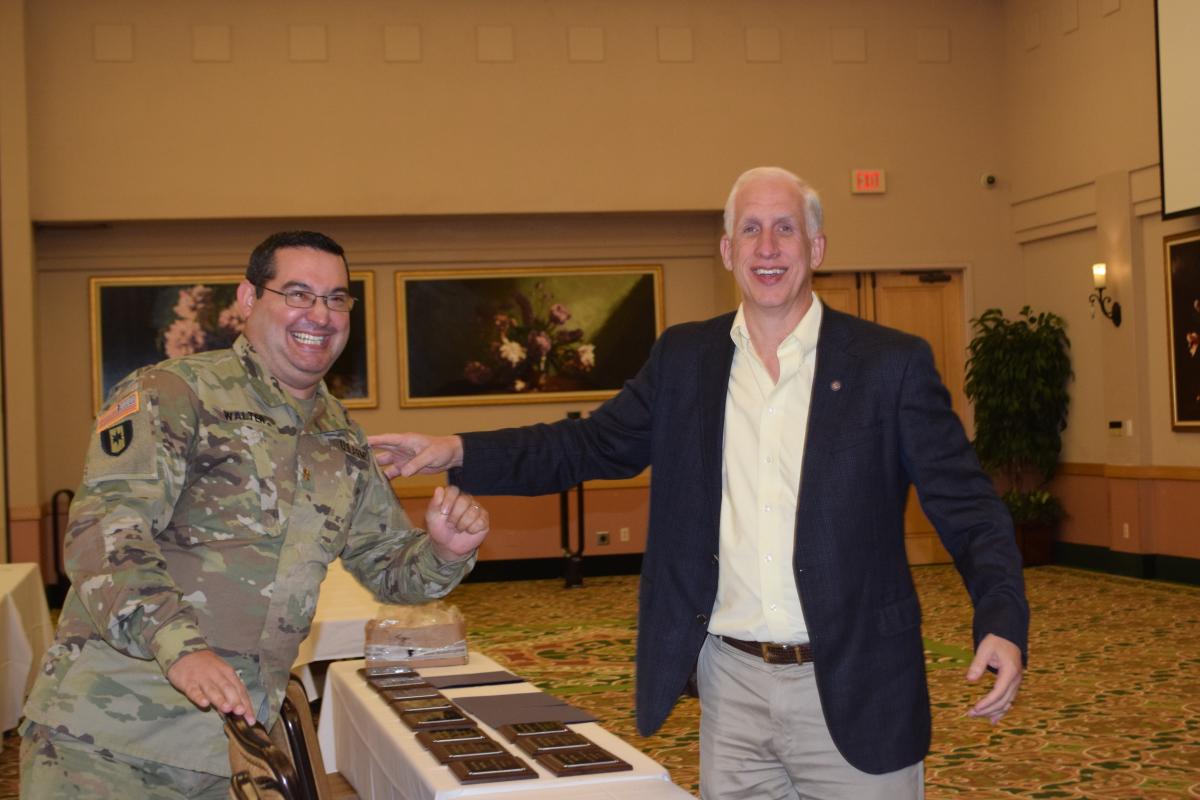 Army Meeting Planning Co-Chairs, MAJ Robert Walter and Dr. Michael Morris preparing for the Awards Ceremony
In addition to outstanding plenary sessions which granted attendees 11 CME and MOC credits through the ACP, we added new features this year, including a Fellow Abstract Competition, Early Career Physician Abstract Competition and an At-Large Poster Display. In addition to the Resident Research Podium Competition and Resident Vignette and QI Poster competitions, over 64 additional abstracts were presented across 9 break-out sessions, highlighting the phenomenal work of our residents, fellows and staff mentors. The always-rowdy Doctor's Dilemma Competition was made rowdier by a social hour and Laureate Awards presentation. The Army Doctor's Dilemma Championship game between William Beaumont Army Medical Center and Walter Reed National Military Medical Center was postponed due to a technical issue with the last round of questions. We were able to cobble together a "virtual" play-off, in true Army style, with a semi-functioning teleconference and crowned the team from Walter Reed the Army Champion! (Thanks to everyone involved in putting together the virtual play-off and thanks to both teams for being good sports!)
Thank you to the extremely hard work of Maj Andy Skabelund, MAJ Rob Walters, MAJ Tatjana Calvano, Dr. Michael Morris, Dr. Matthew Carroll, the Program Directors, Specialty Consultants, Break-out Coordinators and Chief Residents who put the meeting together! Save the date for 2018 – same place, same time (6 – 8 September).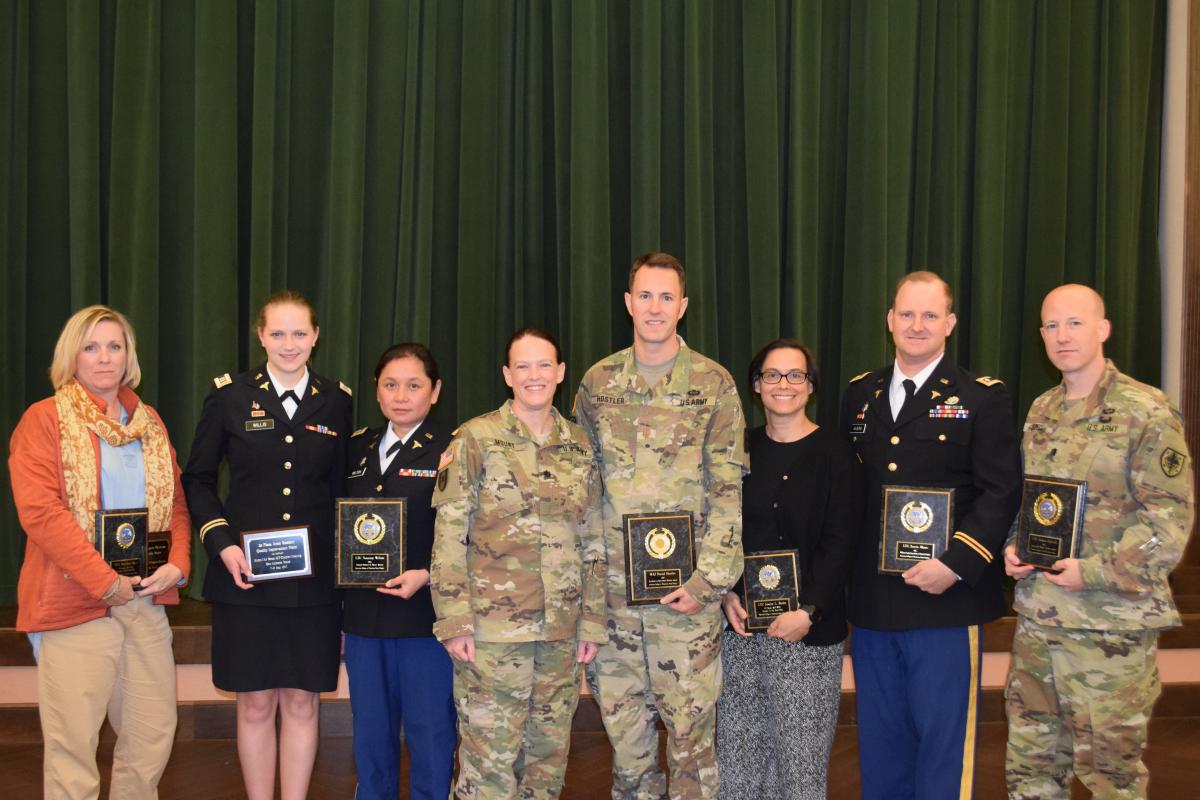 US Army Chapter Award Winners: from left to right MAJ Meredith Hayes, CPT Cornelia Willis, LTC Nouansy Wilton, LTC Cristin Mount, MAJ David Hostler, LTC Jessica Bunin, LTC Kevin Akers, LTC Joshua Hartzell
Congratulations to the Following Competition and Chapter Award Winners
Resident Research Podium Competition
CPT Edgie-Mark Co, William Beaumont Army Medical Center
"A Stealth Parasite: Prevalence and Characteristics of Risks for Latent Visceral Leishmaniasis in a Cohort of US Soldiers deployed to Operation Iraqi Freedom"
Resident Clinical Vignette Poster Competition
CPT Kimberly Fabyan, Walter Reed National Military Medical Center (WRNMMC)
"Heartbreaking Cellulitis"
Resident QIPS Poster Competition
CPT Cornelia Willis, Madigan Army Medical Center
"Inpatient Emergency Department Admissions: One Institution's Response to The Joint Commission's ORYX Quality Measures"
Fellow Research Podium Competition 2nd Place
MAJ Amaya George, SAUSHEC Pulmonary/Critical Care
"Lung Injury Requiring Evacuation of Active Duty Service Members from Theater"
Fellow Clinical Vignette Poster Competition 1st Place
CPT Brian Foster, WRNMMC Pulmonary/Critical Care
"Acidic Food-Induced Vocal Cord Dysfunction: What's The Dill With That?"
Early Career Physician QIPS Podium Competition
LTC(P) Jessica Bunin, Tripler Army Medical Center
"Beyond "Do None, Teach One": Faculty Development in Quality Improvement"
Early Career Physician Clinical Vignette Poster Competition
1st Place: MAJ Rachel Robbins, Eisenhower Army Medical Center
"Case Series of Statin Associated Autoimmune Myopathy"
2nd Place: CPT Sarah Ordway, WRNMMC
"Jacked" or Jaundiced: Is it Worth it?"
US Army Chapter Laureate Awards
COL (Ret) Maureen Koops, MD
COL (Ret) Jennifer Thompson, MD
COL (Ret) Lisa Zacher, MD
William Crosby Superiority in Research Award
LTC Kevin Akers, Institute of Surgical Research
ACP Master Teacher Award
LTC Joshua Hartzell, USUHS
Robert H. Moser Award
LTC Nouansy Wilton, Madigan Army Medical Center
Excellence in Operational Medicine Award
MAJ David Hostler, Tripler Army Medical Center
Army ACP MTF Teachers of the Year
MAJ Meredith Hays, Eisenhower Army Medical Center
Dr. Christina Schofield, Madigan Army Medical Center
Dr. Kelly Ferraro, San Antonio Military Medical Center
LTC Jessica Bunin, Tripler Army Medical Center
CPT Adam Barelski, Walter Reed National Military Medical Center
LTC Megan Childs, William Beaumont Army Medical Center
---
National ACP Meeting 2018
The National ACP Meeting is in New Orleans, LA this year – from 19 – 21 April. The Abstract Portal is open NOW, with the following deadlines: Medical Student Research and Vignettes (15 November), Resident Vignettes (22 November) and Resident Research (29 November). Results notification should occur by 26 January. While the Chapter can only proffer travel for the Resident Research, Vignette and QIPS winners, please let me know if you will be attending the meeting to present an abstract! Look for more information about Chapter activities at the National Meeting in the Winter Newsletter.
---
Early Career Physician Travel Grant for National ACP Meeting 2018
The ACP considers anyone who is within 16 years of medical school graduation an "Early Career Physician" (ECP), which makes me feel young again! The Council of Early Career Physicians, in partnership with the ACP Leaders Circle will be offering grants to attend the National Meeting in 2018 and 2 of the 20 grants have been set aside for military physicians! The grants are open to all members of the ACP who fit into the Early Career Physician group, however special consideration will be given to first-time attendees, physicians who serve in rural or under-served populations (I'm looking at YOU Operational Medicine and MEDDAC Internists!), physicians of diverse backgrounds and those without a significant source for CME funding (which I think is all of us!). You'll need to submit a packet online consisting of a brief application, a 500 word essay "telling us why you wish to attend the ACP meeting and how you will use what you learn in caring for your patients", a brief bio highlighting aspects of your background and an updated CV. I will send out an email to Chapter ECPs when the application materials are available. If you are selected as a Grant winner, you will have to pursue your local command's approval process for accepting proffered travel and conference attendance. The deadlines is 17 NOVEMBER – no exceptions! You should have received an email from me with the link to the application. You can email for more information.
---
Advancement in the College
I've had the distinct pleasure of supporting many application packets for advancement to FACP in the last few months. Please continue to nominate deserving Chapter Members for advancement to FACP and MACP! There are several pathways to Fellowship and requirements can be found here If you'd like help preparing your CV before you apply, please let me know, I can review it and give you some pointers on how to buff it up for the Credentials Committee.
---
Get Involved in the Chapter
The Governor's Council is currently seeking interested Chapter Members to serve in the following positions: Operational Medicine Representative (must be currently assigned to an operational billet), Small Hospital/MEDDAC Representative (must be currently assigned to a Small Hospital or MEDDAC), Medical Student Representative (HPSP or USUHS), Resident/Fellow Member Representative (can be any Resident or Fellow member who isn't already serving on the Council of Resident/Fellow Members). If you'd like to know more about what these positions entail, the expected time commitment or anything else related to the Chapter, please shoot me an email
---
Consultant's Corner: A word (or two) from COL Travis Richardson, General Internal Medicine Consultant to the Surgeon General
Greetings fellow Army Internists! I just wanted to take this opportunity to introduce myself as the new Internal Medicine Consultant to the Surgeon General. Before I go any further I want to thank the outgoing Internal Medicine Consultant, COL Jeanne Tofferi, for her tireless service as a fierce advocate for Army Medicine in general and specifically Internal Medicine and all of our trainees and staff alike. Kudos to COL Tofferi for an outstanding job over these past years!
I had the privilege of attending the Joint Army/Air Force ACP meeting in San Antonio in September. This was an excellent meeting and I was again reminded of the outstanding resident and staff researchers, clinicians, and educators within Army Medicine. I was also able to provide an Internal Medicine Consultant update to the attendees and sat on the Consultants Panel with my Air Force counterpart along with the Air Force General Internal Medicine Consultant.
There certainly are some changes afoot within Army Medicine and the Military Health System (MHS) particularly due to the 2017 National Defense Authorization Act (NDAA). As many of you are aware, there also is a refocus on readiness. This encompasses our individual medical readiness to deploy in support of the warfighter and our readiness regarding our clinical competence and readiness to take care of patients downrange. Our goal is ensure that we are clinically competent, medically ready, and physically fit to support the Soldier in theater and garrison alike (to include Family Members and Retirees).
My goal over the coming years is to work with our Governor, LTC Cristin Mount, to ensure the Chapter continues to support your needs to make your jobs easier and more fulfilling. I will endeavor to continue to carry the torch and an advocate for you all to ensure that you have the support to meet your career goals whether it is as an academician, clinician educator, researcher, or within operational medicine. I look forward to serving you all!