You are here
U.S. Army Governor's Newsletter April 2017
U.S. Army Governor's Newsletter April 2017

---
---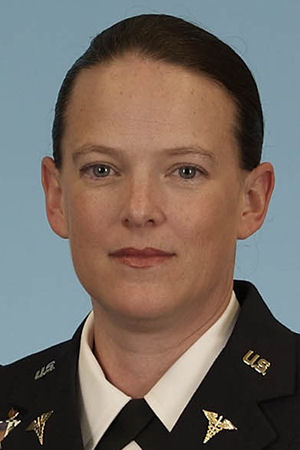 LTC Cristin A. Mount, MD, FACP, ACP Governor
---
Farewell
It has been my honor and privilege to serve as your Army Chapter Governor these past four years. I would like to thank our previous Governor, Dr. Lisa Zacher for her support and guidance, the council members for their hard work and great ideas, the many chapter members who helped with meetings and activities, the Henry M. Jackson foundation for their backing, and the ACP staff, particularly our Chapter Liaison, Ms. Judy Spar. She helped our Chapter in so many ways! While I will no longer be the Governor of the Chapter, I will remain on Active Duty as the Designated Institutional Official/Director of Medical Education at Tripler Army Medical Center.
Although I would have liked to have done more for the Chapter during my tenure, certain things, like an annual in-person meeting, just didn't work out. But I'm happy to say that the Chapter is in great standing now, with the return of the annual meeting (see below) and, most importantly, an excellent new Governor in LTC Cristin Mount. I leave knowing the Chapter will continue to grow and serve its members in exciting new ways.
COL Kent DeZee, MD, FACP
---
Welcome from your new Governor
I have spent the last year as the Governor-Elect tailing COL DeZee and learning about the huge responsibility I now have as the Governor of the Army Chapter. I am humbled and honored to follow in the footsteps of our previous great Governors (Drs. Argyros, Zacher and DeZee to name just a few) and hope that I am up to the challenge!
I had an opportunity last week to attend the Spring Board of Governor's meeting which included two plenary sessions: one entitled "What Patients Say, What Doctors Hear (and Vice Versa): The Highest Stakes in Medicine from Dr. Danielle Ofri, MD and "Opioid Crisis: Challenges and Opportunities for Public Health" from Dr. Howard Koh, MD. During the ACP meeting, I also attended a session entitled "Patients before Paperwork: Easing Administrative Burdens". It reminded me that although we have unique challenges as military Internists and Subspecialists, we face many of the same challenges our civilian colleagues do.
My goal over the next four years is to work on behalf of our membership to ensure that the Chapter is meeting your needs and utilizing the tools and expertise the ACP can provide to make your jobs better, easier and more satisfying, even within our Military Healthcare System. Please look for additional resources sprinkled throughout our newsletters and on the Chapter website. Please also continue to read this newsletter for information on the upcoming Army/AF Chapter Meeting!
LTC Cristin Mount, MD, FACP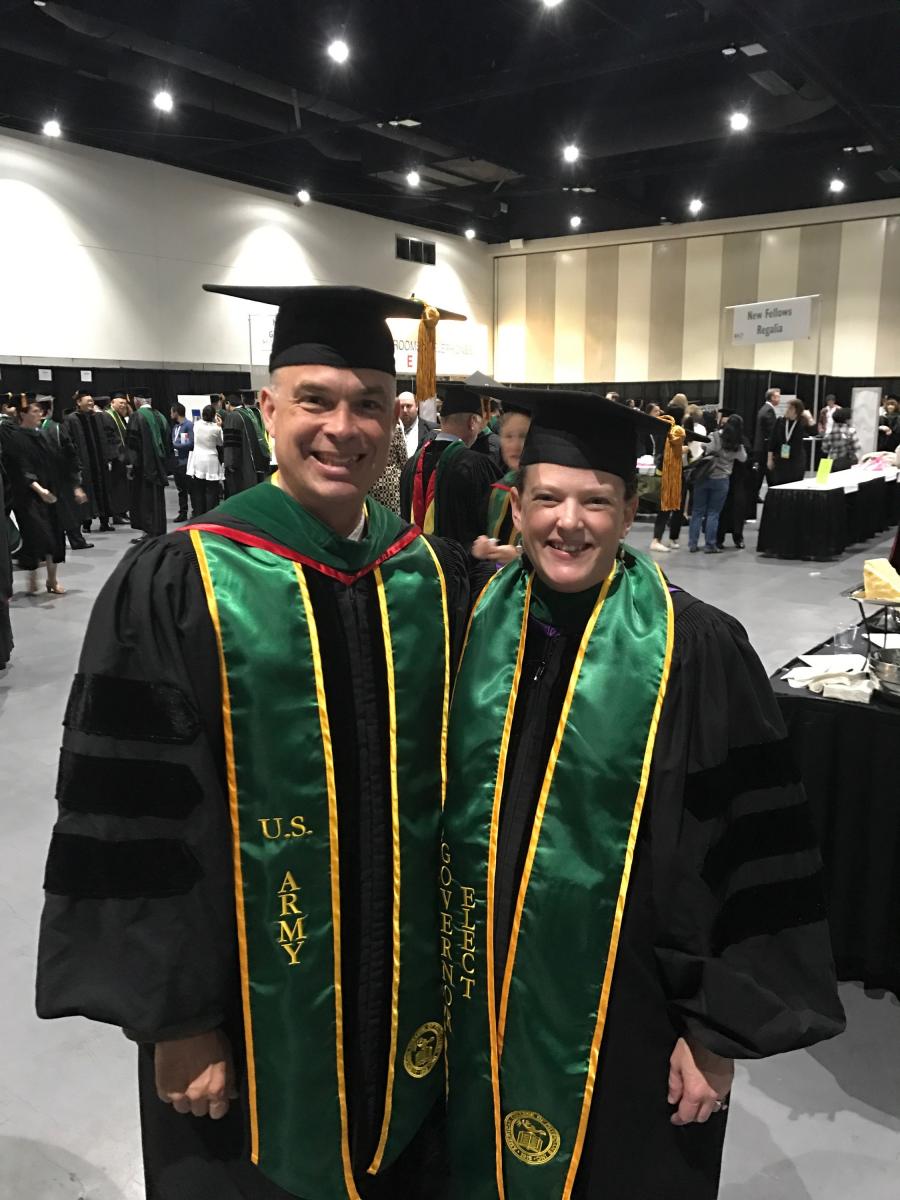 Dr. Kent DeZee and Dr. Cristin Mount at Convocation
---
Internal Medicine 2017
Our chapter had a great showing at the National ACP meeting in San Diego, CA. Our chapter's Doctor's Dilemma team, CPT Jordon T. Traub, CPT Ilya Ryaboy, and CPT Adam Burkett of San Antonio Uniformed Services Health Education Consortium (SAUSHEC), finished second in their opening round to advance to the semifinals. In fact, all three military chapter teams advanced to the semifinals! However, despite a clutch answer on the second to last question, our Army team didn't advance to the finals. Still, this marks the third straight year our Chapter team advanced to the semifinals, which means our chapter consistently produces a top 20 team in the country! Special recognition also goes to the Tripler Army Medical Center team of CPT Jeffrey Lew, CPT Joel Guess, and Dr. Sharon Chi, who won the Hawaii competition and also competed at the National ACP.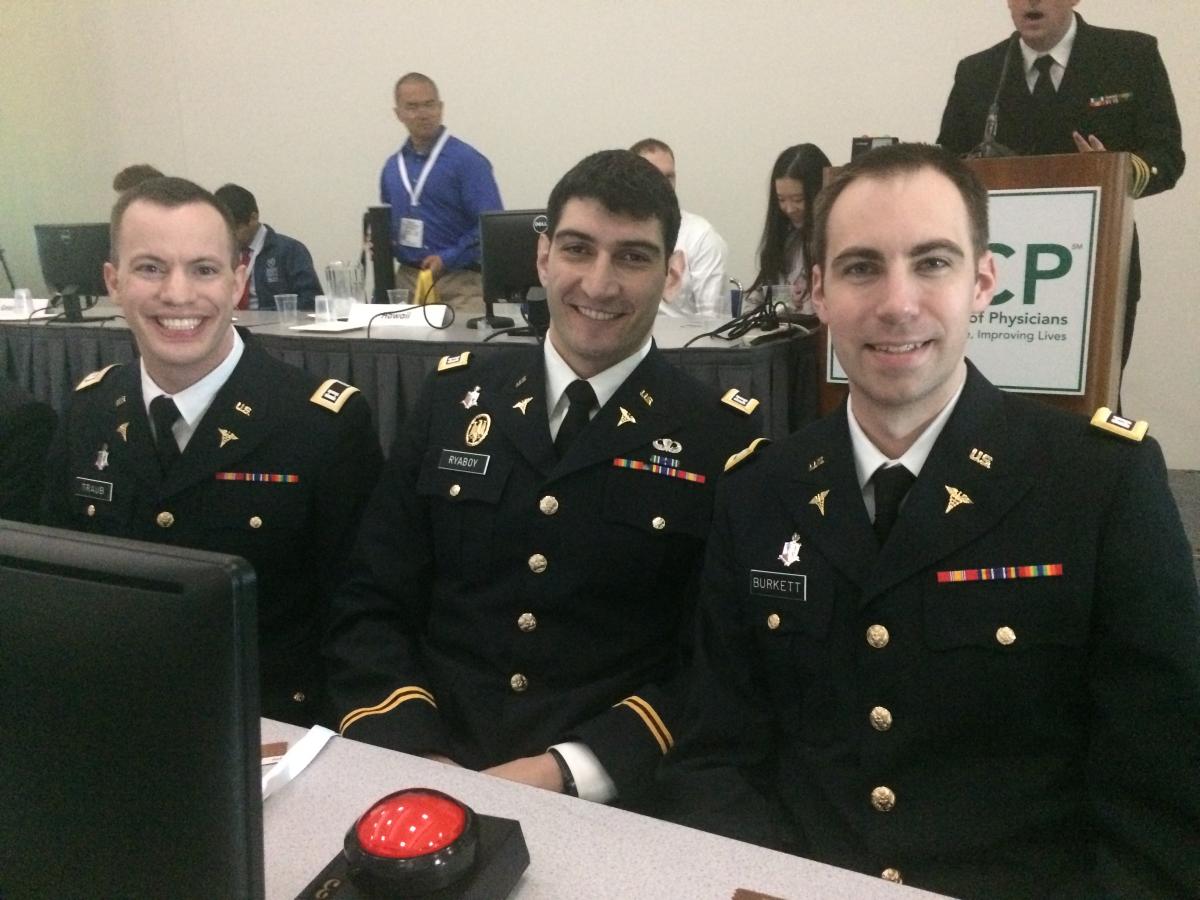 CPT Jordon T. Traub, CPT Ilya Ryaboy, and CPT Adam Burkett
For the second consecutive year, the Ohio Chapter hosted a reception with the three military chapters. We had a fabulous turnout and we all really enjoyed catching up with everyone. Those in attendance also heard a brief talk by Dr. DeZee regarding guided fellowship (see details below). If you are attending Internal Medicine in New Orleans next year, check the meeting schedule for our reception!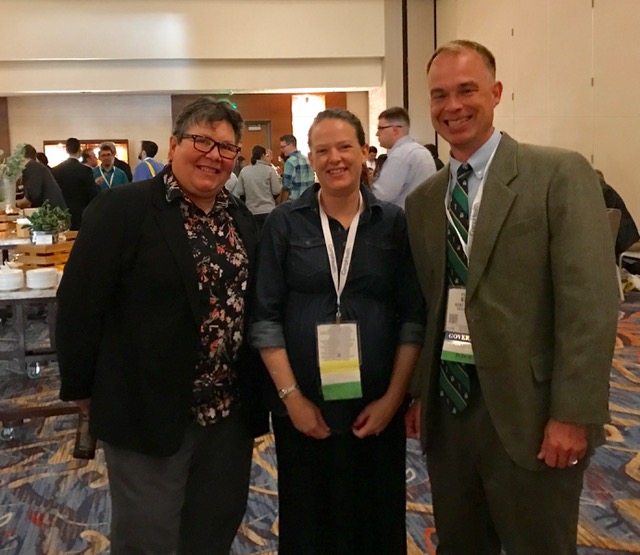 Dr. Lisa Zacher (Governor 2009-2013), Dr. Cristin Mount (Governor 2017-2021), and Dr. Kent DeZee (Governor 2013-2017
Three residents also earned their way to the National ACP by winning our chapter competition. Congratulations to CPT Kelly Chohonis of Dwight D. Eisenhower Army Medical Center (Chapter research winner), CPT Raymond Fisher of SAUSHEC (Chapter clinical vignette winner), and CPT Tara Brown (Chapter QI winner–presented at the Chapter meeting by CPT Burkett).
CPT Kelly Chohonis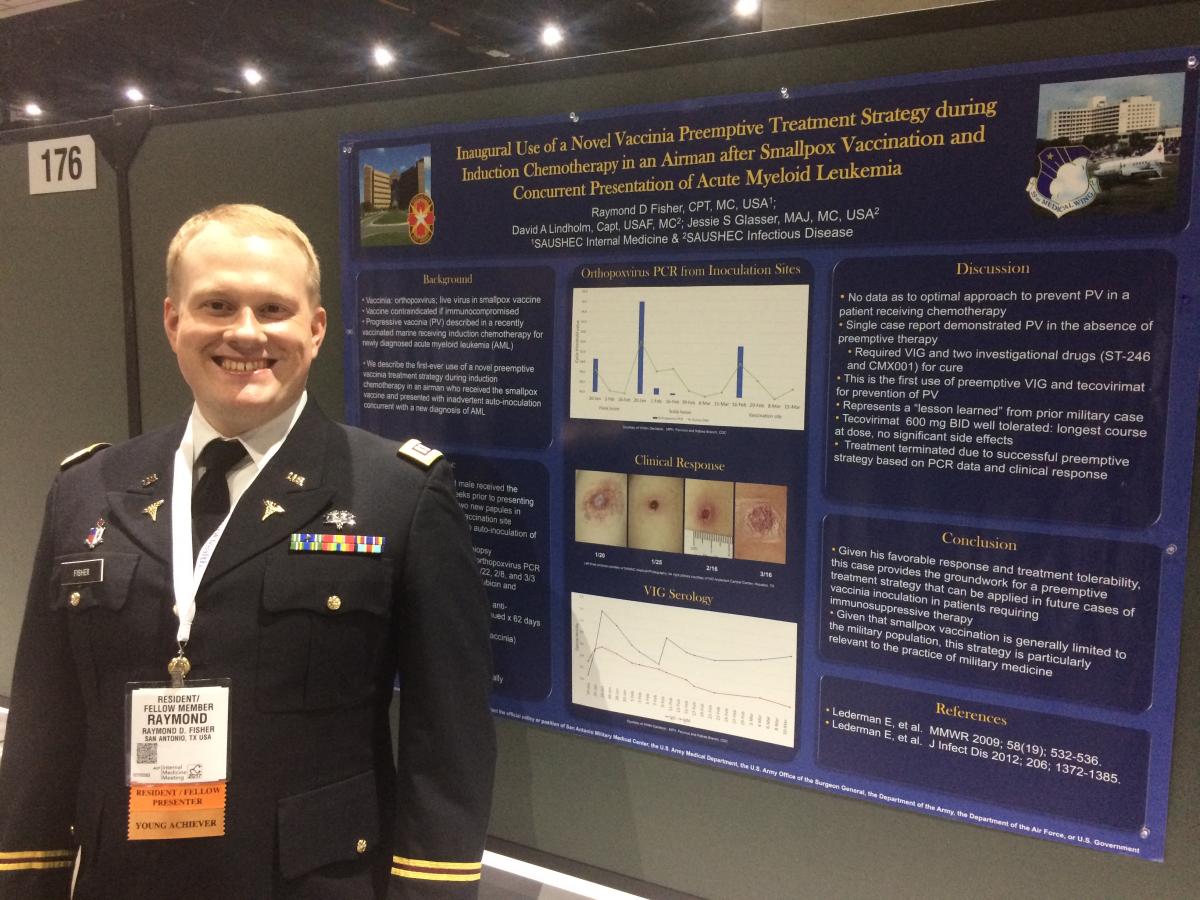 CPT Raymond Fisher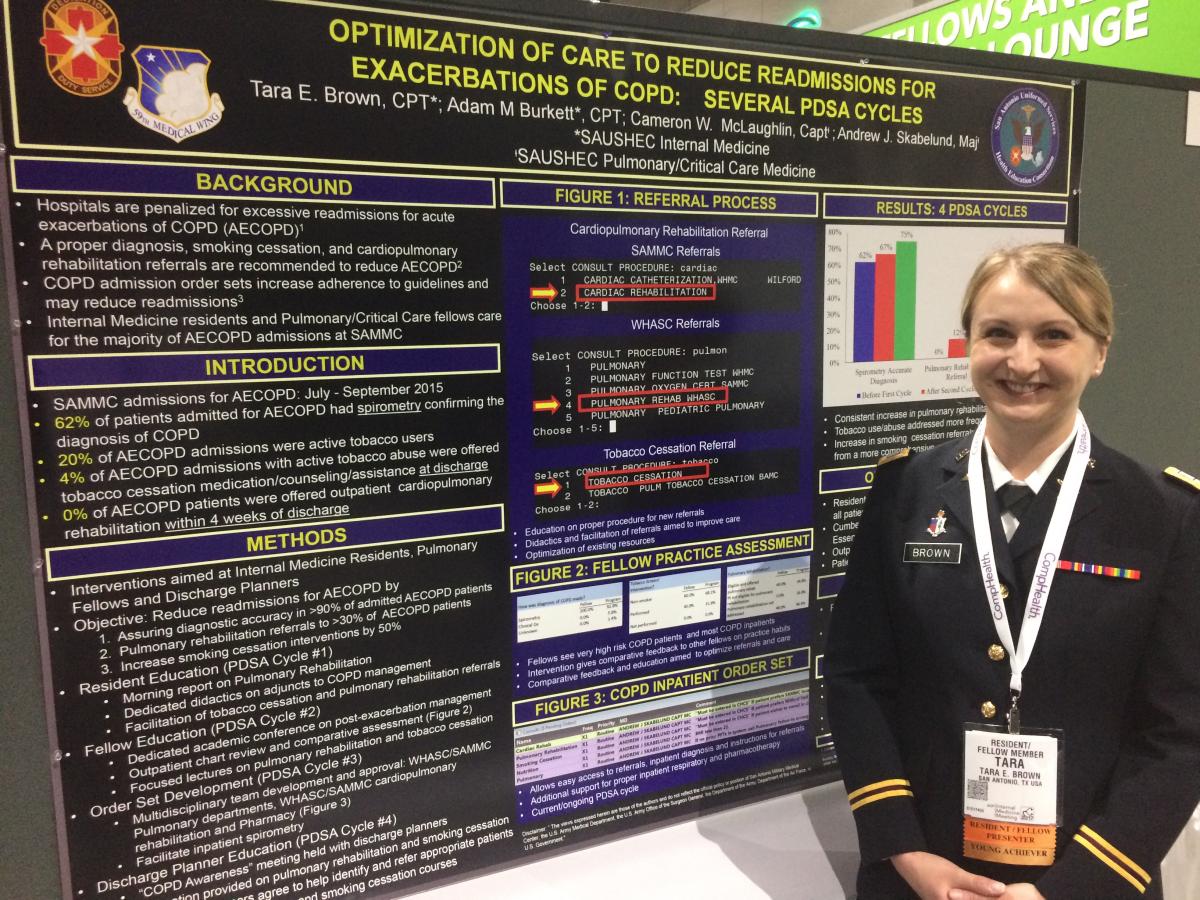 CPT Tara Brown
Six more Army Chapter residents also gained entry into National ACP clinical vignette competition by having their abstracts selected from the thousands of submissions. Congratulations to CPT Trevor Lutz of Madigan Army Medical Center (MAMC), CPT Jeffrey Lew of Tripler Army Medical Center, CPT Christian Horn of MAMC, CPT Brennan Cebula of MAMC, CPT Natalie Mitchell of Walter Reed National Military Medical Center (WRNMMC), and CPT Cyrus Askin of SAUSHEC for their excellent work.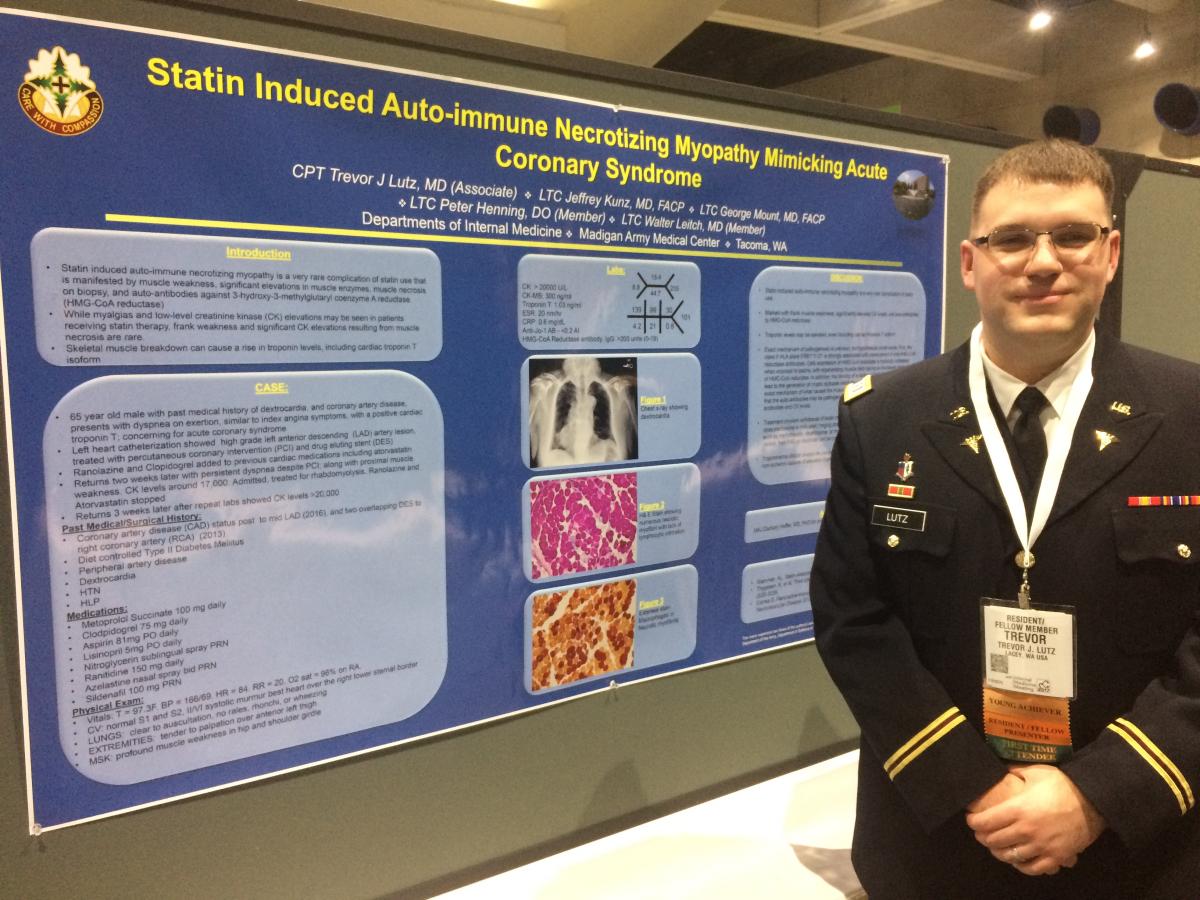 CPT Trevor Lutz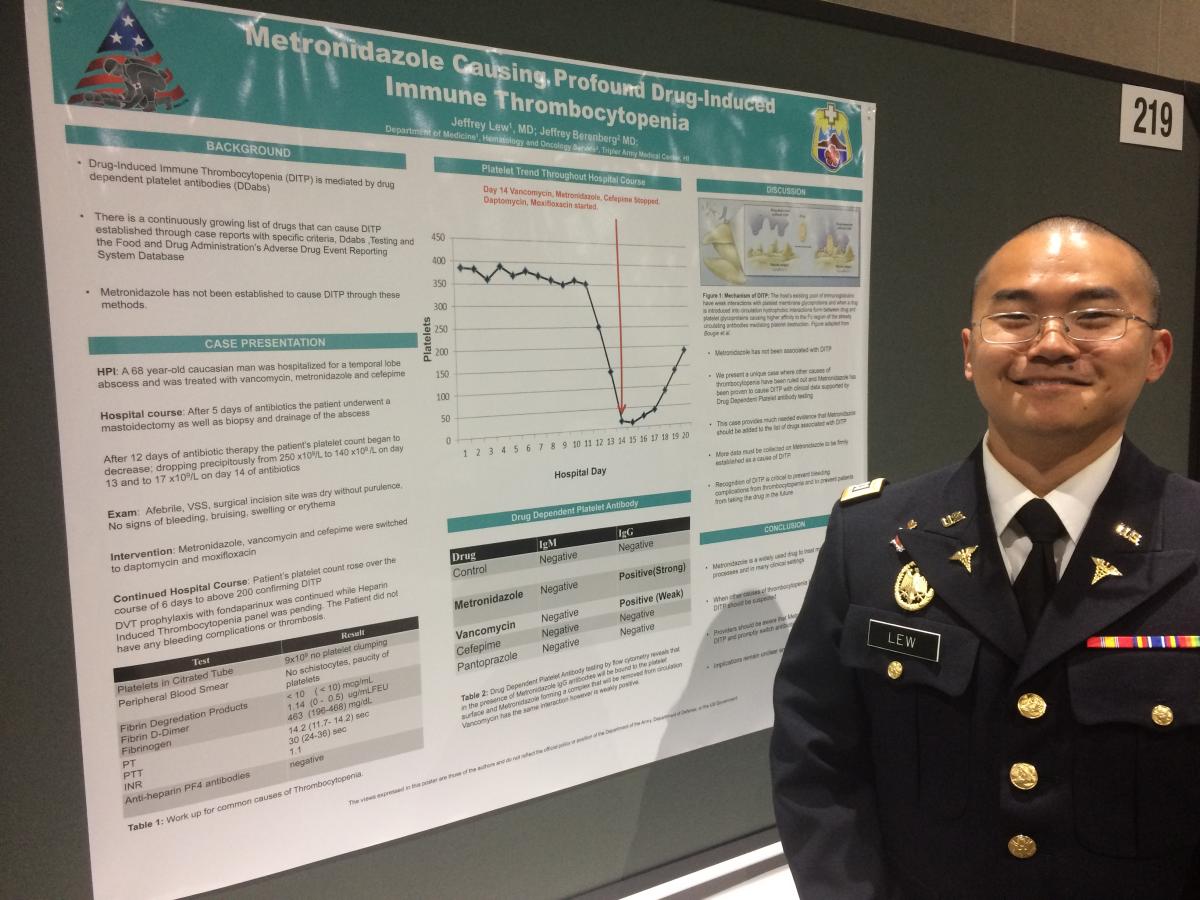 CPT Jeffrey Lew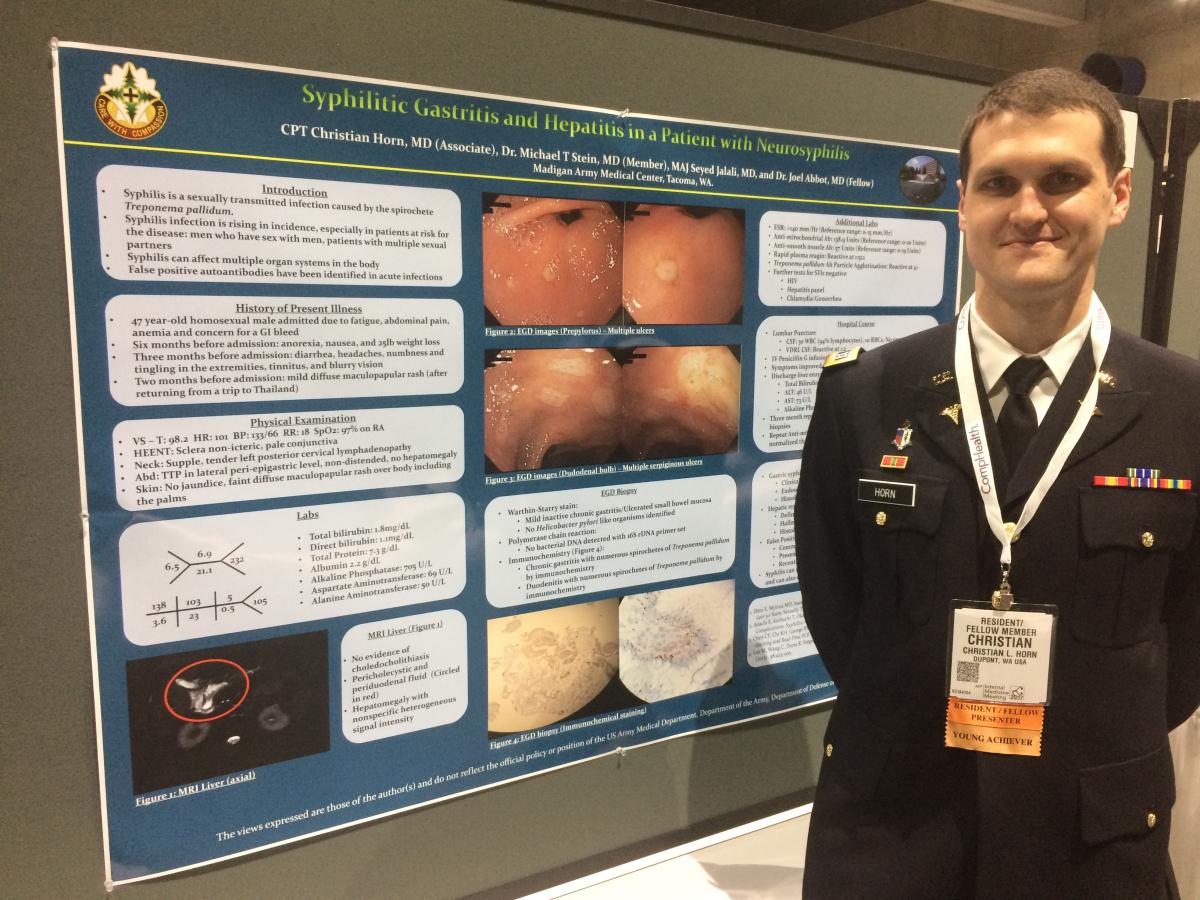 CPT Christian Horn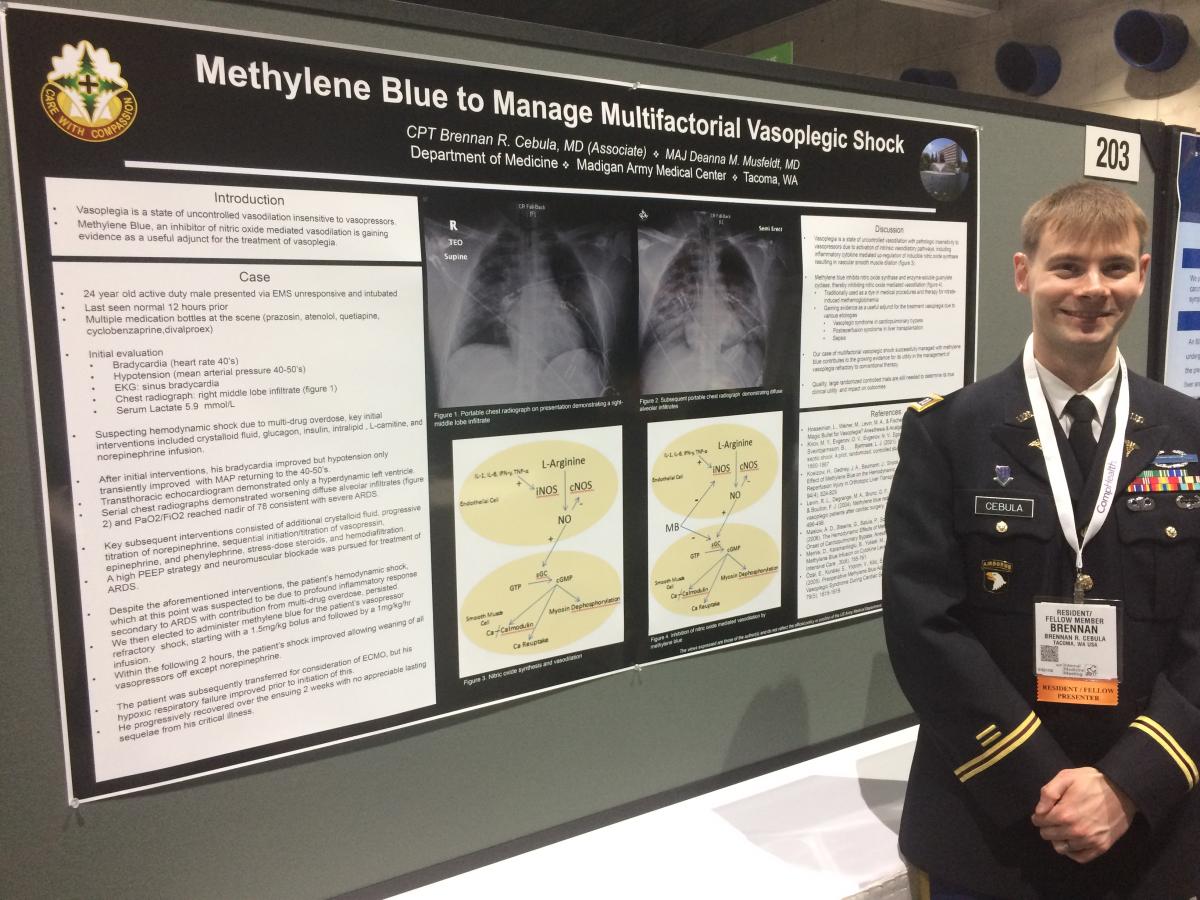 CPT Brennan Cebula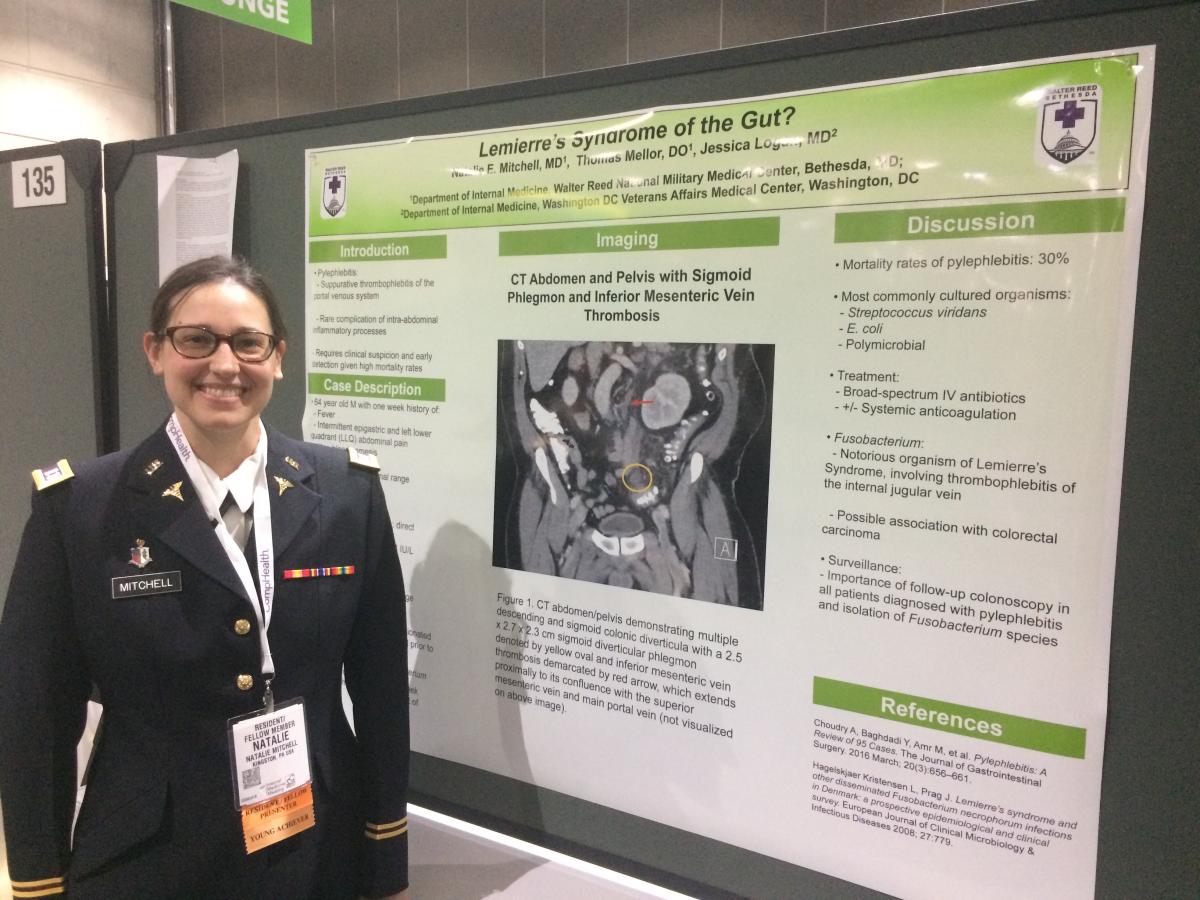 CPT Natalie Mitchell
CPT Cyrus Askin
Congratulations also go out to CPT Adam Barelski of WRNMMC and MAJ Jessie Glasser of SAUSHEC. CPT Barelski was one of 50 post-training members whose work was selected in a new category of an E-Poster. MAJ Glasser, in another new program, was selected for a travel grant to the meeting.
And finally, Dr. Joan Ritter, FACP, of WRNMMC, after giving her talk entitled "Best Foot Forward: Common Foot Complaints that Walk into the Office," was featured as the lead article for the meeting newsletter the following day! Dr. DeZee asked Dr. Ritter for an autographed copy and a selfie, but she politely declined.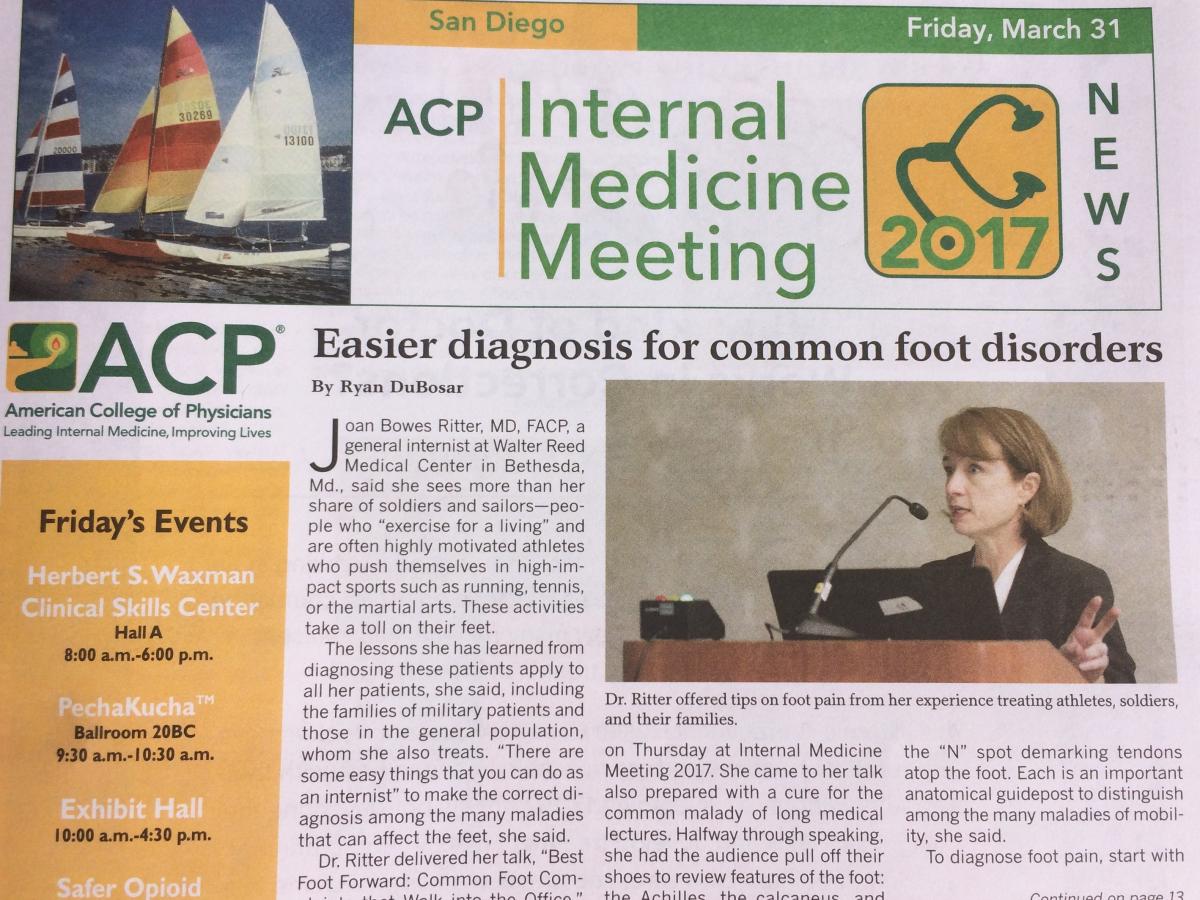 Story featuring Dr. Ritter in meeting newsletter
---
Chapter Meeting 2017 Announcement
Thanks to the hard work of COL DeZee, Col Hannah and a SAUSHEC planning committee we re-instituted a face-to-face chapter meeting last fall. Planning is already well underway (maybe I should find a less Navy term?) for this year's meeting which will be held on Joint Base Lackland, San Antonio from 7 – 9 September. We've expanded the program to include more plenary sessions, an "Ultrasound for the Internist" course, Fellow and Early Career Physician Abstract Competitions and more food! We will be offering CME and MOC credit for the plenary sessions this year. We will, of course, still feature the Resident Research Podium Competition, Resident Poster Competitions, USU Faculty Development opportunities, subspecialty break-out sessions and the always-competitive (but really, it's just a game, right?) Doctors Dilemma competition with a NEW trophy, just waiting for your Residency Program to claim its rightful spot! Calls for abstracts should be going out shortly. We really want to build attendance at this meeting, especially from those Internists who are assigned to duty outside the teaching MTFs. Please mark your calendars and start bugging your Department Chiefs/Commanders for TDY funds. I'll post more information, including the call for abstracts, a tentative agenda and the Planning Committee POCs (in case anyone else is interested in helping) on our Chapter website soon.
---
Chapter Awards
It's time once again to nominate a deserving candidate for a Chapter Award. The deadline is 1 July 2017, with all award submissions going directly to the Awards Chair, LTC Erik Manninen, FACP We will accept nominations for the following four awards: William Crosby Superiority in Research Award, the Colonel Robert H. Moser Award, the Master Teacher Award, and the Excellence in Operational Medicine Award. Please see our chapter website for all award criteria, submission instructions, and list of previous winners
---
Guided Fellowship
Graduating Residents! This is for you! The ACP has a new program called "Guided Fellowship". In fact it is so new they haven't even announced it yet! This program will allow new graduates (and perhaps other early career physicians) to advance directly to FACP after three years, provided they meet certain criteria. We already have one Chapter member, Dr. David Callender, who is ready to be a mentor for those who wish to enroll. Further information will follow once the details are furnished by the ACP.
---
MyACP
The ACP has featured a new link (in the upper right hand corner) of their website called MyACP. Click and type in /myacp at the end of the address and you'll find your ACP number, chapter, primary e-mail address/mailing address, CME transcript, your purchases, your recent activity, and your CME transcripts. It's all right there! You'll also find links to ACP products that might interest you. Check it out!
---
Wellness
Many of us are aware of the national statistics that describe burnout, suicide risk and a general "I'd never do this again" sentiment among physicians. Particularly high rates of burnout are seen in high-intensity careers (Pulmonary/Critical Care) and high "volume" careers (General Internal Medicine), just to name a few. As we all struggle with our day-to-day duties and other Army related pressures (deployment, career progression, grim promotion board stats), I'd like to take a little space in each newsletter to address "Wellness". I put "Wellness" in quotes because I think it's a difficult concept to define. The Army looks at Wellness in terms of the Performance Triad, and while eating well, sleeping enough and getting enough exercise are certainly critical foundations to a healthy lifestyle, I'm not so certain that's the "Wellness" – or lack thereof – that is touching our lives as physicians. The Army's answer to working on some of the Wellness issue is annual resiliency training, but resiliency as a personal trait, again, is only a piece of the problem. I've heard it said that 75% of the issues physicians face with Wellness are related to their work or system environment and only 25% of the issues are personal or personality driven. While I don't have answers yet, I find it encouraging that medical organizations like the AMA, ACOG and the ACP are committing resources and expertise to improving physician "Wellness" – however we define it. In each newsletter, I hope to feature links to additional resources on Physician Wellness. If this particular topic is something you are interested in working on, I'd love to add a more structured program to our Chapter – please contact me! For now – check out this link from the New Mexico Chapter for more information
---
Clinical guidelines
As you know, the ACP generates and publishes clinical guidelines on a variety of topics. With the new website redesign, they are very easy to find . RESIDENTS: This material makes for very easy board questions!!! Just saying. The latest guideline on hypertension addresses the controversy of BP goals for patients aged 60 or older. Check it out .
---
New Fellows in the Last Six Months
Md. Towhid Alam, MBBS FACP
Rohul Amin, MD FACP
LTC Jason W. Bennett, MD FACP
Gregory L. Blair, MD FACP
CPT Misty D. Carlson, MC USA FACP
David J. Cox, MD FACP
CPT Shuan David Gill, DO FACP
MAJ Meredith A. Hays, DO MPH FACP
Michael G. Stanley, DO FACP
CPT Christopher L. Tracy, MC USA FACP
Vanya Wagler, DO FACP
---
New Members in the Last Six Months
Mohammed S. Aziz, MD
CAPT Aaron Craig, DO
COL Mark M. Fukunda, MD
CAPT Amanda M. Gross, MD
Jason Kilmer, DO
Matthew Park, MD
Michelle C. G. Signs, DO
CPT Thad Snyder, MD
Tim Waters, DO
Hope to see you in San Antonio in September 2017!