You are here
Message from the Governor
Message from the Governor

| | |
| --- | --- |
| June 2013 | LTC Kent J. DeZee, MC, MPH, FACP |
---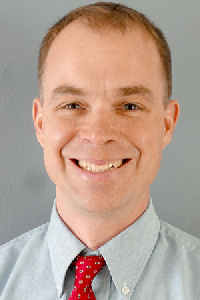 LTC Kent J. DeZee, MC, MPH, FACP
ACP Governor, US Army Chapter
---
Farewell from Former Army Chapter Governor, COL Lisa L. Zacher
I have been deeply honored to represent the Army Chapter of the ACP as the Army Governor for the past four years. The experience of working with such a highly professional organization, fellow Governors, and most of all our Army Chapter members has been a fantastic adventure. The last two years have been especially challenging with the DoD's policies on relationships with non-federal entities (NFEs) and budgetary concerns that directly and indirectly affected our chapter and national ACP meetings. It was with diligence, perseverance, and resiliency that our Associates, mentors, meeting planners, and breakout coordinators were able to execute a highly successful chapter meeting. The biggest unsung hero was the Army Meeting planner LTC Chris Lettieri. MAJ Josh Hartzell also did a great job overseeing the competitive abstracts. I greatly appreciated COL(Ret) Greg Argyros service as the Awards Chair and COL Donald "Skip" Mondragon who chaired the prestigious Laureate Awards. I am very excited that LTC Kent DeZee is your new Army Chapter Governor. He will do a superb job and again is left to clean up after me (having followed me as Program Director at William Beaumont AMC in 2005). I only regret that he is taking over during times of uncertainty. I have full confidence in his leadership and vision. Thank you for allowing me to serve as your Governor. I am retiring in early July and taking a position as Chief, Department of Medicine with the Orlando VA where I can continue to serve our veterans and be involved in GME. Take care.
COL Lisa L. Zacher
---
Welcome from the New Army Chapter President
It is my honor both to lead this chapter and follow COL Lisa Zacher (again). She expertly guided the chapter through a difficult time and we all owe her a debt of gratitude. Best wishes to her as she enters the next phase of her career.
Unfortunately, in my first message to the chapter, I must share some bad news. There will be no in-person chapter this meeting this Fall. To make a long story short, the uncertainty over travel funding and the very real possibility of having the meeting cancelled at the last minute (as happened to several other specialties' meetings this year) makes it very difficult to secure a venue. The U.S. Navy and U.S. Air Force chapters also arrived at the same conclusion.
In place of in-person meeting this Fall, we are considering several other options. One option is a virtual meeting, tentatively scheduled for either the 22nd or the 23rd of November (which avoids a conflict with the Washington state and Texas chapter meetings). The exact format of the meeting is still being determined, but will still include research presentations, the Doctors' Dilemma competition, and chapter awards. As this is uncharted territory, we wish to have input from the general membership about how this might best be accomplished. Please e-mail me if wish to participate.
LTC Kent J. DeZee, MD, MPH, FACP
U.S. Army ACP Chapter President
---
TriService American College of Physicians Meeting
The Army, Air Force and Navy Chapters of the ACP combined resources and held a highly successful, first-ever, Tri-Service ACP meeting with over 400 attendees. LTC Chris Lettieri served as the overall meeting planner and along with the Navy meeting planner (LCDR Lynn A. Byars) and the subspecialty breakout coordinators put together an amazing program of gifted speakers while maintaining a focus on the Associates (residents and fellows). This meeting again faced many challenges and much credit goes to the Army OTSG Internal Medicine Consultant, COL Jeanne Tofferi, who diligently put together and then ensured approval of a meeting justification packet and funding. I deeply appreciate the patience and diligence of all involved, especially our presenters.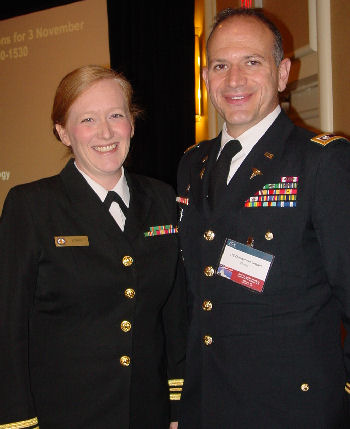 LCDR Byars and LTC Lettieri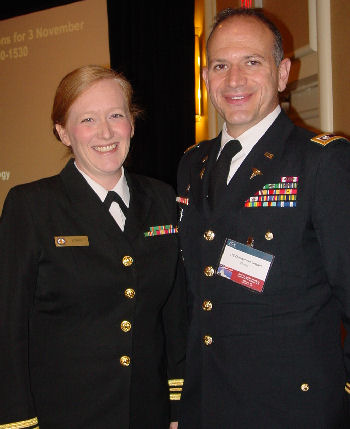 COL Zacher and CPT Koren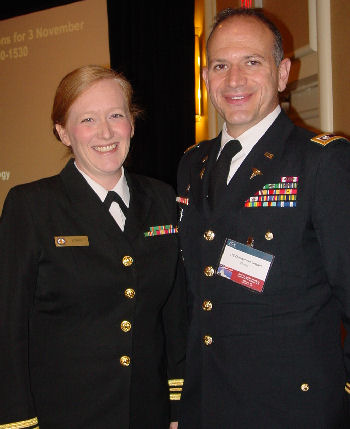 COL Zacher and CPT Perkins
The podium and poster winners for the 2012 TriService ACP Meeting:
Resident Podium Winners
Army
1st CPT Michael Koren, MAMC
2nd CPT Sarah Bounds, SAUSHEC
Navy
1st LT Wes Campbell, WRNMMC
2nd LT Sarah Rice, NMCSD
Air Force
1st CPT Luke Surry, SAUSHEC
2nd Capt David Brandt, Keesler
Resident Research Poster Winners
Army
1st CPT Matthew Perkins, MAMC
2nd CPT Courtney Weaver, DDEAMC
Navy
1st LT Luke Oakley, NMCSD
Air Force
1st Capt John Gillis, Wright-Patterson Medical Center
2nd Capt Sam Scheuller, SAUSHEC
Overall winners:
1st CPT Matthew Perkins, MAMC
2nd Capt John Gillis, Wright-Patterson Medical Center
Resident Clinical Vignette Poster Winners
Army
1st CPT Maria Kurtz, MAMC
2nd CPT Roy Guinto, TAMC
Navy
1st LT Hillary Chace, NMCSD
2nd LT Jamie Piercey, NMCSD
Air Force
1st Capt Matthew Koroscil, Wright-Patterson Medical Center
2nd Capt David Russo, Wright-Patterson Medical Center
Overall winner:
1st CPT Maria Kurtz, MAMC
Fellow Research Poster Winners
Army
1st CPT William Porr, SAUSHEC
Navy
1st LCDR Steve Armbruster, WRNMMC
Air Force
1st Capt Thomas Schmidt, SAUSHEC
Overall winner: CPT William Porr, SAUSHEC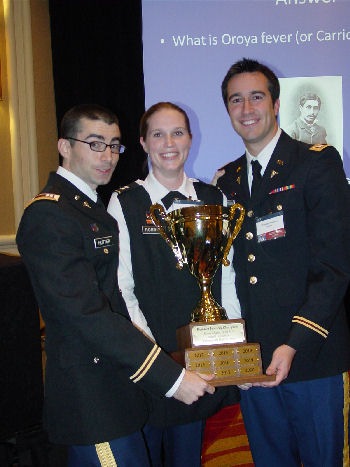 WRNMMC Army Jeopardy Team
The Army Doctor's Dilemma (Medical Jeopardy) team winner was the team from Walter Reed National Military Medical Center and included: CPT Joe Roswarski, CPT Rachel Robbins, and CPT Jack Hutter. These individuals along with CPT Kurtz (MAMC) and CPT Koren (MAMC) represented the Army Chapter at the National ACP held April 2013 in San Francisco, CA. There were several other poster presenters from the Army that won their position either through national submission or via their state ACP Chapters.
For the first time, the Army joined their Navy and Air Force Chapter members at an ACP Awards ceremony at the Army and Navy Club, Washington, DC .
Please join me in congratulating the following internists for their fabolous performance in earning these chapter awards:
Master Teacher Award: LTC Alexander Niven
Moser Outstanding Internist Award: MAJ Jason Sapp
Excellence in Operational Medicine: LTC Rhonda Deen
Crosby Research Award: LTC Kevin Chung
---
Laureates Awardees
The Laureate Award is designed to honor a senior physician who is a retired Army Medical Corps Officer. The award honors a Fellow or Master of the ACP with a long-term record of excellence in clinical, academic, research, and administrative roles in the Army Internal Medicine community, as well as demonstrated contributions to the Army Chapter of the ACP. Recipients will be based upon objective evidence supporting superiority in the areas of: 1) Clinical Excellence, 2) Academic Leadership and Teaching, 3) Research and Publication, 4) Military Leadership and Mentoring, 5) Positions of influence on Army Internal Medicine, ideally in multiple roles/settings. The award recipient must have been a past member of the Army Chapter of the ACP. This year the Army Chapter awarded two Laureates to LTG(Ret) Eric Schoomaker and COL (Ret) Charles Hoke. Their shortened biographies are listed below.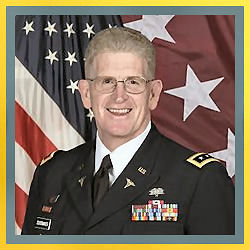 Eric B. Schoomaker
Lieutenant General (Retired), Medical Corps
Lieutenant General (Retired) Eric B. Schoomaker was sworn in as the 42nd Army Surgeon General on 11 December 2007. Before this selection, LTG Schoomaker served as the Commanding General Walter Reed Army Medical Center and the North Atlantic Regional Medical Command.
LTG (Ret) Schoomaker was born into an Army family in Detroit, Michigan. He received his medical degree from the University of Michigan Medical School in 1975 and completed his Ph.D. in Human Genetics in 1979. He completed his internship and residency in Internal Medicine at Duke University Medical Center in Durham, North Carolina, from 1976 to 1978, followed by a fellowship in Hematology at Duke University Medical Center in 1979. He is certified by the American Board of Internal Medicine in both Internal Medicine and Hematology.
LTG (Ret) Schoomaker has held a wide variety of assignments. He served as a research hematologist Walter Reed Army Institute of Research (1979-1982); Assistant Chief and Program Director, Department of Medicine, Walter Reed Army Medical Center, 1982 - 1988; Medical Consultant to Headquarters, 7th Medical Command, Heidelberg, Germany, 1988 - 1990; Deputy Commander for Clinical Services, Landstuhl Army Regional Medical Center, 1990 - 1992; Chief and Program Director, Department of Medicine and Director of Primary Care, Madigan Army Medical Center, 1992 - 1995; Director of Medical Education OTSG/HQ USAMEDCOM, 1995 - 1997. From July 1997 to July 1999, he commanded Evans Army Community Hospital, Fort Carson, CO. He attended the US Army War College in Carlisle Barracks, PA, from 1999 to 2000 followed by assignments as the Command Surgeon for the US Army Forces Command (FORSCOM) from July 2000 to March 2001, and Commander of the 30th Medical Brigade headquartered in Heidelberg, Germany, from April 2001 to June 2002.
The Army Surgeon General appointed General Schoomaker to the position of Chief of the Army Medical Corps when he assumed command of the Southeast Regional Medical Command/Dwight David Eisenhower Army Medical Center from June 2002 to June 2005. Prior to commanding the North Atlantic Regional Medical Command, he was the Commanding General of the U.S. Army Medical Research and Materiel Command and Fort Detrick, Maryland from July 2005 - March 2007.
His awards and decorations include the Distinguished Service Medal with one oak leaf cluster, the Legion of Merit with four oak leaf clusters, the Meritorious Service Medal with two oak leaf clusters, and the Joint Service Commendation Medal. He has been honored with the Order of Military Medical Merit and the "A" Proficiency Designator and holds the Expert Field Medical Badge. LTG (Ret) Schoomaker is married to a former Army Nurse Corps Officer and has three school-aged children. He currently serves as is Scholar-In-Residence and Distinguished Professor of Military & Emergency Medicine at the Uniformed Services University of the Health Sciences, Bethesda, MD.
---
Charles H. Hoke, Jr., M.D., FACP, FIDSA
Colonel (Retired), US Army Medical Corps
Colonel (Retired) Charles Hoke, Jr, MD, FACP, FIDSA, brought to the Army excellent acedemic credentials, served in the Army for 24 years in positions of increasing responsibility and influence, and continued, after retirement from the Army to devote his efforts to the improvement of the health of members of the US Military by employment as a contractor with the US Army Medical Materiel Development Activity, Fort Detrick, Maryland.
Prior to his Army career, COL Hoke attended Stanford University, from which he graduated with distinction. He attended medical school at the University of Rochester School of Medicine and Dentistry and received his clinical training in internal medicine at Baylor College of Medicine and the University of Colorado School of Medicine, where he also received his training in infectious diseases. He was a commissioned officer in the US Public Health Service, serving as an Epidemic Intelligence Office at the Center for Disease Control in Atlanta, Georgia, where his responsibilities included influenza surveillance for the United States. Work on a field trial of influenza vaccine well prepared him for future focus on the control of epidemic disease in the military. Colonel Hoke was certified by the American Board of Internal Medicine, the subspecialty board of Infectious Diseases and by the American Board of Preventive Medicine.
Commissioned in 1979, he was first assigned to WRAIR, where he studied the immune response to influenza, evaluated outbreaks of adenovirus disease in military units, served as attending physician on the infectious disease service at WRAMC, and evaluated an Army dengue vaccine at Fort Bragg. Assigned in 1982 to the Armed Forces Research Institute of Medical Sciences (AFRIMS) Bangkok, Thailand, COL Hoke proposed and conducted a landmark field trial of a vaccine made in Japan for this disease, demonstrating its efficacy, publishing the study in the NEJM, and supporting licensure of the vaccine by the US FDA, completing a cycle that had begun during WWII when LTC Albert Sabin first worked on the JE vaccine to protect US Troops during the projected invasion of Japan. Upon return from Thailand, COL Hoke was assigned to manage development of the Army's hepatitis A vaccine, which had recently been invented at WRAIR. COL Hoke led the efforts to secure a commercial manufacturer, conduct field trials of the new vaccine at Ft. Lewis, Ft. Bragg, and Ft. Campbell, and oversee an efficacy trial of the new vaccine at AFRIMS. COL Hoke became Chief of the Department of Virus Diseases and then Director of the Division of Communicable Diseases and Immunology at WRAIR before being assigned in 1997 to the US Army Medical Research and Materiel Command as the Director of the Military Infectious Diseases Research Program, where he oversaw the development of an internet based research management program. In his last active duty assignment, he was appointed as the Army representative to the Assistant Secretary of Defense for Health Affairs' Select Agents Response Task force, drafting plans for response against a smallpox attack and for response to pandemic influenza. In 2003, Dr. Hoke was asked to manage the restoration of an Adenovirus Vaccine. The vaccine was deployed to basic trainees of all services in November of 2011 and, as of August, 2012, an estimated 10,000 cases of febrile respiratory illness in basic trainees have been prevented by this vaccine. Dr. Hoke also managed efforts to transfer technology for a chikungunya vaccine, formerly developed by the Army, to 5 companies for use in their populations.
Because of his unique qualifications in Internal Medicine, Infectious Diseases, and Preventive Medicine, COL (ret) Hoke was able to make concrete contributions to the prevention of several diseases of clear military importance, including Japanese encephalitis, hepatitis A, dengue, adenovirus disease, chikungunya, and influenza. He has published nearly 100 scientific papers and was coinventor on several Army patents. He continues support of the Army Medical Department through publication of papers documenting the unique contributions of the Army to development of chikungunya and adenovirus vaccines.
---
Daniel F. Battafarano, DO, FACP, named as Master of the American College of Physicians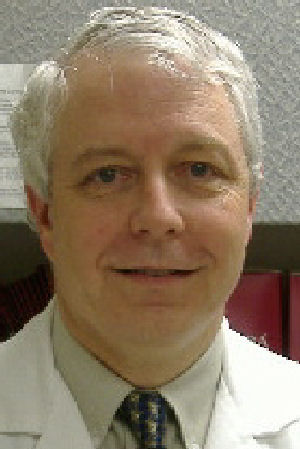 Dan Battafarano
Dr. Battafarano is a retired U.S. Army Colonel, Clinical Professor of Medicine at the University of Texas Health Sciences Center, and Chairman of Rheumatology and a Key Faculty member for the Internal medicine and rheumatology ACGME programs at San Antonio Military Medical Center. In 1993, as the Internal Medicine Resident Research Director at Brooke Army Medical Center (BAMC), he co-founded the South Texas ACP Associates meeting. Twenty years later, this annual meeting still highlights internal medicine resident research from multiple programs. He served as the Deputy Director of Graduate Medical Education for the U.S. Army Surgeon General and as Director for Allied Health Curricula of many programs, including Army medics. The revised Army medic curriculum saved so many lives and limbs in Iraq and Afghanistan that it resulted in moving all U.S. Army, U.S. Air Force, and U.S. Navy medic training to San Antonio. In 2000, as Director of Medical Education at BAMC, he led the integration of 40 U.S. Army and U.S. Air Force residency programs. Dr. Battafarano has numerous teaching and publication awards and received the ACP Laureate Award in 2007.