You are here
GOVERNOR'S NEWSLETTER February 2015
GOVERNOR'S NEWSLETTER February 2015

---
---
2014 Fall Webinar meeting
We held our 2014 Chapter Meeting via webinar on 5 Dec 14. We enjoyed an excellent CME lecture by COL(Ret) Glenn Wortmann, FACP entitled "2014 Updates in Infectious Disease. " COL Jeanne Tofferi, FACP followed this with an update on Army General Internal Medicine. Next, we heard 5 excellent research presentations from the residents. LTC Ramey Wilson, FACP, Chair of the Awards Committee, then revealed this years' award winners (detailed below). Finally, we enjoyed the annual Doctor's Dilemma competition between the residency programs, led by CPT(P) Rohul Amin.
I am very grateful for the efforts of many in our chapter to make this meeting a success. First and foremost, I would like to thank MAJ David Callender, FACP, the meeting leader. He ran the meeting smoothly and professionally-he even made arrangements so that deployed members, like me, could hear the meeting from around the world. I listened in from Afghanistan! I'd also like to recognize MAJ Joshua Mitchell, FACP, for leading the resident research and clinical vignette competitions, LTC Wilson and CPT(P) Amin for their contributions as above, COL(Ret) Wortmann and COL Tofferi for their talks, the AV staff at WRNMMC for their excellent support, and all the chief residents and judges for their time and efforts.
We awarded four chapter awards, two resident awards, and one resident team award.
LTC Michael Ellis, FACP, won the William Crosby Superiority in Research Award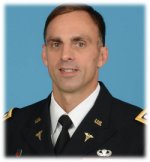 This award is designed to honor a member, fellow, or master of the Army Chapter of the ACP who has demonstrated excellence in the design, performance, and publication of peer reviewed research which exemplifies the characteristics displayed by COL William Crosby MC (Retired). The recipient should be recognized in both the military and civilian academic community as having made significant contributions to the scientific literature. LTC Ellis, of the Uniformed Service University (USU), published 28 peer-reviewed articles, has received over $6,000,000 in research grants, and is an internationally recognized expert in MRSA (for all awardees, I have summarized their accomplishments briefly, not comprehensively).
COL William F. Kelly won the Master Teacher Award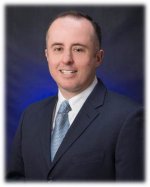 This award is designed to honor a member of the ACP in the rank of Fellow or higher who has demonstrated the qualities of master mentor and teacher. A key requirement is the recipient has been acclaimed by their students as inspirational and the award therefore recognizes education as a pivotal requirement of the Army Internist. COL Kelly, also of USU, demonstrated this by winning multiple teaching awards, including the 2014 William P. Clements award (given by the graduating USU class to the most outstanding uniformed faculty educator), the 2014 Outstanding Module Director Award at USU, and a distinguished service award from the American College of Chest Physicians for his many years of teaching at their meetings.
In addition to running the meeting, MAJ David Callender, FACP, won the COL Robert H. Moser Award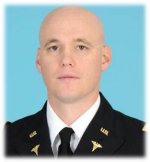 This award is named after COL(Ret) Robert H. Moser, MACP, a true legend in Army medicine. COL(Ret) Moser was a flight surgeon for the Mercury and Gemini programs, program director for TAMC, WBAMC, and WRAMC, and retired from the military as Chief of Medicine at WRAMC in 1969. After his military career, he served as Executive Vice President of the American College of Physicians and Editor of JAMA. This award is designed to honor an Army General Internist in the rank of Captain or Major for superior clinical practice. MAJ Callender maintains a busy practice as a WRNMMC hospitalist. Additionally, he serves as an Associate Transitional Year Program Director, WRNMMC, is a member of numerous committees at WRNMMC, and in particular has mentored numerous residents' quality improvement projects that directly improved WRNMMC's system of care.
MAJ Charles D. Magee, FACP, won the 2014 Excellence in Operational Medicine Award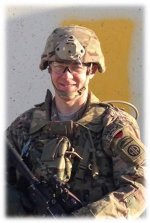 This award is designed to honor a member of the ACP in the ranks of CPT through COL who has demonstrated dedicated care of patients, outstanding leadership and novel innovation in an Operational Medicine environment. MAJ Magee, also of USU, deployed as the Battalion Surgeon for the 1-504 PIR, 1BCT, 82nd ABN Division. The unit deployed to Afghanistan in 2014 in support of Operation Enduring Freedom. He supervised the fastest walking blood bank in the area of operation, safely delivering over 40 units of whole blood, always in less than 7 minutes. While deployed, he also undertook a performance improvement project to bring attention to and eliminate the use of harmful supplements in deployed Paratroopers.
In the resident competitions, CPT Victoria Sullivan of Madigan Army Medical Center won the research podium competition with her presentation entitled "Ketamine by Continuous Infusion for Sedation in Septic Shock". CPT Michael McMahon of Walter Reed National Military Medical Center won the clinical vignette competition with his case entitled "A Dab of Danger: A Case of Severe Respiratory Failure Following Inhalation of Butane Hash Oil".
Finally, we had the annual Doctor's Dilemma competition. To meet the teams and see the rules, click here Walter Reed took first place in a hard fought competition. Team members CPT Adam Barelski, CPT Jack Hutter, and CPT Michael McMahon, along with CPT Sullivan from her research podium win, will represent the Army Chapter at the National ACP meeting in Boston, MA from 30 Apr - 2 May 15. Congratulations to these residents and their mentors for their excellent performance!
Unfortunately, the nature of the Webinar does not permit the many clinical vignette posters and presentations that we enjoy at the in-person meetings. The next best thing we could do was to post them. All resident submissions (and one medical student, 2LT Cyrus Askin) that met the judges' minimum quality score can be found here. I hope you can take the time to review some of these timely and fascinating cases. For instance, Dr. Wortmann's lecture included a section about Chikungunya. You can read about a case of this disease, described by CPT William J. Wadzinski of SAUSHEC, on page 41. To further pique your interest, there are TWO cases about kissing!
---
Speaking of Awards…Chapter Award Winners Have Been Updated on the Website-Is Everything Correct?
A few months ago, after I sent out a list of previous chapter award winners, one veteran ACP member pointed out that the list was missing an award that he had won. Of course, it's bad form to leave out anyone who won an award, but it's particularly bad when that person is a valued mentor and former boss.
Being the thorough person that I am, I thought if there is one error, there's probably more. So we went through old records and newsletters to find the truth. The documentation for most winners was easy to find. For others, we only have a few details.
To get an accurate, complete list, I have decided to "crowd source" the problem. If you have ever won an ACP Chapter award, please review the site and ensure that it is listed correctly. We particularly need clarification of resident awards prior to 2003. Please e-mail me with corrections: kent.dezee@yahoo.com
Even if you have never won an ACP Chapter award, perusing the list might be fun. You may find one of your leaders/mentors has not won an award, but they are clearly deserving of one. You may also make some interesting connections. For instance, three of the current IM residency program directors won the Moser Award before they became PDs! It's not too early to think about who should be the next Moser Award winner.
---
2015 Chapter Meeting
We are once again hopeful for a return to an in-person meeting this year. We are working diligently on this and will update you in the next newsletter.
---
Welcome New Fellows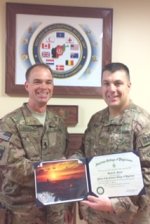 Congratulations to all the new fellows! I was privileged to present Dr. Brian Haney's FACP certificate personally, since I replaced him in Afghanistan.
---
Congratulations to Our New Masters
Congratulations to Dr. Michael Morris and Dr. Harry E. Davis II for their election Mastership in the ACP!
Mastership in the ACP is awarded to Fellows in the college because of their "integrity, positions of honor, eminence in practice or in medical research, or other attainments in science or in the art of medicine." Masters must be highly accomplished persons demonstrating eminence in practice, leadership, or in medical research. Mastership is a tremendous honor. Only 56 physicians were elected this year. The Army Chapter is privileged to have a current member, Dr. Michael Morris, and a former member, Dr. Harry E. Davis II elected to MACP.
After reading the nomination letter by Dr. Daniel F. Battafarno, MACP, it's easy to see why Dr. Michael Morris, MACP was elected to Mastership. Dr. Morris graduated from Eastern Virginia Medical School in 1987, and then completed his internal medicine residency and pulmonary/critical care fellowship at Brooke Army Medical Center. He served in many executive capacities in the U.S. Army Medical Corps to include Assistant Chief of Clinical Investigation, Director of Graduate Medical Education (GME), and Associate Dean for the San Antonio Uniformed Services Health Education Consortium (SAUSHEC). After retiring from the military with 21 years of service, he was recruited to remain at BAMC and currently serves as Associate Program Director for Internal Medicine, Acting Chair of the Institutional Review Board, and Professor of Medicine of the Uniformed Services University. Even with these extensive responsibilities, he has published 70 manuscripts and 11 book chapters. All the more impressively, he has mentored 87 trainee research presentations. He has actively supported both the Army and Southwest Texas ACP meetings in every possible position (judge, etc.) over the past 15 years. He deployed with the First Infantry Division to Iraq in Operation Desert Shield/Desert Storm, earning the Bronze Star Medal and the Combat Medical Badge. Finally, he has participated in 6 medical missions to Mexico, Venezuela, and El Salvador. As Dr. Battafarano summarized in his nomination letter, Dr. Morris has had a phenomenal impact on medicine as a Soldier, clinician, researcher, and Professor of Medicine, and his commitment to internal medicine, community medicine, and the ACP is extraordinary.
Dr. Harry E. Davis II is a retired Army General Internist and currently member of the Texas Chapter of the ACP. I'll defer to my Texas Governor counterpart to relay his impressive story. In brief, Dr. Davis had a long and distinguished military career, starting as a resident at Letterman Army Medical Center, San Francisco, CA. He followed this with assignments in Pusan, Korea; MAMC; the Office of the Surgeon General; Ft. Riley, Kansas (as the Division Surgeon, 1st Infantry Division); Command and General Staff College (class president); Bremerhaven, Germany (Hospital Commander), and finally WBAMC (several roles, including Chief of Medicine). He continues to collaborate with WBAMC as he practices at Texas Tech University Medicine Sciences Center, El Paso, Texas. Both Dr. Zacher, our former Governor, and myself had the privilege of working with him when we were program directors at WBAMC.
---
Maintenance of Certification (MOC) Update-Make Something You May Already Be Doing Count 3 Times, Including 20 Performance Assessment MOC Points!
Late breaking news: I wrote the section below last month. As many of you have hopefully heard, the ABIM, as a direct result of excellent advocacy by the ACP, has made some changes to the MOC process In particular, the practice assessment criteria, which I describe below, is not a requirement for the next two years. However, the module I describe below is a useful activity that earns 20 MOC points.
For staff physicians (residents, your day is coming), there are many questions about the ABIM's Maintenance of Certification (MOC) process. The ACP is here to help. Don't know where to start? Click here. Need to earn points? Use your ACP benefits
So, getting back to the title of this section, how do you make something count three times? Just supervise residents or fellows seeing patients. The first time it counts is by supervising patient care, as attending physicians in training programs are required to do. The second time it counts is by doing Mini-CEXs for the training program. Many, if not all, IM programs require trainees to complete a certain number of Mini-CEXs per year. You would be helping the trainees and programs meet this requirement. The third time it counts is by using these same Mini-CEX experiences to count for the MOC.
Here's how it works. Assuming you have registered for the MOC, go to www.abim.org and click the "Physician Login" in the upper right hand corner. After you login, you will be taken to your home page on the ABIM site. Next, click "Choose a Practice Assessment Activity" in the bottom center of the page. A list of available options will appear. Select the "Clinical Supervision PM". From there, the module will guide you. It is fairly straightforward. You need to do at least 10 mini-CEXs, document them on the ABIM website, and do a reflection activity at the end.
Here's how I accomplished the Mini-CEXs. At the beginning of clinic, I would go to the residents and tell them "I am doing some mini-CEXs today. I'm going to watch you do something. What would you like it to be?" They'd review their patient list and choose something, such as history taking, physical examination, or counseling. Then I would observe them as planned. Immediately after the observation, I would record three behaviors (good and bad) that related to their goal for the mini-CEX. As soon as possible after the encounter was complete (by the end of the day at the latest), we'd have a 5-10 minute feedback session, based on my observations. Then, as time permitted in between supervising other patients, I would log on to the ABIM website and enter the required data, which took about 5 minutes. Before I would hit send, I would open another window and cut and paste essentially the same data into TAMC's Mini-CEX program, which took about 2 minutes. The ABIM also requires that you enter chart data into their site for each mini-CEX, which takes approximately another 5 minutes.
After I completed 10 Mini-CEX's, I moved onto the reflection phase. The program allows (forces) you to review a summary of your data. Did I get anything out of this besides 20 MOC points? Actually, yes. I found that 4 of the 10 residents I supervised made physical examination errors. I knew that residents make physical examination errors (which is why I check the important stuff), but this project caused me to change my teaching. Whenever appropriate, I will now have the resident demonstrate the physical examination findings to me, rather than me verifying/demonstrating the physical examination. That way, I can simultaneously evaluate their skills and verify the physical exam.
Do you have some MOC tips, particularly as they apply to military practice? Please e-mail me so that I can share with the chapter. I'm sure many from our chapter would greatly appreciate an easy, productive way to accomplish this requirement.
Stay safe everyone and thanks for your service to our Nation.
LTC Kent J. DeZee, MD MPH FACP
U.S. Army ACP Chapter Governor