You are here
GOVERNOR'S NEWSLETTER May 2014
GOVERNOR'S NEWSLETTER May 2014

---
---
From the Governor
James F. Bush, MD, FACP, ACP Governor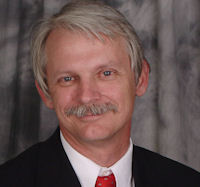 An excellent reason to come to the Annual Meeting this year!
With the ABIM's passing new requirements regarding Maintenance of Certification (MOC) there has never been an easier way to earn MOC points than at the meeting. The Wyoming Chapter has purchased a Self Evaluation Process (SEP) module for this years meeting. If you are enrolled in the ABIM MOC process you will be able to earn 10 points. You can either record your answers and discussion on the handout, but if you are on a laptop or other device and able to connect to the Internet, you can log in to the ABIM web page using your ABIM number and password- don't forget to bring them!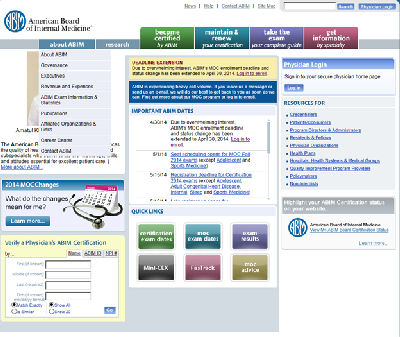 You then "order" the module- you see it in purple on the right side of the page. Enter the name of the module we are reviewing -"Self-Evaluation Process 2013 Update in Internal Medicine Module C0-P" and then click on the "work on Module" . You can then enter your answers directly into the web based program during the meeting.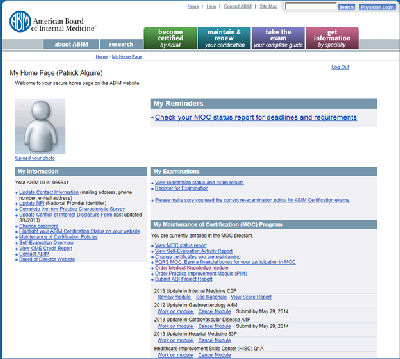 If we continue to offer SEP's every year you will keep up with all your MOC requirements for the educational requirements! Also the Governors gave a strong message to the Regents about the MOC process, and the College is meeting and working with the ABIM- so I welcome your thoughts and comments, and will be sure to pass them along. This year we have invited Dr. Patrick Alguire to present on MOC and High Value Care- he is an expert on these issues and will be able to explain all the changes taking place.
---
Calling for Award Nominations
The Wyoming Chapter of the ACP is proud of our members and their accomplishments. Wyoming internists are a dedicated group of individuals who have dedicated their lives to the health and wellbeing of Wyoming patients.
Dr. Brent Sherard chairs the WY-ACP Awards Committee and would welcome nominations for the Laureate Award, Volunteerism Award, and the Wyoming Chapter Award. Please contact the WY-ACP office or 307-635-2424 to nominate a colleague.
The Laureate Award is designed to honor those Fellows and Masters of the College who have demonstrated, by their example and conduct, an abiding commitment to excellence in medical care, education, and research, and service to their community, their chapter, and the ACP. A Laureate nominee is usually a senior physician who has been a Fellow or Master of the College for at least 15-20 years and meets all other categories of eligibility.
The Chapter Volunteerism Award was developed in 1999 by the Chapters' Subcommittee to recognize the work of members who are involved in volunteerism and community service activities. This award enables our Chapter to raise the level of awareness and promote dialogue and action in volunteerism within our region.
The Wyoming Chapter award is awarded to a Wyoming internist who has made a great impact in the state of Wyoming.
For all three awards nominees must be Masters, or Associates of ACP and must have provided volunteer service post-training. Self-nominations are not permitted. The services must have been performed on a voluntary basis and not required for the completion of teaching, training, or position requirements. Volunteer work must have been done as a physician and be medically related.
---
Annals of Internal Medicine Launches Interactive CME- and MOC-accredited Medical Education Tool
Annals of Internal Medicine released a new interactive medical education tool designed to test physicians' decision-making skills. Annals Virtual Patients uses a unique "if this, then that" format, so each learner goes down his or her own path through a complex clinical simulation. Each simulation covers the examination, diagnosis, and treatment of a virtual patient. Upon completion of each case, physicians may earn Continuing Medical Education (CME) and Maintenance of Certification (MOC) credits.
Annals Virtual Patients is uniquely formatted to allow physicians to learn from mistakes as they proceed through the simulations. Selecting a response prompts a detailed explanation of the medical consequences based on the answer chosen. At the end of each case, the physician is presented with a complete summary of the clinical problem and solution.
The cases were developed by Annals of Internal Medicine editors in collaboration with faculty of the Division of General Internal Medicine at the University of Pittsburgh.